Giáo dục
Life Style
How to teach children the complete opposite of "rivals" Ronaldo and Messi
For many years now, comparing two rival rivals Ronaldo with Messi has been an endless topic but has been too familiar for football-loving hearts. If one looks at the contrasting points between these two stars, perhaps it is easy to list them, because even in nationality, the team they are playing, the color of the shirt they are wearing… there are no similarities at all. . The most common thing is probably: They are two living legends of the world football village with extraordinary feats. However, few people will notice the difference between the two superstar's parenting styles. It is this opposition that will most likely make the next generation different.
Ronaldo made his child a star from a young age
Ronaldo once shared with the press that: "I'm a player so I want my son to be a player too, even though he's young he likes football, that's lucky.". With the advantage of his own experience, the famous father is ready to teach his son from the smallest things to be able to support him to become a professional footballer.
In fact, on social networks, Ronadol often shares pictures of him and his eldest son exercising, taking care of health, participating in sports activities, ceremonies or meeting celebrities. This star constantly has gym exercises on muscles, endurance, even psychological exercises on the football field with her son.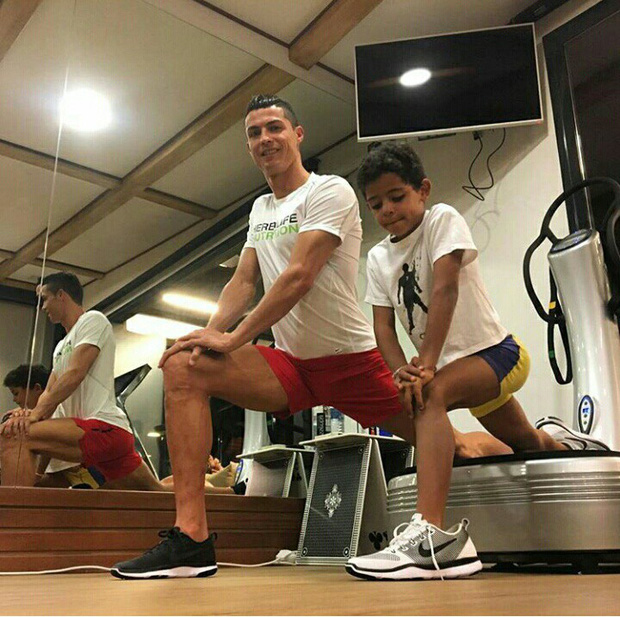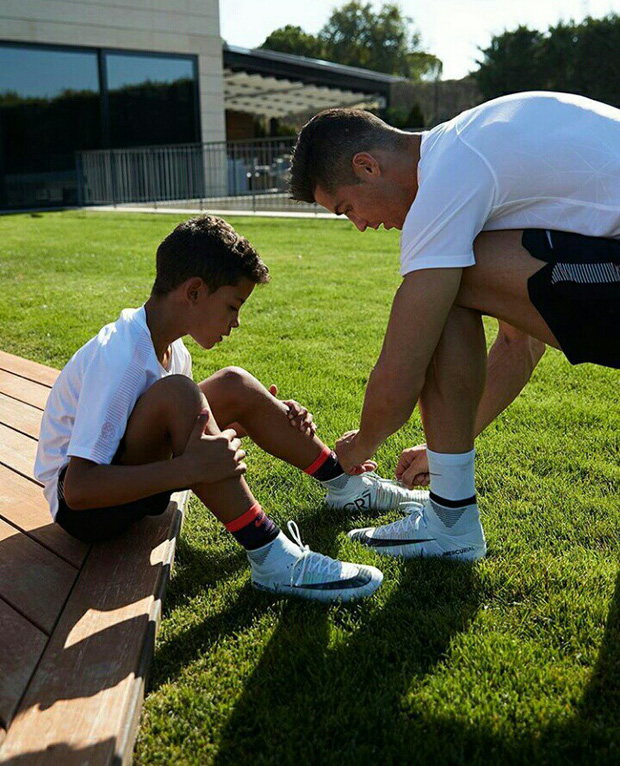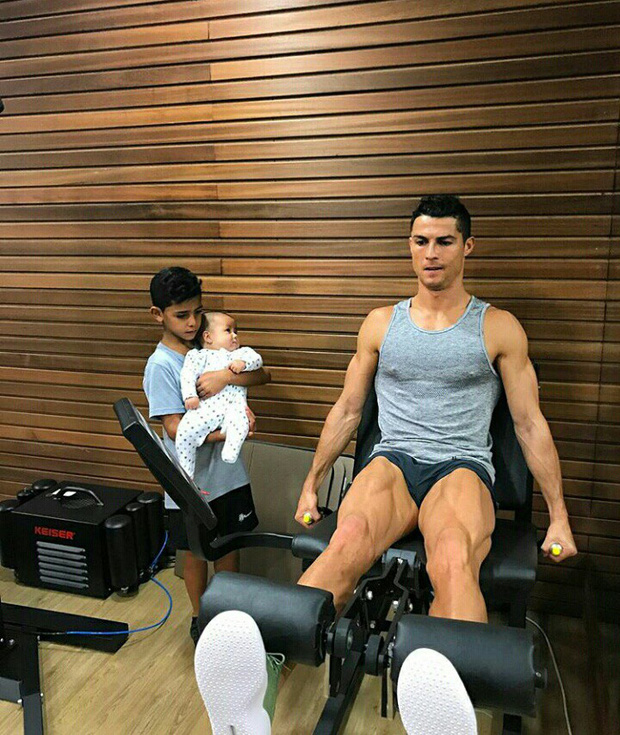 In addition, he made strict requirements on nutrition and food for his son. "Cristiano Jr has potential. However, sometimes I find it annoying when he freely eats snacks and drinks coke. I want him to be number one in whatever field he chooses. I also told Cristiano Jr that only hard work makes us successful." CR9 revealed.
Ronaldo also added the importance of eating: "I have a hard time with Cristiano Jr because he likes to drink soft drinks, which are not good for the body. I don't like what he's eating at the moment. I have other small children, they often ask me for chocolate, but I have to be very tough with them."
Ronaldo is extremely rich and can give his children anything. But he always thinks in the way of teaching his children that: "It's all about education, teach your child well, inspire him. People always have to make efforts, work, and move."
Messi always lets his children live according to their instincts and dreams
Contrary to Cristiano Ronaldo, Lionel Messi chooses a very special way of raising his children.
If Ronaldo is the one who is willing to spend time teaching Cristiano Jr, directing him to football from a young age, then Messi goes in the opposite direction. The Argentine superstar does not restrict his three sons to a certain framework. M10 always wants its children to develop instinctively, promoting the inherent abilities of a child.
Rarely do people see Messi sharing photos or videos of sports with his son. Instead, the M10 just shares photos of the whole family while traveling or eating out every holiday.
Messi chooses to be discreet and quiet to teach his children, in contrast to Ronaldo's flashy.
Messi has 3 sons with wife Antonella Roccuzzo including Thiago, Mateo and Ciro. If Ciro is too young, and the eldest Thiago is quiet and quiet, Mateo is often noticed the most with his humorous personality.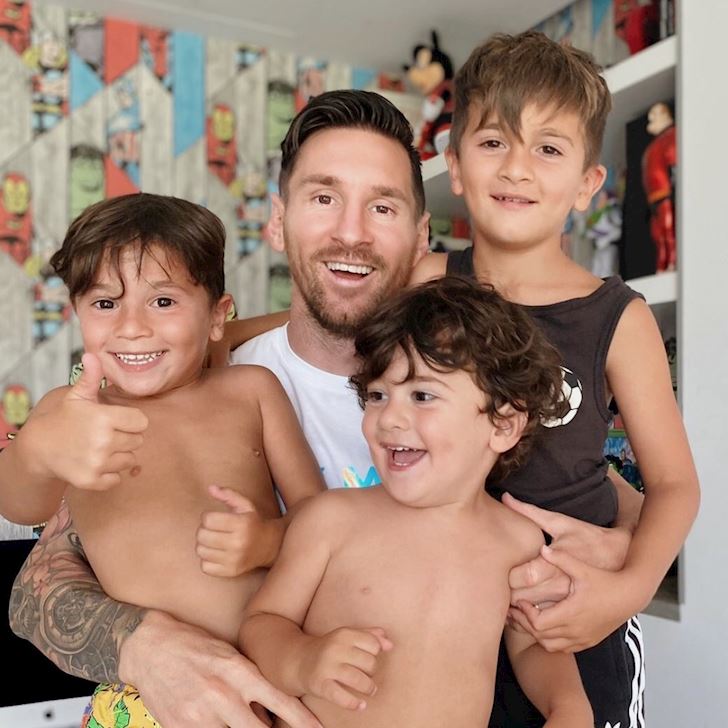 Previously, Mateo understood the hostility between Barcelona and Real Madrid. Therefore, every time Barca lost to Real, Mateo teased his father Messi. Not only Real but any team that scored against Barca, Mateo also celebrated. This seems to confuse Messi.
Mateo is also considered to have football skills, and is more likely to follow in his father's footsteps than his brother Thiago. Thiago's brother is a true crazy fan of… Ronaldo, not his father.
"He talks a lot about Luis Suarez – with whom we are close, about Antoine Griezmann and Arturo Vidal, impressed with Arturo's hair. Thiago is also a fan of Kylian Mbappe, Cristiano Ronaldo and Neymar. He knows them all and loves to ask about them. ", Messi told.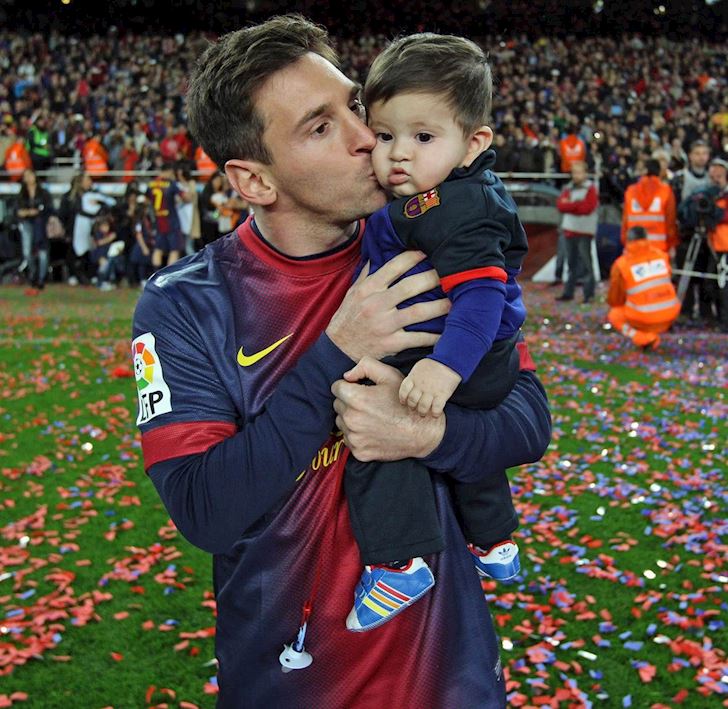 There are no intense training sessions, or rarely running football on the field with his children, but Messi always follows his child's development journey.
Letting children enjoy playing fun games such as puzzles, racing, or participating in soft skills courses is still the core point of this star's parenting style. Therefore, on social networks, fans rarely find training photos with Messi's children. Instead, there are pictures of traveling with his family, or images of his children playing fun children's games.
Sharing with Marca, Messi said his daily life revolves around children. He will take Thiago to school in the morning and pick him up in the afternoon. The whole family gathers together at night until the children have to go to bed. This can be seen, M10 is a family man and spends all his time with his wife and children after intense matches.
It can be seen that CR9 and M10's way of educating and shaping children follows two different schools, but in general, they meet at one point, which is unconditional love for children and always giving everything. What's best for your child.
You are reading the article
How to teach children the complete opposite of "rivals" Ronaldo and Messi

at
Blogtuan.info
– Source:
Afamily.vn
– Read the original article
here