Tin
Lost more than 800 million after being recruited as an online salesman
Targeting victims who are greedy for high profits and want to find a job, the subjects used the trick of "sitting at home and earning a lot of money".
Recently, the Quang Ninh Provincial Police Investigation Agency has prosecuted the case "Scam to appropriate property" and is actively investigating to clarify. The victim in this case is Ms. PTH, SN 1990, living in Quang Hanh ward, Cam Pha city, Quang Ninh province. fraudulent appropriation of assets amount of more than 822 million
The incident happened in January 2022, while accessing the Facebook application, Ms. H saw an advertising folder displaying "Recruitment" with the words "Send a message".
Because she is looking for a job, Ms. H clicked on the above item to find out and received a message via the Messenger application with the content "Recruiting online sales staff".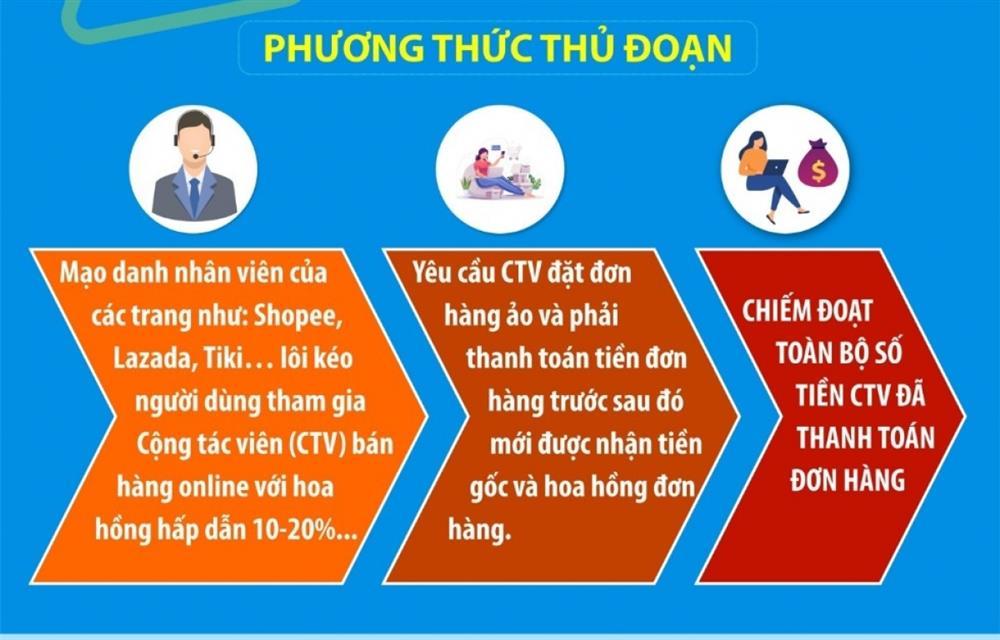 After the peak of the Covid-19 epidemic, online scams are blooming.
Ms. H actively left her phone number, then a Zalo account named "Nguyễn Thùy Dung" made friends and introduced herself as a Shoppe consultant and asked Ms. H to provide personal information, including her account. bank.
After that, Dung gave Ms. H a collaborator code with the symbol A688 and then sent the links (each link that Dung sent corresponds to a product, these products belong to the Shoppe.vn website) and guaranteed Ms. H clicking on this link will see the product code with the price.
In addition, Dung also provided a Techcombank bank account named "PHAM THU HA" and instructed Ms. H to perform the operation to buy the product listed in the link and then pay by transferring money to the above account number.
After transferring the money through the Banking application, about 10 minutes later, Ms. H's account received the amount of the product purchased along with a 10% commission of the product value, Dung said this is a form of stimulus for the stall to increase sales sell.
With the above method, the first time Dung sent Ms. H the link of the product code priced at 340,000 VND, Ms. H transferred money to order this product and received 374,000 VND in return. Next, this subject sent a link of a product code priced at 220,000 VND and a product code priced at 639,000 VND, resulting in Ms. H receiving a total of 944,900 VND.
Due to the desire for profit, Ms. H continues to be led by scammers. Some people even called Ms. H and claimed to be "Shoppe's accountant".
After being led around by the subjects, Ms. H transferred a large amount of money to the subjects of more than 822 million VND. By this time, both Dung and "Shoppe accountant" had disappeared. Then, Ms. H went to the police station to report.
According to VOV
You are reading the article
Lost more than 800 million after being recruited as an online salesman

at
Blogtuan.info
– Source:
2sao.vn
– Read the original article
here