Khỏe - Đẹp
Pulling out a charging phone, a 29-month-old girl electrocuted her hand
A 29-month-old girl in Hanoi was electrocuted in cardiac arrest, lost consciousness, and suffered deep burns to her entire left palm due to mobile phone charging. She was taken to the Burns Unit (Orthopedic Department, National Children's Hospital) for treatment. .
According to Mrs. Th – BA's mother recounted, on March 18, 2022 (one week before entering the hospital) the child played with his 5-year-old sister while the family was cooking rice, seeing that the phone was charging, the child voluntarily unplugged the charger. phone to play should be electrocuted, lying unconscious, purple, left palm burned black.
At this time, her sister (5 years old) was riding a bicycle nearby, saw that she was electrocuted, so she called her family. The child was rushed to help by a neighbor near the house, performing first aid to press the heart.
After forcing her heart to wake up, the family immediately took her to a local medical facility for emergency and continued to be transferred to the National Children's Hospital for treatment.
"I was shocked and terrified. Before that, I also knew about cases of electric shock caused by charging the phone through the radio, but I did not think this would happen to my child, "said Th's mother.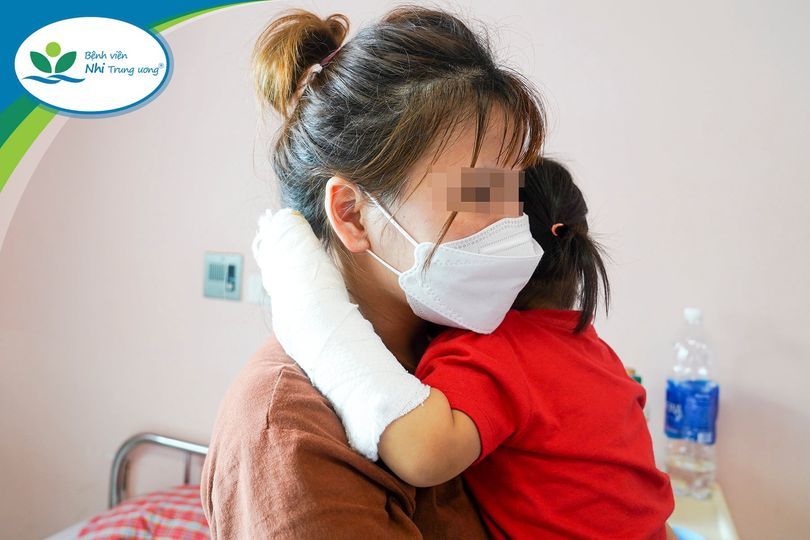 Photo of the patient being treated.
Master, Doctor CKII Phung Cong Sang – In charge of Burns Unit, Deputy Head of Orthopedics Department, National Children's Hospital said: "Right after receiving the pediatric patient at the emergency department of anti-poison, the child was evaluated. Evaluation and treatment of cardiovascular and acute renal failure risk. When the child's condition was stable, we performed necrosis removal surgery, skin flap transfer, hand skin grafting (necrotic lesions of both the fascia and humerus) to retain the hand both in function and function. and aesthetics for children.
After surgery, the child is now stable, but the child's recovery still requires a lot of time and effort from the family and the hospital."
Also according to Dr. Phung Cong Sang, phone charging devices often have a voltage converter, with very low voltage output. However, if the plug is open, the plug is faulty, it can still be dangerous, this has also been warned many times on the mass media.
For young children, who are very active, naughty and curious, accidents related to phone charging are not uncommon, mainly because children play with their phones while they are plugged in or they play with their phones. while charging.
Doctor Sang recommends that, in order to avoid tragic and unfortunate accidents with young children related to electricity, parents should note:
Always unplug the charger from the electrical outlet when not in use, the power outlet must have a protective cover.
Do not let your child play with the phone while it is charging.
Keep charging phones out of reach of children.
Make sure the charging cord is properly connected to the power source.
At home with young children, parents should always have someone watch over them carefully.
How to treat children with electric burns?
According to Dr. Sang, when a child suffers an electric burn, it is necessary to separate the victim from the power source (disconnect the circuit breaker, use a wooden stick to knock high current) as quickly as possible, if the child is in distress at a height, then arrange support. child when dropped and take the sick person to a cool place.
The family needs to conduct a respiratory assessment, child consciousness and look for other injuries if there is a fall, to find the right first aid, to avoid injuring the cervical spine or limbs (if any). aggravated.
If the child stops circulating, perform chest compressions properly, and call for medical assistance.
Families should only move the patient to a medical facility when the child has received first aid.
Only conduct the treatment of electrical burns when the child has no general disorder, should not apply ice, ointment or anything to the burn, just wash the burn and cover with clean gauze.
K.Chi
You are reading the article
Pulling out a charging phone, a 29-month-old girl electrocuted her hand

at
Blogtuan.info
– Source:
infonet.vietnamnet.vn
– Read the original article
here