Thế Giới
Russia prepares to take action to reclaim $600 billion frozen
Russia
prepares to take legal action to recover foreign currency reserves of $ 600 billion frozen by the West.
How Russia reclaims frozen $600 billion
The head of Russia's central bank Elvira Nabiullina said that Russia is preparing legal action to combat a $600 billion foreign currency fund freeze imposed by Western governments after Russia's military campaign. live Ukraine.
Ms. Elvira Nabiullina said that plans are being made to launch lawsuits after the US, UK and EU governments froze the foreign currency reserves of the Central Bank of Russia within their jurisdictions.
"Freezing the volume of gold and foreign exchange reserves of a country on such a large scale is unprecedented globally," TASS quoted the governor of the Central Bank of Russia Elvira Nabiullina on April 19.
The asset freeze is considered the toughest economic sanctions imposed on Russia after President Vladimir Putin launched a military operation in Ukraine in late February.
Russia has accumulated more than 600 billion USD in foreign currency reserves in USD, yellow and other currencies, with about half believed to be frozen due to sanctions imposed on Russia's central bank, The Guardian reported.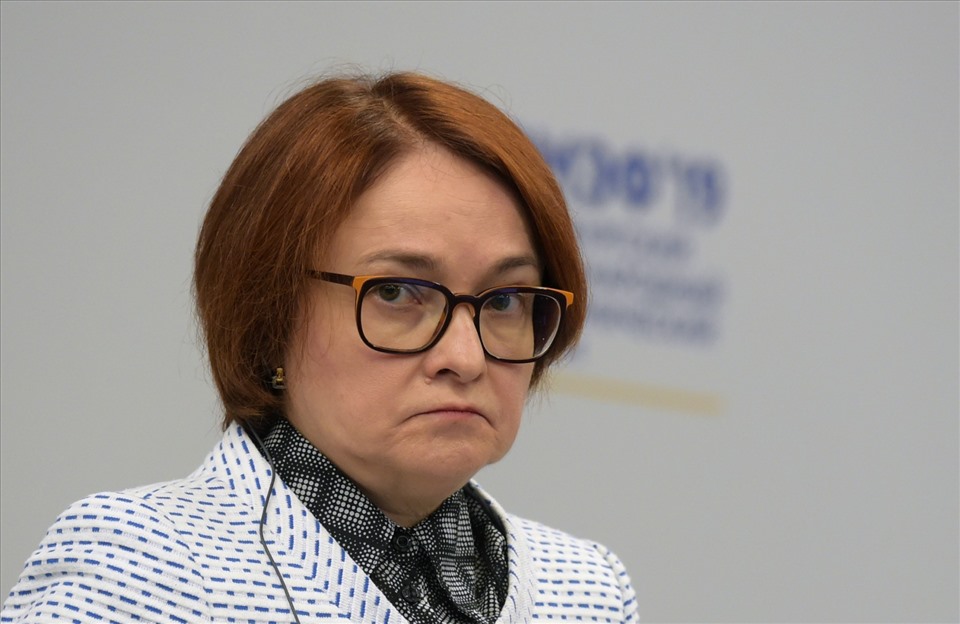 Built under a so-called "fortress Russia" strategy after Russia's 2014 annexation of Crimea, Western sanctions make it harder for Russia's Central Bank to intervene in currency markets to protect prices. value of the Russian ruble.
Ms. Nabiullina did not detail how or when the legal challenge to reclaim Russia's frozen foreign exchange reserves could be done.
The remarks by the head of Russia's central bank came after Russian Finance Minister Anton Siluanov issued a similar warning. Mr. Siluanov said in early April that the Kremlin would sue if the West forced Russia to default on its debt.
There have been cases of such legal action regarding central bank reserves. The UK's Supreme Court ruled in December 2021 rejecting Venezuela's appeal for access to nearly $2 billion in gold it holds at the Bank of England.
Ruble initially slashed prices by more than 40% after Western governments imposed sweeping economic sanctions. In recent weeks, the ruble has recovered to pre-war Ukraine levels. Without access to half of its foreign currency reserves, Russia's central bank has imposed tight capital controls and raised interest rates in an attempt to strengthen the ruble. Nabiullina said there would be "no need for such draconian measures" if Russia's central bank had access to its $600 billion worth of reserves.
"We have introduced these monetary regulations. I know many businesses complain a lot about foreign trade activities when it is difficult to pay. But it is a mandatory measure. If we own the number gold and foreign exchange reserves this section and not have this part frozen, there would be no need for such harsh measures with capital mobility," she said.
The female governor was punished by the West
On April 19, the governor of the Central Bank of Russia was added by Canada to the list of sanctioned individuals, along with 13 other Russians, including 2 daughters of the Russian Federation. President Putin. This is the first time that Nabiullina has been punished by Western governments.
Elvira Nabiullina graduated from Moscow State University in 1986, according to NPR. For the next 12 years, she worked in the Union of Science and Industry of the Soviet Union, later the Union of Industrialists and Entrepreneurs of Russia, and then the Ministry of Economic Development and Trade. She worked for a bank for several years then returned to the ministry in 2000 as first deputy minister.
In 2000, President Putin appointed Nabiullina as minister of economic development and trade. When he was elected president for a third term, in 2012, Putin brought her into the Kremlin as an adviser on economic affairs. The following year, Putin appointed her governor of Russia's central bank. He nominated her for a third term as governor on March 18 of this year.
Ms. Nabiullina impressed the global banking community. According to NPR, banking insiders appreciate being in a strong position in the Russian banking sector from 2013 to 2017, when she withdrew more than 300 banking licenses from chronically weak institutions or leaders. problem, accounting for one-third of Russia's credit institutions. Industry insiders also honored her with her firm stance on inflation, cutting the prime rate to a record low of 2.18% in February 2018.
In 2015, Euromoney magazine honored Ms. Nabiullina as Central Bank Governor of the Year. In 2017, The Banker was named Central Bank Leader of the Year in Europe. Next year, International Monetary Fund invited her to the annual Michel Camdessus event.
You are reading the article
Russia prepares to take action to reclaim $600 billion frozen
at Blogtuan.info – Source: laodong.vn – Read the original article here