Business
"They are richer than Mr. Truong Gia Binh but never buy a car or a house"
"In 2010, while studying at Wharton, I heard Ted Talk for the first time. Very impressive, especially the talk "What the right thing to do" by GS. Michael Sandel of Harvard School. Dreaming of one day Ted Talk invites me" – 12 years later, the new President of FPT Telecom turned his dream into reality, standing on the Ted Talk stage and talking about how Gen Z rewrote the definition of work and life.
Appearing at TEDxFPTUniversityHCMC 2022 with the theme "Chim Lac", President Hoang Nam Tien gave a sharp presentation on the value of happiness, money and maturity and success.
"I set myself a challenge, which is how to talk to my friends like at home and the kids talk to each other." – not proud of his role as the head of a large telecommunications enterprise, he entered the conversation with many young faces in a straightforward, sincere and simple way.
Can money buy happiness?
"Brother Tien, is financial success the standard of happiness? – That is one of the questions that you and my children often ask.
I think: Having money is not necessarily happy, but without money, it is very difficult to be happy. – he asserts the value of money from the very opening minutes.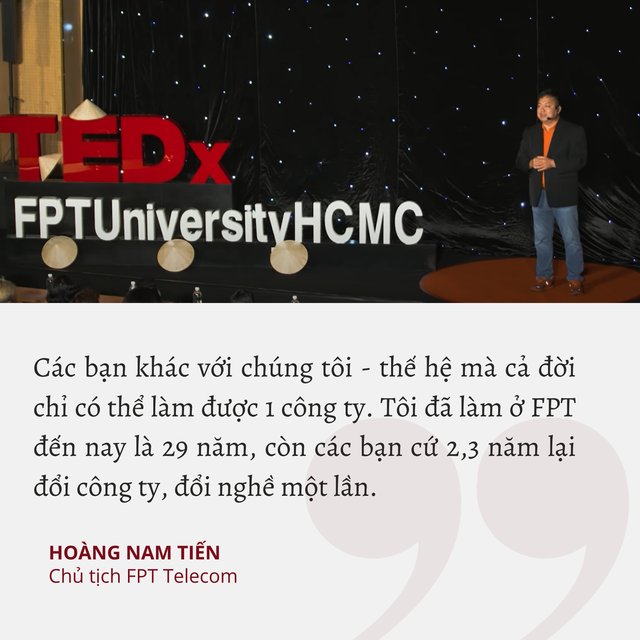 For the Chairman of FPT Telecom, salary is the recognition of the society and organization for young people. Different from his generation, the generation that only worked for one company all their life and set goals, the destination was happiness, and it didn't matter about the creation process. Eagerly "jumping jobs" or having a mindset of enjoying every moment in life, forgetting the past and looking to the future to be fully devoted to the present is something very different from the era in which he grew up. go up:
"The elderly, the elderly often say that today's generation does not have ideals because of that. We are very sorry that perhaps the old people are not receptive to the new ones anymore!".
A generation of 'crazy' working
The world has completely changed with countless things people should enjoy, should meet, should know, and should come. When grandparents and parents could be satisfied with a peaceful life next to green bamboo, even in the country, today's generation are global citizens.
Mr. Tien said that Gen Z studied in Vietnam but knew that the whole world was in the palm of his hand. They sit in Hanoi, Ho Chi Minh City. HCM, Da Nang but working normally in Silicon Valley, Tokyo, Berlin, Paris:
"You guys today are not talking about high and low wages in Vietnam anymore, but about salary stories like people working in Silicon Valley. Many of you are not even satisfied with that, they say, Mr. Tien, I make 10 thousand, 20 thousand US dollars a month but I decided to quit! I want to do something for myself, burning from my passions."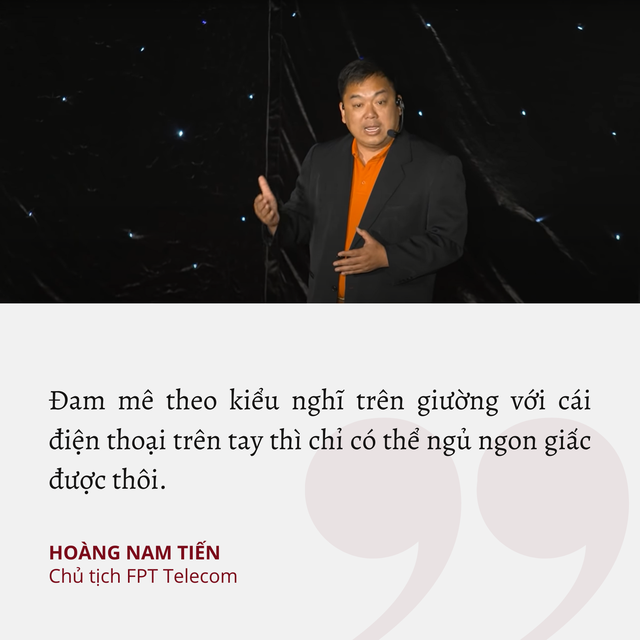 But what is the norm to live for passion? President Hoang Nam Tien disagrees with thinking too much but just lying on the bed thinking with a phone in hand:
"Passion in such a way can only sleep well, true passion must be by action, day and night action.
I am very proud that I can work 12, 14, 16 hours/day, no Saturday, Sunday, year after year, but I still feel embarrassed when I meet young people working 20 hours. /day. They were scolded by their wives. If they had wives, they would have been abandoned by their lovers, for sure, because there was no time left. You live by your passion, by your actions and work crazy every day."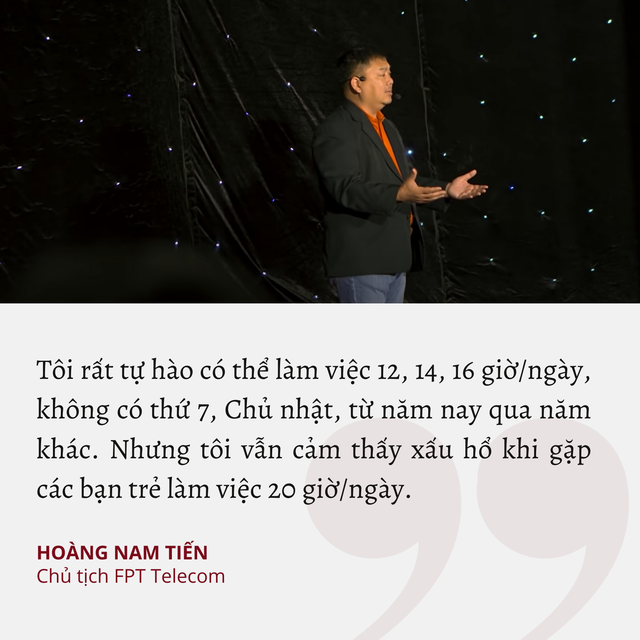 "When I asked about money, my friends said, look here, my assets on paper are about a few hundred million US dollars, richer than our brother Truong Gia Binh. again.
However, they never thought about buying a car or buying a house. They go to work not only to make money, but to a higher degree, to be creative to have money. I really hope you do the same." – he texted.
The speed of success must exceed the speed of aging parents
"A family that wants to be happy must have successful children, must have children who earn money. It sounds very simple but will be extremely difficult for all of you" – After giving up the role of President, Mr. Hoang Nam Tien closed more than 10 minutes of sharing in the role of a man who has gone half his life but is still the child of a mother.
"Young people, remember this saying: our parents age very quickly, so you have to grow up quickly, quickly make money faster than your parents age.
Many times I want to confide, my mother is 90 years old this year, my mother is confused, this year is the first year that my mother does not ask if I bring money back, because my mother does not remember it anymore. And at that time, I regret it forever, if only I had more time to bring back the money for my mother, if only I were younger so I could do it. he was excited.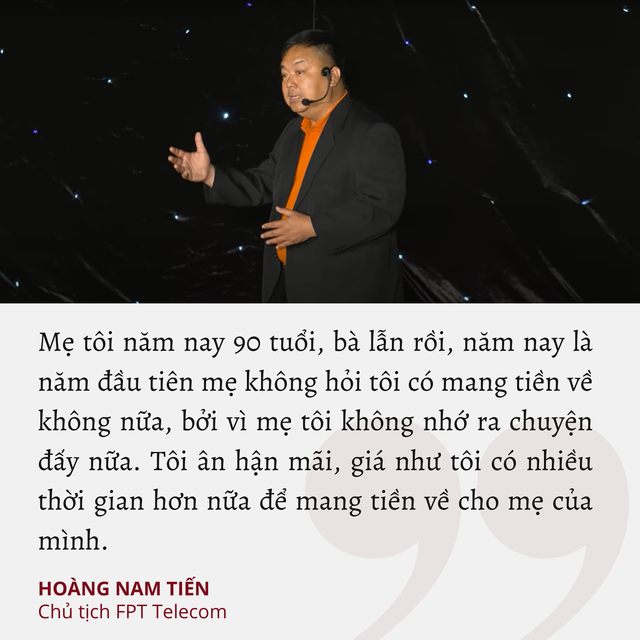 Mr. Tien also wants young people in their 20s and 30s to change their lives and how to make every minute of their life truly theirs. He wished to go back to his youth to see what he could be different, what he would learn, what experience he would experience and maybe love someone he missed.
"I do not yet know what their highest value is for each person. Some are family love, some are their own beliefs, some are greedy for power, but I believe the second value that we care about is to make money." – Chairman of FPT Telecom emphasized.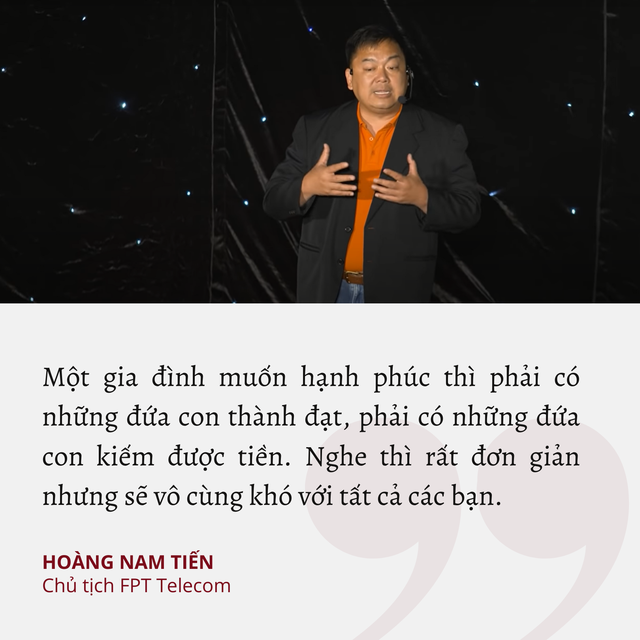 Born in 1969, Mr. Hoang Nam Tien joined FPT in 1993 after graduating from Hanoi University of Science and Technology. During his working time, Mr. Tien has always been trusted by the Group's leaders and entrusted with many important positions.
In 2012, he was appointed Chairman of FPT Software, contributing to FPT Software becoming one of the 500 largest software companies in the world and entering the Top 100 leading service providers in the world. In March 2020, Mr. Hoang Nam Tien was appointed Chairman of the Board of Directors of FPT Telecom.
Before that, in the role of General Director of FPT Distribution Co., Ltd., he also made an important contribution to helping FPT achieve its goal of reaching 1 billion USD in revenue in 2008.
Not only making billions of dollars from writing code – installing networks, education is becoming a new gold mine of FPT: Continuous growth of 30-40%/year during the pandemic, earning more than 3,000 billion in 2021
https://cafef.vn/30-nam-cong-hien-khong-ngoi-nghi-van-hoi-han-vi-kiem-tien-chua-du-chu-tich-fpt-telecom-xau-ho- before-people-tre-ho-giau-hon-ca-anh-truong-giabin-but-not-bao-gio-mua-xe-mua-nha-2022041911381918.chn
You are reading the article
"They are richer than Mr. Truong Gia Binh but never buy a car or a house"

at
Blogtuan.info
– Source:
cafebiz.vn
– Read the original article
here