Tech
Tin Phong Pharmaceutical's Esunvy Sunscreen
Understanding this concern of women, Tin Phong Pharmaceutical has launched Esunvy sunscreen product that provides a safe and effective solution for comprehensive skin protection.

Broad spectrum sunscreen comprehensive solution for optimal skin protection
Many people often think that if it's cloudy, you don't need to use it sunscreen. In fact, according to experts, the unpredictable harmful effects of ultraviolet rays on the skin are often caused by UVA and UVB rays and many scientific studies have now proven that UV rays (also known as ultraviolet rays or ultraviolet rays) present in sunlight that normally shines all year round. More than 90% of UV rays can penetrate haze, so when it's overcast your skin is still exposed to sunlight.
Sunscreen is a product that protects the skin from harmful UV rays, so whether it's sunny or cool, you should still use sunscreen every day to protect your skin. Currently on the market, there are usually 3 types of sunscreens including physical sunscreen, chemical sunscreen and broad-spectrum sunscreen.
Physical sunscreen is a cream that often contains inorganic active ingredients that are able to scatter UV rays, so when used, it is easy to wash off if the skin sweats a lot.
Chemical sunscreens are sunscreens containing chemical ingredients that help protect against the sun by decomposing UV rays that are harmful to the skin, so when used, they will lose their effectiveness after a period of time, it is necessary to reapply. cream every 2 hours.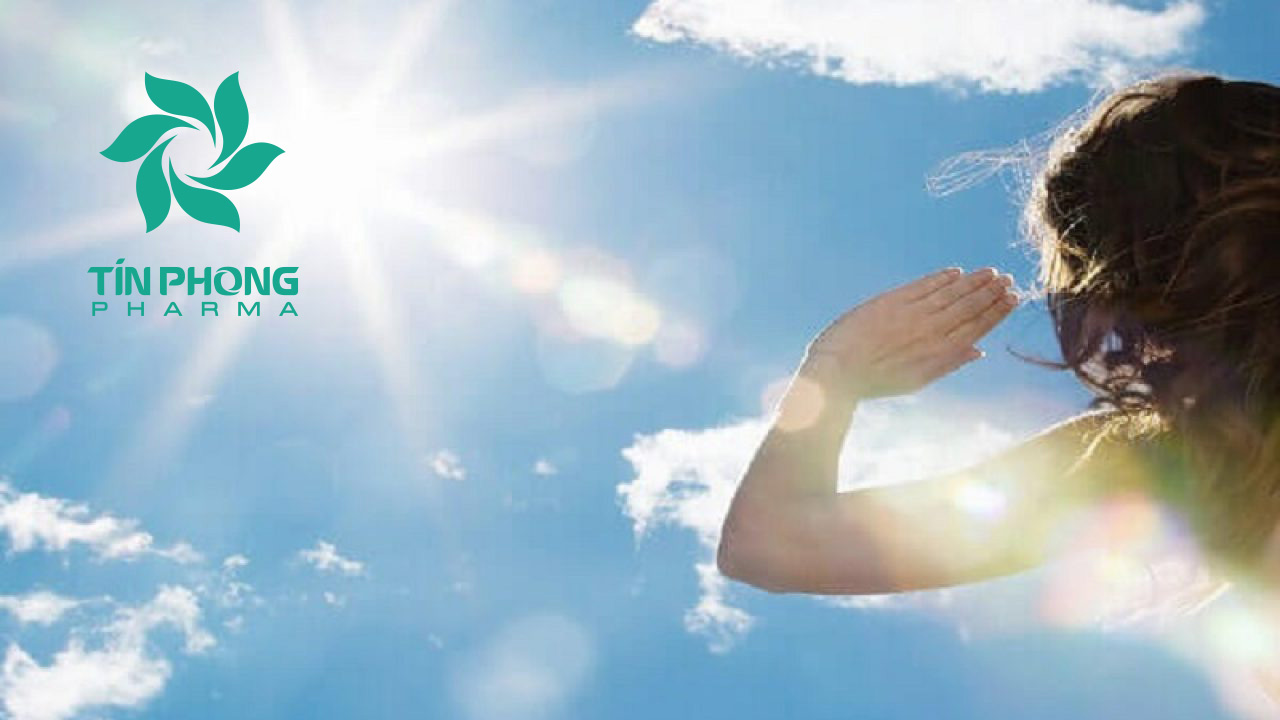 A broad spectrum sunscreen that helps protect the skin from the effects of both UVA and UVB rays.
Safe and effective skin protection with Esunvy sunscreen Different from conventional sun protection measures such as supplementing pills, using sunscreen, Tin Pharmaceutical's Esunvy sunscreen goes in a new direction as sunscreen. Broad spectrum with a unique combination of physical and chemical sunscreen ingredients while adding precious natural essences that are good for the skin thereby providing a 6-in-1 effect for the skin.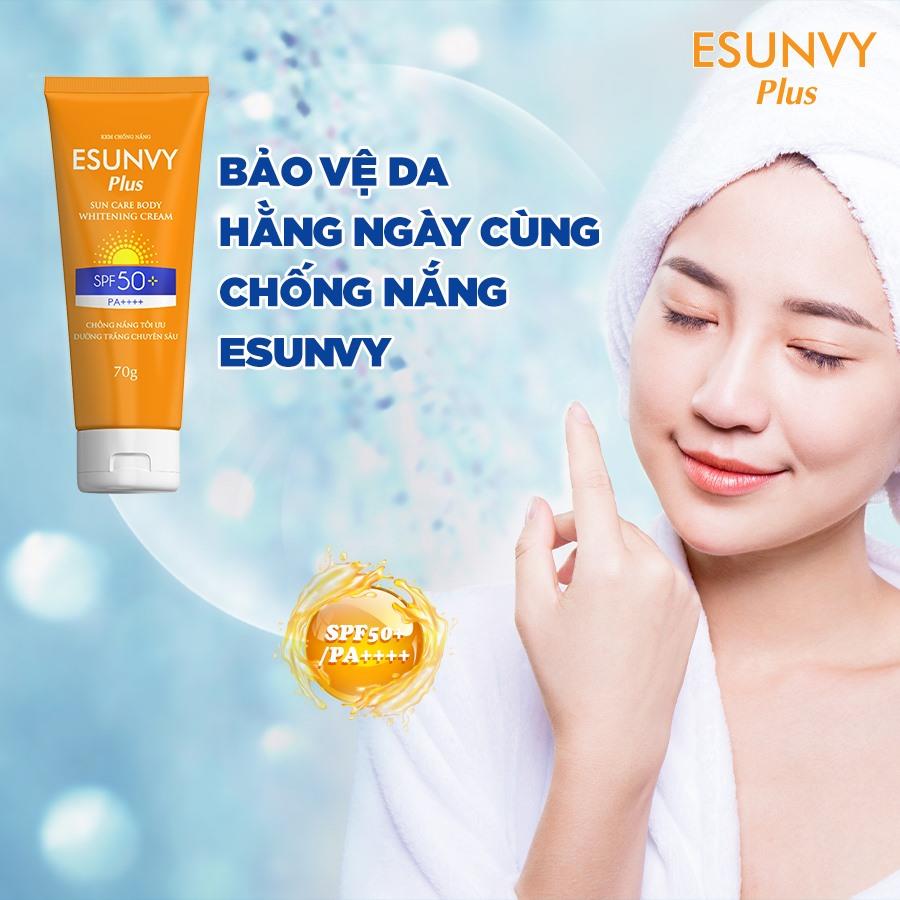 Esunvy sunscreen provides comprehensive protection for the skin.
Esunvy SunscreenContains green tea extract, rich in EGCG, which can act as a sunscreen ingredient, thereby helping to neutralize free radicals caused by UV rays on the skin, while preventing collagen breakdown and reducing damage caused by UV rays. UV rays. Besides, the product also adds precious essences from nature to help nourish the skin from deep within. The first is the ingredient extracted from guava fruit, which has a strong antioxidant effect that can inhibit inflammatory mediators to help retain moisture, fight inflammation, and reduce redness on the skin when exposed to the sun.
Rose extract rich in vitamins A, E, C, D combined with lotus leaf extract has the effect of inhibiting the activity of tyrosinase – an enzyme that synthesizes melanin, helping to whiten and smooth skin from the inside. In particular, Esunvy sunscreen also adds D-panthenol to stimulate the growth of skin cells, support skin cell regeneration, strengthen the epidermis and stratum corneum, thereby improving the barrier. natural protection of the skin, improving the damage on the skin's surface, helping to moisturize, soothe the skin when going out in the sun. Not only that, to bring optimal effectiveness for users of current Esunvy sunscreen Esunvy sunscreen is divided into 2 types of Esunvy sunscreen for the face and for the body area.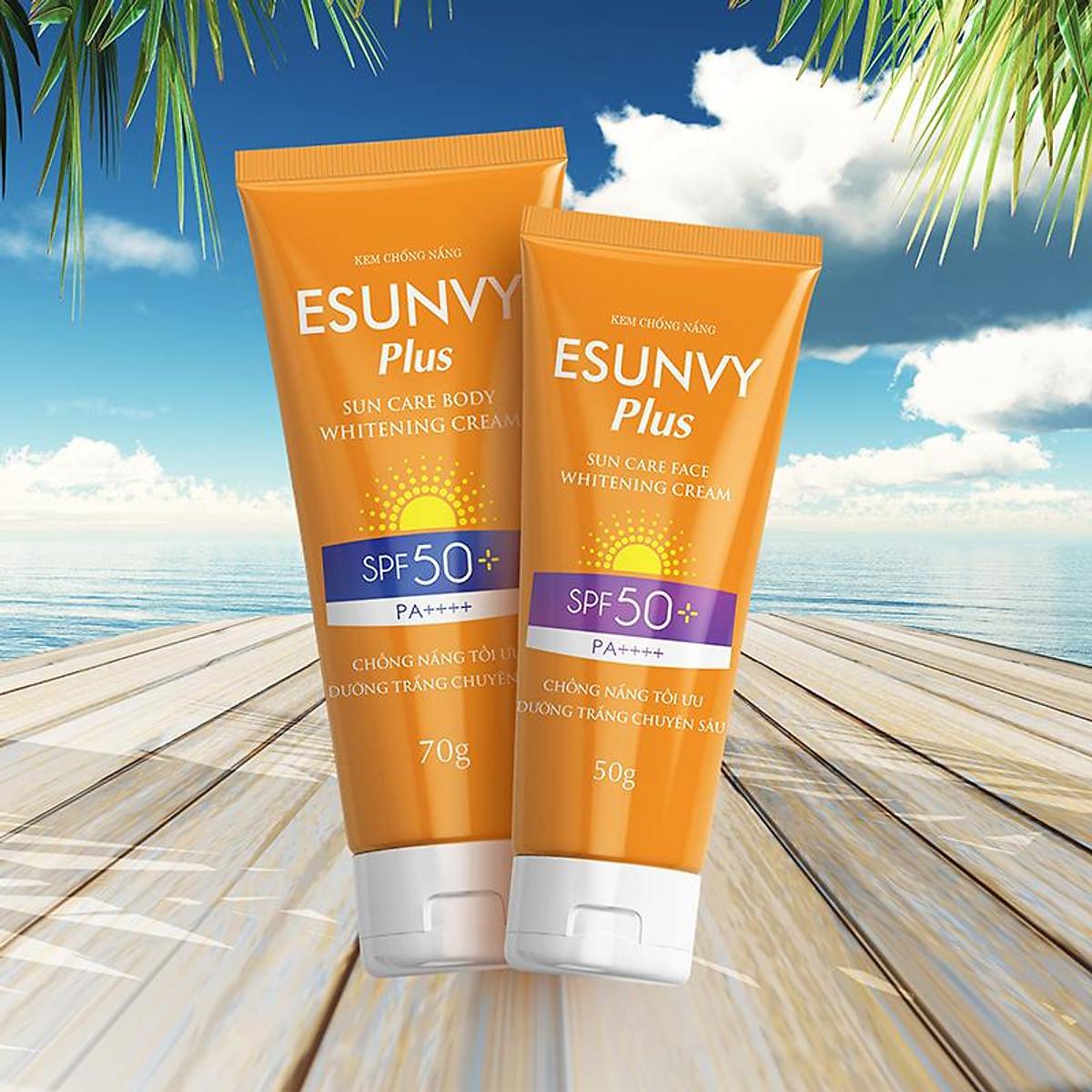 After only 1 time on the market, Esunvy sunscreen of Tin Phong Pharmaceutical Joint Stock Company is becoming an indispensable friend of millions of Vietnamese women in skin care and protection. .
Contact address: Tin Phong Pharmaceutical Joint Stock Company
Website: https://duoctinphong.com/
Head office, working office: Lot B10/D6 Cau Giay urban area, Dich Vong ward, Cau Giay district, Hanoi city
Facebook Fanpage: https://www.facebook.com/duoctinphong
Youtube: https://www.youtube.com/c/duocphamtinphongofficial
https://www.youtube.com/watch?v=c
Hotline: 1800 9229

https://genk.vn/kem-chong-nang-esunvy-cua-duoc-tin-phong-giai-phap-bao-ve-toan-dien-cho-lan-da-20220420141828299.chn
You are reading the article
Tin Phong Pharmaceutical's Esunvy Sunscreen

at
Blogtuan.info
– Source:
genk.vn
– Read the original article
here