Cough for a whole month that doesn't stop
Mr. Hoang Van H. 28 years old, Ho Chi Minh City, said that even though he had recovered from Covid-19 for more than 2 months, Mr. H still coughed, coughed intermittently and had a lot of sputum in the morning, very uncomfortable. He used many medicines but the symptoms only eased but not completely.
Associate Professor Nguyen Thi Hoai An – Director of An Viet General Hospital – said that the vaccine is now covered, so severe symptoms of Covid-19 have been controlled. However, post-Covid-19 has a great impact on our body, especially the ears, nose and throat because these are the "gateway" locations of the body.
Every day, the Department of Otolaryngology – An Viet General Hospital receives hundreds of post-Covid patients. Associate Professor An said: "Most patients often complain that they have symptoms of cough, persistent cough, itchy throat and sputum, usually clear but causing patients to cough a lot, causing discomfort.
When we performed otolaryngoscopy for some patients, we found the nasal mucosa and nasopharynx to be severely congested. Accompanied by nasal secretions in mucus, loose at the back of the nose and pouring down the throat.
This is the cause of cough, irritation, and phlegm. After recovering from Covid-19. Some patients have this symptom for about a week, but there are also people who have not recovered for a month."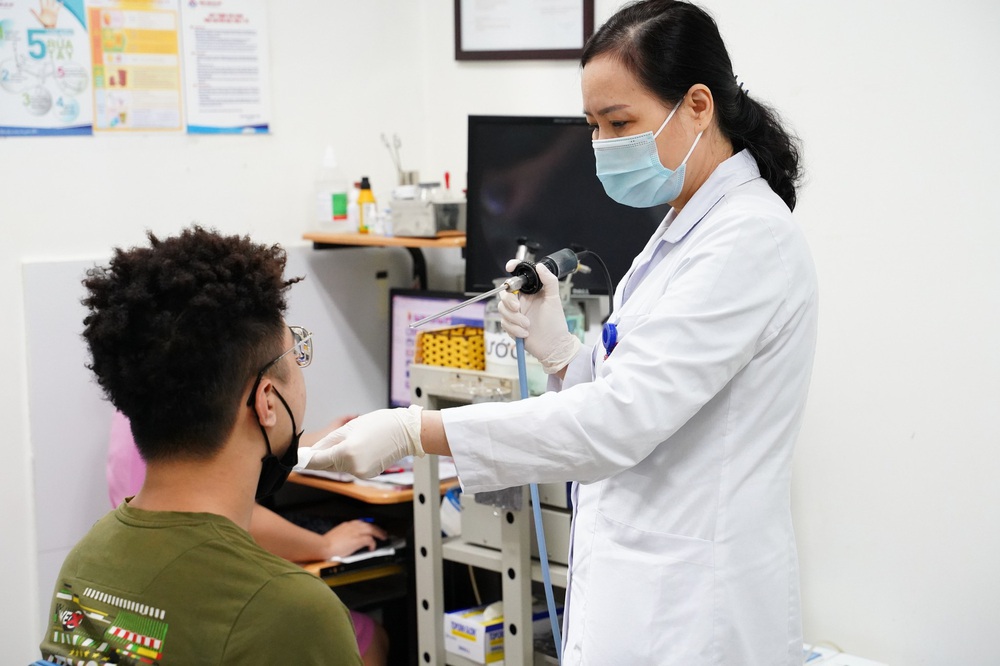 Patient has a persistent cough after Covid-19.
Not only in adults, many children also have ear, nose and throat problems after recovering from Covid-19. Baby THL, 29 months old, contracted Covid-19 from March 21 to March 28 with symptoms of fever and runny nose.
After about 2 days of treatment, the baby continued to have persistent symptoms such as cough with sputum, runny nose. After being examined by the family at the ENT specialist, ENT endoscopy, chest X-ray, etc., the baby was diagnosed with exudative rhinitis and was prescribed medicine for home treatment.
According to statistics around the world, it is estimated that about 10-20% of Covid-19 cases have symptoms of post-Covid-19 syndrome. In particular, Covid-19 greatly affects the ear – nose – throat organs such as cough, sore throat, hoarseness, tinnitus …
How to exercise to reduce cough
According to MSc BS. Ngo Thi Kim Oanh (Deputy Head of Acupuncture – Nursing Department, Ho Chi Minh City University of Medicine and Pharmacy Hospital – Facility 3), persistent cough always causes many health and economic troubles for patients. Doctor Oanh said when you have too much cough, you can do the following cough exercises:
Practice breathing to relieve a cough by following these steps:
First, sit up straight.
– Second, inhale deeply slowly through the nose and hold for 5 seconds, then gently exhale through the mouth (repeat 3-4 times), practice several times a day.
At night, you can relieve cough by placing your head pillow 30-45 degrees high.
In addition, patients can also find supportive measures to treat cough from traditional medicine.
Treatment methods vary depending on the disease condition such as dry cough, cough with sputum, many patients do not cough but feel stuck in the throat, causing discomfort in communication. In traditional medicine, there are many non-drug cough treatments (massage acupressure, acupuncture, nutrition…).
The easy home remedy for cough is mixing honey with ginger, lemon, lemongrass with warm water which is also very effective.
When having a cough, the patient should abstain from cold foods and drinks; hot spices such as chili, pepper, mustard; alcoholic beverages; greasy food; Do not set the fan at high volume or use the air conditioner at too low a temperature.
https://soha.vn/ho-keo-dai-do-covid-19-thu-ngay-hai-bai-tap-don-gian-de-lam-duoi-day-20220420144324588.htm
You are reading the article
Try this simple and easy exercise below

at
Blogtuan.info
– Source:
Soha.vn
– Read the original article
here