Business
"What you can't hold for more than 10 years, don't hold it for more than 10 minutes"
"I still hugged tightly and still did not complain half a word. Flowers also need sunlight. I don't have a bank in the world, what's the fun? The bank is so big that there is no wave. The account is broken, how can the broken mirror heal? Yes, there used to be interest but only interest on the account. If that's not the case, then the bank has gone down trend for 1 year….". Introductory song for talkshow Money Secrets number 17 broadcast on VTV Digital with the theme Yes or no like cutting into the hearts of bank shareholders.
Recently, not only individual investors put their faith in bank stocks. Even large organizations like Dragon Capital on the first day of the year recommended that the industry group is interesting or last week the cash flow message is ignoring this stock line. But in the past few days, the beauty queens of the banking village like Techcombank have also "broken" all support levels within the past 1 year.
"Why did banking stocks fall so sharply?". The question was posed by editor Hoang Nam to familiar guests.
"In my opinion, banks or any other stock when the market reverses, they all go down according to the market, except for special cases. However, the circulation of bank shares is usually very large. We know that the average bank has a market capitalization of 30-40 trillion dong. Therefore, the market turmoil going down is correct, according to the laws of the market. But when you buy bank stocks, I myself am holding a large amount of bank stocks and for more than 20 years I still do. And in the future, I still filter to buy good stocks and keep over time, gradually accumulating.
I assess the bank still has many opportunities in the next 5-10 years. Because we see that although the bank is 30-40 trillion, the USD is only about 2 billion USD compared to the region, not to mention the world, the capital of Vietnamese banks is currently still very small. And the main thing is that Vietnam's economy is still a growth economy. When I understand that, I always hold between the long term and the fruits of the long term holding for me. You buy a bank you have to hold for 5 years before you see how much compound interest comes into play. You will see.", said Mr. Tran Tien Dung, an investor with 22 years of experience in the stock market.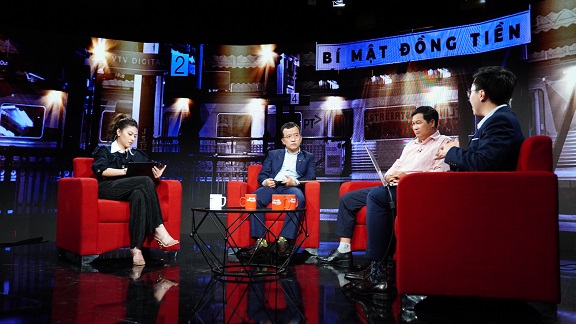 According to this veteran investor, stocks have ups and downs, but investors' psychology should not be affected by short-term fluctuations. Mr. Dung said that down is also a good thing, adjusted. And when we come down we know more about the business activities of the enterprise. Mr. Dung also emphasized once again that buying bank stocks is usually an investment holding and needs to be looked at by the board of directors, management, and institutional investors. This investor also revealed that according to his personal assessment, MBB is a stock with an opportunity to hold and start at the time of growth, not yet in the highest growth stage. Mr. Dung said to buy and hold MBB for more than 10 years.
Agreeing with Mr. Dung's point of view, Mr. Pham Luu Hung- Chief Economist of SSI Securities also quoted Warren Buffett famously said, "What you can't hold for more than 10 years, don't hold it for more than 10 minutes."
Mr. Hung explained more carefully about the market's reaction regarding the recent news that the Government is cleaning up the corporate bond market. This affects the financial industry in general, not just the banking industry. Banks, securities, some real estate companies are affected. For the banking industry in particular, investors are concerned that banks with large portfolios of corporate bonds will be least affected during this period.
Mr. Hung's advice to investors in this period should be carefully selected stocks that are less affected by corporate bonds for better results. For example, stocks like TCB, MBB, and VPB will have an influence. Groups that are less affected by corporate bonds like ACB, stock prices are not affected much during this period.
"Of course, the long-term trend we have to hold for 10 years only. If you can't hold it for 10 years, don't hold it for more than 10 minutes.", Mr. Hung closed his advice for investors.
https://cafebiz.vn/co-phieu-ngan-hang-thung-day-1-nam-chuyen-gia-chung-khoan-va-nha-dau-tu-ky-cuu-dan-loi-warren- buffett-cai-gi-ban-not-cam-duoc-qua-10-nam-thi-dung-cam-qua-10-minute-20220420153314112.chn
You are reading the article
"What you can't hold for more than 10 years, don't hold it for more than 10 minutes"

at
Blogtuan.info
– Source:
cafebiz.vn
– Read the original article
here