Suggested dinner this afternoon will have the following dishes:
– Stir-fried beef with cabbage: 72,000 VND
– Boiled beans: 8,000 VND
– Thien Ly flower salad: 45,000 VND
– Stir-fried dried squid with bean sprouts: VND 45,000
Total: 170,000 VND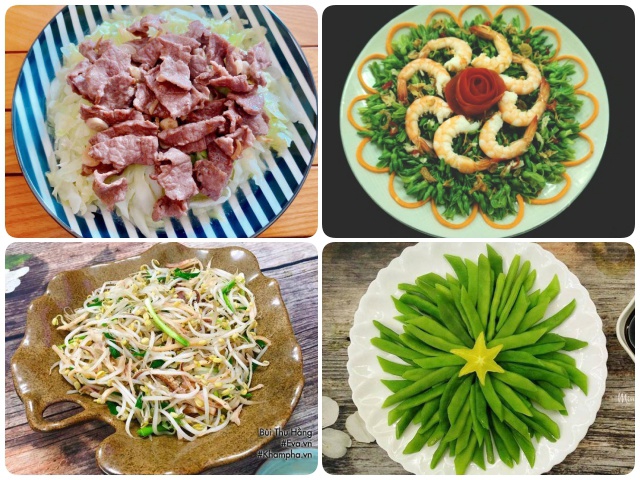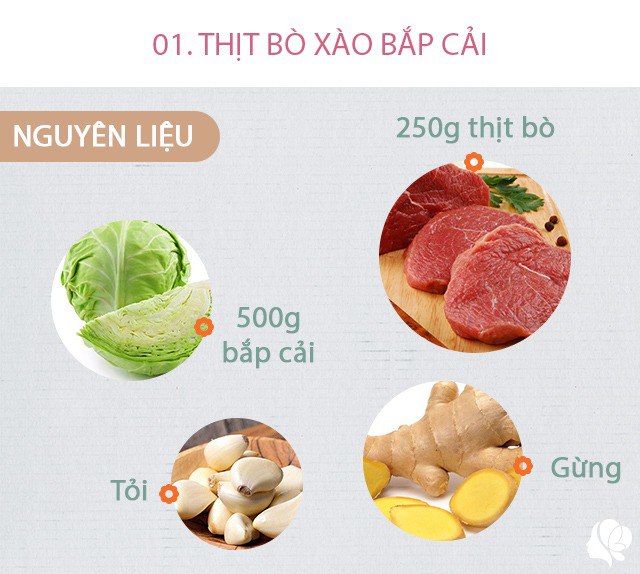 Preparation: 250g beef, 500g cabbage, ginger, garlic, dried onions, cooking oil, spices
Heat the cooking oil in a pan, add minced ginger and garlic and sauté until fragrant, then add the beef and stir-fry on high heat, stir quickly, add seasoning to taste, stir well. Once the beef is cooked, put it on a plate. In the same pan, add the dried onions and saute until fragrant, add the cabbage and stir-fry, stir with a little seasoning to taste. When the cabbage is almost cooked, add the beef, stir for 1-2 minutes until the beef is completely cooked.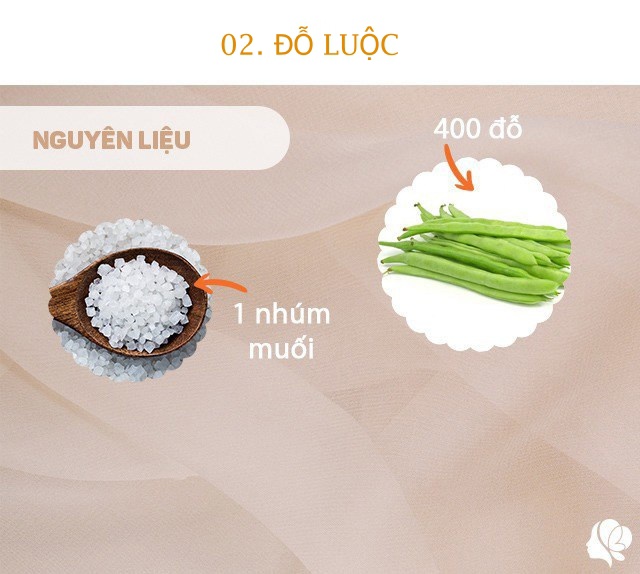 Preparation: 400g beans, 2 pinch of salt
Bring the water to a boil, add a pinch of salt to keep the green color of the beans. Put the beans that have been picked, broken and washed into the pot. Boil until the beans are cooked, take them out. Boiled water to make broth.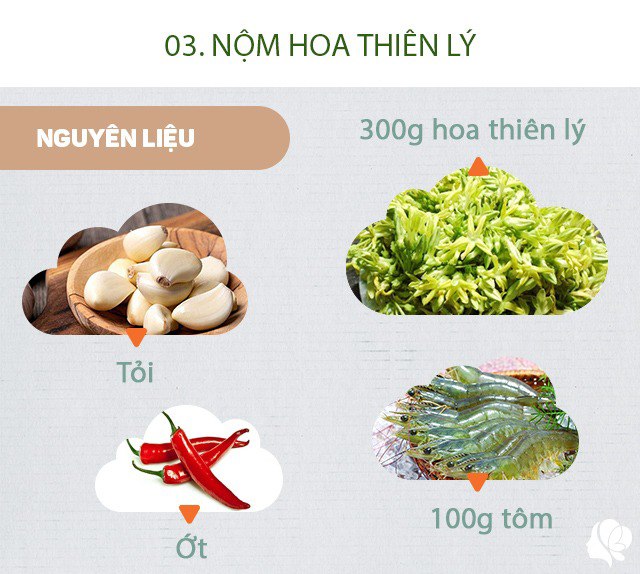 Preparation: Thien Ly flower: 300g, Shrimp: 100g; Spices: chili, garlic, dried onion, lemon, salt, sugar, fish sauce.
Thien Ly flowers pick up the old flowers, stamp, cut off the old stem, wash, soak in dilute salt water for about 15 minutes, then take out the basket to drain. Shrimps are washed, beard removed, marinated with a little salt, steamed until cooked, peeled, removed the head.
In a pot of water, when the water boils, add a little salt and ½ teaspoon of cooking oil, then add the flowers to the pan. After boiling, immediately pick up the natural flowers and soak them in boiled water to cool. Add a few stones to make the flowers green, crispy, and not crushed. Then take out the basket, let it dry.
Onions peeled, washed, thinly sliced, put in a pan of non-aromatic oil. Peel garlic, wash and mince. Chilli washed, chopped. Mix dipping sauce from fish sauce, sugar, lemon juice, garlic, and chopped chili above to taste.
Arrange natural flowers and shrimp on a plate, mix the salad with water, sprinkle some fried onions on top. Before serving, mix the ingredients to infuse the spices.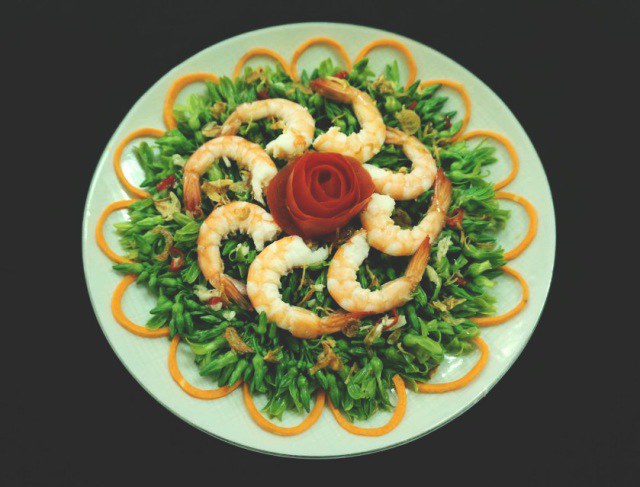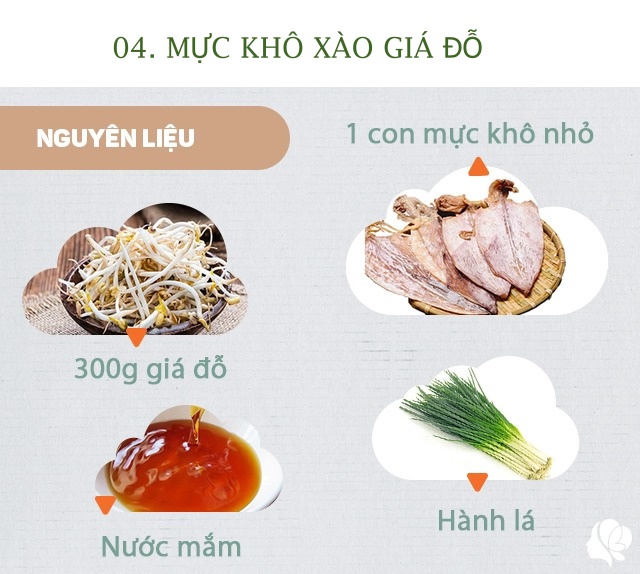 Preparation: 1 small dried squid, 300g bean sprouts, green onions, fish sauce, oyster sauce, pepper, spices
Dried squid soaked in hot water for 30 minutes until soft and then rinsed. Use a sharp knife to cut into small strands. Marinated squid with a little fish sauce, oyster sauce, powdered pepper. Heat the oil in the pan, add the squid and stir fry quickly, then transfer to a separate bowl. Put the bean sprouts in and stir-fry with a little seasoning to taste. When the price is ripe, add the squid to the island, sprinkle with sliced ​​green onions and then turn off the stove.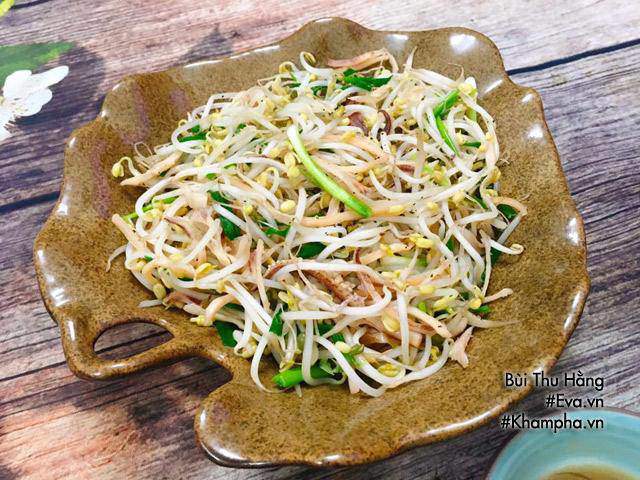 Good luck!
You are reading the article
When the sun comes up, make this quality 4-course meal right away, it looks like you want to eat it right away!

at
Blogtuan.info
– Source:
Eva.vn
– Read the original article
here