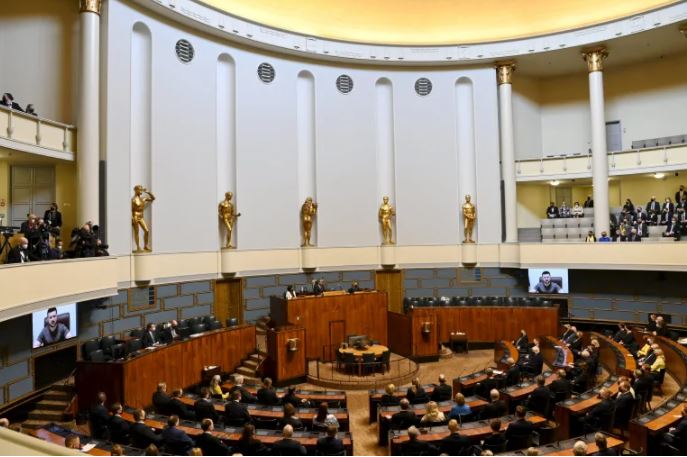 The parliamentary session on April 20 took place despite Russia's warning that it would move to a state of nuclear readiness in the Baltic if Finland and neighboring Sweden joined NATO.
Last week, Finnish Prime Minister Sanna Marin said: "I think the decision will be made quite quickly. Maybe within a few weeks, not months."
The 200 members of the Finnish parliament received a "white paper (a report or guideline from a competent authority whose purpose is to help the reader understand an issue, solve a problem or make a decision)" " to assess the impact of NATO membership along with other security options, such as strengthening bilateral defense agreements.
The report makes no recommendations, but emphasizes that without NATO membership, Finland – a member state of the European Union (EU) sharing a 1,300-kilometer border with Russia – would not be eligible. security.
The report further notes that if Finland becomes a member of NATO, it will have a responsibility to support other NATO countries.
Sweden is also discussing whether to apply for membership. An April 20 poll showed that 57% of Swedes now support NATO membership, up from 51% in March 2022. The number of people opposed to joining the coalition fell from 24% to 21%, while those who were undecided fell from 25% to 22%.
Prospects of joining NATO
Over the two decades in Finland, public support for NATO membership has remained stable at 20-30%, but the war in Ukraine has increased that number to more than 60%, according to the report. public opinion polls.
Public statements collected by Finnish media show that half of the 200 MPs currently support membership, with only 12 opposed. Others said they would respond after discussing the details.
The Finnish government said it hopes to build parliamentary consensus in the coming weeks, with MPs hearing from a number of security experts.
On April 16, Finland's European Affairs Minister Tytti Tuppurainen said she believes a Finnish application is "very likely".
"A formal decision has yet to be made, however it is very likely," she told Britain's Sky News.
Many analysts predict that Finland will be able to submit its application in time for the NATO summit in June 2022. All applications for accession must be accepted by all 30 NATO countries, a process that can take anywhere from four months to a year.
Finland has so far received public assurances from NATO head Jens Stoltenberg that the alliance's doors remain open, with the support of several member states.
However, last week, Deputy Chairman of the Russian Security Council Dmitry Medvedev said that if Sweden and Finland join NATO, then Russia will have to strengthen its land, naval and air forces in the Baltic Sea.