Giáo dục
Life Style
A letter of only 15 words from a 12th grade girl caused a fever on social media
When we were young, we all wanted to grow up quickly, go out in society to make money soon, and have lots of relationships, not depending on our parents anymore. Especially when being reprimanded by parents, that thought becomes more and more intense. Each of us once wished to be free to roam, not under the control of our parents.
But when we grow up, we just want to be a baby again, forever in the arms of our parents, loved and protected. When facing countless pressures of life, we suddenly realize that home is the most peaceful place, where we can live true to ourselves. There, we can cry, laugh, be cuddled and receive sympathy from our parents.
The most lonely and sad moment is probably when I have to leave my parents to go to the city to study or when I am away from home to start a living. No one wants this but for the future, we all have to accept it.
Recently, on social networks, a letter from a 12th grader has been spread on social media, touching millions of people. This letter was sent to myself, with only 15 short words: "You two have abandoned your parents, have you abandoned your parents too?".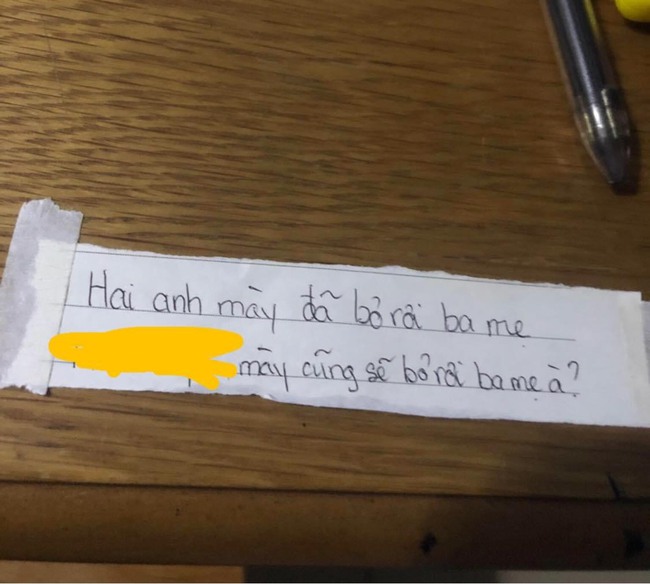 Accompanied by a photo of the letter, a 12th grade female student with a Mango account** shared: "This year, I'm in grade 12, I'm about to take the university entrance exam. In the past, I used to wish I would grow up quickly, go here and there and make my own life. But gradually I just wanted to take it slow, slow down a bit because I'm going to be far away from my parents, I think I'm sad and then I cry. My parents gave birth to me late, I just had a 45-year-old mother, so the age gap between me and my two brothers is quite large.
Parents are also over 60, but every day they still try to save every dong to feed their older brother and feed them to school. The monthly pension of two people is only 9 million, sometimes there will be more money in and out. But in general, father and mother have to accumulate every penny. But my 2 brothers don't see that, they are over 30 but still heartless, only thinking about themselves but sometimes still making it difficult for their father and mother, not seeing how their parents are suffering.
I'm a girl, so I feel more than you two. Therefore, my mother often confided in me as a companion. Every time, after listening to it, I would hide in my room to cry because I was hurt, but I was also helpless because I couldn't do anything. During the exam preparation time, I was lazy, tired, and unsure of where to go.
Lately, I've been distracted too, but this sentence suddenly popped into my head. I write it down on paper, stick it on the desk and see it as a guide. I told myself, I have to do it and definitely have to. And I would like to leave this post here, the day I pass Nhan Van I will come back. Thinking that I was going to Saigon soon, only my father and mother were at home, and there were only two people left in the meal, I cried again, I couldn't help it. But I have to try to make up for the years my parents tried for me."
Accordingly, the female friend shared that she was the youngest daughter in the family, above there were 2 brothers. Although the two brothers are grown up and have their own families, they live heartlessly and without responsibility. The two brothers paid little attention to their parents, sometimes causing trouble. The girl's parents are over 60, the family's economy is tight, they only rely on a meager salary. To raise their daughter to school is a great effort of them.
Therefore, the female student in the story hopes that she will pass the university entrance exam and go to work to earn a lot of money to help her parents. But at the same time, I was also afraid of the day I left my family, thinking that the scene with only two parents eating at a meal made me burst into tears.
Below the article, many people sent words of encouragement to the female student:
– I wish you to pass the university entrance exam, find your dream job, and later be able to take care of and reunite with your parents!
– Read what makes me want to cry. My first year also went to Saigon. It's always crowded here, thinking about my parents at home with 2 people around… I go home once a week and still feel homesick, can't get used to this feeling, it's so annoying. But life has to be endured. If you want to get better, you have to try. Good luck, give me a hug!
– I wish you good luck! I hope you achieve your goal. Be strong and try harder!
https://afamily.vn/tam-thu-von-ven-15-chu-cua-nu-sinh-lop-12-dang-gay-bao-mxh-doc-done-nuoc-mat-lan-dai- hay-ben-bo-me-much-hon-when-con-co-the-20220421164046744.chn
You are reading the article
A letter of only 15 words from a 12th grade girl caused a fever on social media

at
Blogtuan.info
– Source:
Afamily.vn
– Read the original article
here