Khỏe - Đẹp
After having sex, the man trembled when he saw blood in his urine
After the moment of 'climax', the 41-year-old man froze, panicked when he saw blood-filled semen, red urine. Although he 'wait' 2 weeks later, he had sex again, but this time he urinated blood clots…
The Department of Urology and Nephrology Surgery, E Hospital, Hanoi has just received a very rare case of bloody ejaculation, bloody urine after sex.
That is the case of a 41-year-old male patient in Hanoi who used to have blood in the ejaculate and bloody urine after having sex. It is worth noting that, according to Doctor Nguyen Dinh Lien, Head of the Department of Nephrology, Urology and Orthopedics, because the patient did not feel pain or discomfort, he hesitated to go to the doctor immediately after that bloody ejaculation.
Instead, he "abstained" from doing "sex" with his wife after 2 weeks before having sex again. This time, he was just looking to see if there was any problem with his semen.
However, only a week later, he again ejaculated and urinated blood after sex. Even this time, the semen was darker red with difficulty urinating, blood in the urine, after a panic attack, he decided to go to the hospital immediately.
Dr. Doctor Nguyen Dinh Lien said that, through clinical and urethroscopic examination, the treatment team found that the patient had a ruptured urethral vein. Immediately after that, the patient was treated by endoscopic burning to stop bleeding, indicated to rest, immobilize the bed and abstain from sexual intercourse.
Hematuria or hematuria due to urethral vein rupture often causes confusion and anxiety for men and sexual partners because this is an abnormal and pathological manifestation.
It is a rare disease caused by rupture of the urethral vein causing hematuria.
This is a rare disease, mainly seen in men, often appearing during sex, erect penis, enlarged veins (due to blood stasis) burst. This causes blood in semen during ejaculation and blood in urine after intercourse. There are cases of urinary retention due to blood clots in the bladder.
Further explanation, Dr. Doctor Nguyen Dinh Lien said that normally, semen is milky white, slightly sticky. Due to diet or other factors, semen can turn yellowish yellow. Pink, red semen when ejaculating blood, can be seen with the naked eye. Sometimes the semen is brown because the blood has mixed for a while and is discolored.
"However, not all cases of bloody ejaculation are visible to the naked eye," Dr. Therefore, when the amount of blood in the semen is too small, only a semen test for traces of red blood cells and blood cells can be detected, said Dr. Nguyen Dinh Lien.
In addition to urethral vein rupture, which causes ejaculation, blood in urine after sex, men experiencing this condition can be a warning sign of diseases such as prostatitis, urethritis. , epididymitis, prostate cancer…
"Occasionally, seminal vesicle tumors and testicular tumors are also associated with hematuria; Hemangiomas of the urethra of the prostate or of the vas deferens can cause heavy bleeding in ejaculation", Dr. Dr. Nguyen Dinh Lien said.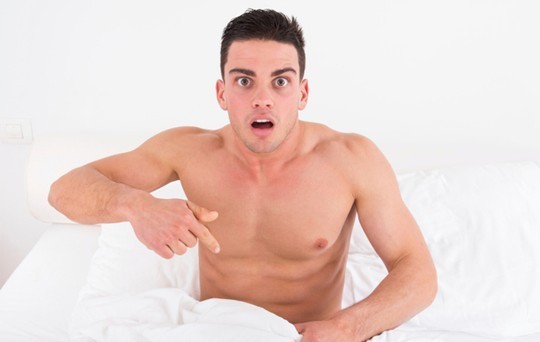 Illustrations
Notably, bloody ejaculation rarely feels pain. The interval between times is also unknown, from a few days to several months. Patients with this condition are mostly confused, worried, do not go to the doctor right away, but often limit sex, which can make the disease go away on its own after a few days.
However, this gynecologist emphasized that the disease is easy to recur and even worsen if the cause has not been overcome. On the other hand, semen is not red but has a slightly black color, often due to metamorphic blood, if not treated, it will cause inflammation, affecting sexual and reproductive functions.
"In people over 40 years old, this disease often turns into malignancy, including cancer, so it must be diagnosed and treated appropriately. When detecting the pathology of blood in the ejaculate, men should not be embarrassed or concealed, but must go to the doctor promptly to avoid complications.
Diagnosis of hematuria due to varicocele in the urethra is not difficult at present with diagnostic cystoscopy. Treatment of the disease by endoscopic burning method, patients are usually discharged from the hospital one day after surgery", said Dr. Dr. Nguyen Dinh Lien said.
N. Huyen
You are reading the article
After having sex, the man trembled when he saw blood in his urine

at
Blogtuan.info
– Source:
infonet.vietnamnet.vn
– Read the original article
here