Giải trí
Extraordinary energy about the "penguin" boy Nguyen Dong Khai-Young man
Clip chalk, clip a pen to your leg to write words, do everything from personal hygiene to folding clothes, writing letters, learning to swim with your feet… It's not a miracle story created by Mr. fairy but is the love of life and the strong desire to rise up of the boy "penguin" Nguyen Dong Khai.
Khai was visited and encouraged by Ms. Nguyen Thi Hue
In a quaint four-level house nestled in Phu village (Ninh Xa commune, Thuan Thanh district – Bac Ninh), the study corner of Nguyen Dong Khai, the 3D class of Ninh Xa Primary School is still lit. Sitting quietly in front of his son's study table, Nguyen Van Thinh, Khai's father recalls, 8 years ago, his wife went into labor and gave birth to a child. Preparing to welcome the second child, the couple is very excited, buying new clothes, cleaning the house…
But the day Khai was born crying was also the time when the whole family felt shocked and saddened. His body was small, weak, and lacked arms. Loving the children to the heart, Thinh's wife can only swallow tears and encourage each other to try to raise children.
"When my wife was pregnant, I was always encouraged, cared for, and dedicated. Whatever my wife likes to eat and drink, I serve them as attentively as when she was pregnant with her first child. Hearing someone say that there is something good to take care of a baby that is about to be born, I can find it. At antenatal check-up, ultrasound results were normal. Yet! . . . ", Thinh said interruptedly.
Mr. Nguyen Van My (Khai's grandfather) sadly added that he was born in a family of 3 brothers, but no one had such birth defects.
"Seeing that my body was deformed, my grandparents and mother cried a lot. Both I love my grandchildren and love my children, I can only encourage and take care of them. The family is difficult, anchored, but no matter how the child was born, the family is determined to take care of and raise him to grow up to be a human. My grandson has a disability in his hands, but his mind is healthy, so my family can rest assured…", Mr. My said.
Looking at his grandson studying, Mr. My only expressed his wish to have a lot of health to accompany him, watching Khai grow up. "At the age of 70, I just hope that God will give me more health to take care of my 3 grandchildren, especially when I can take Khai to school every day, watching him grow up with friends …", Mr. My expressed.
Before the loss of his son, Thinh and his family had to make up for their son with love, care and consideration. At that time, everyone thought that the "penguin" boy would have a hard time going to school. But the family still helps Khai every day to get used to using his legs instead of hands in daily life and to nurture his future dream together.
"Rich in eyes, difficult with two hands" but perhaps no matter how difficult, Khai makes as much effort. With extraordinary energy and desire, the boy that day made everyone go from one surprise to another. The boy has no hands, but he clamps chalk on his feet and writes letters in the yard to start drawing his dream journey to school.
Khai's father said, during an online search, he learned that Nick Vujicic, a disabled person without arms, had inspired many young generations to live, so he followed. In particular, the example of teacher Nguyen Ngoc Ky writing letters with his feet raised hope for the boy's father "penguin".
Like his little son, the more he watched the writing style of Mr. Nguyen Ngoc Ky, the more Mr. Thinh felt that he had support in the future.
Mr. Thinh said, Nick Vujicic and teacher Nguyen Ngoc Ky is not a modern fairy tale, because in it there is no miracle created by Mr. The only miracle is their love of life and their own intense desire to rise. The dreamlike happiness of Nick Vujicic or teacher Nguyen Ngoc Ky in his career and family life is probably incubated by the seed named "luck". But it was Nick and Mr. Ky who decided to cultivate it to become a great tree that shaded his life.
From those examples, Khai has more faith that he can learn to stand up and practice writing to pick "sweet fruits" in the future.
"Writing" fate again
Mr. Thinh also said: Right from the moment he saw the toddler clamp the chalk to his leg, the whole family was silent because of emotion, no one dared to believe that he could do such a miracle. Not only can he stand on his own two feet, Khai can also do everything from personal hygiene to folding clothes, writing letters, swimming lessons…
Accompanying Khai for many years of "self-reliance" on his feet is also his grandfather Nguyen Van My. He said, when he first learned to write with his feet, Khai's legs were tired, sometimes swollen and bleeding. At that time, he massaged and massaged me all night. Not only that, many days when Khai was depressed, he confided and told him fairy tales to "blowing up" the energy in Khai.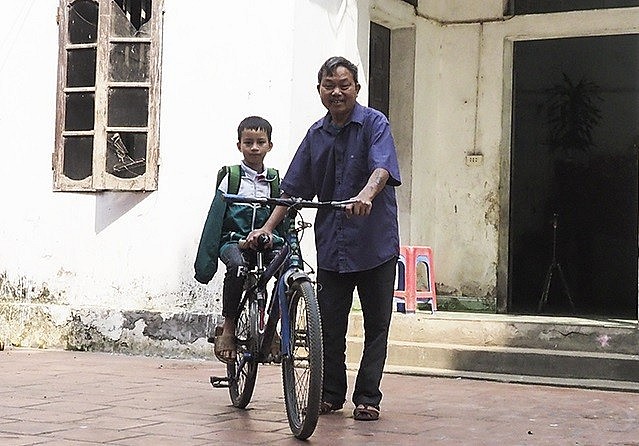 Every day, Mr. Nguyen Van My brings Khai to school in joy and joy.
Even though she had gone through preschool and could write with her feet, when she entered grade 1, everyone in the family was worried and thought that Khai could not follow his friends. Capital of hard work and energy, every year the boy is in the good group of his class and especially he writes very well.
Mr. Thinh added, from the age of 2, Khai spoke fluently and knew how to use his feet to play games, feed himself… When he was over 3 years old, his grandfather bought chalk for him to practice writing with his feet in the yard. By the time I was 4 years old, the pen knew how to "obey" my feet.
"Kai bent over to practice writing, sweating profusely, even once bleeding on her feet, but she persisted in practicing. My perseverance was not in vain in the end.
Gradually, I practice holding the pen with my feet proficiently, writing beautiful, neat and straight letters. Seeing that he was eager to learn, his grandfather bought hundreds of chalks for him to practice writing, took him to festivals so he could paint statues, bought books and pens to guide him to read…
Usually, he has to go to a school with disabilities, because if he learns to read, he learns quickly, but every time he learns to write, it is very difficult because he has no hands. However, regardless of the love of the whole family, Khai was accepted to attend Ninh Xa Primary School because of his will to overcome difficulties …", Thinh recalled.
Talking about future plans for his children, Mr. Thinh said, in the immediate future, the family just wants to take care of Khai to go to school so that he can read and calculate. As for Khai's grandfather, he wants him to travel more with the support from charity houses so that he can be more motivated to study.
"If this is the case, the husband and wife encourage each other to do business, accumulate and save a few million dong a month so that their grandchild can grow up, have a little capital to do business, live, and become a useful person for society …", he Thinh said.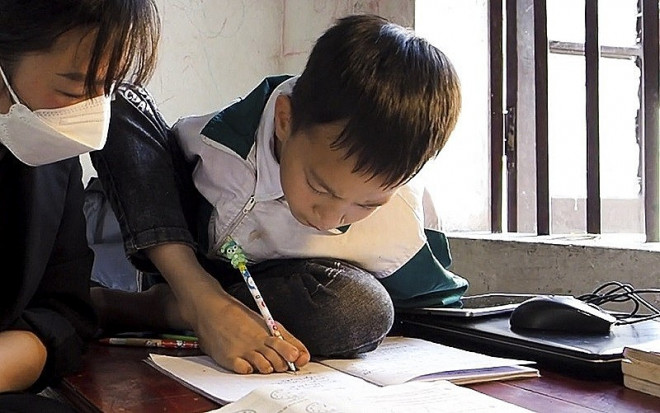 The homeroom teacher has a special love for her student
Sharing about the little student, teacher Nguyen Thi Hue – Head of 3D class (Ninh Xa Primary School) said, Khai is a boy full of energy and eager to learn.
"Khai is a special and unique case of the school. Especially because of his achievements in overcoming difficulties in studying. Overcoming my own shortcomings, I still live happily, get along with friends and people and become a shining example of the will to live…", Ms. Hue said.
Ms. Tran Thi Thanh Van – Principal of Ninh Xa Primary School said that Khai's situation was always interested and supported by the school, the Department of Education and Training, the Study Promotion Association of Thuan Thanh district and local mass organizations.
"The school closes its own desk and arranges Khai to sit at the front desk as well as the classroom is arranged on the 1st floor for Khai's convenience for commuting to study. The homeroom teachers through the classes are all experienced teachers who are very interested in sharing with students…", Ms. Van said.
In the program "Waves and computers for children", the school actively cared and supported Khai with tablets to help him study better and catch up with his peers. Khai resiliently brings his life to spread the will to live to other unhappy parts of life, infusing each other with energy and faith to move forward. Khai's example of winning over fate, winning over life is the motivation for Ninh Xa students to love and study hard… – Ms. Tran Thi Thanh Van shared.
You are reading the article
Extraordinary energy about the "penguin" boy Nguyen Dong Khai-Young man

at
Blogtuan.info
– Source:
24h.com.vn
– Read the original article
here