Thế Giới
French presidential election debate: Mr. Macron consolidates the lead
Poll results after the debate French presidential election The evening of April 20 showed that incumbent President Emmanuel Macron had overcome a major hurdle on the road to re-election with a more convincing televised debate performance than the far-right candidate Marine Le Pen.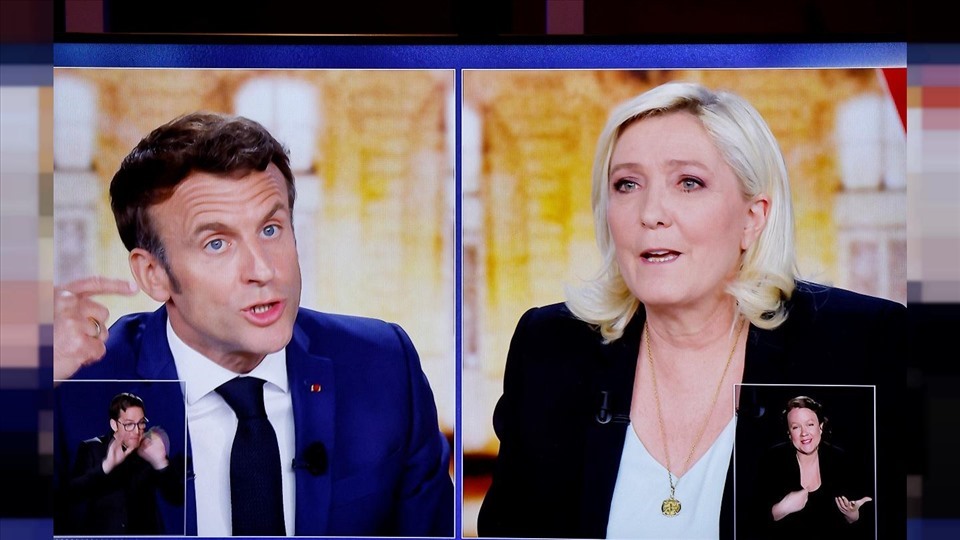 Mr. Macron is more convincing
Elabe's quick survey for BFM TV found that 59% of those polled said Mr. Macron was more persuasive, compared with 39% for Le Pen. The same polling company during the 2017 French presidential election between Mr. Macron and Ms. Le Pen found that 63% of those surveyed said that Mr. Macron was more persuasive.
Voting intent polls for the second round of the French presidential election on April 24 estimate that Mr. Macron will win with about 55.5% of the vote. In 2017, Mr. Macron defeated Ms. Le Pen with 66.1% of the vote.
The above figures suggest that the nearly three-hour televised debate on the evening of April 20 is unlikely to change the course of the election, with Mr Macron consistently leading in all previous polls. there. Voter surveys have shown Macron's lead over Le Pen to have widened to 56%-44% since the first round of elections on April 10, and analysts say the debate is unlikely. could turn the vote in favor of Ms. Le Pen.
"Mr Emmanuel Macron won, but his opponent avoided a repeat of the disaster last time. In this debate, Ms. Le Pen performed better but did not help her close the gap" – former Ambassador French ambassador Gerard Araud said on Twitter.
Debating topics
April 20's debate between incumbent President Emmanuel Macron and far-right rival Marine Le Pen – the only debate between the two candidates in the campaign – was filled with calls to "don't interrupt me" and each accused the other of being unfit to lead France, a United Nations Security Council member with veto power and Europe's second-largest economy. The two candidates show differences on nearly every issue from purchasing power, pension reform, post-pandemic health system improvement, climate, education and training, immigration, Islam. , France's role in Europe, the conflict in Ukraine and relations with Russia…
"Stop messing things up," Macron told Le Pen as he argued fiercely about France's debt, which has increased due to measures to support the pandemic. Ms Le Pen replied: "Don't preach to me", accusing Mr. Macron of adding 600 billion euros in public debt, of which two-thirds of this amount has absolutely nothing to do with the COVID-19 epidemic.
For Ms Le Pen, the debate is an opportunity to convince voters that she has the stature to be president and that they should not fear when the far right takes power. However, Macron's strongest attacks on opponents were Russian bank loans to Le Pen's party during the 2017 election campaign.
"She depends on Russia's strength, on Putin," Macron told his opponent. "Many of her choices can be explained by this dependence," Macron said, attacking Le Pen's policy positions, including her plan to withdraw France from the European Union. Meanwhile, far-right candidate Le Pen has denied that he wanted to leave the EU and was politically damaged by a Russian bank loan. "I am a completely free and independent woman," she said.
With unemployment at a 13-year low, President Macron said he was proud of the job creation during his term, adding: "The best way to gain purchasing power is to fight unemployment. ". The two candidates repeatedly accused each other of failing to respond to voters' real concerns. Ms Le Pen said that "in real life" her proposals would improve voters' situation much more than her opponents'. "I will give absolute priority over the next five years to returning the money to the French," Le Pen said, adding that the French had "suffered" during Macron's term.
With both candidates dismissing their opponents' plans as impractical but failing to score any obvious knock-outs, the debate may not have a tangible impact on voters. According to an OpinionWay-Kea Partners poll for Les Echos newspaper, only 14% of voters wait for the debate to decide who to vote for, while 12% say it will determine whether they vote. or not.
You are reading the article
French presidential election debate: Mr. Macron consolidates the lead
at Blogtuan.info – Source: laodong.vn – Read the original article here