Khỏe - Đẹp
Grade III anaphylaxis due to skin peeling creams bought online, dermatologists warn of what women want to whiten their skin without complications
There are many floating cosmetics for sale on social networks that are advertised as having an immediate effect that many women have trusted and then received bitter results.
Most recently on the afternoon of April 19, Hoan My Da Nang Hospital received a female patient with grade III anaphylaxis due to the use of whitening cosmetics.
The patient is Mrs. HTT (62 years old, in Da Nang). Because she wanted to improve her dull skin, Mrs. T. went online to buy whitening cream.
Through online advertising, this cream box is safe and whitens skin by peeling. Believing online advertising, she bought Ms. T without hesitation to use it immediately. After applying the cream for only 5 minutes, the skin on her feet began to peel off a thin layer, the soles of her feet were hot, her heart was racing, and her chest was painful.
Mrs. T. hastily washed the skin with water that had applied the cream and immediately went to the emergency department of Hoan My Da Nang Hospital.
According to Dr. Do Hong Son, the hospital's intensive care – anti-toxicity department, said Ms. T. was admitted to the hospital with a rapid pulse, high blood pressure of 190/90 mmHg then tended to decrease. At the same time, there are pain in the left chest, sweating, the skin of the feet is slightly peeling, and the ankles are purple.
Doctors determined that she was allergic, anaphylaxis grade III due to the use of cosmetics of unknown origin.
After one day of active treatment, Ms. T's health stabilized and was discharged from the hospital. Dr. Do Hong Son noted that Ms. T.'s case, if not handled promptly, could progress to a life-threatening condition.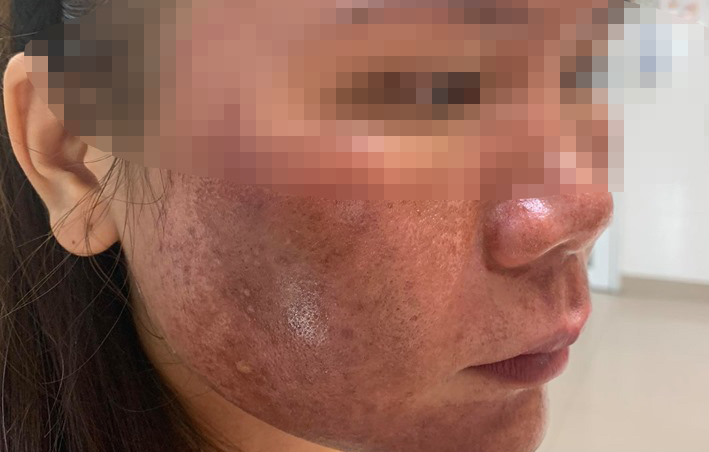 A patient who had a stroke after using a whitening peeling cream had to go to the Central Dermatology Hospital for treatment
Having warned reporters, BSCKII Nguyen Tien Thanh, Deputy Head of Laser and Skin Care Department – Central Dermatology Hospital, said that now there are many floating cosmetics for sale on social networks. With a low price, advertised with immediate effect, many women have gullible use for quick beauty.
"There are a lot of floating cosmetics that manufacturers put into products with banned harmful ingredients such as corticosteroids, parabens, formaldehyde, propylene glycol, lead, mercury, zinc, cyanide. More dangerous are those substances. causing changes in the physico-chemical components on the surface of the skin and underlying tissues", said Dr. Thanh.
According to the analysis of Doctor Hoang Van Tam, lecturer of Dermatology, Hanoi Medical University, our skin is composed of 3 layers: epidermis, dermis and dermis. In it, the epidermis is the outermost layer, which is also the part that we can see with the naked eye.
The epidermis has a stratum corneum, which has a mesh-like structure. The main job of the stratum corneum is to protect us from external influences such as dirt, bacteria and especially UV rays from the sun.
The epidermis (epidermis) possesses the stratum corneum, which has a mesh-like structure. The main job of the stratum corneum is to protect us from external influences such as dirt, bacteria and especially UV rays from the sun.
Accordingly, cosmetics with whitening effect in ingredients may contain substances with deep peeling effect with high concentration such as: salicylic, glycolic, phenol… when applied to the body, it will have peeling effect. replace the stratum corneum on the epidermis, so the effect is brought quickly.
"Besides, peeling off the stratum corneum also increases the metabolic cycle of skin cells to help brighten the skin and support the treatment of acne," said Dr. Tam.
However, this expert also warned that beautifying by peeling off the horny layer, which is the body's protective shield, this method of skin whitening comes with many side effects.
In addition, BSCKII Nguyen Tien Thanh emphasized that cosmetics of unknown origin can seriously affect facial skin. Mild allergies, contact dermatitis, skin burns: redness, rash or blisters, itching, peeling, burning pain.
Some people may experience nausea and difficulty breathing. But more seriously, the chemicals used in floating cosmetics can thin the skin, dilate blood vessels, grow hair on the face, tan, freckles, speed up skin aging.
After using these products, the skin is beautiful at first, but after a while, it changes vasodilation, hair growth, atrophy of the skin, changes in pigmentation, dependence on corticosteroids, if not used, it will cause rashes. Some people have it after 2-3 months or years of use. It is extremely difficult to treat these cases.
According to Dr. Thanh, currently, chemical peels are FDA-approved for skin care applications. Chemical peel is a minimally invasive procedure that removes a few layers of surface cells, making it easier for the skin to absorb nutrients, increasing collagen, skin regeneration, and anti-aging.
"This procedure is suitable for skin lightening care, treatment of concave scars, shallow wrinkles, skin regeneration. These are cosmetic procedures that must be examined and prescribed by a doctor and performed directly or closely by the doctor to be able to assign and control different degrees of peeling, "said Dr. Thanh.
Therefore, Dr. Nguyen Tien Thanh recommends, when skin health has problems, should go to licensed medical facilities for examination and treatment.
Make sure that the person directly examining and treating you is a dermatologist, trained in dermatology and knows the procedure for handling unwanted effects.
The beauty products used must ensure a clear origin, verified by competent authorities, to avoid possible unfortunate consequences.
N. Huyen
You are reading the article
Grade III anaphylaxis due to skin peeling creams bought online, dermatologists warn of what women want to whiten their skin without complications

at
Blogtuan.info
– Source:
infonet.vietnamnet.vn
– Read the original article
here