Business
Individual investors have no advantage in the market, often have to go after large institutions
When buying stocks, investors expect two main factors: dividends and stock price appreciation. In the context of the current plummeting market, investing in stocks to enjoy dividends is also a viable strategy. This investment method is shared by experts in quite detail in the talkshow Money secret number 17 with theme Yes or no aired on VTV Digital recently.
In the program, a stock that is about to pay a dividend of up to 50% like HAH was also discussed. This is a preferred stock of SSI securities company. Talking about HAH, Mr. Pham Luu Hung – chief economist of SSI said that this year's prospect of this business is quite good with a growth rate of about 70%. HAH also has many transport port projects. This is considered a fairly stable industry during this time. In addition, the P/E valuation of HAH 2022-2023 according to SSI is only about 7.
After Mr. Hung's sharing, an individual investor with 22 years of experience – Tran Tien Dung quickly commented.
"By the way, let me talk about the thoughts of individual investors. Talking about HAH stock as well as other stocks, it is very difficult for individual investors to access future growth (information). Why are institutional investors buying at low prices? I think HAH was not that expensive before. Now somewhere around 80-90 thousand something (price on April 20, 2022 is 101 thousand dong). Here I want to share that it is difficult for individual investors like us to approach the business to know that future growth.
But here is Mr. Hung representing SSI securities company, it can be said that they have many advantages over us. They have easier access to the business and they know their future plans and future projects. They therefore have access to relatively low prices. When prices rise, businesses no longer have growth potential, organizations sell. Not only SSI securities company, but also foreign institutions.
Let's look at Hoa Phat in the third quarter of last year when it boomed, foreign organizations came out, but before that they bought 2-3 years ago because they could access. Individual investors themselves know it, but not as well as they do. Business owners love to reach out to organizations because they have great financial backing and support for the business. That is the disadvantage of individual investors who are often left behind", Mr. Dung frankly shared.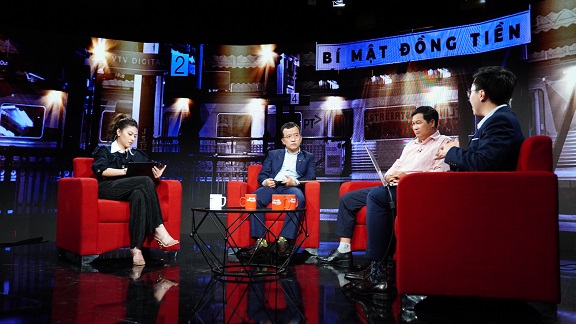 With such disadvantages, this investor said that in order to survive on the stock market he must always try to access the best information. If not, try to create a moderate list to follow.
"We never had an advantage in the market. Individual investors are disadvantaged by all kinds of things"Mr. Dung closed.
Before the above arguments, Mr. Hung immediately had to intervene to explain the HAH analysis report. This securities expert said that SSI has had recommendations to buy HAH since last year and until now the reports are still very updated. Investors can read reports from last year, rather than just recently making a buy forecast for this stock.
"I am not talking about SSI, but only sharing about business valuation. Not only HAH but also other businesses. A series of real estate businesses formerly cost only a few thousand why up to 100 thousand, ridiculous. Never in a few months pushed the price up like that.
I'm just speaking in general, not SSI. In the market, institutional investors include securities companies, fund management companies, and financial companies", Mr. Tran Tien Dung replied to SSI boss. According to this position, individual investors must see their position in the market and be careful when investing.
https://cafebiz.vn/man-tranh-luan-gay-gat-giua-chung-si-lao-luyen-22-nam-king-nghiem-va-sep-ssi-nha-dau-tu-ca- n
According to the Law and readers
You are reading the article
Individual investors have no advantage in the market, often have to go after large institutions

at
Blogtuan.info
– Source:
cafebiz.vn
– Read the original article
here