When traveling in India, many tourists cannot help but be surprised by strange habits, such as eating with their hands. Most people are happy to respect, many people even "enter the custom", try to experience this type of food.
However, there is a habit that many foreigners find difficult to adapt to in this country, which is not using paper after going to the toilet.
After using the toilet, a lot of people are used to using paper for personal hygiene and drying their hands after washing with soap. What was once thought to be commonplace has become "unthinkable" in India.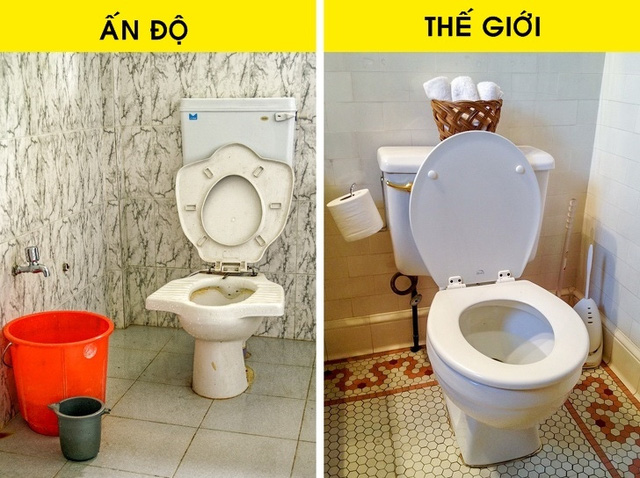 The difference in India's toilet habits makes many tourists feel strange when traveling here. Photo: Brightside
In most WCs in this country, people can hardly find the appearance of toilet paper. Instead, they usually put buckets of water. Indians are used to using water for personal hygiene, so they have absolutely no need to use paper. Some even think that using your hands is cleaner than using paper.
One reason is pointed out because Indians are afraid that toilet paper will clog pipes, while the drainage system of many toilets here is not really good.
In the past, thinking about toilets in this country was also quite strange. In the minds of many people, the toilet is a dirty place, if anyone's house has a toilet, it is a place of shame and ridicule.
Therefore, many families do not want to build a toilet in the house. Instead, they often use public restrooms. Many people choose to go to the toilet "openly". When there is a need, they just find a discreet place to "settle".
According to the United Nations Children's Fund (UNICEF), India once had the highest number of people defecating outdoors in the world – about 620 million people – mostly in rural areas. This is a great danger to public health, especially to children. People will be at a fairly high risk of potentially dangerous illnesses such as diarrhea.
According to UNICEF, fecal pollution and poor sanitation are the leading causes of death, morbidity, malnutrition and stunting in children. At the same time, this practice also puts the safety of women and girls at risk.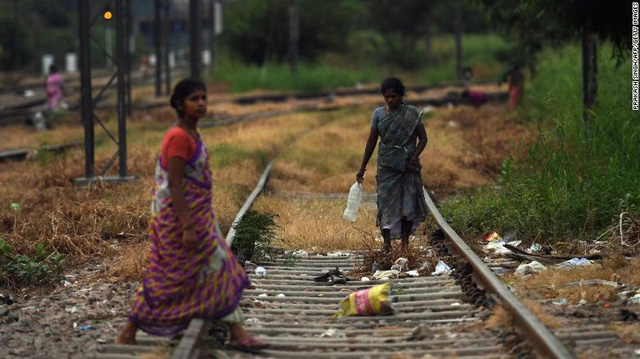 Women walk on train tracks in an area where people go to the bathroom near Nizamuddin train station, New Delhi on September 27, 2019. Photo: CNN.
It is the lack of adequate toilets and equipment in the household, as well as the lack of awareness about sanitation and proper defecation, which are the reasons why people defecate outdoors.
However, attitudes towards this in India are slowly improving. A lot of public toilets have been built to change people's perception.
Since 2014, Prime Minister Modi has started a project to spend more than 30 billion USD and build more than 100 million toilets in 7 years to implement the "Clean India" campaign, in an effort to completely eliminate the public sanitation.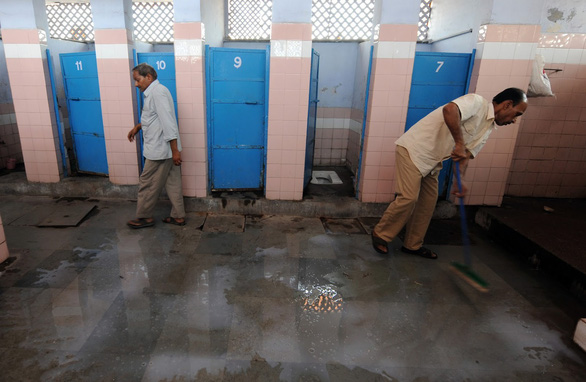 Public toilets in India are built in large numbers with the desire to change people's open-air hygiene habits. Photo: AFP
In reality, despite many efforts, the process of changing this perception is not easy. "It is not only about building toilets, but also teaching people how to use them," said Nazar Khalid, a research fellow at the Research Institute of Creative Education (RICE). how to maintain the toilet."
"People don't want to deal with human-made waste. Traditionally, this work has been reserved for a certain group of people in society," said the RICE expert.
This is the main reason why some people do not want to build a toilet in their home.
(*According to CNN, iNews)
https://cafef.vn/nguoi-dan-nuoc-nay-gay-soc-khi-nhat-quyet-khong-dung-giay-sau-khi-di-ve-sinh-tha-dung-tay-con- instead of book
You are reading the article
International tourists encounter a scene of "crying and laughing"

at
Blogtuan.info
– Source:
Soha.vn
– Read the original article
here