Thế Giới
QUICK READ April 21: Prime Ministers of Spain and Denmark arrive in Kiev
Mariupol residents walk among the rubble on April 20 – Photo: REUTERS
* Reuters news agency reported Spanish Prime Minister Pedro Sanchez and Danish Prime Minister Mette Frederiksen arrived in the Ukrainian capital Kiev to support President Zelensky. The leaders will discuss support for the Ukrainian people and Russian behavior.
* AFP news agency quoted Ukraine's Deputy Prime Minister Iryna Vereshchuk as saying that four buses carrying evacuees left Mariupol city through the humanitarian corridor on April 20. For today, the city will continue to evacuate women, children and the elderly.
* The President of Serbia, Aleksandar Vucic, said they will not join the West in punishing Russia because such action jeopardizes Serbia's own interests. Serbia has long had close political, economic and security ties with Russia, which has supported Serbia's purchase of a Chinese missile system despite objections from the EU.
* On April 21, TASS news agency reported that the World Federation of International Music Competitions (WFIMC) had removed the Tchaikovsky International Music Competition from the list of members. In the past, WFIMC has declared "non-political", opposing sanctions against Russians and anti-discrimination against artists based on nationality.
* According to the United Nations website (UN), UN spokesman Stéphane Dujarric said in a separate letter to Russia and Ukraine from April 19, UN Secretary-General Antonio Guterres has requested to meet Russian President Vladimir Putin and Ukrainian President Volodymyr Zelensky.. "At a time of great danger and consequences, he wants to discuss urgent steps to bring about peace in Ukraine," he said.
* According to Reuters news agency on April 21, Ramzan Kadyrov, the head of the Russian Republic of Chechnya and an ally of Russian President Putin, announced Russian forces will take control of the Azovstal steel plant – the last main point of resistance of Ukrainian forces in the city of Mariupol in southeastern Ukraine – on April 21.
"Before lunchtime or after lunch, the Azovstal plant will be completely under the control of Russian forces," he said. The Ministry of Defense of Ukraine has not yet commented on this statement.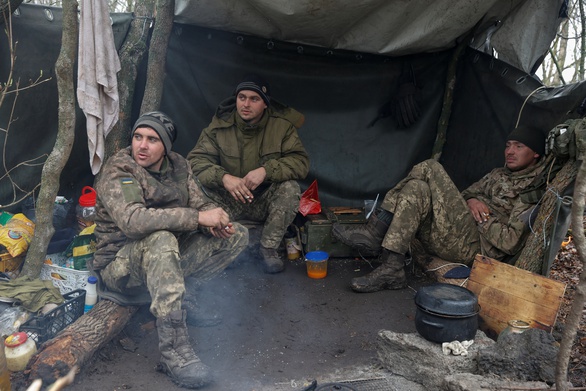 Ukrainian soldiers rest at a position in the Kharkov region, Ukraine on April 20 – Photo: REUTERS
* According to AP news agency on April 21, leader Serhiy Haidai of the Lugansk region in the Donbass region, eastern Ukraine, said that currently Russian forces already control 80% of the Lugansk region. He urged locals to evacuate immediately and said that after capturing Kreminna, Russian forces are now threatening the cities of Rubizhne and Popasna in the region.
* John Kirby – a spokesman for the US Department of Defense – admitted there were "mistakes" at a press conference on April 20. "I thought the delivery of complete planes from a country in the region to Ukraine had already been done. But it turned out not to be."
* President Joe Biden joined the annual meeting of military leaders America on April 20, in the context of the war in Ukraine entering a new dangerous phase and Washington's plan to support more weapons to this country.
A spokesman for the US National Security Council said Defense Secretary Lloyd Austin, General Mark Milley, chairman of the Joint Chiefs of Staff and senior military leaders raised "a variety of other topics". each other" in the discussion.

* On April 21, G7 finance ministers said they have provided and committed together with the international community additional assistance to Ukraine more than 24 billion USD for 2022 and beyond. The group of 7 richest countries in the world also affirmed their willingness to provide more support when needed.
* Announced on Twitter on April 20, Ukraine's negotiator Mykhailo Podolyak said his administration was ready to organize a "special round of negotiations" with Russia in the city of Mariupol without any conditions.
Mariupol in southern Ukraine is almost falling into the hands of Russian and pro-Russian forces. The city was besieged during the first days of Russia's "special military operation" in Ukraine.
Currently, only a small group of Ukrainian soldiers are entrenched in an underground area of ​​​​the vast factory and are being given an ultimatum by the Russian side "surrender or die".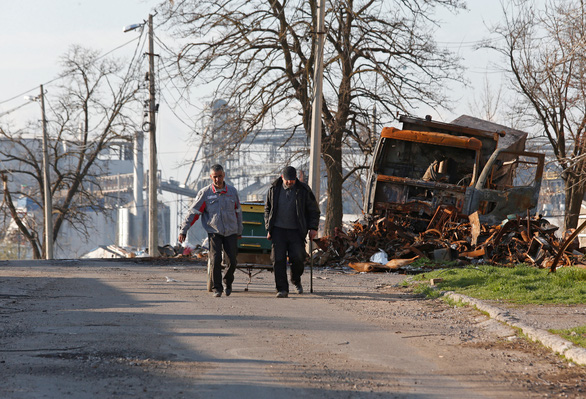 Ukrainians on the streets of the port city of Mariupol on April 20 – Photo: REUTERS
* Ukraine's Deputy Prime Minister Iryna Vereshchuk accused Russian forces of violating the ceasefire, causing The humanitarian corridor at the Azovstal steel plant in Mariupol could not open as planned.
Vereshchuk also said that buses organized by Russia did not bring evacuees to the point where Ukrainian buses and ambulances were waiting in time.
Ukrainian officials estimate that about 1,000 civilians are sheltering in Azovstal. This is Ukraine's last stronghold in Mariupol, in the southeastern part of the country.
Earlier on the same day, the governor of the Donetsk region Pavlo Kyrylenko said that fewer buses than planned to reach civilians in Mariupol on April 20, and they could not evacuate many people.
Kyrylenko said he expected 90 buses to be able to enter the city and take out about 6,000 women, children and the elderly.
* April 20, Canadian Finance Minister Chrystia Freeland says she walked out of G20 meeting (group of 20 largest economies in the world) in Washington to protest against Russia's involvement, after a "special military operation" in Ukraine jeopardized the global economy.
According to RIA news agency, Russian Finance Minister Anton Siluanov called on the G20 not to politicize dialogue between member states, warning the group of the risk of undermining confidence in the global monetary and financial system. bridge.
Earlier, British Finance Minister Rishi Sunak said that top finance officials from the UK, US and Canada walked out of the meeting when the Russian representative spoke.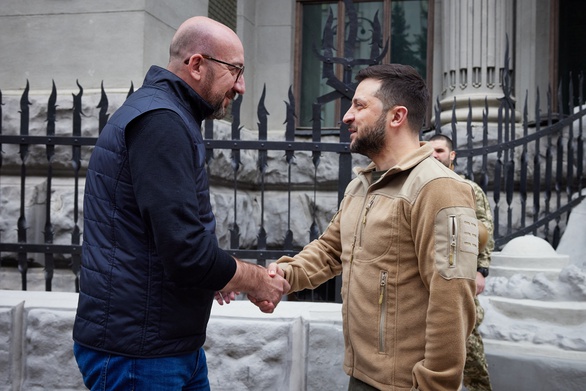 European Council President Charles Michel (left) shakes hands with Ukrainian President Volodymyr Zelensky in Kiev on April 20 – Photo: REUTERS
* A senior US defense official told Reuters news agency that The US military has begun training a small number of "more than 50" Ukrainian soldiers on how to use howitzers. The source revealed that the training is being conducted outside of Ukraine and will last about a week.
Last week, US President Joe Biden announced additional military aid worth $800 million to Ukraine, including heavy artillery.
* Ukrainian President Volodymyr Zelensky praised the visit to Kiev of European Council President Charles Michel. Michel's visit on April 20 aims to show solidarity with Ukraine in the war with Russia.
Michel stated the EU's support for Ukraine at a joint press conference after talks with Zelensky. Michel said Brussels has so far provided Kiev with 1.5 billion euros ($1.63 billion) in military aid.
* In a phone call on April 20, Russian Foreign Minister Sergei Lavrov told his Turkish counterpart Mevlut Cavusoglu that the outcome of the negotiations with Ukraine depends entirely on Kiev's readiness to respond to Russia's demands.
The Russian Foreign Ministry also said that Lavrov and Cavusoglu discussed the situation in the Ukrainian port of Mariupol, as well as possible measures to provide the safety of civilians, including from abroad.
You are reading the article
QUICK READ April 21: Prime Ministers of Spain and Denmark arrive in Kiev

at
Blogtuan.info
– Source:
tuoitre.vn
– Read the original article
here