Life Style
Xã Hội
Renting a villa with tens of millions of dong for 2 weekends, surprised customers received a cancellation notice
Closer to the holidays, booking and tour services are increasingly "blooming" with many attractive incentives. Especially at a time when society has returned to a new normal after a long period of being affected by the epidemic, making people's travel demand even higher.
However, guests do not always get a satisfactory experience during the booking process. There are many cases where customers are "surprised" when right before the time of the trip, they are informed by the booking intermediary that they have not been booked due to negligence.
The customer is canceled right next to the date of departure with the reason that the agent "forgot to fill in the name on the booking", the room fee has not been refunded.
That was the case of Ms. Ngo Hong Duc (SN 1986, Hanoi) when booking a villa for a company trip to Ba Vi for 2 weekends.
However, right before the time of the trip, Ms. Duc suddenly received information from TTT – the person she trusted to book the homestay, that there are currently no rooms available as previously booked. "Because the agent forgot to fill in the name on the booking". Frustrated for unacceptable reasons, Ms. Duc posted a public article on a group of villa and homestay rentals in Hanoi.
Duc's article attracted the attention of many people (Photo NVCC)
Specifically, in the content of the article, Ms. Duc said: "I transacted with this friend to rent GH homestay this Saturday and Sunday (April 23-24). I was so busy that I forgot to check (check) my reputation first.
The other day, the money has been paid, but now I have not sent the homestay phone number to ask for information. The time to report back is because the agent forgot to enter his name in the booking (booking list), while April 23 is gone.
Contact Ms. Duc, it is known that at the end of March, she contacted T. to book a room.
"At the end of March, I had a reservation from her. She told me to transfer 9 million deposit for the room, then another 4 million, for a total of 13 million. T. promised that up to 3 days before the trip. , which is Wednesday (April 20) will send me information about the room, the owner and how to contact.
But on the date of the appointment, I contacted you, you said that you still have not been able to contact the owner. The next morning, you said that you forgot to enter your name in the booking, but the money was not returned. It's my fault that I didn't check thoroughly because I'm quite busy at work."
When asked where she knew and trusted T.'s booking, Ms. Duc said she only knew you when asking for booking information on a Facebook group.
"There were many people who texted different villas and homestays, but seeing that your room was quite nice and cheap, I agreed to rent it and transfer money."
"I also went to this friend's Facebook to see the rooms you posted, there are also a lot of room rental transactions that are public, so I can rest assured."
Ms. Duc said that the villa that T. advertised was quite nice with a reasonable price (Illustrated photo)
Ms. Duc regretfully said that she learned this news right after the company's trip, but could not cancel because of that, so she could only quickly find another person to book a room. Hope everyone has a nice trip. Along with that, she also showed a resolute attitude to reclaim the money she transferred to T. as soon as possible.
At the same time, Ms. Duc also shared that she was surprised because after posting, many people messaged her about the same thing when booking a room with TTT.
Contact Thu Hang – another "victim" is still being kept by T. a room deposit of 5 – 6 million for a group of about 10 adults:
"This friend often hits the customer's psychology of liking cheap and beautiful rooms. At the end of the week, the parties report that the room is out, but party T still accepts and takes a 100% deposit, if negotiable, can deposit 50% of the room rate. Guests. If she talks a lot, she still promises to pay but always roulette."
Hang said, there were quite a few people who contacted her and said that she was also kept by T. a large amount of money in a similar way: "Someone is being held 10 million, someone keeps 14 million,… I'm trying to gather everyone to file a police report, but it's too bad to leave it like this forever."
Close people in the industry also fall into the same "trap".
Not only customers, TTT also uses a similar method to take money from people who work in the tourism industry and have a previous relationship.
Talking with Hoang Linh, a person who specializes in receiving travel reservations is also being held by T. an amount of tens of millions of dong:
"During the Lunar New Year, T. invited me to "hug" the SaPa room fund at the price of 25 million for 10 hotel rooms, 20 nights. I transferred the money on October 25. During the working process, coming over the Lunar New Year, T. sent him back 10 million VND, which translates to 4 rooms, but since then he has been begging for money and recently paid 5 million VND.
Recently, I also discovered that T. did not "hug" the room fund or anything and the original 25 million was not used. Now, T. promises to pay the remaining 10 million until April 15, but still can't find it until May 4."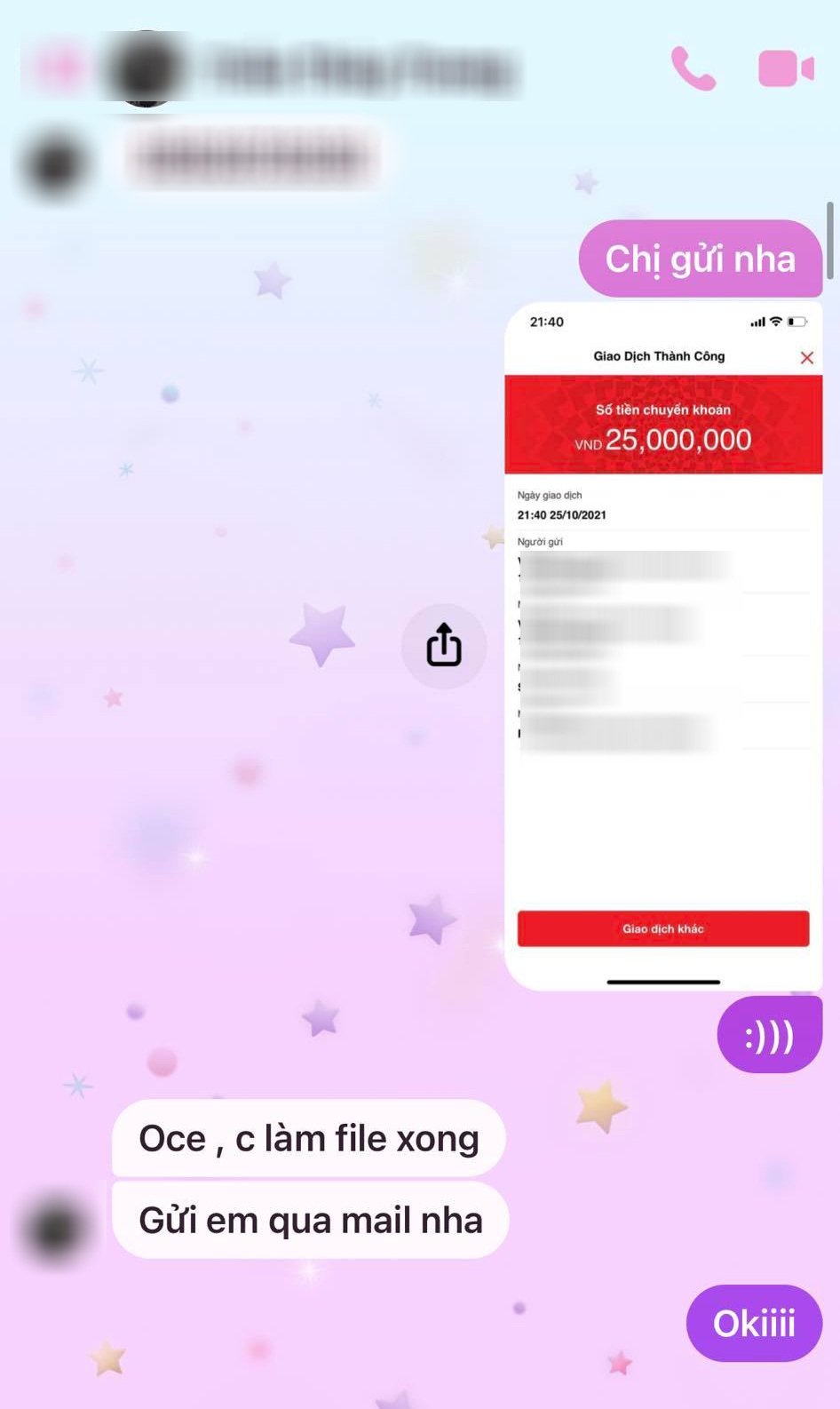 Hoang Linh trusted T. 25 million to "hug" the Sa Pa room fund during the New Year holiday
"Today (April 21) someone posted a "fake" post, many people were also cheated and were given an appointment this weekend or May, maybe their money will be begging by then. It's not possible to pay." – Hoang Linh does not expect much of his remaining 10 million dong will be returned on time in early May as T. promised earlier.
Hoang Linh said that she had previously worked with T. for a long time. Before that, T. was very prestigious, but later took advantage of that prestige to do the above things: "Even T. used other people's prestige to deceive people."
Similar to the case of Hoang Linh – Hanh, a former colleague of T. has also voiced a similar situation when working with T.:
"Before T. was also a sale, like a colleague to me. I trusted and made a deposit for T. 1 villa in Soc Son for guests, a full transfer of about 9 million VND. Then 2 days later, yes near the morning of the 1st lunar day, T. informed me that there was no room and canceled the deposit.
I'm luckier than other friends that I got a full refund from T. It was the first and probably the last time I worked with her."
Contacting TTT about the above stories, T. admits his mistake and is trying to find a way to fix it: "It's a long story and my mistakes. I'm working on it too and I'm not hiding from anything."
Renting villas and homestays for travel and relaxation is becoming more and more popular.
However, to ensure maximum benefits as well as avoid unnecessary risks, customers who rent villas and homestays should note the following points:
– Need to carefully refer to the prices of villas and homestays. With rental rates cheaper than the common ground at peak times such as holidays or weekends, customers need to be wary.
– Do not book close to the date of travel because it will be difficult to find a suitable villa or homestay.
– Need to carefully check the information and reputation of the consultant before making a deposit. Before transferring money, you should ask the consultant to send CMT to check to prevent the coincidence of the ID card name and facebook account name, or even make a video call to verify.
Even for those who have worked for a long time, if they suddenly change their personal information or trading account numbers, they need to confirm the details.
– Ask the consultant to provide actual pictures of the area you want to rent to avoid not being as expected, find more comments from previous customers. Agree and confirm clearly with the sales staff the included services and the associated fee-based services, in order to avoid unexpected costs.
– Know the basic information before making a deposit such as the location; date and time of check-in – check-out; hotline number or the number of the owner, housekeeper. After receiving the booking confirmation, customers should contact the villa or homestay directly to confirm the successful booking.
– Posting account information to receive money on sales groups to check reputation.
You are reading the article
Renting a villa with tens of millions of dong for 2 weekends, surprised customers received a cancellation notice

at
Blogtuan.info
– Source:
Afamily.vn
– Read the original article
here