Guest in the program Chat with mom with milk Episode 127 is Truong Thi Y Nhi. Y Nhi, 44 years old, from Binh Phuoc, is currently the CEO of a tattoo academy in Ho Chi Minh City. Recently, she is a famous figure on forums and social networks recently about the story of spectacular weight loss of 71kg in 8 months purely by scientific eating and exercise methods.
Y Nhi is attracting attention with her spectacular weight loss journey.
But coming to the program, Y Nhi took the time to share more about the journey pregnant And giving birth to a son was not easy for me.
Having been gossiped about being too fat to give birth, her husband's family is "unhappy"
Y Nhi said she got married at the age of 26, but after the wedding, the couple did not intend to have children right away because they wanted to focus on doing business, earning more money, and then thinking about children. However, outsiders looking at them think that the reason why she and her husband have never had children is because she is overweight and sick, so she cannot give birth.
"From going to the market, going out, going to work, I always heard people whispering about how I was too fat to give birth. To the point where my mother finally had to call in and talk to me, saying, "Please, baby, please. You give birth and then you do whatever you want. But wherever I go, I always hear about the child not being able to give birth, and I feel very sad." When I heard that, I thought again, seeing that my grandparents on both sides had been taking care of me for a few years, I decided to "release". Just had an operation and had to take a lot of antibiotics, so I'm worried that having a baby is not good."Y Nhi shared.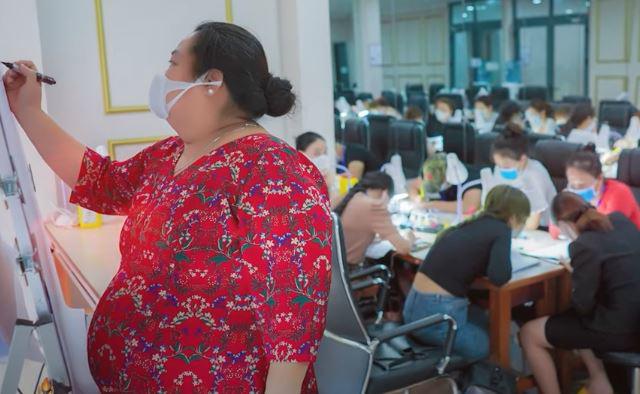 Nhi was once talked about because she had been married for 5 years to have a child.
Although she decided to have children, when she discovered the "good news", Y Nhi herself could not believe it. She said that once she had a cold, she had to go to buy medicine, but she waited for too long, so she decided to buy fruit to eat. When I went back to the drugstore and saw her carrying a bag full of sour food, the drug saleswoman who was an acquaintance reminded her:Or maybe you already have a baby." When Nhi heard that, she bought a pregnancy test and tried it. When she tried it on the first two lines, she still didn't believe it, and had to try it two more times to believe that she was really pregnant.
"When I was pregnant, the first person I thought of to report the news was not my husband or my biological mother, but my mother-in-law. Because really, after many years of planning, she was also under a lot of pressure because she had to listen to gossip. Some people even said that my husband's family was unlucky, so I couldn't have children when I married. When I came and told her "good news" to her, she was very surprised and touched. I felt that both my family and myself It was like a burden had been lifted. Only then did I inform my mother and husband."female CEO recounted.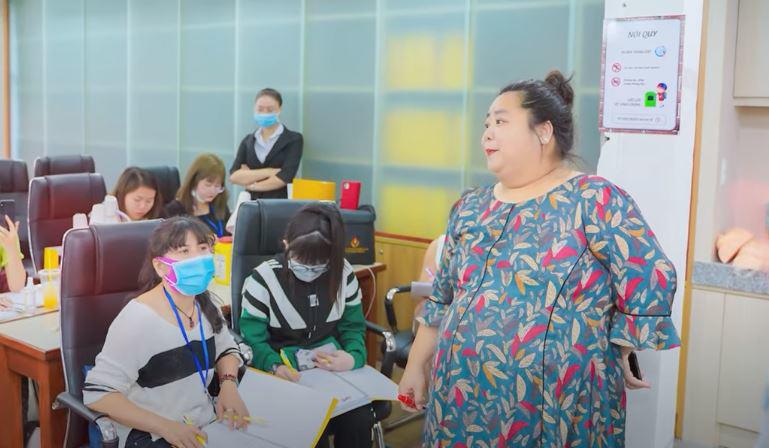 Many people think that it is difficult for Nhi to have children because of her obesity, but in fact, only a few months after "dropping" she became pregnant.
During her pregnancy, in addition to happiness and surprise, Nhi also had many worries. First, she was worried about her health because before that she was sick again and again, had to be treated with drugs for many years, so she was afraid that the medicine would affect her child. The second worry was about the economy because at that time, she and her husband were "plowing" to repay the debt, and the work was not smooth. Along with that, Ms. Nhi is also an obese person, so the risk of gestational diabetes is very high, the doctor warned that the baby is at risk of malnutrition, so she must be very careful with her diet. She has to go to the doctor, have regular ultrasounds to monitor the baby's situation and adjust her diet accordingly.
Fortunately, while Nhi was always stressed and worried during her pregnancy, she had a happy and optimistic husband by her side. He gave her a lot of encouragement so that she could get through that difficult time.
Going to labor for 1 day 1 night, 1 month after giving birth, I started working
Also because of her husband's optimism, on the day of giving birth, Nhi and her husband were still… sober. After she saw that she was bleeding, she informed her husband, but after her husband returned, they both calmly bathed, washed their hair, then went to bed to rest and joke around until their mother had to urge them to give birth. .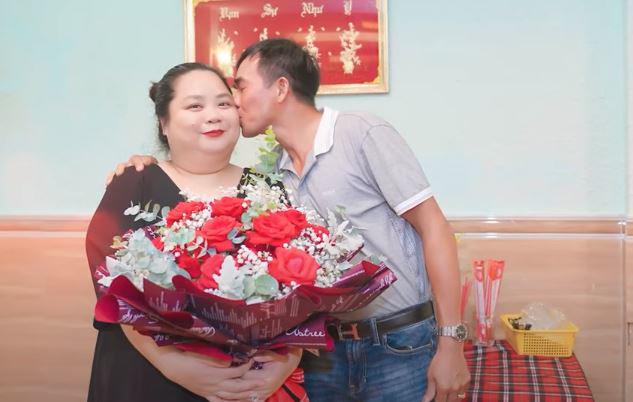 During pregnancy and childbirth, her husband was always by her side to motivate Nhi.
"When I went to the hospital, I didn't have any pain, so I still went to do all the procedures and paperwork myself. Because I have a rare blood type, the doctor advised me to give birth naturally, avoid a cesarean section lest it be dangerous. I finished the paperwork. It started to hurt, but why do people say it hurts for a while and then it hurts all the time. My hair is clean before going to give birth, but it hurts for a while after sweating. I was in pain and I had to laugh at the same time because the sisters around me were also in pain and struggle. Some people cried and yelled, some cursed, then called their parents, prayed and all. Then after that, I couldn't laugh anymore. Because of the pain, I changed to crying for delivery. I was like that for 1 day and 1 night, then the doctor had to make an incision to give birth. When I saw the baby was born, I could only ask if the baby was healthy and healthy. The doctor said it was okay to fall asleep because of exhaustion", Nhi recounted.
After giving birth, Nhi's life became even more difficult because her family went bankrupt and lost all her house. Her mother had to take care of her ailing grandparents, her husband worked until late at night, so she herself had to take care of the children by herself, do the laundry, bathe the baby, do housework,… And things got worse. More stressed when Nhi was asked by relatives to collect debt, curse, and force her house.
"Actually it was the last drop of water that made me explode because I was so tired. I felt like I was abandoned and sad a lot. People around, relatives are very close to home but no one takes care of me. I took care of me while they were in that situation, I treated them well and took care of me. I was very stressed, so I decided to return to work after 1 month of birth. Sleep is to take advantage of work. Just to solve the economy and also to relax and think less." Nhi confided.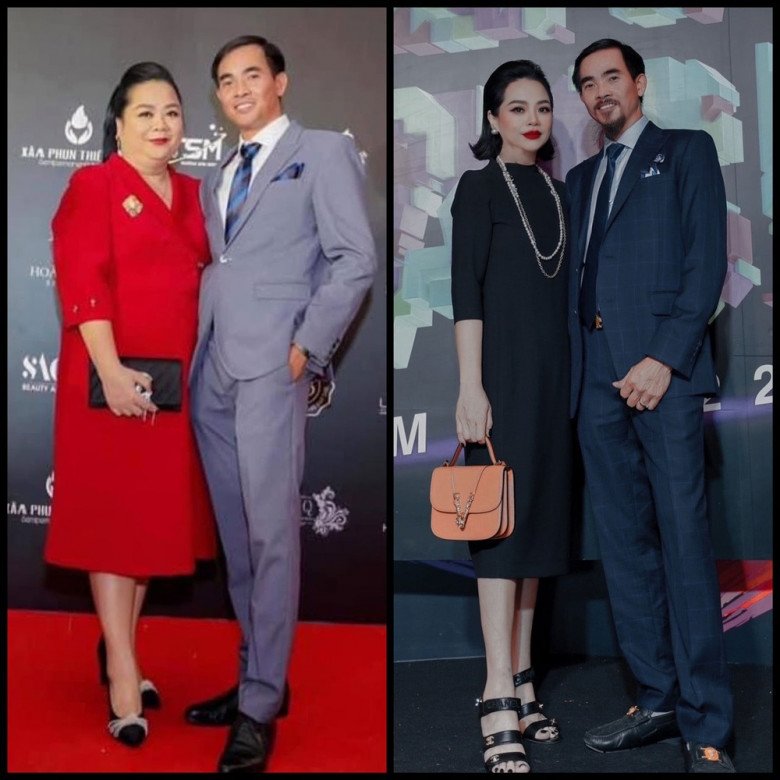 After giving birth, Nhi thought about suicide many times, but her husband "held" her back.
Nhi said that the person she is most grateful for in the postpartum period is her husband and son. Because those are the two people who hold her back to this life. She recalls: "That was the time when I felt very tired. My head was always thinking about death, thinking about how to die quickly and with less pain. Every day after work, I didn't come back but just wandered around like hiding. The culmination was once when I wrote a suicide note to leave and climbed onto the roof of a 20-storey building, determined to jump down, but at that time my husband kept calling, I didn't answer the phone, he texted me. believe: "Go home, you're crying too much. Even if everyone turns their backs, I still have you and the baby with me." Then I answered the phone, it was a video call, saw that my baby was crying, so I woke up and went home. I am really grateful to these two men. My grandfather in life is my husband and son because they are the driving force to help me get through that scary period."
Up to now, Y Nhi has lived a full and happy life with her husband and children. Especially, after losing weight, she feels happier and healthier. Nhi said the couple's upcoming goal is to have one more "princess" to make the family more complete.
You are reading the article
The female CEO lost 71kg in 8 months and sobbed, revealing that she wrote a suicide note after giving birth

at
Blogtuan.info
– Source:
Eva.vn
– Read the original article
here