Ms. Nguyen Phuong Dung (34 years old, Saigon, full-time mother) has a happy little home with her husband Benjamin Alexander Thomson (40 years old, British nationality, pilot) and 2 young children, Alex (SN). 2018) and Sophie (SN 2020). For her, to have a small home today is an arrangement of God because the two babies are beyond her will.
The small nest of Ms. Dung and her foreign husband.
Reportedly pregnant, the boyfriend's face did not change and said he was not ready
Ms. Dung said that before, she and Mr. Benjamin worked in the same company, she was an airline employee and Mr. Benjamin was a pilot. At that time, she had an Australian boyfriend and Mr. Benjamin was a friend of her ex-boyfriend. However, because of some conflicts, her ex-boyfriend was jealous of Benjamin, so she and her ex-boyfriend broke up. She was angry at Mr. Benjamin for not standing up to her ex-boyfriend.
After a year, because of the nature of her work, she rarely saw Mr. Benjamin and she was still very angry with him when she was unjustly accused. Later, she found out that it was just an excuse for her ex-boyfriend to break up with someone else, so she felt guilty for being unreasonable with Mr. Benjamin.
During one flight, she checked the flight schedule of Mr. Benjamin's flight and went to the departure gate to meet him. Because we haven't seen each other for a long time, when we met again, we were both embarrassed. Then she texted him to ask him to have dinner to apologize and gradually they talked more and met more often.
When Ms. Dung decided to try her hand at another job and quit the company, Mr. Benjamin decided to come to her. After working for 3 months, he advised her to quit that job and invited her to go to France because his family had a vacation home here. This time, he introduced her to his parents when they went to France to travel. And during that time she got pregnant.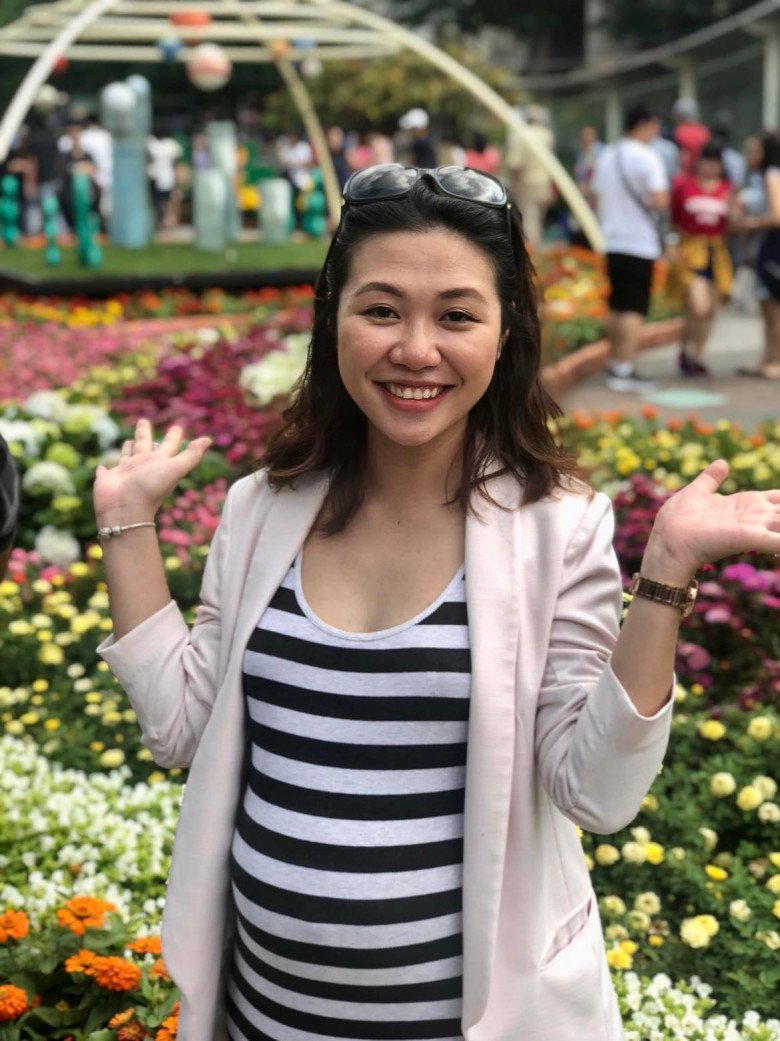 Both times, Dung's pregnancy was unplanned.
Unexpected pregnancy when both are still in love, Ms. Dung is afraid of everything. She was afraid that if Mr. Benjamin didn't love her enough to go to the end of the road, she called her mother. Her mother advised her to tell him. And when she wrapped the pregnancy test in a tissue and gave it to him when he got home from work, she was worried because his face didn't change.
"When you come home from work, I make you close your eyes until I open the paper. At that time, he did not change his face to worry me. Then he said he was not ready to have children but now that he has children, he is ready for a family. Four months later, I officially returned to England to meet my husband's family as a fiancée." Dung recalls.
After 2 weeks in the UK, Ms. Dung returned to Vietnam and took care of the marriage registration papers because she knew that if her parents were not married while the child was born, she would have to take a DNA test. She did not want her children to have a reputation of not having a father, so after 2 months of completing the application, they returned to their hometown to register their marriage.
It is known that Dung was pregnant for 2 months and only had morning sickness during the day. After 2 months of morning sickness, she was able to eat and drink, so it was better. However, when she was 21 weeks pregnant, she was extremely worried when taking a test, the doctor said that the thyroid index was a bit high, if not adjusted to the diet, it could cause pregnancy hyperthyroidism and affect the baby. For the first 2 days, I kept thinking about crying. Thanks to her wise husband, reading books, researching and forcing her to eat and drink on time, 3 weeks later, when she returned to check, everything was back on track.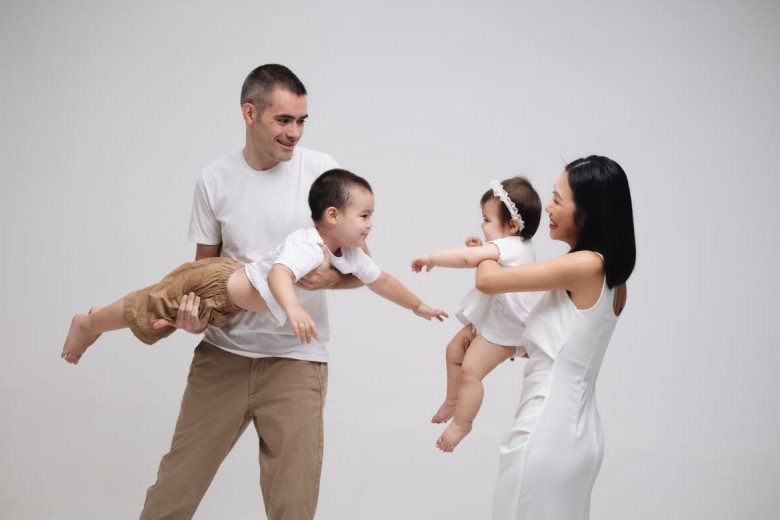 The doctor scolded me when I went to give birth
Speaking of which, Ms. Dung said, her first baby on the due date still refused to come out and was born 4 days later than expected. With the first baby, she and her husband wanted to give birth naturally, but after 1 and a half days of delivery, she still had no signs of an open uterus, so she was transferred to caesarean section.
"Due to the injection of fertility drugs, the contractions and labor pains make me lose strength. In the early afternoon of the 2nd day after being admitted to the hospital, I asked the doctor for a cesarean section because I could not bear the pain anymore. Your first birth weight is 4.05kg. The doctor scolded me for a slap because the baby was so big and asked for a normal birth"Mrs. Dung laughed.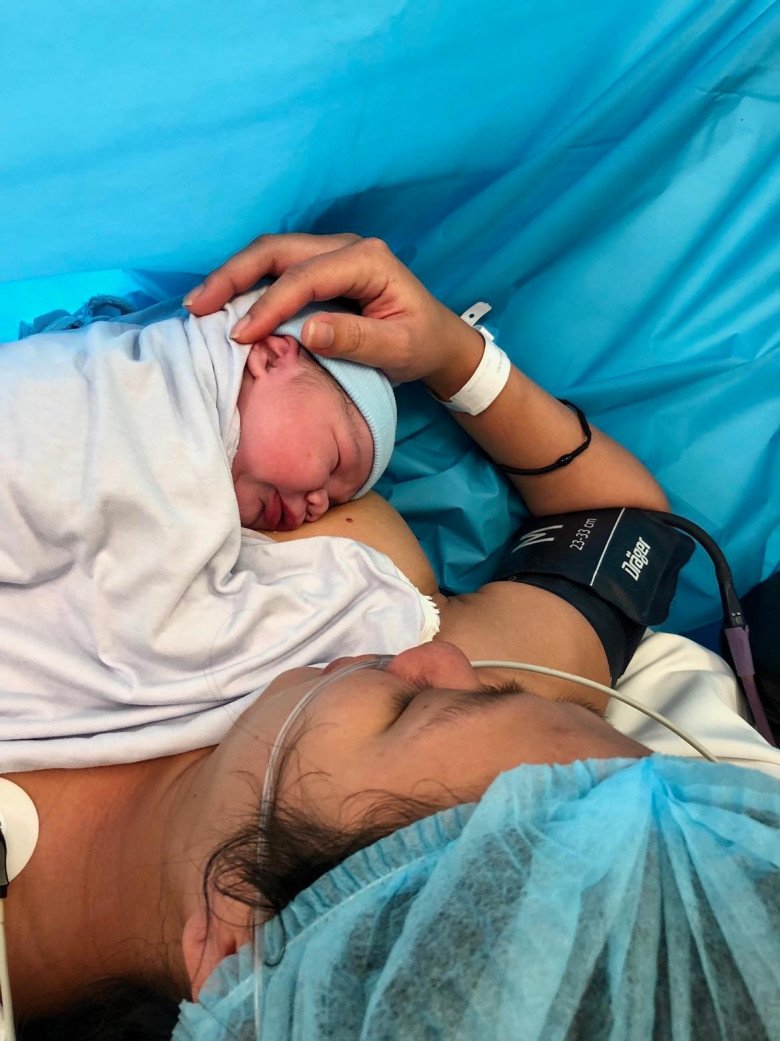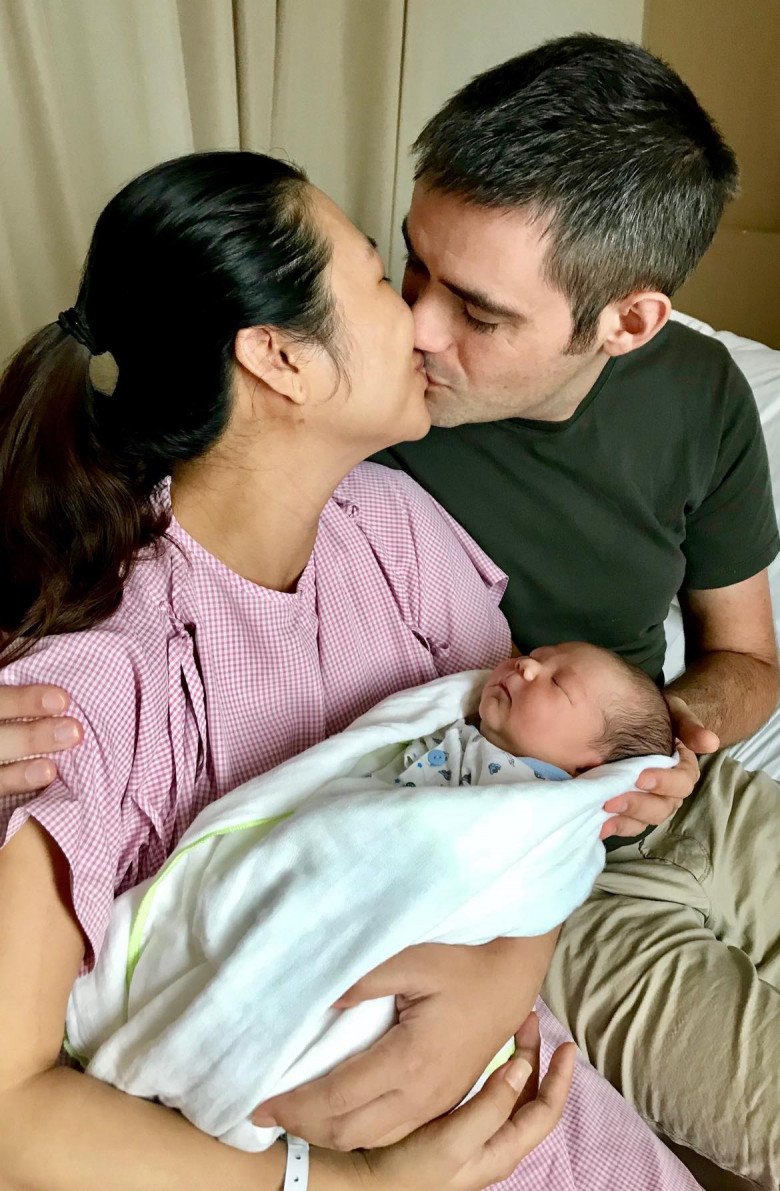 Ms. Dung giving birth for the second time was scolded by the doctor.
It is known that after the first baby was 14 months old, Ms. Dung broke her plan to get pregnant for the second time. The second pregnancy, she had more morning sickness than the first time. This time, she suffered from morning sickness for 2 months in a row day and night. She is even afraid of the smell of coffee her husband likes. "My husband and I always keep the habit of saying I love you every day and when you light your cheeks or lips, I won't let you kiss when you drink coffee"Mrs. Dung laughed.
Her second baby was born in 2021 right during the period of a strong outbreak. Therefore, she had a lot of worries when giving birth, especially her water broke earlier than expected.
"My water broke in the apartment elevator when I came home with my older friend from a neighbor's house. At that time, Saigon had a ban on taxis, so you could only go out by private car. My husband had just come home from work. When I called the youngest, he had just had dinner and drank beer, so he didn't dare to drive. I called him, luckily he was coming home from work and 30 minutes later he was there to take my wife and I to give birth. This second time, I still gave birth by cesarean section, but my mind was quite scared, I was afraid that there would be something wrong on the operating table. Fortunately, both mother and daughter are healthy and get to see each other soon." Ms. Dung said.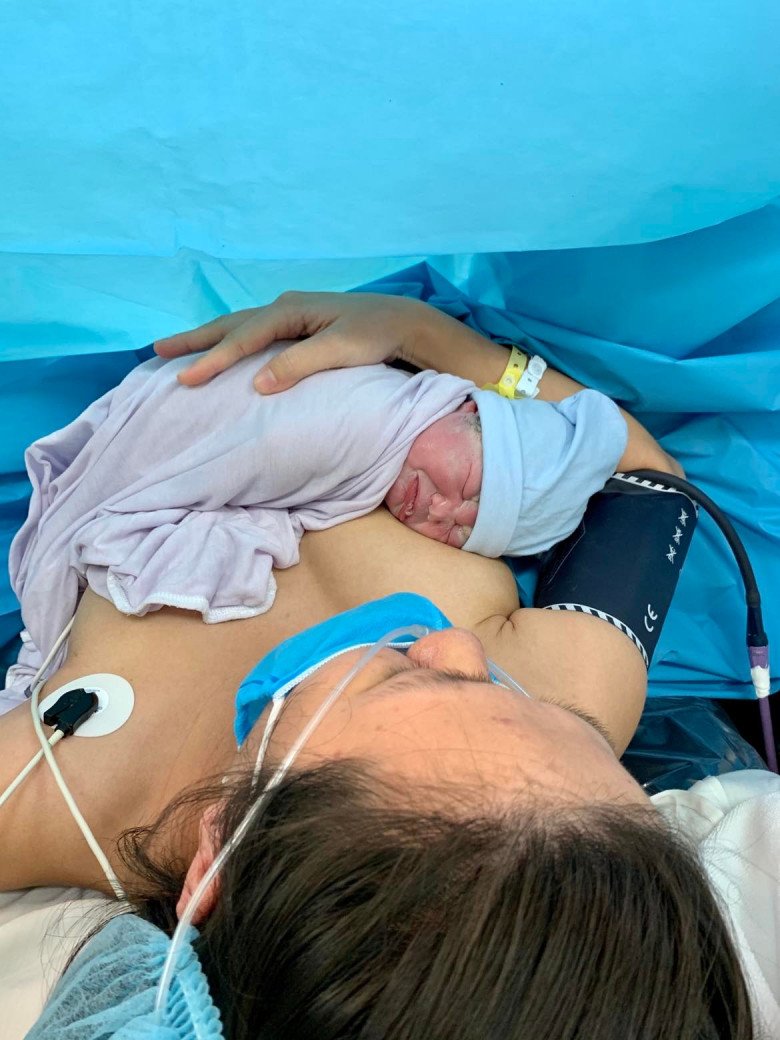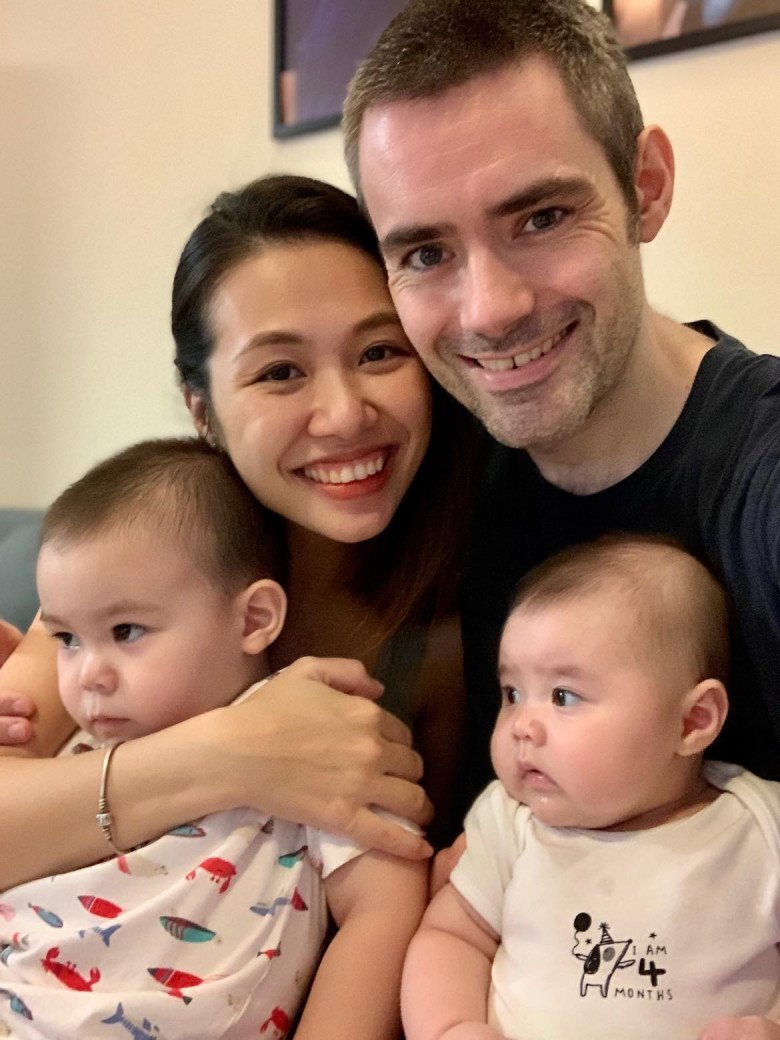 She gave birth to her second baby 9 days earlier than expected.
The second baby in Dung's family was born weighing 3.18kg and was born 9 days earlier than expected. For Ms. Dung, if Mr. Benjamin said before that he was not ready to be a father, then through the time when she was pregnant and giving birth with his companion, she now sees him as a husband of the family, without alcohol or beer. She doesn't smoke, doesn't like crowded places, spends all her free time with her family. Although he is a hot-tempered person who can be angry with everyone, he has never touched his feet. He is also a very hardworking father, changing diapers for his wife after giving birth and also for his children. When he gave birth to two children, he took time off work to stay at home and take care of his sister. He even bathed the baby for a month very skillfully. As for her, she is satisfied with what she has.
You are reading the article
The Vietnamese girl reported being pregnant, the pilot's boyfriend's face did not change: Not ready

at
Blogtuan.info
– Source:
Eva.vn
– Read the original article
here