Giải trí
Understanding properly and enough about increasing resistance – Tips to help children stay healthy, mothers need to know
Increasing children's resistance is always a "familiar" problem for parents. Every parent hopes that their child will have a healthy immune system and less sickness. But are you confident that your understanding of increasing the child's resistance is correct and sufficient?
During "sensitive" periods, children are easy to get sick
Children going back to school: Definitely need to increase resistance!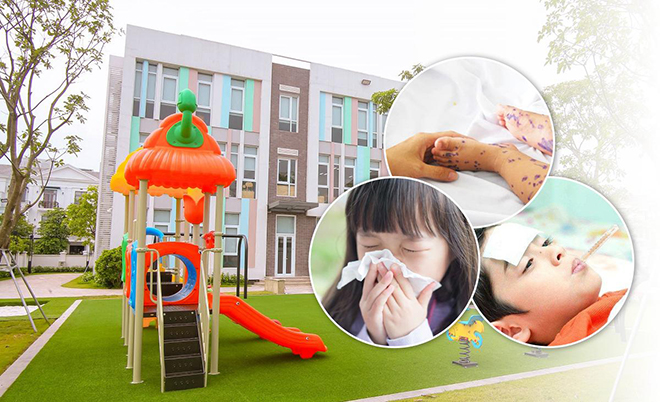 When children start going back to school, parents' concerns about their child's illness increase. The reason is because the school is crowded and complicated while the immune system is still immature, making children more susceptible to illness, taking long to recover from illness, and often relapsing when they start school.
Therefore, preparing strong resistance for children to continue a new school year is something parents should not ignore. In order to help children stay healthy and limit infections, in addition to teaching their children to adhere to 5K, parents need to focus on strengthening their resistance and improving their immune system. A strong resistance is like a "shield" to help your child be ready to learn and discover interesting things in class with friends.
Seasonal change: Mothers need to establish a healthy immune system for their children!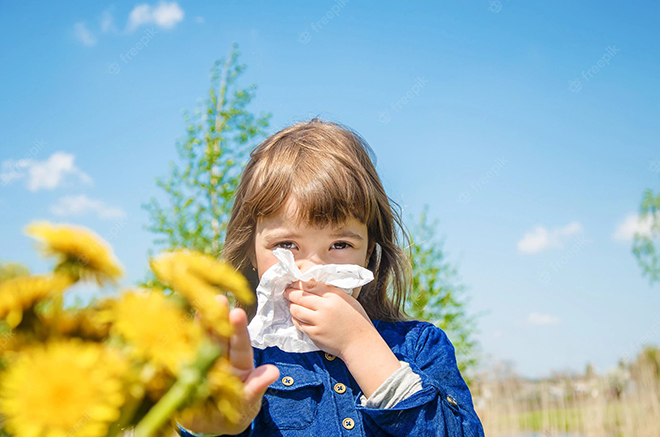 The weather changes seasons, sudden temperature changes, erratic sunshine and rain make children unable to adapt, their resistance is reduced. This is also a favorable weather for viruses and bacteria to multiply, easily penetrate and attack causing disease.
The main diseases encountered in children during the season change are infectious diseases or related to the respiratory and digestive tracts – 2 "gateways" in direct contact with pathogens from the outside environment.
Health experts said that in order to prevent seasonal diseases, especially in the context that the Covid-19 epidemic is still not completely controlled, parents need to perform well to ensure hygiene and strengthen children's immunity. .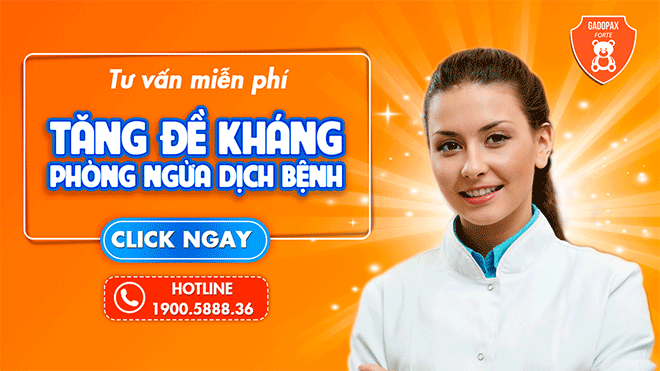 How to increase immunity for children?
Increasing resistance is a process. In order to have a "sweet fruit" that is a healthy baby, less sickness, a mother needs to persevere in following these principles:
Have your baby fully vaccinated, take antibiotics as directed by the doctor
Vaccines are an effective measure to help prevent children from contracting dangerous diseases such as hepatitis, encephalitis, diphtheria, tetanus, whooping cough, chickenpox, and measles.
Besides vaccination, parents should not arbitrarily use antibiotics for their children without a doctor's prescription. Overuse of antibiotics will lead to antibiotic resistance, children are more susceptible to infections and much more difficult to treat.
Encourage children to exercise regularly and get enough sleep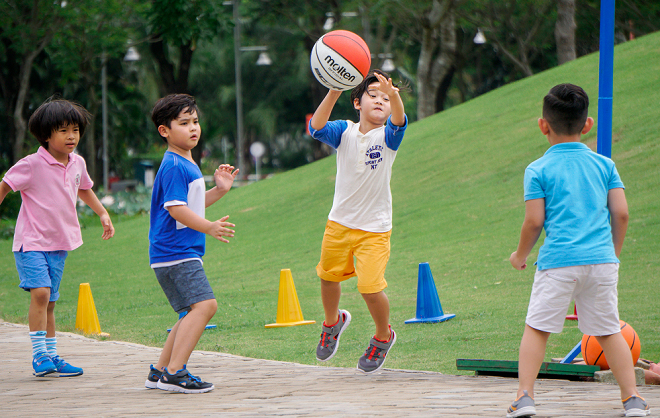 Reasonable exercise helps children eat better, absorb nutrients better, and increase immunity. Parents should encourage children to be active every day through activities such as playing with them, walking, jogging, cycling, swimming…
At the same time, it is advisable to practice the habit of going to bed and waking up at the same time. Good sleep, enough sleep will create the best conditions for the development of the body and brain of the child as well as a healthy immune system.
Nutrition full of essential micronutrients!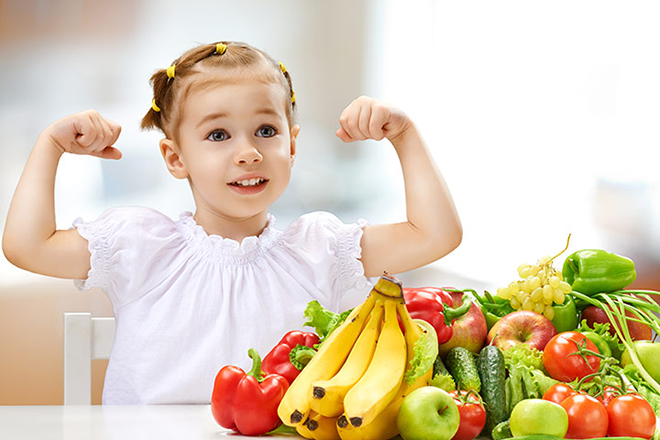 A scientific, healthy diet, "eating right and enough" will provide adequate energy and essential micronutrients for the immune system. Nutrition experts said, it is necessary to ensure that at least 1 meal a day of children has adequate and balanced 4 groups of nutrients: starch, fat, protein, vitamins and minerals. Should increase green vegetables and fruits in each meal, avoid fried foods, too salty or sweet because they interfere with absorption and affect the digestive system of children.
In particular, parents need to pay attention to adding foods that contain important micronutrients for the immune system such as vitamins A, C, D, E or minerals such as zinc and iron.
Recently, many studies have focused on the compound Beta-glucan with the role of increasing specific resistance, stimulating immunity, reducing the rate of illness in children.
Specifically, the study of Dr. Grauz on children in Spain showed: In the group of children after 3 months Beta-glucan supplementation has significantly reduced the number of respiratory infections, from 8.88 ± 3.35 episodes/year to 4.27 ± 2.21 episodes/year. Not only that, but this group of children also found a reduction in hospital admissions, a reduction in medication use, and fewer absences from school.
However, not all types of Beta-glucan have the effect of increasing resistance. In fact, comparison results of more than 30 product forms of this active ingredient show, Beta-(1,3-1,6)-D-glucans Yestimun® have biological activity higher than other normal structures, maximally stimulate immune cells to function and proliferate protective antibodies.
Gadopax Forte is a European imported product containing Beta-(1,3-1,6)-D-glucans Yestimun® with optimal concentration and purity, pioneering in Vietnam. Thanks to the superior formula combining 4 "golden microelements" of the immune system: Beta-(1,3-1,6)-D-glucans, vitamin C, vitamin D, ZincGadopax Forte provides effective support to increase resistance quickly, comprehensively protecting children.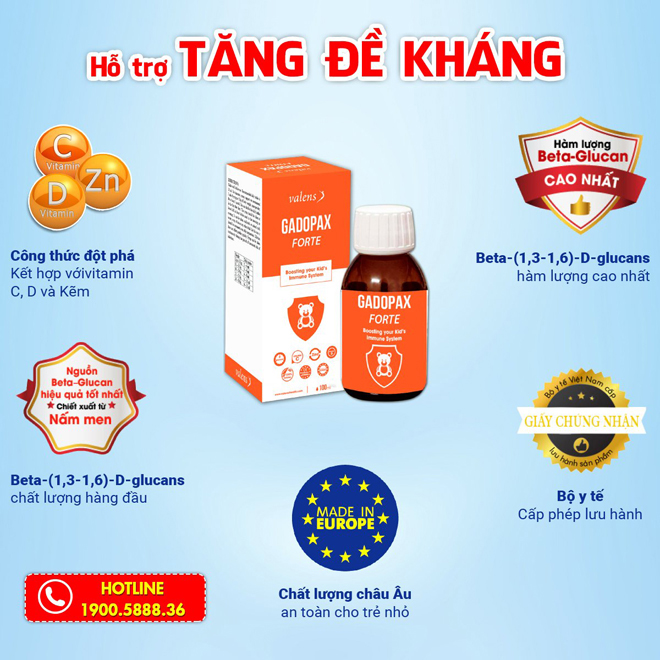 Gadopax Forte Helps to increase resistance thanks to high content of Beta-(1,3-1,6)-D-glucans High in combination with Zinc, Vitamin C and Vitamin D are the leading micronutrients to help stimulate the immune system to work effectively, supporting outstanding resistance.
Gadopax Forte Support to increase the body's resistance, support to reduce the risk of bacterial and viral diseases.
Products are imported directly from Europe, licensed for circulation by the Ministry of Health.
For more information visit: https://gadopax.vn/
Hotline: 1900 58 88 36
Products are imported and distributed exclusively by CTT Vietnam International Pharmaceutical Joint Stock Company and Vietnam Prohealth Company.
This product is not a medicine, it is not a substitute for medicine.
You are reading the article
Understanding properly and enough about increasing resistance – Tips to help children stay healthy, mothers need to know

at
Blogtuan.info
– Source:
24h.com.vn
– Read the original article
here