Giới trẻ
What insiders said after the clip of the husband beating his wife badly in front of 3 young children: The heartbreaking truth about the man who appeared in the clip but did not intervene
April 21, 2022 07:11 GMT+7
Watching a clip of more than 5 minutes recording the image of a husband brutally assaulting his wife, everyone was extremely indignant. What do insiders say about this heartbreaking incident? And who is the unstoppable man?
The clip went viral on social media, attracting hundreds of thousands of shares, comments and emotions from netizens..
According to PV's research, the incident happened at 9:30 pm on December 15, 2021 (4 months ago) at a motel in Binh Duong.
"This man is always looking for jealousy, thinks that this woman is having an affair, so he beats her. Beating her many times, she still hides it. Because her family suspected of sneaking a camera, she found out about this incident." The woman's sister in the incident shared. She is the one who posted the clip on social media when she saw her sister being brutally assaulted by her husband.
Talk to reporters InfonetMs. VTH – the woman who was beaten in the clip sadly confided: "My job is selling coffee shops and selling drugs online, so I often text messages with customers on the phone. My husband is blindly jealous, so he often assaults his wife like that. If there was really something shady, I would have deleted and concealed those messages, but nothing for my husband to read."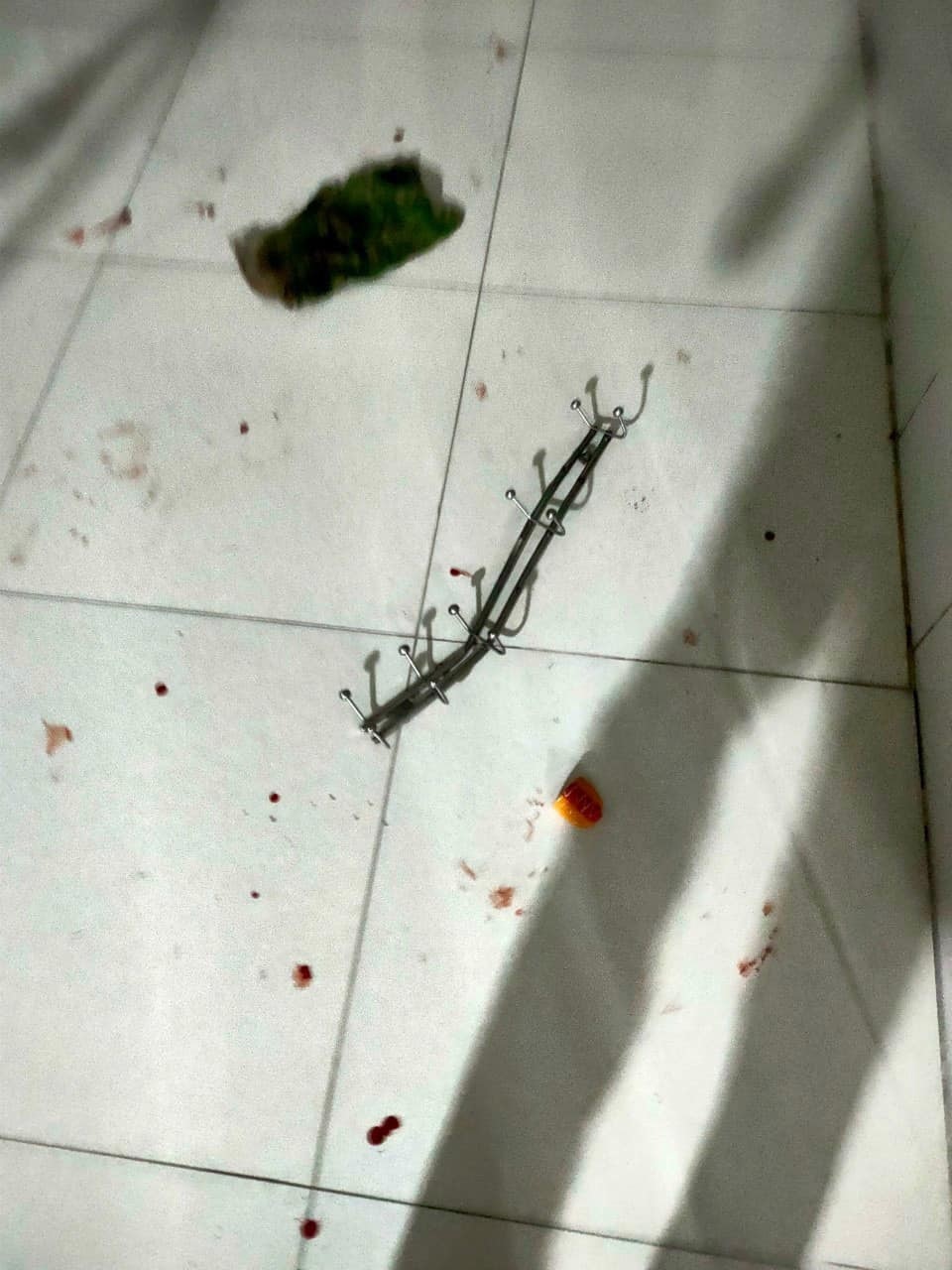 A wall-mounted iron hook used to hang furniture and clothes has become a weapon to beat the wife of an aggressive man.
While confiding to reporters, H. sobbed: "The person that everyone wondered why didn't intervene was my biological father. He had a very weak stroke, was paralyzed in one hand. We also have a small son sleeping in a hammock, 2 children are lying down. So when I was beaten, I didn't want to make a fuss, afraid that my father and children would wake up.My husband went home to celebrate his grandmother's death anniversary, when he was drunk, he found an excuse to beat his wife. I told him when he was sober. say but you don't listen...
Because of my father, because of my children, I am willing to try to live, he has assaulted me many times. In the middle of the road also stopped to hit. It's all just blind jealousy. I tried to endure it, but now it's too much to bear, I want to stop."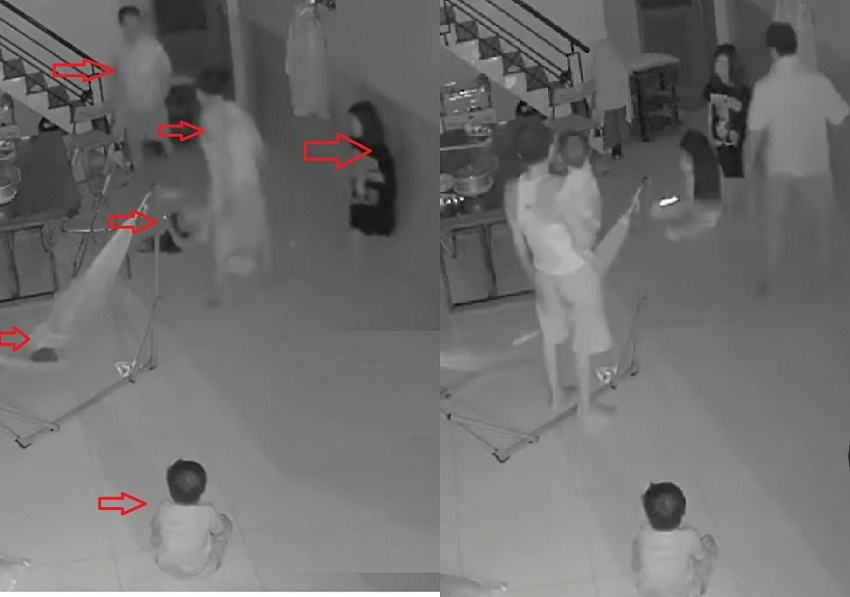 The husband beat his wife in front of 3 young children. (Image cut from clip)
When the PV contacted Mr. HTT – the husband beat his wife in the clip causing a stir on social networks, Mr. T. said: "I know it's wrong to beat your wife. When I watch the clip again, I also know that only a bad man can beat his wife so brutally, in front of children. If I had the chance to go back, I would never do it. But the reason was that I couldn't control myself, there were too many conflicts and misunderstandings between the couple that made me act like this. I've warned her many times before."
Mr. T added that he is currently contacting his wife's uncle to ask an adult to make arrangements. "Hope that the husband and wife will sit together to discuss to solve the problem. If we can't agree, then everyone's way is smooth, but I really don't want to make a mess all over the social network like now." Mr. T talked about the solution.
The brutal beating of the woman in the clip went viral, causing outrage in public opinion. Many questions raised why the incident lasted so long, the victim was beaten not only once but repeated many times, happened at many locations but there was no intervention or prevention from responsible authorities. Binh Duong Province?
Infonet will continue to investigate this incident.
Lam Giang
Clip: MXH
You are reading the article
What insiders said after the clip of the husband beating his wife badly in front of 3 young children: The heartbreaking truth about the man who appeared in the clip but did not intervene

at
Blogtuan.info
– Source:
infonet.vietnamnet.vn
– Read the original article
here