According to the South China Morning Post (SCMP – Hong Kong), diplomats China is heading to Central and Eastern Europe while "under suspicion" about its relationship with Russia.
China has decided to send a diplomatic mission to the countries of Central and Eastern Europe, in an effort to dispel growing doubts in the region about China's "unlimited" relationship. and Russia.

This is China's first diplomatic mission to the region since Russian President Vladimir Putin launched a military campaign in Ukraine.
The countries on the schedule to visit this time include the Czech Republic, Slovakia, Hungary, Croatia, Slovenia, Estonia, Latvia and Poland.
Smash doubts
The South China Morning Post reported that Beijing's stance on the conflict in Ukraine has added to long-standing concerns about China among the countries of the former Soviet Union.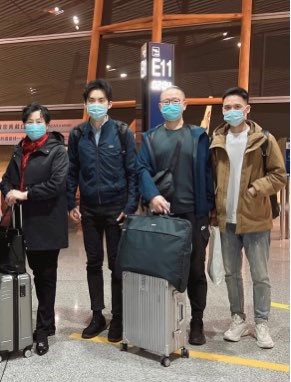 Chinese diplomatic mission to 8 Central and Eastern European countries. Photo: SCMP
The visit comes as China's efforts to revive its "17+1" foundation, a decades-long effort to build ties with 17 Central and Eastern European countries, have hit a snag, after Lithuania became a became the first country to withdraw from this mechanism on the grounds that the commercial benefits were not as great as expected.
However, this is not an easy task.
According to Wang Lutong, Director General for European Affairs of the Chinese Foreign Ministry, Ms. Huo Yuzhen, China's special representative, led the delegation.
Vilnius' close relationship with Taiwan (China) has also angered Beijing, leading to trade and diplomatic tensions between China and the European Union (EU), of which Lithuania is a member. .
Justyna Szczudlik, China analyst at the Polish Institute of International Affairs, said it was "a damage control visit" because Central and Eastern European countries were "very disappointed". before Beijing's position on Russia's campaign in Ukraine
"China's diplomatic principle is to respect the sovereignty, independence and territorial integrity of other countries. And now, after Russia launched a military campaign in Ukraine, China does not condemn Russia, nor support Ukraine," expert Justyna Szczudlik said.
The expert also added that former Soviet states in the region have long been concerned about Moscow's tightening ties with Beijing.
Wang Yiwei, a professor of European studies at Renmin University in Beijing, said the visit was "very timely and necessary" as Beijing needed to clarify its stance on the Ukraine war.
"First of all, China must clarify what the Sino-Russian relationship is exactly," Wang Yiwei said.
"Secondly, China and Russia are two different countries, and thirdly, how is Beijing's view of the Russia-Ukraine conflict, from which to see if China can win support from other countries. Central and Eastern Europe or not".
Europe's worries
Since the outbreak of hostilities in Ukraine, countries in the Baltics and Central Europe have pushed for harsher sanctions against Russia, and countries such as the Czech Republic, Slovakia, Slovenia, Estonia and Latvia have send military aid to Ukraine.
Poland, which shares a 530km border with Ukraine, has become a hub of NATO military support for Kiev.
Professor Wang said there was "a profound misunderstanding" from Central and Eastern European countries about the "comprehensive strategic relationship" between Beijing and Moscow.
"The Baltic states as well as countries in Central and Eastern Europe believe that a 'unlimited' partnership means a Sino-Russian alliance, and Beijing is backing Moscow," the professor said. .
Therefore, according to him, China must make it clear that the unlimited partnership is only a deterrent to the US.
Expert Szczudlik said that, in the context of fierce hostilities, during this visit, the Chinese delegation will have to convince the remaining Eastern European countries that there are still opportunities for cooperation in the 16+1 platform. .
However, this is not an easy task as the departure of Lithuania has already pushed the mechanism into a "deep crisis".
"Although the relationship between China and Russia is close, it seems that the ongoing war in Ukraine makes Beijing less interested in Moscow. And the Chinese delegation will try to convince China and Eastern Europe that there is room for cooperation, and 16 + 1 is still relevant," he added.
Beijing seems to be aware that its perception in the region is also deteriorating, says Szczudlik. "China's endorsement of Russia could put the format in deep freeze or even end the format."
https://soha.vn/trung-quoc-bat-ngo-cu-phai-doan-toi-8-nuoc-chau-au-muc-dich-sau-xa-la-gi-20220420205728118.htm
You are reading the article
What is the deeper purpose?

at
Blogtuan.info
– Source:
Soha.vn
– Read the original article
here