Thế Giới
After heavy weapons, the West argues about sharing intelligence with Ukraine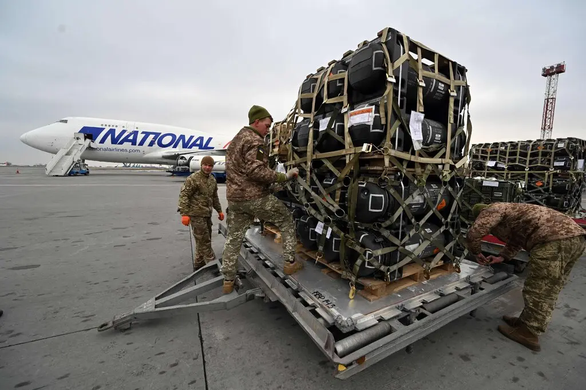 Ukrainian soldiers unload packages of US-aided Javelin anti-tank missiles that were delivered by plane in Kiev on February 11 – Photo: AFP
Newspaper sources New York Times revealed that US President Joe Biden is about to announce a new arms aid package for Ukraine in the coming days. The size of this package will be no less than the $ 800 million package including howitzers and tens of thousands of rounds that arrived in Ukraine in the middle of this week. Britain is also preparing to send the first heavy artillery pieces to Ukraine after a video conference with the leaders of the US, EU and NATO on April 19.
Race Weapons with time
Efforts to transfer weapons to Ukraine are being rushed, after Russia officially announced the second phase of the "special military operation" to begin on April 19. Although still reluctant to send battle tanks, the West has sent long-range offensive weapons systems such as howitzers, helicopters, armed drones (UAVs) to Kiev.
According to the New York Times, in the previous period, from the time the White House approved the transfer of weapons to Ukraine, it usually took 4-6 days for the Pentagon to put weapons on strategic transport planes. These weapons will be sent to bases of a number of NATO countries located near Ukraine, mainly Poland and Romania. There are about 8-10 flights of weapons to Ukraine to these bases every day, not only the US but also a number of other countries.
US Department of Defense spokesman John Kirby estimated that for the weapons to reach Ukraine, it would take another 24-48 hours. Thus, on average, it will take about a week for the US to deliver weapons to Ukraine, not to mention the training time to use with new weapons such as UAVs and radars to locate artillery shells.
According to Western military officials, although Russia has said it will consider convoys carrying weapons as a target, Moscow seems to be limiting its attack on them. They explain this partly because Russia does not want the conflict to spread beyond Ukraine's borders and partly because Russian intelligence and military are busy in other regions. Given the existing logistics and familiarity with the field, some observers believe it will take the West to deliver weapons to Ukraine faster in the coming weeks.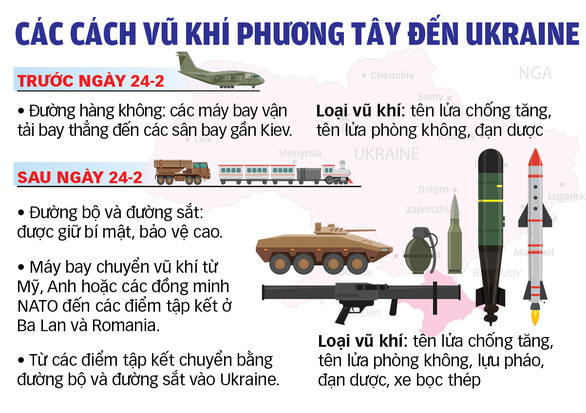 Data: DUY LINH – Source: The Guardian, New York Times, Politico, AP – Graphics: TUAN ANH
Share information Intelligence
The transfer of heavy weapons to Ukraine is sparking debate over whether intelligence should be shared with Kiev and, if so, to what extent. The director of the US Central Intelligence Agency William Burns last week confirmed that Washington has been sharing intelligence with Kiev. The statement dispels any previous speculation about whether major US intelligence agencies were involved in the conflict.
Officials in Washington are calculating what kind of intelligence to share with Ukraine. Source of New York Times The United States has data on bases inside Russia, but may not provide it to Ukraine. The White House has also limited the supply of some weapons with a range to reach Russia, such as medium-range drones and large-caliber multiple rocket launchers.
The Associated Press revealed that a new directive on intelligence sharing with Ukraine was issued this past week. US intelligence agencies can share "timely, necessary" information so that Ukraine can make quick decisions on the battlefield in eastern Ukraine. However, the ban on sharing the location of Russian forces on the territory of Belarus and Russia seems to be maintained.
This suggests that there is still a certain concern in the US administration that conflict could escalate from this intelligence. Ukraine has previously been accused by Russia of carrying out helicopter raids on fuel depots located on its territory Russian territory.
Russian President Vladimir Putin has ordered the cancellation of a plan to attack the Azovstal iron and steel plant, which Russia sees as the last point of resistance for Ukrainian forces in the city of Mariupol.
Instead, "Let's block this industrial area so that not even a fly can fly through", President Putin asked Defense Minister Sergei Shoigu on April 21. According to Putin, the encirclement will help Russian soldiers not have to fight hard, even lose their lives.
With Russia implementing encirclement tactics, the fate of 2,000 Ukrainian fighters, as information provided by Mr. Shoigu, will continue to be a matter of attention in the coming days.
Russia claims to have "liberated" Mariupol, but Ukraine has not confirmed it this.
You are reading the article
After heavy weapons, the West argues about sharing intelligence with Ukraine

at
Blogtuan.info
– Source:
tuoitre.vn
– Read the original article
here