Khỏe - Đẹp
After receiving the Covid-19 vaccine, how long does it take to get another vaccine?
April 22, 2022 09:30 GMT+7
In addition to the Covid-19 vaccine, children still need to receive many other vaccines, so the time between vaccinations is at least 2 weeks different.
The whole country has implemented Covid-19 vaccination for children from 5 to 11 years old to ensure that children can go to school and participate in fun activities with peace of mind.
However, in this age group, in addition to the Covid-19 vaccine, children also receive other vaccines such as seasonal flu, pneumococcal disease, Japanese encephalitis, meningococcal disease, measles, mumps, etc. Many parents wonder if their children do not know. How long does it take to get the Covid-19 vaccine to get another vaccine or vice versa, how long does it take to get the Covid-19 vaccine to get vaccinated with these vaccines?
TS.BS Le Nguyen Thanh Nhan – Head of the Immunization Unit of Children's Hospital 1 said that previously, the Advisory Committee on Immunization Practices (ACIP) and the US Centers for Disease Control and Prevention (CDC) It is recommended that the Covid-19 vaccine and other vaccines be given at least 14 days apart.
However, after a period of implementation, these agencies found that many children were late for other vaccines and were at risk of diseases other than Covid-19. Therefore, the latest recommendation of the CDC-USA is that it can be injected at the same time and at different sites.
Two types of Covid-19 vaccines are being used for children aged 5-11 years in the group of messenger RNA vaccines. This vaccine is not affected by antibodies circulating in the blood of the vaccinated person.
In contrast, antibodies generated from the Covid-19 vaccine are specific to the spike protein, and do not inhibit or interact with antigens found in currently available vaccines on the market, including vaccines. Live attenuated such as measles, chickenpox, 3-in-1 measles-mumps-rubella vaccine, …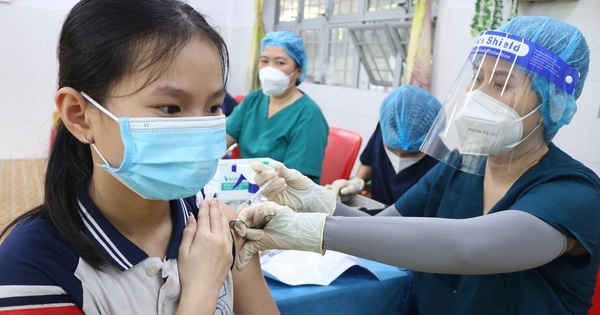 Vaccinations for young children.
In order for children to have the best immunity against Covid-19 as well as not delay other vaccinations and also ensure safe monitoring after Covid-19 vaccination, Dr. Nhan recommends: Do not delay Postpone the Covid-19 vaccine for children who have previously received other vaccines, even though they have been vaccinated for less than 14 days.
In contrast, children who have just received the Covid-19 vaccine should wait at least 14 days after receiving other vaccines, with the aim of focusing on monitoring unwanted effects after receiving the Covid-19 vaccine. including myocarditis and pericarditis.
However, your child can get another vaccine without waiting until 14 days if another vaccination is essential.
Also according to BS.CKII Nguyen Thi Thanh Thuy, Deputy Department of Children's Health, Children's Hospital 2, Ho Chi Minh City, delaying vaccination against other diseases can delay children's vaccination schedule, making prevention work. these diseases are less effective.
Dr. Thuy said the Covid-19 vaccines for children aged 5-11 currently used by the Ministry of Health are Pfizer and Moderna. This is an mRNA vaccine, not a live attenuated vaccine, so after being vaccinated against Covid-19, children can still continue to receive other vaccines as scheduled, so there is no need to delay.
According to Doctor Thuy, parents should encourage children before vaccination, accompany them throughout the time before, during and after vaccination.
Before the injection days, it is necessary to keep the child's health stable. "Limit children to participate in prolonged activities in the hot sun 1 to 2 days before the injection date, to avoid making the child catch a cold or fever, it will be difficult to administer the injection or it will be difficult to distinguish the cause of the fever from from the vaccine or the child is sick after the injection," emphasized Doctor Thuy.
Similar to other vaccines, when receiving the Covid-19 vaccine, children may have signs at the injection site such as swelling, pain, redness, and systemic signs such as low-grade fever, fatigue, headache, and muscle aches. , anorexia…. These signs should subside after 3 days.
After the injection, parents monitor for signs of myocarditis, such as chest pain, shortness of breath within 7 days and continue to monitor the child for 28 days as recommended by the Ministry of Health.
For children who have had Covid-19 before, they still need the Covid vaccine. The injection time is 3 months from the time the child has tested positive for Covid-19 – Dr. Thuy said.
K.Chi
You are reading the article
After receiving the Covid-19 vaccine, how long does it take to get another vaccine?

at
Blogtuan.info
– Source:
infonet.vietnamnet.vn
– Read the original article
here