Beef is one of the most nutritious foods, loved by many people. Beef can be processed into many different delicious dishes grilled, fried, stewed, braised, boiled… each dish brings different attractive flavors.
Beef is sold a lot in markets and supermarkets. Beef has a high price, so when buying beef, you need to choose carefully. Therefore, the chef advises that when buying meat, the following must be kept in mind:
Don't buy wet beef
When buying beef, if you find that the piece of meat is wet and runny, it is best not to buy that piece of beef because it is likely that it has been soaked in water or pumped with water to increase its weight. This type of beef, after being cooked, will shrink seriously and the meat will stretch, stretch, taste very bad, even if you sell it cheap, don't buy it.
Beef soaked in water often has pink water flowing out, the meat is pasty.
These pieces of meat only need to be gently pressed to melt water.
A piece of delicious beef when touching is not wet, looking at the hand, just touching the meat, it only feels a bit shiny due to the meat.
Don't buy a piece of meat that has no elasticity
Delicious beef is when you press on it, it has high elasticity, leaving no dents on the meat. The tender meat looks very fresh. If you see these pieces of meat, buy them now.
If the meat is cold to the touch, there is no elasticity, the meat has been preserved, not freshly slaughtered or it is likely that the meat has been stored for a long time and is no longer fresh. You should not buy such pieces of meat.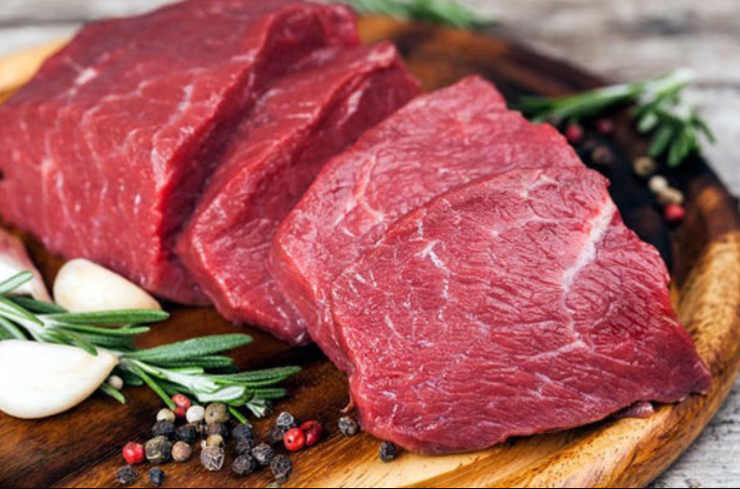 Don't buy bleeding beef
There are many types of cheap beef on the market, especially some imported beef, which must be frozen before shipping. When brought to the market to sell, the crystallized blood inside the beef will gradually flow out, slowly seep out and clot. While frozen beef isn't much of a problem, it's going to taste bad in the end. If you want to buy fresh beef, don't buy cuts that have bleeding or blood clots.
Beef pieces that look dark, do not have bright colors or have a strange smell should also be avoided.
When buying beef, you should note that you should choose pieces of meat with the following signs:
– High-quality beef has a uniform red color, the fat is white or creamy yellow, the surface is dry and slightly sticky to the touch.
– You can use tissue paper to stick to the surface of the beef and see that they are not soaked.
– Beef recovers quickly when pressed down, proving its elasticity is very good, this piece of meat is still fresh.
– When you smell the characteristic smell of beef, it proves that this is a good quality piece of beef, you should buy it.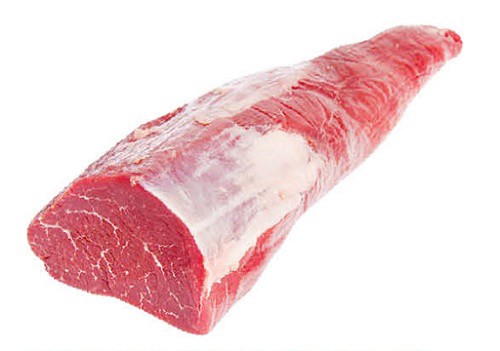 SEE MORE HOW TO MAKE DELICIOUS FOOD FROM BEEF:
BEEF CARI
Material:
– 500 gr of beef (choose beef with a bit of tendon); 1 carrot' 2 hot peppers or 1 horn chili (for those who don't eat spicy); 1/4 pineapple (this is the ingredient that helps the beef to be tender); 2 potatoes; 1 branch of lemongrass; 1 purple onion; 2 cloves of garlic; 1 branch of green onion; 200 ml of coconut milk; 1 tablespoon curry sauce or 1 teaspoon curry powder; 1 piece of lemon; 2 Thai lemon leaves
– Spices: 1 tablespoon fish sauce + 1 teaspoon seasoning powder + 1/2 teaspoon salt + 1 teaspoon sugar + 1/3 teaspoon pepper.
How to cook beef curry:
Step 1: Preliminary processing
Clean beef, cut into large pieces. Peel and cut carrots, potatoes and pineapples. Red onion, garlic, lemongrass and chili minced or crushed. Tear lemon leaves into 4.
Step 2: Cook beef curry
Put the pot on the stove, add 2 tablespoons of oil, wait until the oil is hot, then add all the chili, lemongrass, chili… and minced lemon leaves to fry until fragrant.
Then add the curry sauce and stir-fry for 2 minutes, then add the beef and seasonings on top to stir-fry.
Next, stir in carrots, potatoes and pineapple.
Finally, add coconut milk and add about 2 bowls of water and continue to stew on low heat for about 30 minutes, until the potato meat is soft, the water is also a bit dry.
Season to taste and then turn off the stove. Now squeeze the lime juice into the strong cto.
Enjoy:
Put the beef curry in a deep bowl or plate, sprinkle with some finely chopped scallions. This dish can be eaten with rice, bread or with vermicelli.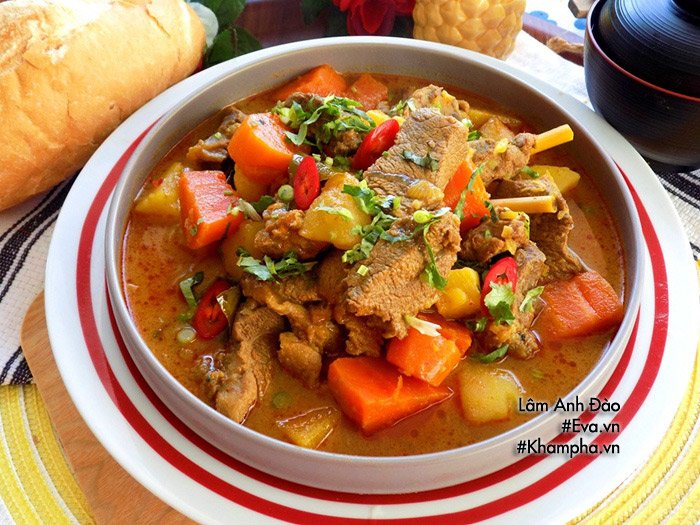 Stir-Fried BENEFITS with Bell Peppers
Material:
1 piece of beef 300g, 1 red bell pepper, half a yellow bell pepper, half a spoonful of soy sauce, 2 tablespoons of black soy sauce, 2 tablespoons of oyster sauce, 1 teaspoon of salt, half a teaspoon of honey, shallots, 2 slices of ginger, 1 tablespoon starch, a few cloves of garlic
Making:
Cut beef into thin slices, wash with clean water to remove excess blood.
Squeeze the water out of the beef and put it in a large bowl, add soy sauce, dark soy sauce, oyster sauce, scallions and ginger and mix well. Adding oyster sauce will make the beef taste sweeter.
Then add 1 tablespoon of starch, mix well, then seal with oil and marinate for 2 hours. Starch helps beef "lock in moisture", preventing water loss, so the meat will also be softer.
Cut chili into small squares. Garlic cut into small pieces.
Heat a pan, add a little oil, saute garlic, add beef, and cook about 95%. Just stir fry for about 2-2.5 minutes, turn off the heat.
In another pan, add cooking oil, add colored chili peppers and sauté until fragrant, add a little water and sauté over high heat, season with salt to taste.
Finally, add the beef and stir fry for 30 seconds, then remove from the heat.
Stir-fried beef with bell peppers is delicious, soft, not chewy, and is guaranteed to be enjoyed by everyone, even children.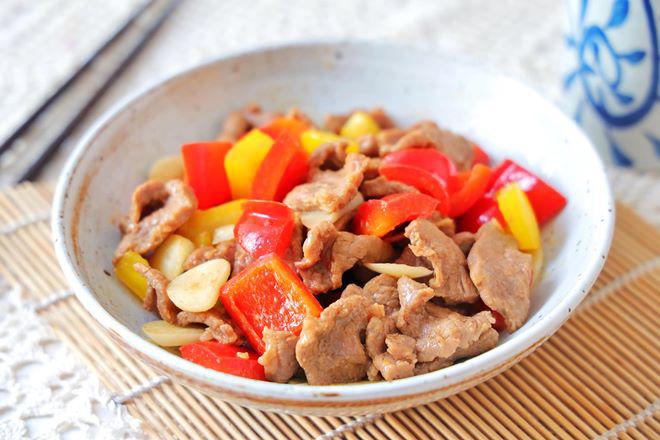 Good luck!
You are reading the article
Buy beef, encounter a piece with these 3 signs, so avoid it immediately lest you waste money, lose your appetite

at
Blogtuan.info
– Source:
Eva.vn
– Read the original article
here