After dating for a few years, a man in China's Gansu province was forced to break up with his girlfriend. The reason was that he was unable to pay the bride price of nearly 300,000 yuan ($47,000).
"I asked the locals and they said it was customary. I hope this custom can be abolished," the man, surnamed Qin, wrote in the "Messages to Leaders" section of the Chinese website people.com.cn.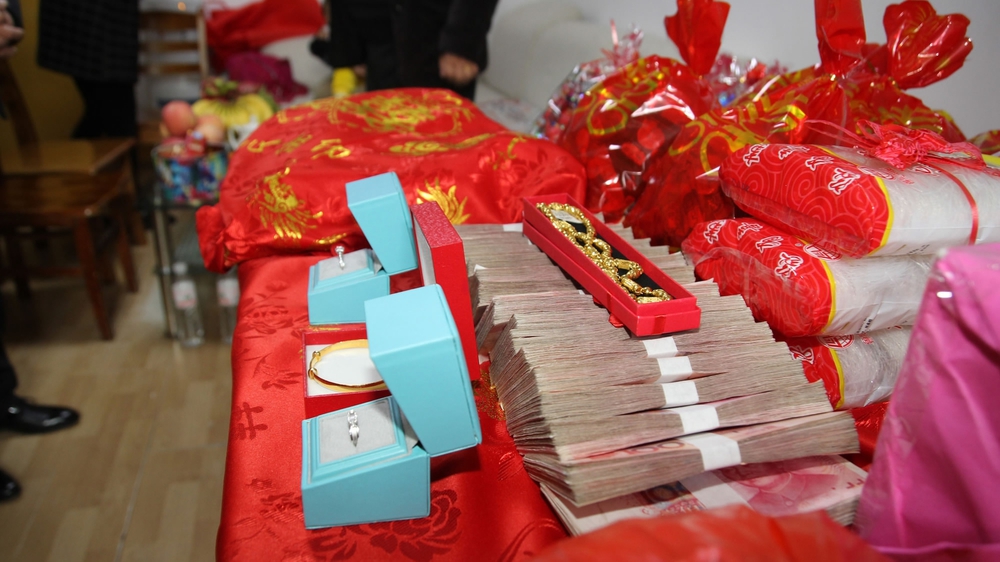 Many Chinese men, especially in rural areas, can't get a wife because they can't afford the bride price. (Photo: CGTN)
Wedding ceremony is a custom that dates back to ancient times in China. Accordingly, the groom's family will give the girl's family an amount of money as a transfer of the right to control the woman's body and labor.
In Zhengning County in Gansu Province, where Mr. Qin lives, the average annual income of people will be more than 20,000 yuan ($3,136) in 2021. This means that Mr. Qin will have to accumulate 15 years to have enough money to pay the bride price to give to the bride's family as requested.
Despite the Chinese government's efforts to reform the marriage procedure and encourage people to reduce convenience in recent years, wedding fees are still the biggest concern in Chinese society, especially in rural areas. , where the majority of men remain single.
In response to Mr. Qiun's question, on April 7, the Zhengning county government said that it had set a maximum wedding fee of 80,000 yuan ($12,547) for families living in the countryside. villages, and 60,000 yuan ($9,410) for civil servants to crack down on expensive wedding costs.
"But changing the high bride price is a long and complicated process, so it can't be changed quickly," emphasized the Chinh Ninh district government.
In 2021, the Ministry of Civil Affairs of China has selected 1 county out of 32 cities across the country to be designated as a "pilot area" to implement wedding reform. Accordingly, residents in the "pilot area" are required to develop their own regulations to control the cost of bridesmaids and weddings.
But according to Yang Hua, a researcher at Wuhan University's School of Sociology, this solution doesn't work, because there aren't enough women of marriageable age living in rural areas to get married. with men.
"As long as the gender disparity persists in rural areas, the cost of holidays will continue to skyrocket. Even if the bride price does not increase, the cost of the wedding will still increase because of many other expenses," South China Morning Post (SCMP) quoted Yang as saying.
According to China's National Bureau of Statistics, by 2021, the gender gap in rural areas will be 108 men per 100 women.
Across the country, China has 723 million men compared with 689 million women. In other words, there are 34 million more Chinese men than women.
The ideology of respect for men and women, which is deeply rooted in the subconscious of the Chinese people, together with the "one-child policy" that has been implemented for decades and only been abolished since 2013, has led to a large number of unborn babies. is a broken girl.
Mr. Li Guofu, a villager in the city of Zhaotong in Yunnan province, said that where he lives there are many men, known locally as "guanggun", who cannot get a wife because they cannot afford to pay. wedding presents.
A father of three sons, Mr. Li said he needed to prepare hundreds of thousands of yuan if he wanted his children to marry a local and come from a middle-income rural family. jar.
"I don't want my children to become guanggun one day, so I have to work hard from now on," said Mr. Li.
As in Ning Shaan district of Shaanxi province, home to 70,000 people, litigation related to a wedding dispute has increased in recent years from 21 cases in 2019 to 59 cases in 2021. is information disclosed by Mr. Yang Shanshan, assistant judge at the court of Ninh Thieu district.
The average cost of a wedding gift has increased from 76,000 yuan ($12,000) to 135,000 yuan ($21,170), Mr. Yang said.
According to Mr. Yang, the increase in the bride price is due to the impact of many social factors including crimes such as theft and the perpetrator is male.
"Some young women took advantage of the mentality of wanting to get married soon, so when they got a large amount of money, they suddenly disappeared. But there are also cases where women are sent around to be sold to men in other localities for weddings," Yang said.
In addition to the gender imbalance, the lack of pensions and health insurance for the elderly in rural areas has also contributed to the rapid rise in wedding costs. Because according to the traditional concept in China, parents mainly depend on their children when they get old.
You are reading the article
Fasting for 15 years to collect enough money for the bride's wedding ceremony as requested by the bride's family

at
Blogtuan.info
– Source:
Soha.vn
– Read the original article
here