Khỏe - Đẹp
Having been married for 2 years has never been able to have sex, the young couple is looking forward to this
Although the 'little boy' is still erect with the initial stimulation, every time he prepares to 'penetrate' the 'little girl', he softens and fades, no matter how hard he tries, the young husband is powerless against thirst. wife's desire every night.
Doctors of Andrology, Department of Andrology and Sex Medicine, Hanoi Medical University Hospital have just re-examined a patient who a year earlier had also come to him for help.
This man said he has been married for 2 years. But since getting married, he has never had a successful sexual relationship with his wife.
The reason is because although the boy is still erect when there is initial stimulation, but every time he is about to "penetrate" into "the girl", the "little boy" softens and softens. So no matter how hard he tried, he was powerless before his wife's desire every night.
"The patient feels depressed, embarrassed, guilty, and becomes scared every time he has sex with his wife," the male specialist recounts.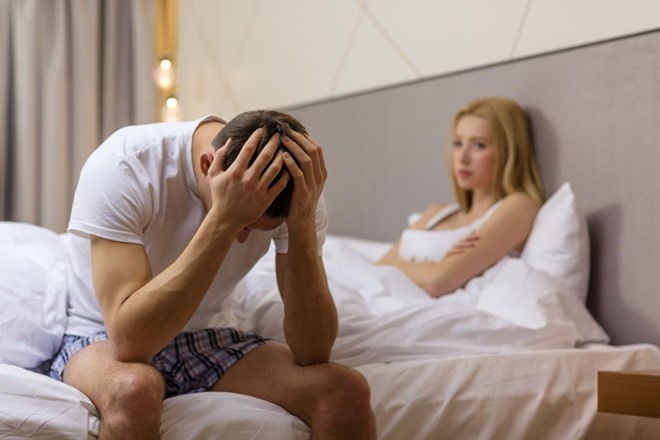 Illustrations
At the Department of Andrology and Sex Medicine, Hanoi Medical University Hospital, doctors examine and evaluate patients. Examination of the genital organs of the patient did not show any abnormality. The patient's blood and semen analysis parameters were completely normal.
Realizing that the patient's problem of not being able to have children is just because the boy's erection (erectile dysfunction) cannot be maintained when having sex with his wife, the doctor has come up with a treatment plan. for patients.
It is known that, thanks to a combination of psychological counseling, sex education, behavioral therapy and oral drug therapy of PDE-5 inhibitors, the patient had successful sex with his wife and can be confident every time in battle.
Erectile dysfunction has become an obsession for men, because this is a pathology that makes men's bravery go down, directly affecting family happiness.
According to a study from the University of Massachusetts (USA), erectile dysfunction occurs in men between 40 and 70 years old, accounting for about 50%. It is also estimated that around 150 million men worldwide have erectile dysfunction. Erectile dysfunction in men (under 40 years old) accounts for about 40%.
In Vietnam, this condition is increasingly common and tends to be younger. Men between the ages of 18 and 20 are also at risk of the disease, and even tend to increase sharply.
Erectile dysfunction is a sexual dysfunction in men, in which the penis is not erect or erect enough to perform sexual intercourse.
According to experts, the cause of this condition is psychological: nervous tension, fatigue, stress can affect and make it difficult to achieve an erection; Impaired concentration during sex.
In addition, men with this disease may have neurological factors: depression, some other neurological diseases … or some metabolic diseases: hypertension, dyslipidemia, diabetes Disconnect the road.
Other studies also show that men have endocrine disorders; Using stimulants such as: coffee, tobacco, alcohol and drugs…; Using drugs such as: antihypertensive drugs, antidepressants, some sedatives, diuretics … also cause erectile dysfunction to increase.
Sharing with reporters, Master, Doctor Pham Minh Ngoc, specializing in Orthopedics, Hanoi Hospital of Andrology and Infertility, added that during my work, I have received, examined and treated many schools. Had the same problem as the man above.
"Actually, there are a lot of men who have drooling as soon as the penis is inserted into the vagina. The feeling of novelty brings excitement, but also anxiety. Love gives men a feeling that goes beyond the familiar sensations of masturbation.
Not everyone is ready to overcome the feeling of safety and familiarity as always, plus not knowing how to put the boy in her, anxiety, thinking they are doing bad things, wrong, thinking about the current relationship from a more serious perspective, the feeling of anxiety when pregnant, when contracting sexually transmitted diseases, while still at school age, etc., all create a silence " fall down" when in love, and no matter how hard he tries to stimulate it, when he still has the same mentality as above, the boy can't get an erection again.
The next time you have sex, before each time you have sex, it's easy to think, not confident, guilty "maybe today will be as bad as the previous times", thereby distracting, reducing stimulation, Decreased blood flow to the penis, causing faintness, all forming a vicious cycle as if there was no way out," said Master, Doctor Pham Minh Ngoc.
In order to prevent erectile dysfunction, Dr. Pham Minh Ngoc recommends that men need to create psychological and spiritual comfort, form a healthy sex lifestyle, especially do not abuse excessive masturbation.
It is necessary to provide adequate nutrients for the body, a reasonable scientific diet, eat lots of green vegetables, limit fat… Limit stimulants: coffee, alcohol, tobacco, drugs… Exercise regularly, especially exercises to strengthen penile erection.
H. Phong
You are reading the article
Having been married for 2 years has never been able to have sex, the young couple is looking forward to this

at
Blogtuan.info
– Source:
infonet.vietnamnet.vn
– Read the original article
here