Giải trí
Hundreds of households cried for help when the land collapsed, houses cracked, and wells were abnormally dry
For many years, people in the mountainous commune of Chau Hong (Quy Hop district, Nghe An) have to live in anxiety, insecurity and fear when successive land subsidence occurs; hundreds of houses cracked, brick floors peeled off; The well is unusually dry.
Soil sinks, 273 dry wells at the bottom
The phenomenon of land subsidence, domestic water wells have dried up, causing hundreds of households in 3 villages of Na Hieng, Cong, and Na Noong (Chau Hong commune, Quy Hop district, Nghe An) to live in fear.
Using his hand to remove the mossy well cover, Mr. Lo Van Minh (SN 1967, resident of Na Hieng village) said that the well dug more than 10 meters deep, now has the bottom. To have running water, his family had to spend money to install a pipe to bring water from the ravine to his house for use.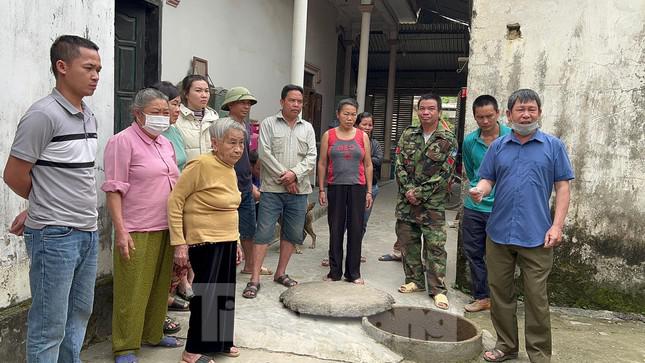 People in Na Hieng village, Chau Hong commune reflect on the situation of a series of dry wells at the bottom
"The wells in the village gradually dried up and ran out of water. From the date of the village until now, there has never been a phenomenon of running out of wells. People have called to the commune many times, but they have not been explained, "Mr. Minh said.
The whole commune has 279 wells that have run out of water. According to Mr. Minh, this phenomenon started in January 2020 and so far, many people have been extremely confused and worried.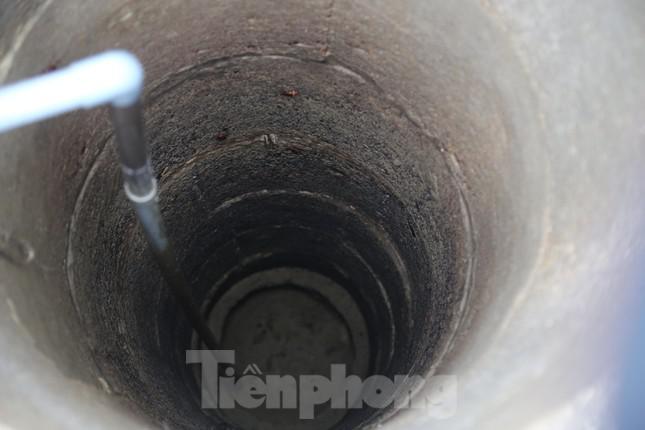 Bottomless wells
Take us to visit the rice fields in Na Hieng village, the whole field of about 500m2 had to be fenced off, surrounded by a sign prohibiting entry because of subsidence. Mr. Vi Van Hanh (residing in Na Hieng village) said that in this field there are nearly a dozen subsidence holes, each hole is about 7 meters wide and 2.5 meters deep.
"Our people are suffering a lot, since last year until now, there have been consecutive sinkholes in the fields, so deep that we do not dare to approach our fields. Recently, two more sinkholes have appeared, we are very afraid," said Mr. Hanh.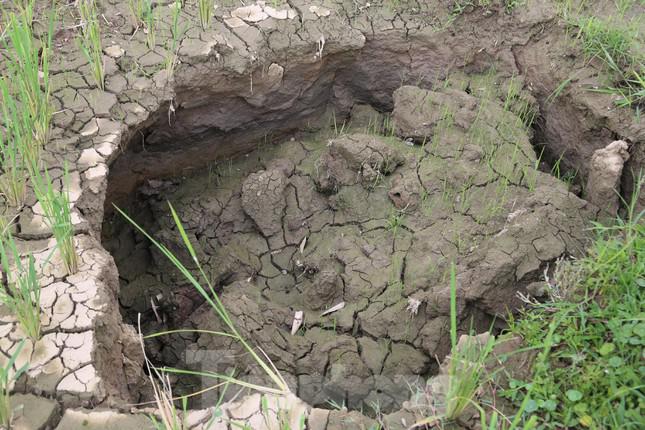 Sinkholes continuously appear in the fields of Na Hieng village
Mr. Hanh said that the phenomenon of land subsidence, houses cracked, well water dried up was caused by mining activities of tin ore nearby. "When digging deep into the ground, people have to suck up all the water to extract ore, or have to suck up the water to treat and wash the ore. At that time, resulting in hydrostatic water and the structure of the ground being changed, so the thin surface areas will collapse, the underground water sources will also be drained, leading to the well water being dried up, "Mr. explain.
Cracked house, broken bricks
The house of Mrs. Sam Thi Nga (SN 1969, Na Hieng village) was just built in 2019, but from the end of 2021, long cracks appeared. At first it was just 'thread lines', but over time, the cracks became wider and longer, making her family very worried and insecure.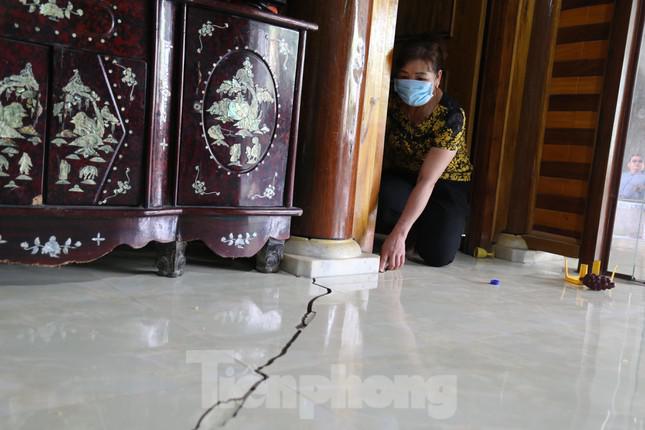 Mrs. Nga's newly built house has a long crack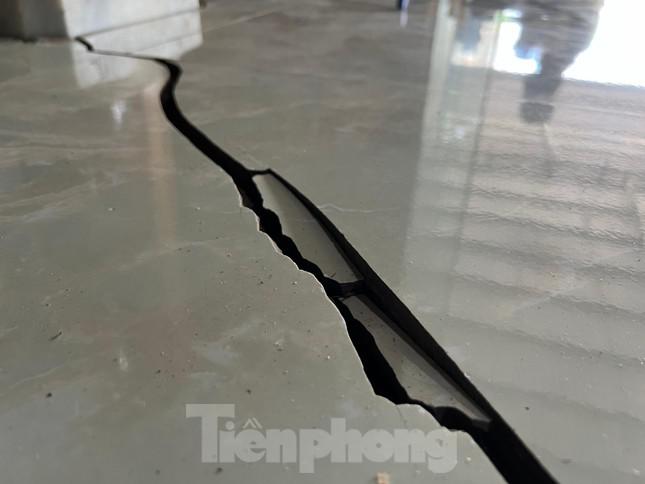 The cracks are getting bigger and bigger, making Mrs. Nga extremely insecure
"We are in our house but we are very scared. I don't know when the house collapsed. Every day the crack gets bigger and bigger, many nights I don't dare to sleep because I don't know when the house will collapse," worried Mrs. Nga.
Na Hieng village has more than 140 households, every house has cracked walls, floors, and peeling bricks. There are houses with cracked walls, cracks as wide as hands.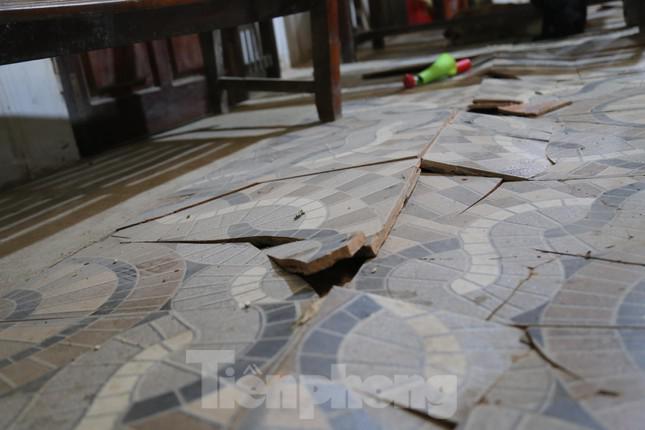 The floor is peeling off one after another at a house in Na Hieng village
Cracks not only appeared in people's houses but also in schools in Chau Hong commune. Ms. Tran Thi Hoa – Principal of Chau Hong Commune Kindergarten shared: "The whole school has 207 children and 17 teachers. One day, she was taking a nap when she heard the crack of the wall. Everyone was very confused and scared. If this situation continues, it will be very dangerous and unsafe for children. The school has also proposed to the superior to repair it to ensure a good life for the students."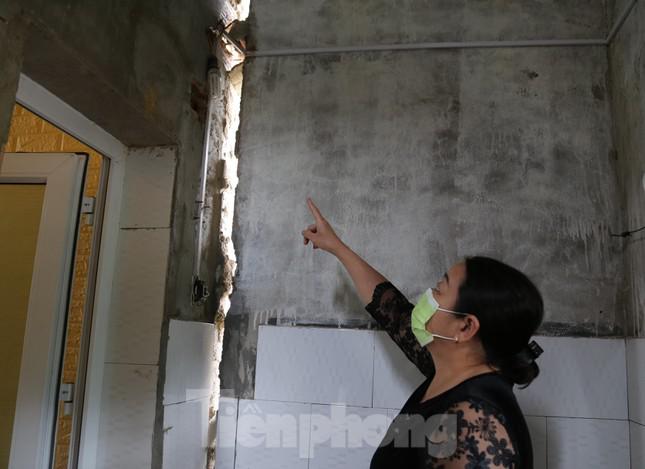 The cracked wall made Ms. Hoa extremely confused and scared
According to Ms. Hoa, nearly a month ago, there began to be cracks in the walls and floor tiles. Although she has been working at the school for 13 years, this is the first time that Ms. Hoa has witnessed the loss of domestic water, the walls and floors of the house are continuously cracked like that, seriously affecting teaching and learning.
Unknow cause?
Mr. Truong Van Hoa, Chairman of Chau Hong Commune People's Committee, said that the phenomenon of land subsidence started in mid-January 2020 and so far there have been 13 subsidence holes in the fields of the commune. The sinkholes have an average diameter of 2.5 – 7 m, a depth of 1.5 – 2.5 m. Not only subsidence, the shortage of underground water has been going on for 2 years now, causing the rice fields to dry up and the wells of the people living at the bottom.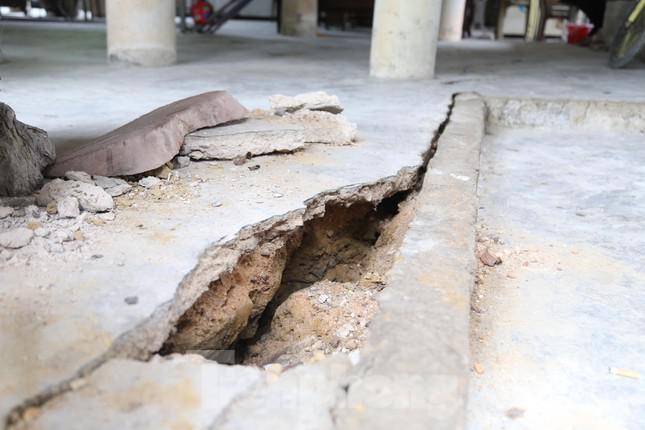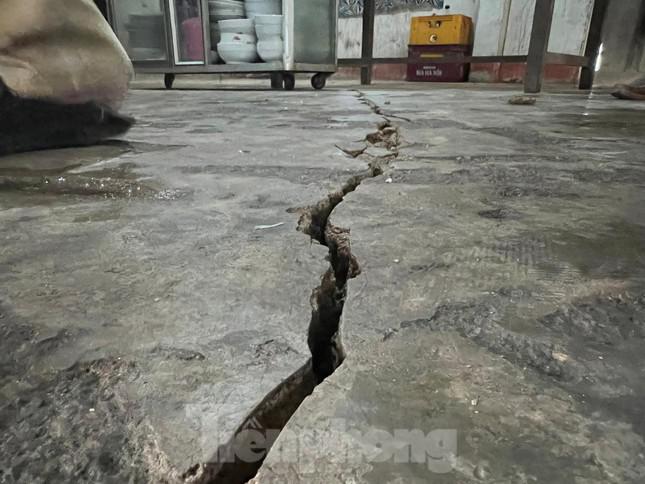 Hundreds of households in Chau Hong commune appeared subsidence, cracked walls and floors
In addition, from the beginning of 2022, hundreds of households in 3 villages of Na Hieng, Cong, and Na Noong and kindergartens, primary schools, and junior high schools in the area suffered cracks in walls, floors, subsidence of house foundations and bricks. peeling background. The headquarters of the Commune People's Committee, which has just been built and put into use in 2020, also "suffers" from prolonged cracking of the wall.
"From 2021 up to now, the Commune People's Committee has sent 14 status reports to the District People's Committee, asking for clarification of the cause but still no results. With subsidence points, the commune has built barriers, zoning, and placed warning signs for people to avoid danger. As for the problem of domestic water sources (due to the sudden loss of water from wells, the province has also had a project to install domestic water supply pipes for people", Mr. Hoa shared.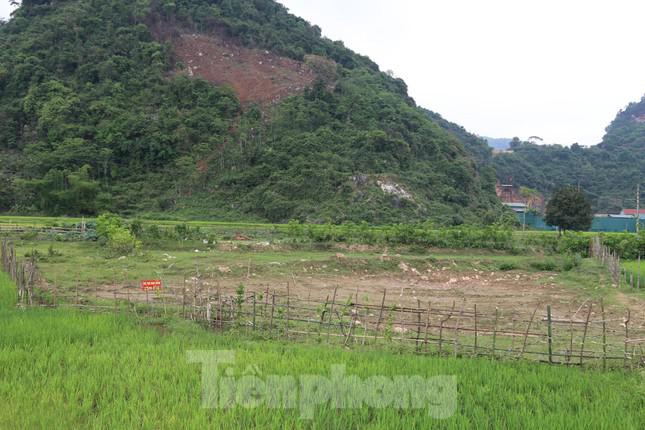 A subsidence point is barricaded by the commune, warning people are posted
Chairman of the Commune People's Committee Chau Hong also said that there are 11 enterprises exploiting stone and tin ore in the commune, including underground mining enterprises in the form of underground mines. Most recently, when the mining scale used more modern equipment and machinery, especially in the field of underground tin ore mining, unusual phenomena as above appeared.
In the past year, there have been many delegations from districts and provinces to inspect, but so far the cause of the above phenomena has not been determined. Most recently, on April 19, the delegation of the Standing Committee of the District Party Committee led by Mr. Phan Dinh Dat, Secretary of the Quy Hop District Party Committee, went to check the reality but still had no results, making the people extremely insecure. .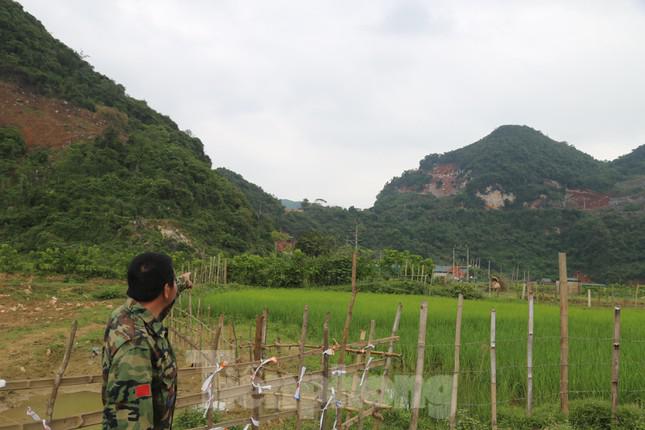 Not far from the subsidence point are tin ore mines
Mr. Quan Vi Giang, Vice Chairman of Quy Hop District People's Committee said: "We have repeatedly reported to the Departments, branches and the Provincial People's Committee about the above phenomenon. Many interdisciplinary teams have also come to check, however, the cause of these phenomena has not been found. We are already working on the outline for approval, the lease contract for the North Central Geological Survey."
You are reading the article
Hundreds of households cried for help when the land collapsed, houses cracked, and wells were abnormally dry

at
Blogtuan.info
– Source:
24h.com.vn
– Read the original article
here