Cư dân mạng
World
Meet the "big pig farm" in Hai Duong, see a fleet of hundreds of billion gold-plated supercars and villas in a thousand square meter park
Recently, on social networks, sharing clips of a couple's wedding anniversary party rich man in Hai Duong made many people admire. Because in the 15th wedding anniversary party, there were the appearance of a series of famous Vietnamese artists such as singer Ngoc Son, singer Khanh Phuong, singer Duong Ngoc Thai, singer To My, Giang Hong Ngoc…
The party venue is a home of thousands of square meters. In addition, in the party, there was also a set of expensive gold-plated supercars and an extremely majestic and splendid space.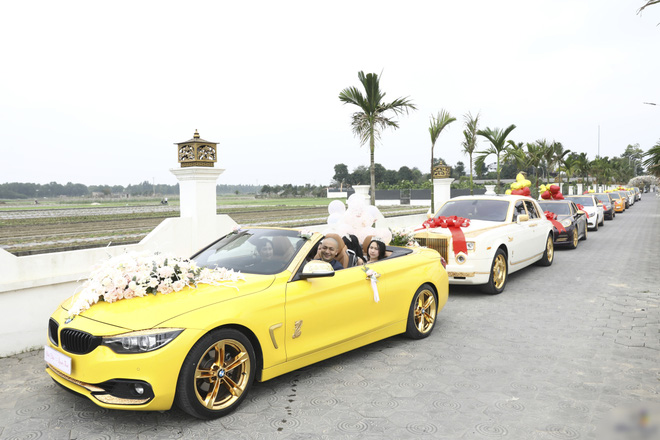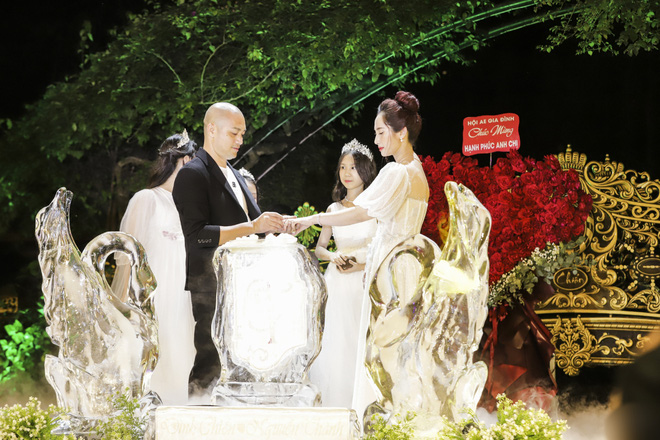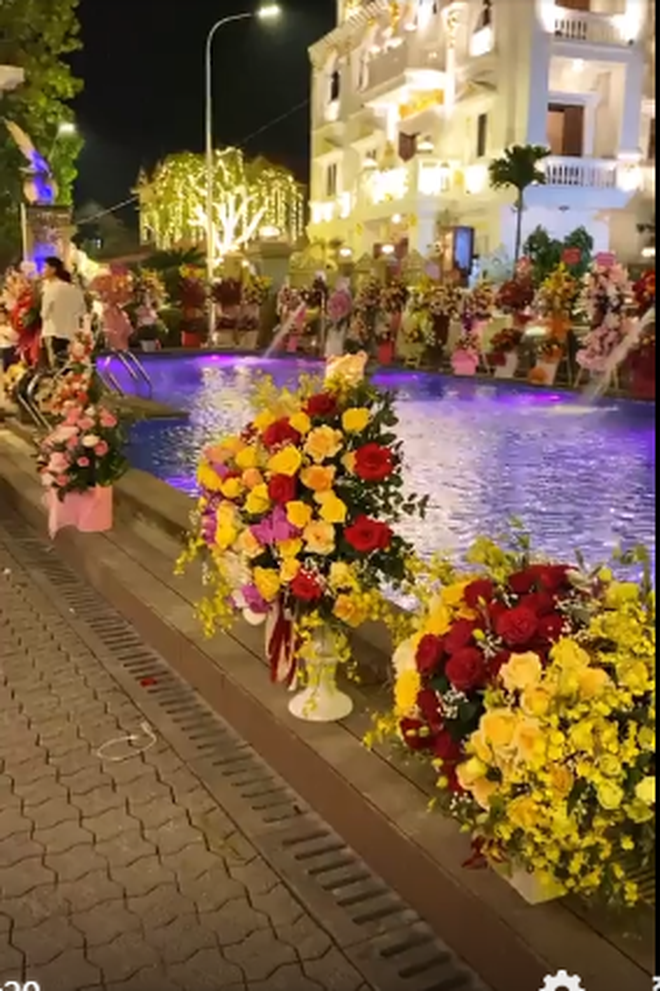 Supercars and splendid wedding space of Mr. Chien and his wife
It is known that the owner of this terrible party is Mr. Nguyen Van Chien (born in 1977, in O Me village, Hung Dao commune, Tu Ky district, Hai Duong province). Chien went through a hard time, going up from two empty hands to build a "huge" property as it is today.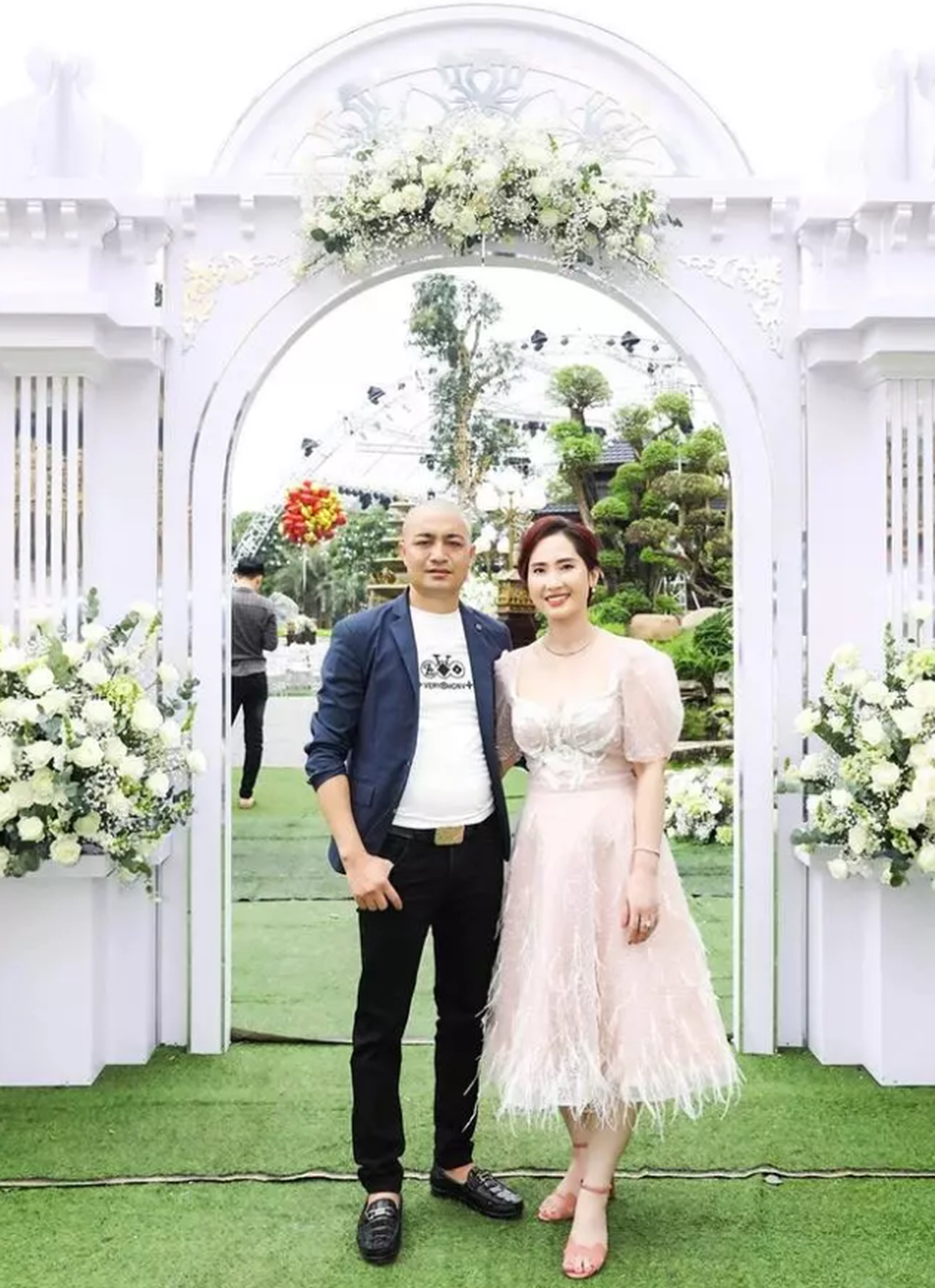 Leaving school from an early age to "the giant pig farm"
Sharing with us, Mr. Chien said that he is the eldest child in a family where his mother is a pig slaughterer and his father is a long-distance pig trader. Therefore, the blood of passion for business has been formed in him since he was very young.
After finishing grade 6, Chien dropped out of school to follow his mother selling pork. At first, his parents and family did not agree, but because he saw that his son was too passionate, he did not stop it anymore. Two years after following his mother to sell pork in the market, Mr. Chien knew how to carry pigs and slaughter 60-70 kg pigs.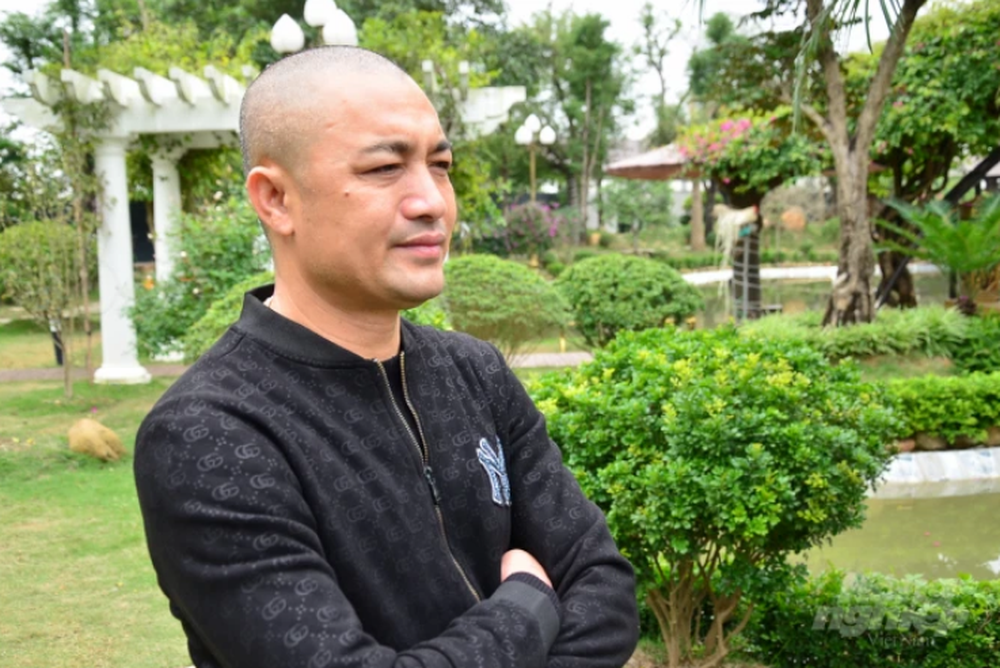 Mr. Nguyen Van Chien (Photo: Vietnam Agriculture Newspaper)
"In the past, my mother used to eat pork for one day, one child, I only specialized in collecting money to sell meat for her. At that time, I was so passionate, I quit school to work, there were years of hundreds of days off school, so my family didn't go to school. cannot be prevented.
After I learned to slaughter pigs, I split up and sold them separately, mother and daughter sold pork at the market, one for each, not together." Chien said.
3 years later, realizing that the job of slaughtering pigs is hard, he wakes up early at night but has little profit, so Chien decided to follow his father to trade in pigs.
"Initially, I bought 5-7 cows at a time in villages and communes, then rented ox carts to carry them back, and called others to sell them. As society progressed, large farms opened up more and more, and I bought pigs from my family. farms, companies, corporations move to slaughterhouses, regions and then export to China". Chien said.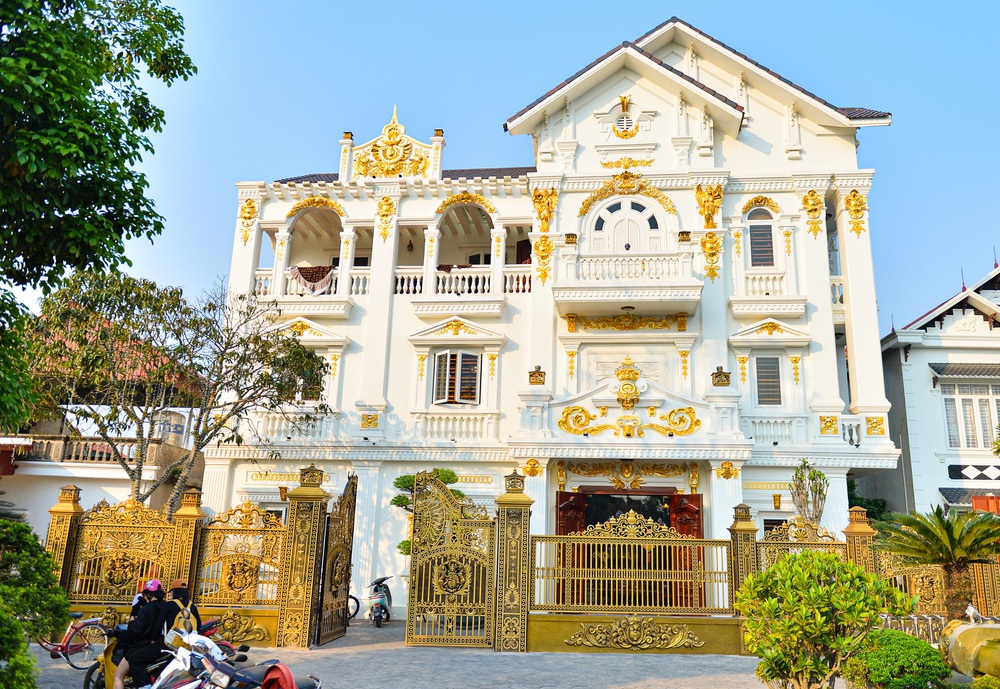 The property that Chien is living in
However, the business path was not favorable at all. Due to the epidemic, the pig price market went up and down abnormally, causing Chien many times to lose money, even at one point he was empty-handed.
"When I was young, due to my aggressive nature, I had little capital, but I liked to trade a lot of pigs, so I took risks and lost nothing. What I remember most is the time I met Mr. Thang, brother Phuong Anh Steel of Chibi Corporation did it. change my life.
3 brothers at that time, they were the head of the department, the deputy head of the corporation's department, looking for potential customers. At that time I had real potential but no money. But foreign capitalist companies never sell on credit or buy on credit, so after that 3 people had to stand up for me.
The first day I came to do the contract, I didn't have money to sell so many pigs, fortunately 3 people extended their hands to help, they stood up and signed a guarantee for me. If I can't pay this amount, they will be the ones to help." Chien confided.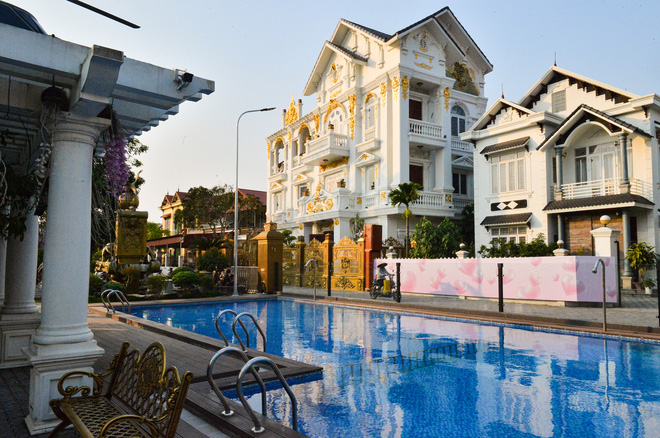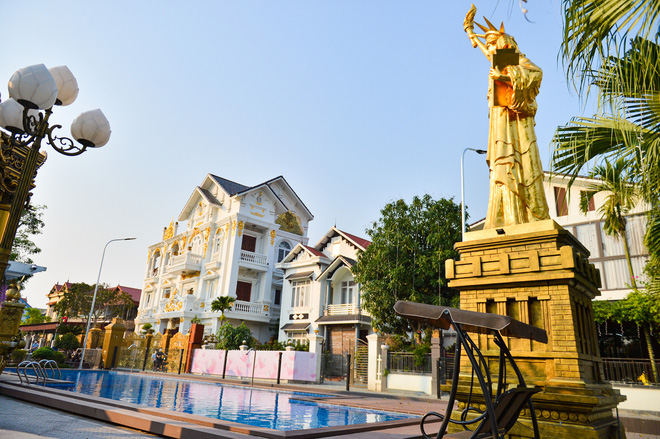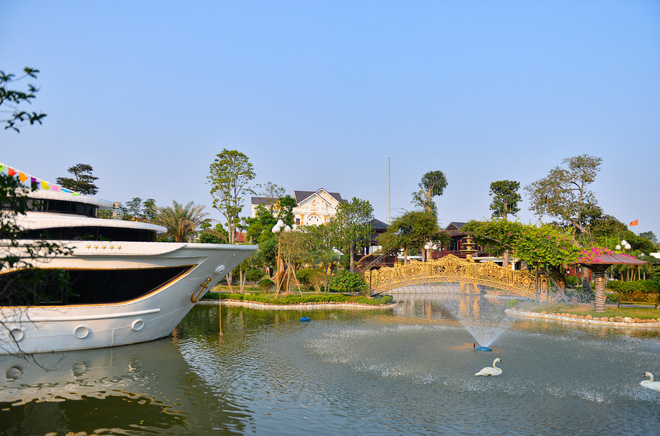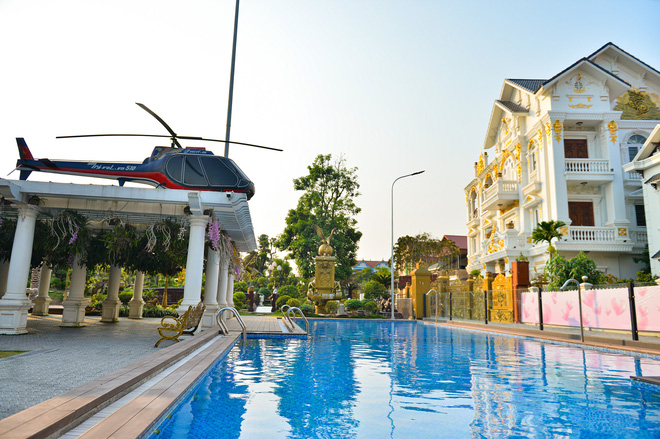 Models of helicopters and yachts are placed on the grounds of the gilded villa in the estate of the giant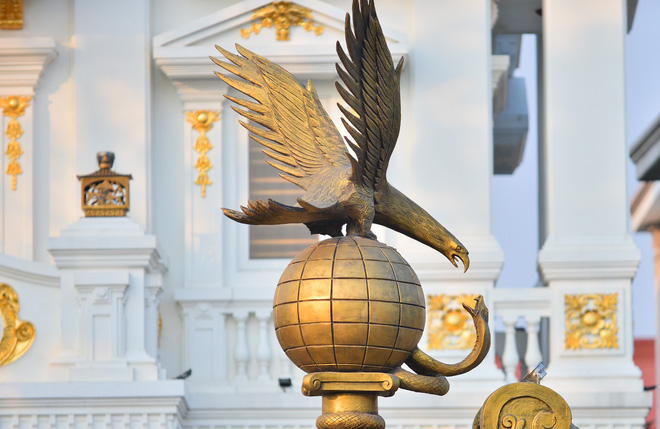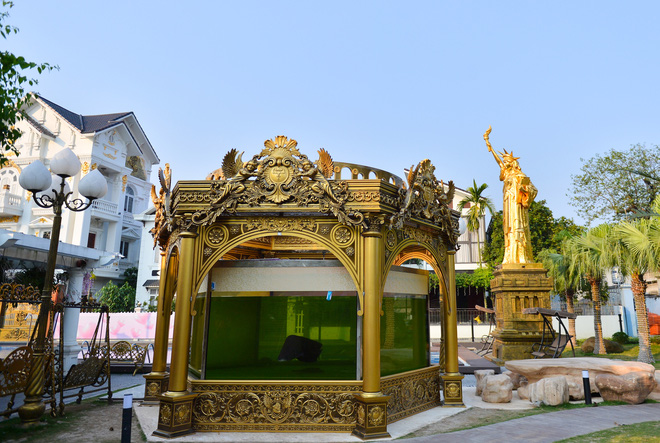 Later, when he had capital, Mr. Chien continued to expand his business and became a partner of many other corporations. "Currently, I still trade pigs, creating jobs for nearly 100 workers.
My model has feeder pig yards in Hai Phong and the South. If the price of pigs is high in the South, I will collect pigs in the North and sell them. If the North is expensive, I will gather pigs from the South to bring. I've been doing that for ten years now.
People have to calculate enough profit per head of new pigs to trade and I take the quantity as profit. In 2008, I traded 500 fish/day, now it's increased to 3,000/day…", Chien shared.
A "terrible" wedding party in Hai Duong and a hundred billion supercar lineup
Talking about the reason for holding a magnificent 15th wedding anniversary, the rich man's voice fell. He said, when he got married when he was young, life was hard, so the wedding was organized in a sketchy and quick way, so now he wants to be grateful to his wife.
"In the past, I had 1 wife, however, after only living for 3 years, my husband and I did not get along, my wife left, I stayed at home to raise children. After breaking up with my wife, more than a year later I met again. wife now.
At that time, the wife's family did not agree, but she insisted on following me and did not need to get married, so it was still sketchy at that time. On the occasion of the husband and wife's 15th anniversary of living together, I would like to organize a gratitude ceremony for my wife, she has been with me since the beginning of time." Chien said.
In addition to his wife, Mr. Chien also took this opportunity to organize gratitude to 3 people, Mr. Steel, Mr. Thang and Mr. Phuong – who have helped him since starting his business.
Sharing about his hobby of playing beautiful supercars, Chien said that he has a passion for beautiful numbers and a dream about cars since childhood.
"In 2000, I had my first car, at that time I was not married and had my own capital. It was a Tucson. 3 years later I bought a beautiful Lexus car." Chien said.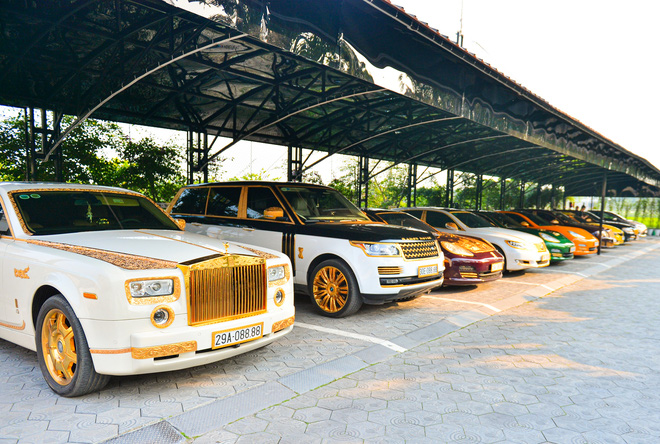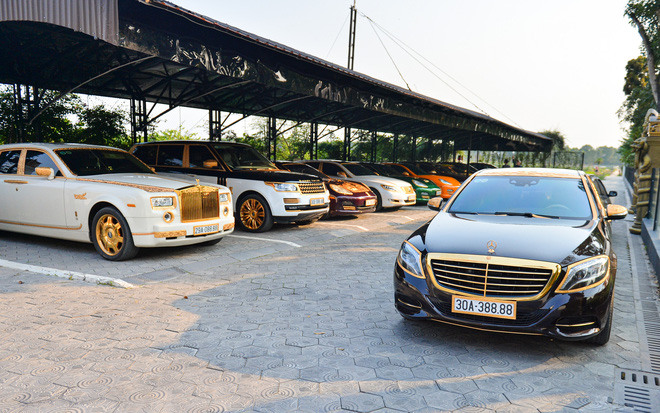 Chien's gold-plated supercars
It is also a step to mark this giant's hobby of collecting beautiful luxury cars. Currently, Mr. Chien is using 30 cars of all kinds such as Rolls-Royce Phantom, Land Rover Range Rover, Porsche Panamera, Mercedes-Benz S-Class, Bentley Continental Flying Spur, Lexus LS and BMW 4-Series… more details The car is plated with 24k gold. In which, there are 15 quartet cars and 15 ordinary marine cars.
"I like the sea of ​​the four quarters, people keep calling me a tycoon but I don't recognize it as a tycoon, I live here attached to my neighbors, anyone can come to my house to play, no need to ask the owner."
Finally, let's talk about the thousands of square meters of private property. Chien said, he wants to do something useful for his family and society.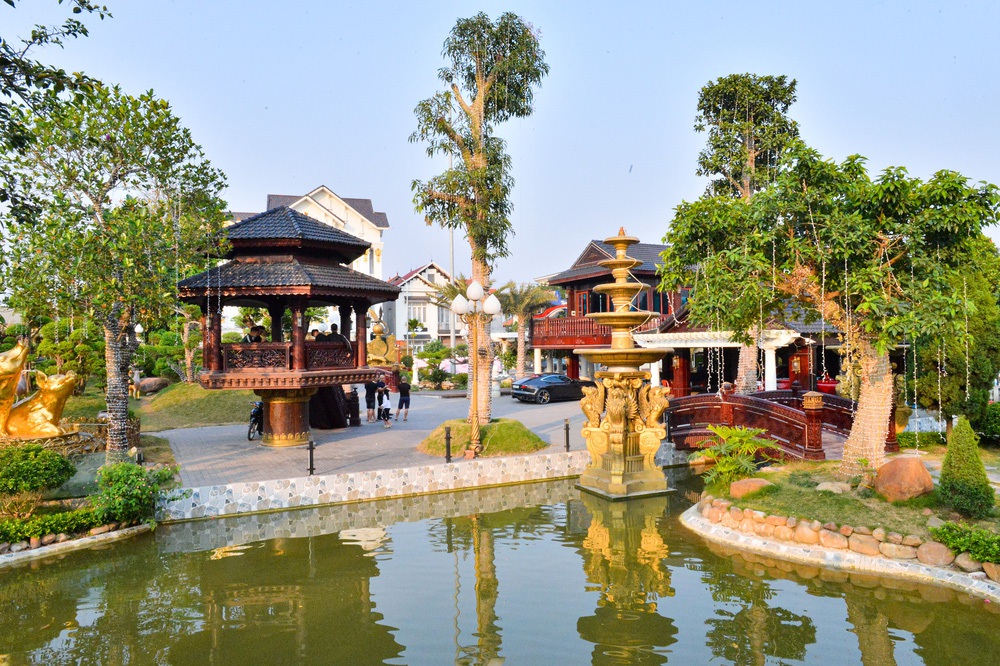 Chien's thousand square meter home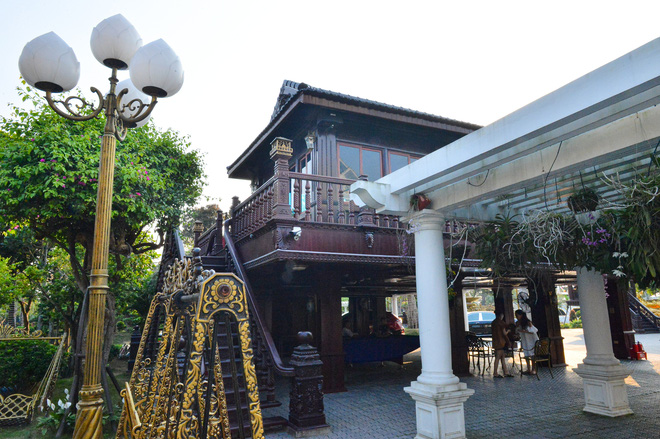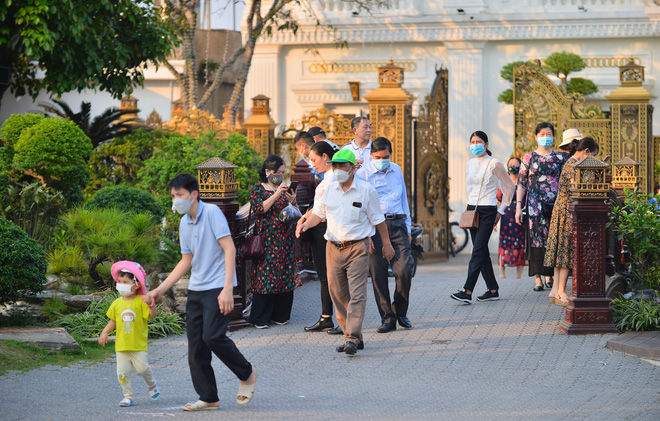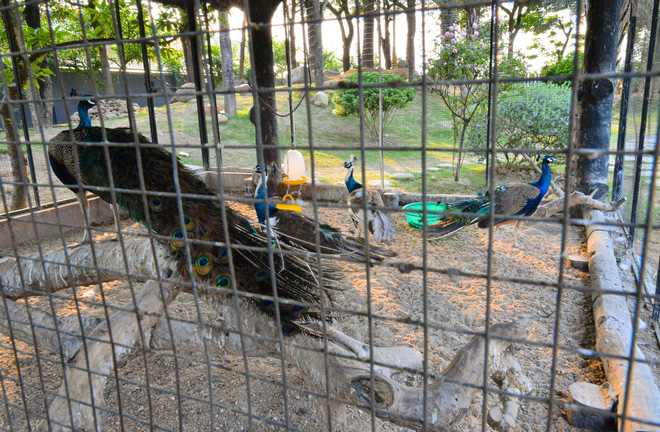 Because Mr. Chien built a house in the style of a park, many locals come to visit every day
"When I'm successful, I want to do something for my family because I think I can do it because of the blessings of my ancestors. Besides, I also want to do something for society, so I return to live in the countryside. to help people, everything comes from the bottom of the heart," Chien added.
Previously, sharing with Vietnamnet, the leader of Tu Ky district said that it is true that Chien, which locals often call "pig" Chien, organizes a big wedding celebration. Mr. Chien works in the cattle breeding industry. He is wealthy and often supports local social activities.
https://kenh14.vn/gap-dai-gia-trai-lon-o-hai-duong-ngam-nhin-dan-sieu-xe-dat-vang-tram-ty-va-biet-thu-trong- cong-vien-rong-ngin-met-vuong-20220419115900919.chn
You are reading the article
Meet the "big pig farm" in Hai Duong, see a fleet of hundreds of billion gold-plated supercars and villas in a thousand square meter park

at
Blogtuan.info
– Source:
Soha.vn
– Read the original article
here