Giáo dục
Obsessed with being forced not to take the 10th grade exam because of poor study
Information spread on social networks about some secondary schools in Hanoi campaigning, even asking students in grade 9 with poor academic performance to transfer to private schools or commit to not. 10th grade entrance exam to go to the public sector but go to vocational training, is attracting the attention of the community.
Sharing with VietNamNet, many cases of parents and students also mentioned similar situations they themselves had to go through.
CA, a former student of a junior high school in Cau Giay district, said that last year, after having the results of the end of semester 1 exam with a low score, at the beginning of semester 2, she and a student with a high score of 1. Other students were asked to invite their parents to the school to meet the principal. But according to A., his academic results at that time were not too bad. This girl has Math and Literature about 7 points, the rest of the subjects are almost 8 or higher, only Physics scores 4 points below the average.
"Through the story of her mother, at the meeting, the school principal talked about the direction for us to go to vocational training and said that we should not take the exam, because if the exam changes levels, it will affect the school's achievements. Not only at the meeting with the principal, but also through the homeroom teacher's attitude in class. The homeroom teacher also often "reminds" me about not taking the exam. She often said: "Score like this, I don't know how the 10th grade exam will affect",….
I thought I was a few, but this year through social media, I learned that there seem to be many cases of coercion, so I want to speak up about this," A. confided.
Last year, finally, after all, A. still decided to take the exam and didn't make a commitment not to take the exam. As a result, A. still managed to enter a public high school in Hanoi.
However, because this school is far from home, the family decided to let him attend a private school in Cau Giay district.
However, according to A., this still haunts me with self-doubt.
"At that age, seeing people judge me like that, I felt sad, confused and worried. Because of studying for so many years, but being advised not to take the 10th grade exam, because of the possibility of not being able to take the exam, it is extremely disappointing. At that time, I felt shy with the people around me and was affected for a long time after that", A. shared.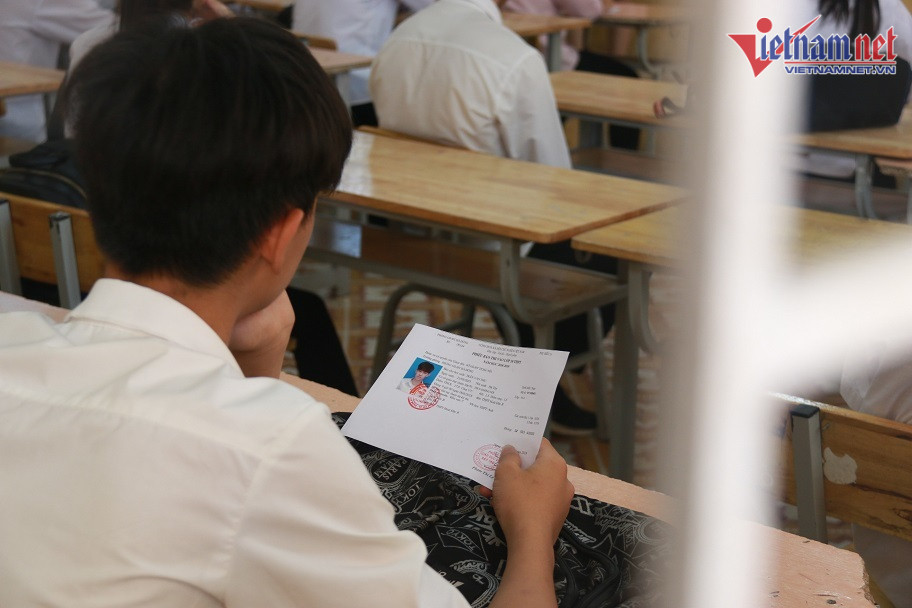 Ms. AD (parent in Hanoi) also said that she had to sign a voluntary application not to let her children 10th grade exam in pain 2 years ago. It is worth mentioning, according to her, that the child is in the selected class of the school, the class does not have special students.
"I used to boil my blood trying to bring to light but think about it for what? To fight with my child what is not worth it? In the end, I choose to give my child a low-pressure environment, so that my child has the opportunity to strive and be human."
Ms. D said, that year, almost at the end of her child's first term, she was one of more than 30 parents invited by the principal to a meeting to talk about their child's academic status and the possibility of not being able to enter the 10th grade exam. Along with that is advice for parents to choose private schools or vocational schools for their children.
"I was classified as the worst student in the class, and I couldn't even pass the exam – according to the homeroom teacher's assessment. They directed me to sign a form not to let my child take the exam. All just blamed on poor students. When there was no better choice, I consulted my friends to decide to send my child to a private school near my home."
Ms. D said that her family's work has been over for a few years, but now that the news has surfaced, she herself thinks that she needs to fight, be responsible to society and speak up about this problem.
"When I was in middle school, my child almost committed suicide due to pressure. To this day I still haunt and still say those years like a nightmare. My child is not a bad kid, but he doesn't cooperate with the teacher. Being criticized for being ignorant, I have low self-esteem and don't want to study anymore", said Ms. D.
Ms. D also said that now her daughter is always at the top of her class, participating in all kinds of contests ranging from excellent students to career-oriented competitions of the school.
"I've really been able to be myself."
Thanh Hung
You are reading the article
Obsessed with being forced not to take the 10th grade exam because of poor study

at
Blogtuan.info
– Source:
vietnamnet.vn
– Read the original article
here