Thế Giới
QUICK READING April 22: President Joe Biden meets the Prime Minister of Ukraine at the White House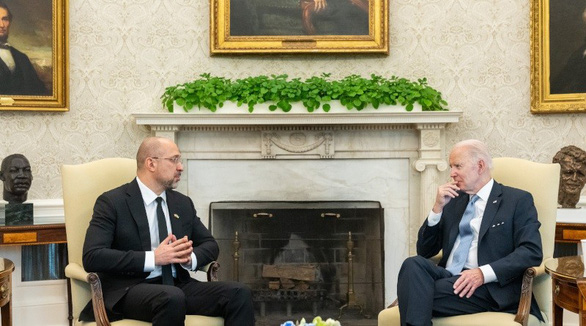 US President Joe Biden receives Ukrainian Prime Minister Denys Shmyhal at the White House on April 21 – Photo: WHITE HOUSE
* For the first time in history, The International Monetary Fund (IMF) on April 21 ended its six-month regular meeting without issuing a joint statement. The conflict between Russia and Ukraine is said to be the reason why the IMF was unable to come to an agreement on a joint statement.
* Ukraine continues to extend martial law until May 25. Martial law was imposed on February 24 after Russia launched a special military operation in the country.
* A senior official of the US Department of Defense on April 21 said that the US European Command (EUCOM) recently officially officially Establishment of the Center for Control of the Ukraine Situation based in Stuttgart, Germany to support both security forces and humanitarian assistance to Ukraine.
* Quoting the German Minister of Economic Cooperation and Development, newspaper Augsburger Allgemeine news Germany will provide an additional 37 million euros ($40.12 million) to Ukraine for post-war reconstruction. Specifically, about 22.5 million euros will be used to rebuild Ukraine's electricity grid. The remaining 14.4 million euros will be spent rebuilding damaged homes and investing in medical equipment.
* The White House announced on April 21, 2022 (local time), US President Joe Biden met with Ukrainian Prime Minister Denys Shmyhal in Washington DC, in which Mr. Biden affirmed US support for Ukraine.
At the meeting, President Biden mentioned the additional security assistance of $ 800 million and the economic assistance of $ 500 million for Ukraine that the US government announced earlier, bringing the total amount of the US contribution. for the Ukrainian economy in the past two months amounted to more than 1 billion USD.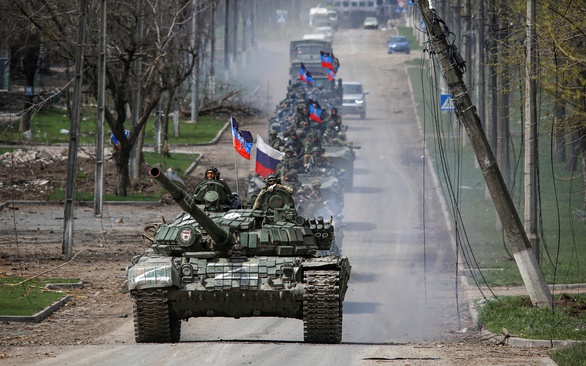 A convoy of pro-Russian forces moves in Mariupol, Ukraine on April 21 – Photo: REUTERS
* On April 21, US President Joe Biden said information Russia's control of Mariupol "is still in question" and "there is no evidence" that the city has completely fallen, according to AFP news agency. "We know that Ukrainian forces continue to hold their ground," State Department spokesman Ned Price said.
Earlier, Russian Defense Minister Sergei Shoigu told President Vladimir Putin that "Mariupol has been liberated", only about 2,000 Ukrainian soldiers remain inside the Azovstal Steel Plant thanks to the tunnel system.
* Ukrainian President Volodymyr Zelensky announced that Russian forces are in control of most of the city of Mariupol but force Ukraine still retains part of this city. He said there are about 120,000 civilians trapped here.
* Mr. Zelensky said he still hopes for peace even though the Russian side has rejected the proposal for an armistice. However, Mr denied going to Moscow to negotiate directly with the Russian leaders. "For the sake of my country, I am ready to go anywhere on this planet, but certainly not Russia, not now," the Ukrainian president was quoted as saying by Reuters news agency.
* The Kremlin said that Russia was still waiting for Kiev's response to the latest negotiating proposal and confirmed it had sent this proposal to the Ukrainian negotiating team. Ukrainian President Zelensky said he had not seen or heard of the proposal.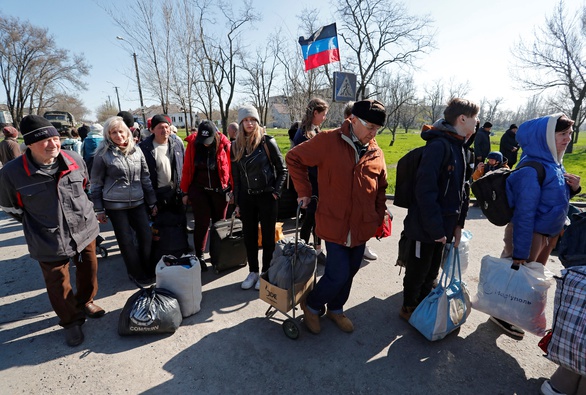 People in Mariupol queue to evacuate on April 20 – Photo: REUTERS
* Speaking at the conference of the International Monetary Fund (IMF) and the World Bank (WB), President Zelensky said that this country need support 7 billion USD per month to maintain the economy due to the impact of the war with Russia. Zelensky accused the Russian military of wanting to destroy all economic facilities of Ukraine such as railway stations, food depots, oil depots, oil refineries.
According to the IMF, Ukraine's economy is expected to shrink by 35% this year while Russia's economy is expected to shrink by 8.5%.
* US Treasury Secretary Janet Yellen announced that the US will 500 million USD support to help the Ukrainian government pay salaries, pensions and other services. This additional economic assistance will bring the total amount of US contributions to Ukraine's economy over the past two months to more than $1 billion.
President Biden has also announced the authorization of the $800 million worth of additional security assistance for Ukraine. The new support package will include heavy weapons, 144,000 rounds of ammunition and tactical reconnaissance aircraft. In addition, the US government will allow Ukrainians to come to the US to live temporarily if they have someone in the US to sponsor them.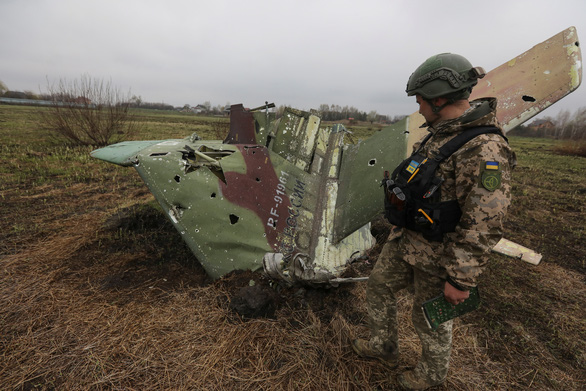 The wreck of a Russian plane in the Kiev area, Ukraine on April 21 – Photo: REUTERS
* Danish Prime Minister Mette Frederikse announced that the country will provides a new military aid package to Ukraine worth $90 million. Speaking at a press conference during her visit to Kiev, Ms. Frederiksen said Denmark's total military assistance to Ukraine amounted to about $146 million.
Spain's Prime Minister Pedro Sanchez said the country had sent a new shipment of 200 tons of ammunition and military supplies to Ukraine, more than double the amount of military aid the country had previously sent to Kiev. .
* April 21, Russia announced a travel ban on US Vice President Kamala Harris, Facebook chairman Mark Zuckerberg and 27 other famous American figures., in retaliation for sanctions against Russia. The Russian Foreign Ministry said the travel ban also applies to Pentagon officials, American business leaders and American journalists. This order will be in effect "indefinitely".
A US State Department spokesman said the Russian ban was an "honor". "I have to say it's nothing more than a compliment from the (Russian) government… It's an honor to share that with other truth-tellers," Ned said. Price.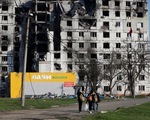 QUICK READ 21-4: Russia claims to have 'liberated' Mariupol
You are reading the article
QUICK READING April 22: President Joe Biden meets the Prime Minister of Ukraine at the White House

at
Blogtuan.info
– Source:
tuoitre.vn
– Read the original article
here