Thế Giới
Ukraine asks foreign help to win Mariupol
Ukraine's President says Kiev needs foreign help to win military victory in Mariupola city that Russia claims to have captured.
On April 21, Russian Defense Minister Sergei Shoigu reported to President Vladimir Putin that, Russian forces had completely captured the city of Mariupol, with the exception of the Azovstal steel plant.
On the same day, President Volodymyr Zelensky said it was still possible to rescue Ukrainian fighters trapped in Mariupol, but Kiev would need foreign help to do so.
RT quotes President Zelensky "There is a military solution to liberate Mariupol," told local media during a press conference with the Prime Ministers of Spain and Denmark in Kiev. We need to prepare for that. We are preparing to be strong, but we need the help of partners. If we do it ourselves, it will be difficult."
According to a report by Russian Defense Minister Sergei Shoigu to President Vladimir Putin, the port city of Mariupol in the Sea of ​​Azov is completely in the hands of the Russian army and the Donetsk People's Republic, except for about 2,000 besieged people who are hiding. at the Azovstal steel plant.
The defense minister said that when Mariupol was besieged in early March, about 8,100 Ukrainian soldiers, foreign mercenaries and nationalist fighters – including members of the Azov Battalion – remained in inside. However, 1,478 of these surrendered.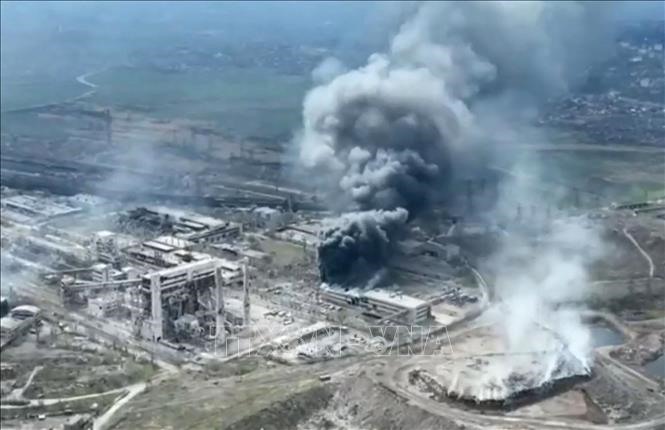 Minister Shoigu said it will take 3-4 days to clear the factory. However, President Putin instructed not to attack, calling the plan to attack the factory "unwise".
Instead, Putin ordered a "safe encirclement" of the area and extended an ultimatum to those entrenched in the factory to surrender, this last stronghold having been cut off from its supply sources.
Azov Battalion, also known as Azov Special Operations Squad or Azov Brigade, belongs to the Ukrainian National Guard. The Azov Battalion was formed after the 2014 coup in Kiev and has its main base at Mariupol on the coast of the Sea of ​​Azov.
The trapped Azov Battalion fighters refused .'s offer to surrender Russiainsisted they were allowed to keep the weapons and asked to be taken to another country.
You are reading the article
Ukraine asks foreign help to win Mariupol
at Blogtuan.info – Source: laodong.vn – Read the original article here