Kinh tế
"30 years of working in the banking industry have never met a case like Ms. Nguyen Phuong Hang"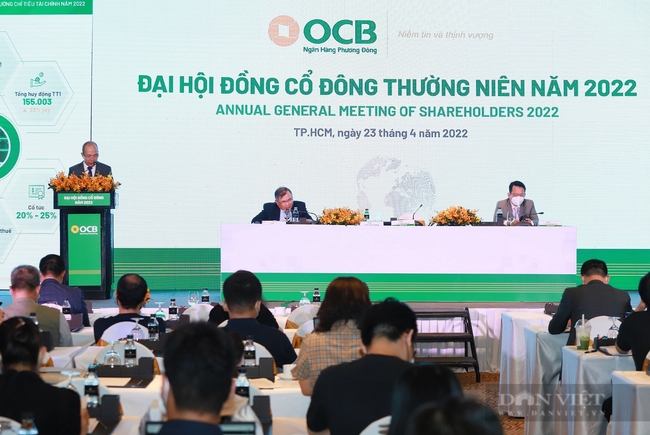 Today (April 23), Orient Commercial Joint Stock Bank (OCB) held the 2022 annual general meeting of shareholders in Ho Chi Minh City.
At the meeting, the issue that many shareholders are concerned about is loans related to FLC Group and Dai Nam Group when both Mr. Trinh Van Quyet and Ms. Nguyen Phuong Hang are being held in custody.
Answering about loans with FLC, Mr. Nguyen Dinh Tung – General Director of OCB said, FLC is a corporation with many impressive projects deployed in Quang Ninh, Quy Nhon, and Thanh Hoa. And OCB's goal is to develop the retail segment, so in the past time, it has cooperated with FLC to lend this group two projects in Quang Ninh.
"Over the past time, OCB has also lent to a number of real estate businesses such as Khang Dien, Nam Long, Son Kim Land, not just FLC", Mr. Tung said.
According to Mr. Tung, with FLC's loan, OCB lent this group 1,500 billion VND. When lending, OCB relies on a specific project, has full legality, and the prerequisite is that the business must clear the ground before the bank can lend.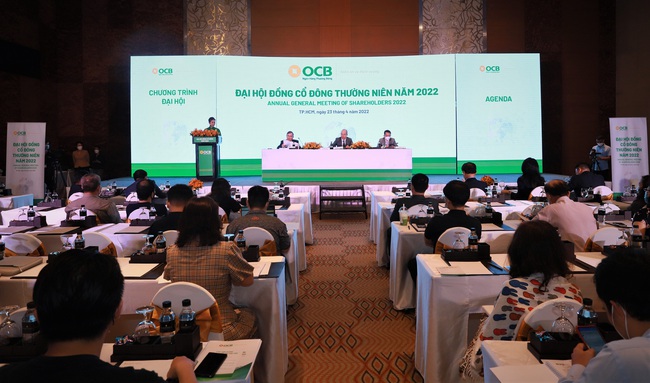 "With the above loan, OCB has collateral in real estate with a value of over 2,000 billion, the land that the bank receives is registered, not formed in the future. The collateral is checked by OCB, very strict evaluation," said Mr. Tung.
Not to mention, FLC has a revenue from customers paying according to the project progress, which is 2,400 billion VND, more than enough for the bank to recover debts.
"In the first quarter of 2022, total assets increased by 2%, outstanding loans increased by 6%, profit was 1,115 billion VND. However, after making provision, the remaining profit is about 835 billion dong.
Regarding the credit growth target of 25% in the whole year of 2022, it will be a challenge, but OCB will strive to achieve it when fully meeting the regulations of the State Bank to be granted priority credit room… ".
Grandfather Nguyen Dinh Tung – General Director of OCB.
Also according to the General Director of OCB, before Mr. Trinh Van Quyet broke the law, this was a customer who always made sure to repay the debt on time, was a good customer.
In addition to the outstanding loan to FLC, OCB also lends to Bamboo Airways, the outstanding balance is about VND 1,000 billion and the collateral is also real estate and stocks. However, this loan is highly appreciated by OCB in terms of the repayment source as well as the debt payment ability of customers.
"Like Sacombank, OCB is currently negotiating to collect about VND 1,500 billion in advance for loans related to FLC", Mr. Tung added. He also emphasized that the FLC event was serious for OCB's risk management portfolio, but the bank did it right from the beginning, so it was determined that there was no damage.
"Currently, this case is also reported closely to the State Bank. We believe that Mr. Trinh Van Quyet's incident is a personal matter, the corporation is still developing normally", Mr. Tung said.
Regarding loans to Dai Nam Group, according to Mr. Nguyen Dinh Tung, Dai Nam's debts are not worrisome, all of them have red books.
"Honestly, 30 years of working in the banking industry have never met a case like Ms. Nguyen Phuong Hang" – Mr. Tung shared with shareholders.
According to Mr. Tung, Dai Nam recently paid OCB 450 billion dong, in the next 2 months Dai Nam will recover 4,500 billion dong from asset sales, so it will be more than enough to pay OCB and other banks.
With the high consensus of shareholders, the meeting approved all the…
You are reading the article
"30 years of working in the banking industry have never met a case like Ms. Nguyen Phuong Hang"

at
Blogtuan.info
– Source:
danviet.vn
– Read the original article
here