Business
Binh Duong "ask for a mechanism, not for money" to break through and develop
Parallel to the "miracle", Binh Duong is facing many great challenges to develop in the new period.
The problem of overcoming the "middle income trap"
From a low-income province, after more than 20 years, Binh Duong's GRDP per capita has reached a high-middle income level: $7,000/person/year, equivalent to that of Thailand. This means that the risk of encountering the "middle income trap" of Binh Duong will be sooner than other localities across the country.
According to Mr. Pham Ngoc Thuan, General Director of Becamex IDC Corporation, overcoming the above challenge and becoming a high-income land is not only an economic development problem, but also a test of economic development. management capacity of Binh Duong. Therefore, Binh Duong needs to renew its development model as soon as possible, focusing on developing new-type ecosystems, smart industrial ecosystems, taking innovation and science and technology as the driving force. , taking the development of high-quality human resources as the focus, on the basis of the development philosophy.
Prof. Dr. Tran Tho Dat – Chairman of the Science and Training Council, National Economics University, said that in order to overcome the challenge of "middle income trap", Binh Duong province must find resources to increase new growth, new growth methods, creating higher productivity, room to maintain the very high growth momentum as in the past time. One of the new growth resources, new space with environmentally friendly nature, catching up with the trend of the times is the development of the digital economy, which will be the growth engine of Binh Duong.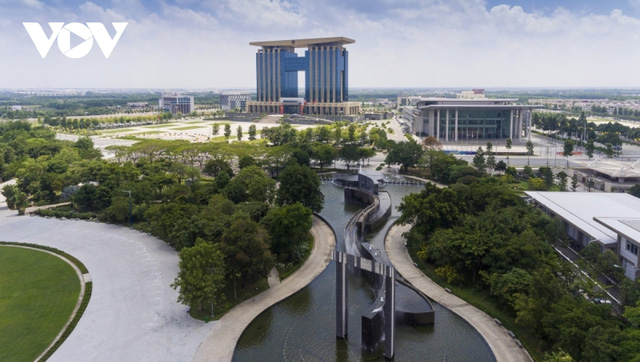 According to Prof. Dr. Dat, Binh Duong aims to strive to develop the digital economy with the achieved value accounting for about 30% of GRDP by 2025 (higher than the national level); by 2030, to become an innovative start-up center of the country; By 2045, it will become one of the smart manufacturing and service centers, start-ups and innovation centers in Asia.
Binh Duong needs to prioritize and focus resources on implementing digital transformation in a number of industries and fields with competitive advantages of the province, bringing new and practical values ​​to people and businesses, promoting development. Socioeconomic. It is necessary to quickly switch from e-Government to Digital Government and approach the province to implement comprehensive digital transformation along 3 axes: digital government, digital economy and digital society.
Prof. Dr. Dat emphasized that people are the key factor in the development of the digital economy: "Requires more qualified human resources, both knowledgeable in the skills of applying new technologies and solving problems. problem of data, as an input of the production process, of the digital economy production mode. Therefore, it is necessary to re-train the existing workforce, and at the same time to train new human resources to be able to absorb and effectively use this new production method."
Don't let Binh Duong move forward alone
Assoc. Prof. Dr. Tran Dinh Thien, former Director of the Vietnam Institute of Economics, said that right after the separation from Song Be province, Binh Duong had two important changes: the construction of a new Vietnam – Singapore industrial park (VSIP) of a new type. , modern and smart. This is an important development initiative from the cooperation between Vietnam – Singapore, put into practice and soon, is confirmed as a successful model.
In addition, Binh Duong broke through the reform of "ask for a mechanism, not for money", which is a step of historical significance in the effort to get rid of the "beg and give" mechanism that has not yet been successful in its entirety. The change in the development formula of Binh Duong has created a strategic breakthrough.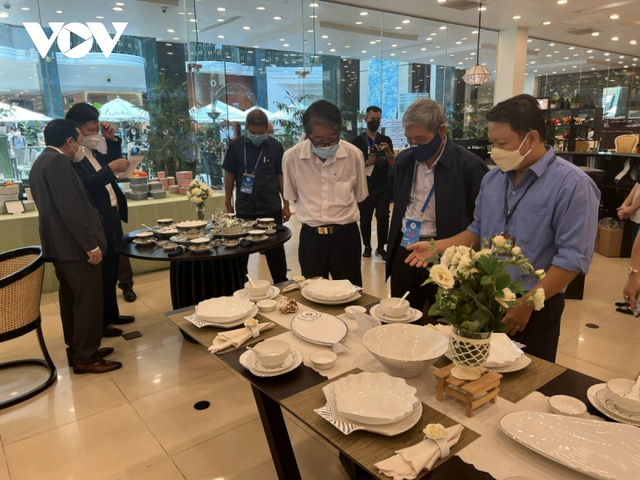 Ceramics has been and is a great development potential in Binh Duong.
However, the former director of the Vietnam Institute of Economics said that Binh Duong with breakthroughs "goes later", creating "miracles", but at the same time is the risk of mistakes, many risks. . Therefore, the central agencies need to accompany, not to let the dynamic localities with many contributions to the general development of the country be alone in the upward development process.
"Binh Duong must be a pioneer in proposing to the Central Government to have an institution, otherwise Binh Duong alone is extremely risky. There needs to be a synergy, a connection. Binh Duong cannot go alone" – Assoc. Prof. Dr. Tran Dinh Thien said.
Meanwhile, Dr. Tran Du Lich said that, for sustainable development, Binh Duong is facing three big challenges. Specifically, the state management mechanism in the area still has many shortcomings, has not brought into play its dynamism and creativity; autonomy and self-responsibility in mobilizing resources for development. This is also the general situation of localities with fast development conditions in the Southern Key Economic Zone. The National Assembly and the Government are making many efforts to remove institutional bottlenecks, but in fact are still obstacles for localities with fast development conditions and great contributions to the state budget.
Dr. Tran Du Lich emphasized, it is necessary to put the development of Binh Duong province in view of the regional economy, especially the "development quadrilateral" of the Southern key economic region. It is necessary to have a regional linkage mechanism to create the most dynamic development community in the country, capable of competing regionally and internationally.
"I believe that the coming institutional reform will also create conditions for more autonomy for localities in development. Thus, removing infrastructure, institutions and localities to focus on forming a common labor market, training common human resources. These three aspects will create a new position, in which digital technology and digital economy will promote this region in a new period" – Dr. Tran Du Lich said.
Implementing the Prime Minister's direction is to build a "new-generation industrial ecosystem, associated with the 4th industrial revolution, green, smart, sustainable, inclusive development, leaving no one behind." being left behind", Binh Duong's goal in the coming years is to become a center, a driving force for regional linkages, and continue to be a local model in efforts to overcome the "middle income trap", develop sustainable development in the direction of a smart, civilized and modern city, together with the whole country realizing the vision and goal of turning our country into a developed, high-income, socialist-oriented country.
You are reading the article
Binh Duong "ask for a mechanism, not for money" to break through and develop

at
Blogtuan.info
– Source:
cafebiz.vn
– Read the original article
here