Giải trí
Check out 5 brand new experiences only available at Sun World Ba Na Hills from this summer
Welcoming guests back in the early summer days, Sun World Ba Na Hills affirms the trump brand of Da Nang tourism with an upgraded version comparable to international tourist resorts.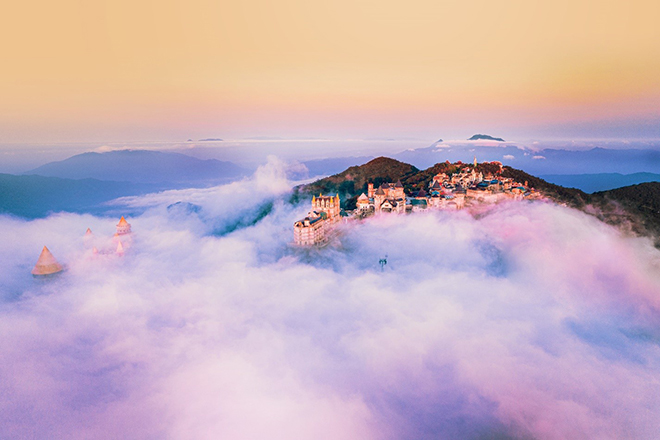 Still with the criteria of constant innovation and non-stop attraction, Sun World Ba Na Hills in this comeback really overwhelmed visitors, even international visitors. A series of large-scale works and genuine experiences not inferior to world-famous parks and destinations have been added and gradually put into operation by the resort starting this April, entertaining tourists in and out of the world. abroad with a "hearty feast" of endless joy.
The Gate of Time opens up the surreal world of the Land of Giants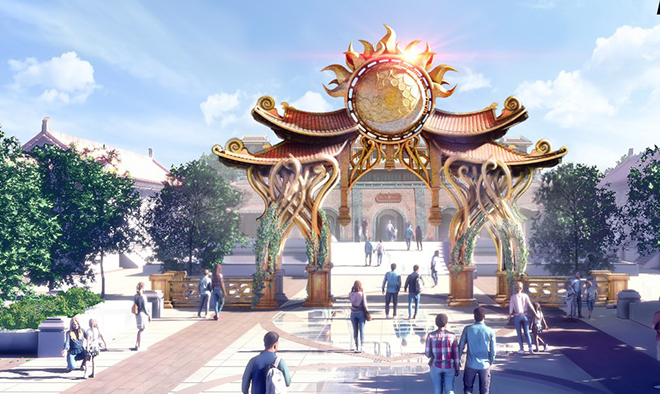 On the occasion of the holiday from April 30 to May 1, Sun World Ba Na Hills will welcome visitors from all over the world to a giant wonderland with a "Gate of Time" right at the entrance to the resort. The gate of time is a skillful and delicate combination of sound with the art of performing light, water, and fog, creating a magical waterfall, an exciting beginning for the trip to Mrs. It's new this year.
Stepping through the Time Gate is an exciting adventure journey into the land of Giants, discovering unique stories in the two kingdoms of the Sun and the Moon. "Time Gate" is considered as a new symbol, representing the surreal fantasy element of Ba Na space and time, where visitors temporarily forget reality to immerse themselves in the imaginary world and start traveling. engaging experience.
Sun God Waterfall – the reunion of Roman treasures
If the Golden Bridge once "stormed" the international media, made the world admire Vietnam's wisdom and tourism, and became a magnet to attract international visitors to Da Nang, then again, Sun World Ba Na Hills continues to prove the position of "made in Vietnam" works with a new masterpiece: Helios Waterfall.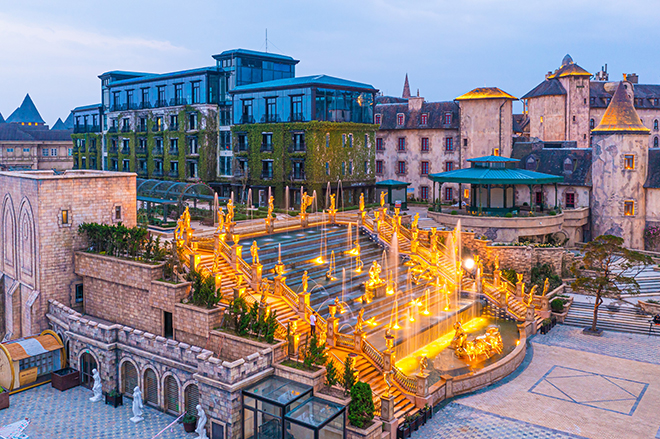 Sun God Waterfall is a cluster of works consisting of more than 40 delicate statues recreating masterpieces of sculpture that are being displayed at major museums around the world such as the Roman system of Venus statues at the Louvre (France), the god of the sun. Helios on the golden chariot at the temple of Athena in Greece, or Medici – marble vase, sculpted in Athens in the second half of the 1st century AD,…
With 150 years of experience creating sculptures of a lifetime around the world, the Frilli Gallery family has used modern technology combined with ancient traditional techniques to sculpt with Sun Group in the middle of space. Sun World Ba Na Hills is a fairy-tale-like Europe, a work that has stood the test of time, with the expectation that it will make a new mark: a symbol for Vietnam's tourism in the new period.
With the theme of Greek legend, Sun God Waterfall is not only a work of scale and feat, but also contains artistic, cultural, historical and embodiment of "Roman treasures". "right in Vietnam. The whole project lasted about 1 and a half years with more than 20 experts involved and took more than 6000 hours of work and implementation.
"Sun Group has shown us true determination and seriousness in bringing a special value from Italy to Vietnam, something we can all be proud of" – Frilli Gallery representative To share.
European fairs and fun booths with colorful prizes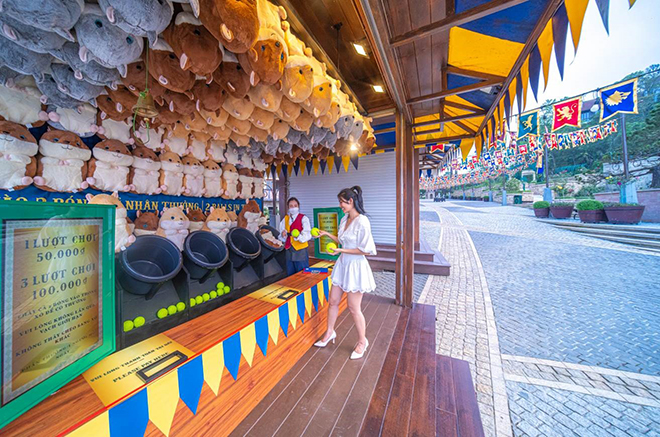 If you have ever "happily forgot your way back" at colorful fairs in the West, or wished for a perpetual festival in the fun atmosphere of a medieval market, then Sun World Ba Na Hills is definitely worth it. is where you must go this year.
In the cold air but brilliant sunshine, surrounded by flowers, green forests, white clouds, what could be more wonderful than being among people, in the countless bustling sounds of life. Stepping through the magnificent medieval castle gate is a bustling, jubilant atmosphere with sky-high banners and attractive game stalls. The European fair is located adjacent to Beer Plaza, bringing an endless festival of tourists.
Lost in the Kingdom of the Moon discover the Castle of the Moon
Unlike the festive, exciting experiences in the Sun Kingdom, the Moon Kingdom is mysterious and full of surprises. There, Moon Castle – a new work "transformed" by Sun World Ba Na Hills in the past few days when it stopped welcoming visitors, will bring visitors into mystical experiences, emotions ranging from excitement to satisfaction. Labels are no different at world famous parks.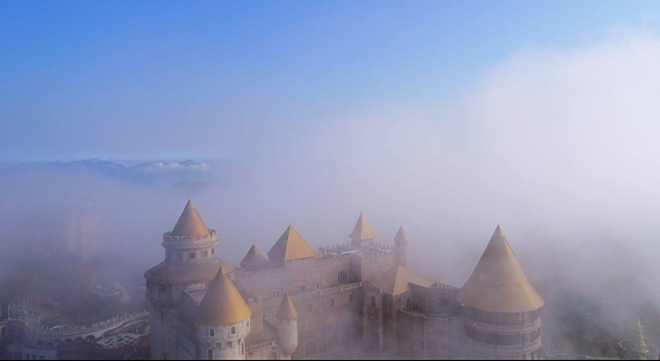 At the Moon Castle, from April 30, visitors will unleash their imaginations and senses as they explore the virtual world through world-leading technologies. The "Flying Eyes" theater with 2 cinemas with a total of 48 seats is ready to deliver a breathtaking traveling airship theater experience, blurring the line between reality and fiction. Meanwhile, the movie theater "Moon Crossroads" with a capacity of 337 seats of the world's leading 4D film producer Kraftwrek (Austria) will also open this summer. There, all your senses will be entertained and adventurous, surpassing all limits of an ordinary traditional park to experience top-notch entertainment technology of international standards.
Show themed "Battle in the Moon Kingdom"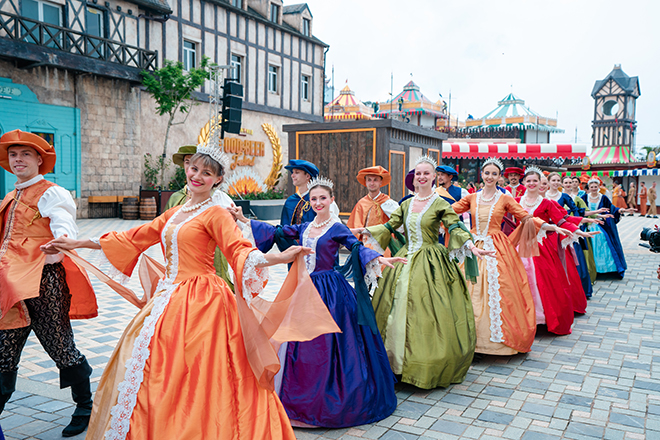 A trip to the Moon Castle is made even more perfect when visitors visit Moonlight Square for the first time with 2000 seats, enjoy the show "Battle in the Kingdom of the Moon" with full choreography. enchanted by 180 international and Vietnamese artists.
Taking place from April 30 to August 31, the show will tell visitors the story of Peace and Charity, where the Queen and her subjects wholeheartedly protect the Moon kingdom from invading forces. Following the top-notch shows that are the specialty of Sun World Ba Na Hills, "The Battle of the Moon Kingdom" continues to be a world-class art product of Vietnam's leading creative team, demonstrating in the language of dance, music and talent of "stage witch" Pham Hoang Nam, promises to bring unforgettable uplifting moments for visitors.
Accompanying Da Nang city to welcome guests back, Sun World Ba Na Hills said it was ready with a new version that was superior in both quality and quantity. Along with the above special new experiences and "specialties" such as Golden Bridge, French Village, European Fair, food and beer festival B'estival, etc., Sun World Ba Na Hills will also be put into operation in turn. new and increasingly attractive categories such as: Ba Na Volcanic Technology Show, Eclipse Square, Italian Wine Cellar with live distillation technology and Signature Show designed by the world's number one show producer planning, staging.
You are reading the article
Check out 5 brand new experiences only available at Sun World Ba Na Hills from this summer

at
Blogtuan.info
– Source:
24h.com.vn
– Read the original article
here