Thế Giới
Food prices rose 37%, poverty increased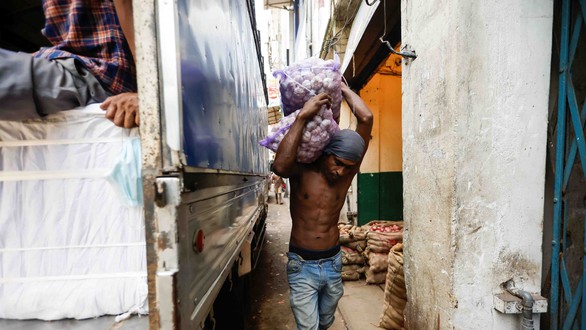 A man carries a bag of garlic at Pettah market, Colombo, Sri Lanka on April 18. Sri Lanka is in turmoil due to economic recession – Photo: Reuters
Leaders of both the World Bank and the International Monetary Fund (IMF) also noted that rising interest rates are squeezing the world's poorest countries.
The world food system is being challenged by conflict, the COVID-19 pandemic, climate change and natural disasters.
Ambassador Dang Hoang Giang said at a meeting of the United Nations Security Council on April 21, calling on the United Nations and partners to promote measures to deal with the rising prices of many essential commodities.
Chain reaction
The situation in Ukraine has caused food prices to rise. But according to World Bank President David Malpass, the problem is even more worrying when the future harvest of agricultural products will also decrease due to increased fertilizer prices. Beth Dunford, African Development Bank's vice president of agriculture, said fertilizer prices have doubled in the African continent and supply shortages are ongoing.
In a meeting on the sidelines of the Spring Meetings organized by the World Bank and IMF, Mr. Malpass warned that food security is deteriorating fastest in middle-income countries. According to the World Bank's estimates, for every 1% increase in food prices, an additional 10 million people will fall into the "extreme poverty" category.
The problem does not stop with supply disruptions from Ukraine or Russia, as efforts to make up in one place also cause shortages elsewhere.
On April 21, newspaper Washington Post Briefly describe how the conflict in Ukraine has affected food prices in the United States. For example, in early April, the US government announced that it would allow the use of gasoline with high ethanol concentration this summer in the hope of curbing gasoline prices. This type of gasoline is banned in the summer months to avoid air pollution. But while it may reduce the burden on fuel supplies, the decision has contributed to higher food prices.
Accordingly, because corn (maize) is used in ethanol production, the promotion of ethanol production will cause a shortage of corn in the production of consumer goods and animal feed. In addition, with Russia and Ukraine accounting for about 20% of global corn exports, the shortage of corn for animal feed will be even more serious.
Since feed contributes up to 60% of costs related to livestock, experts predict prices for beef, pork, poultry and even some farmed fish will all increase.
Increased debt, more poverty
Rising prices put pressure on low-income countries already buckling against the impact of the COVID-19 pandemic. On April 20, IMF Managing Director Kristalina Georgieva said that 60% of low-income countries are facing or have fallen into "default" – the total debt of countries is half the size. their economy.
The IMF forecasts that government debt in low-income countries will surpass 50% of gross domestic product (GDP) this year, up from about 44% in 2019 – the time before the COVID-19 pandemic. appear.
Speaking at a press conference on April 20, World Bank President David Malpass said that the increase in interest rates in many countries around the world also increased pressure on developing countries.
Meanwhile, while economic support has helped spur a quick global recovery, the recovery itself has left businesses bewildered. They must find a way to meet the increasing demand of consumers, thereby pushing factories, seaports and warehouses into overload. Transport of goods is thus congested, pushing prices to escalate.
The IMF forecasts consumer prices will rise 8.7 percent this year in emerging and developing markets and 5.7 percent in advanced economies. In response to inflation, many central banks have sought to raise interest rates, but this means that their debt burdens have also increased and that the poorest countries continue to suffer the most.
In addition, the US interest rate hike is likely to attract investors to leave poor countries to come to this country. As a result, poor countries' currencies continue to depreciate and they are forced to pay more for food and other imported goods.
In this context, the IMF director recommended that central banks be cautious when making policy decisions, always keeping in mind the risks that may be posed to vulnerable economies.
Sri Lanka swaps debt for resources?
According to the magazine Financial Times On April 21, the United Nations asked Sri Lanka to negotiate with the IMF on a "debt-for-resources swap" as part of measures to mitigate the economic downturn. A "debt-for-resource swap" is a developing country's share of a developing country's external debt that needs to be written off in exchange for local investments in environmental and nature conservation measures.
Sri Lanka has been unable to repay its loans because of a shortage of foreign exchange, triggering an economic and political crisis, followed by protests over shortages of food, fuel and medicine.
Including interest, the Pacific island nation has about $8 billion in debt to pay this year. The country's usable foreign exchange reserves are estimated at only a few hundred million dollars. The Sri Lankan government has suspended bond payments and begun negotiations on an IMF bailout.
You are reading the article
Food prices rose 37%, poverty increased

at
Blogtuan.info
– Source:
tuoitre.vn
– Read the original article
here