Đời sống
Ha Tinh: Father of liver cancer died early, mother also had a hard time living because of brain metastases lung cancer worried about 2 orphaned children
Orphaned at a young age, now their mother has stage 4 lung cancer with brain metastases, 2 children in Tung Chau commune (Duc Tho district, Ha Tinh province) are in a tragic situation, in danger of having to drop out of school. half way.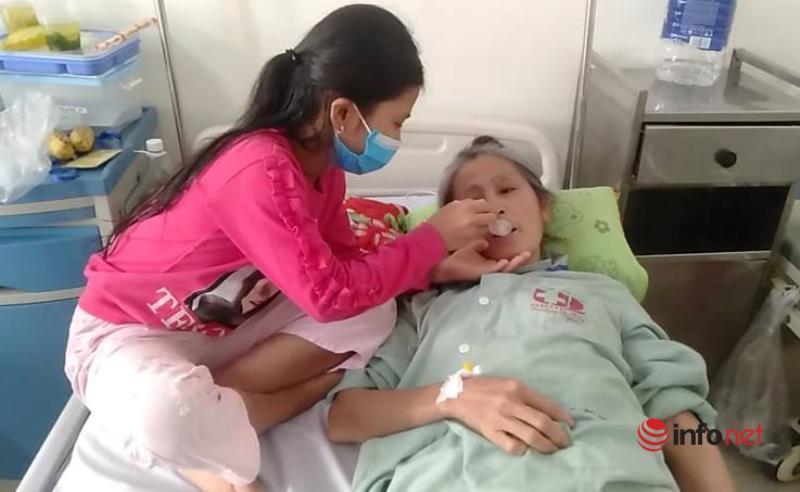 Due to her mother's serious illness, Nguyen Thi Bao Tram (Tuan's younger sister) had to go to the hospital to take care of her mother
Even at a young age, two brothers, Phan Dang Tuan (SN 2009) and Nguyen Thi Bao Tram (SN 2012, in Tan An village, Tung Chau commune, Duc Tho district, Ha Tinh province) soon suffered many disadvantages. Dad died early from liver cancer, now it's the mother's turn – the only support is being tormented by the cruel lung cancer, fighting for life day by day, not knowing when to leave.
Hard work when new born
Right from the day he was born, Phan Dang Tuan suffered more than other children. Her mother – Mrs. Phan Dang Thi Hong (SN 1968) recounted that when Tuan was born, she and her husband Mr. Nguyen Xuan Thuy (SN 1960) had not yet registered their marriage. Mr. Thuy brought the child back to his paternal side in Truong Son commune and threatened to sell it.
After so many times, afraid of losing her child, Ms. Hong was forced to ask the local authorities and the police to intervene to bring the child home. To avoid the situation that her husband took her child away, she went to give birth to Tuan as an illegitimate child, accepting all discord and scandals.
Referring to her husband, Ms. Hong continued, Mr. Thuy used to work as a carpenter for a wood workshop in Nam Dan (Nghe An). Due to alcoholism, he baked all the money he could make on the drinking table, had no money to bring home to raise his children, and all family expenses fell on Mrs. Hong's shoulders. Therefore, after giving birth to Tuan for a while, she had to work as a housekeeper to raise her children.
At the end of 2011, Mr. Thuy discovered that she had some savings, so he withdrew to buy machinery to work as a carpenter. Thinking that after having the machine, her husband will receive the goods home to do, limit going out and drink, which is both costly and affects health. However, only one month after withdrawing 95 million dong to buy a machine, and having not yet received any capital, Mr. Thuy sold all the machines to others for only 15 million dong.
Since then, life became more difficult, the family meal gradually became less meat pieces. Milk cartons for children also have meals without meals, the old woman is getting thinner and thinner because she has to be busy making a living.
Daily income is mainly based on 6 sao of land and fields, so it is only enough to eat and pay for plowing and fertilizer.
Since Mrs. Hong gave birth to a daughter, her health has declined much due to caesarean section, and her work as an assistant is also limited, unable to do as before. Since then, her shoulders have become heavier because of her livelihood and debt payment.
The difficulty has not stopped. Due to drinking too much alcohol, in 2015, Mr. Thuy discovered that she had liver cancer, and Mrs. Hong could not bear to leave it alone, and had to run away to borrow medicine. A year later, this man passed away.
Due to being born in difficult circumstances, the two brothers Tuan soon learned to be independent. Every day, the two children told each other to help each other with household chores so that their mother could rest assured to earn a living. Since 2019, due to poor health, she cannot work as a housemaid, so she asked the locality to let her work as a garbage collector in the village, earning an additional 550,000 VND per month.
In 2020, with a support of 60 million VND from Vingroup's Benevolent Fund, Ms. Hong boldly borrowed more to build a house for her three children. Currently, she still owes the bank 50 million, four building material shops 45 million and her sister 25 million.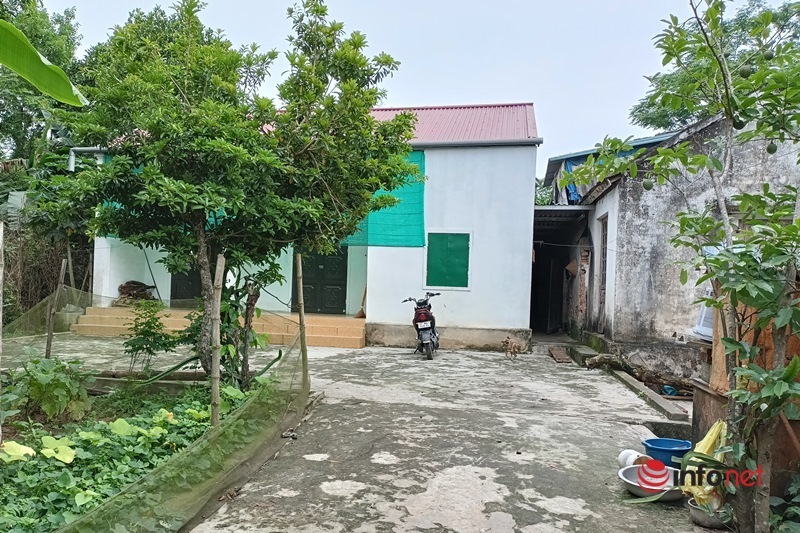 Ms. Hong rebuilt the old house with the support of the Charity Fund and borrowed more, the current debt is more than 100 million dong.
"Double burden" on the shoulders of a miserable woman
Thinking that God gave her good health to earn money to pay her debts, who expected at the end of 2021, finding it difficult to breathe, tired, exhausted, coughing a lot and having lymph nodes, Ms. Hong went to a health check and discovered that she had a malignant tumor. count. According to the medical record of Nghe An Oncology Hospital, Ms. Phan Dang Thi Hong has stage 4 left lung cancer with pericardial metastasis, brain and bone metastasis.
From the beginning of 2022 until now, Ms. Hong has been hospitalized continuously for treatment, the amount of 15 million dong borrowed from her nephew for treatment is almost over. The inner side does not dare to ask anyone, the outer side is also difficult, the help is not absorbent. "Next time, I don't know where to hold on to, sometimes I have to leave it to fate," said Mrs. Hong sadly.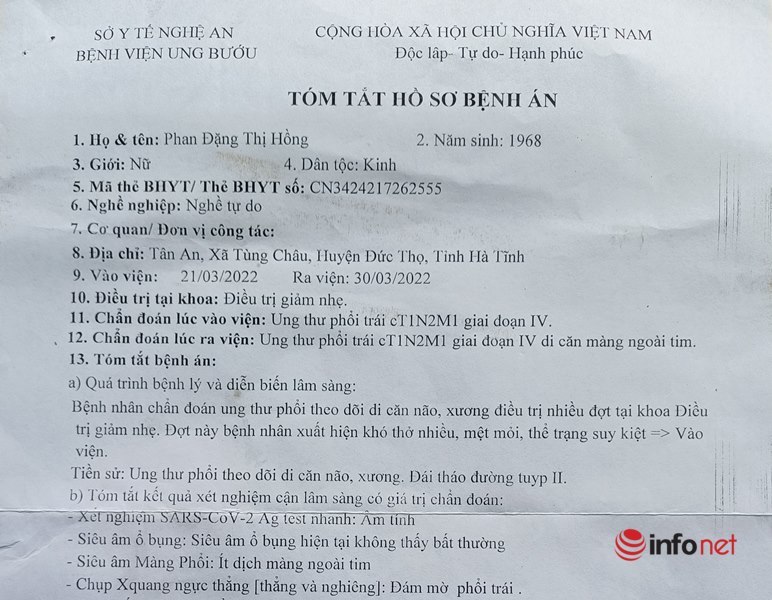 According to the medical record of Nghe An Oncology Hospital, Ms. Phan Dang Thi Hong has stage IV cT1N2M1 left lung cancer with pericardial metastasis, brain metastasis, and J15 bone metastasis.
For the past few months, her mother has been hospitalized, her younger sister followed her mother to the hospital, and Tuan is alone at home grazing cows, taking care of chickens and ducks, studying… all of them take care of everything.
The 13-year-old boy with a small body but had to face many life events made everyone feel sad. Thinking about the future of two children is a long and difficult journey.
The small figure of a 13-year-old boy.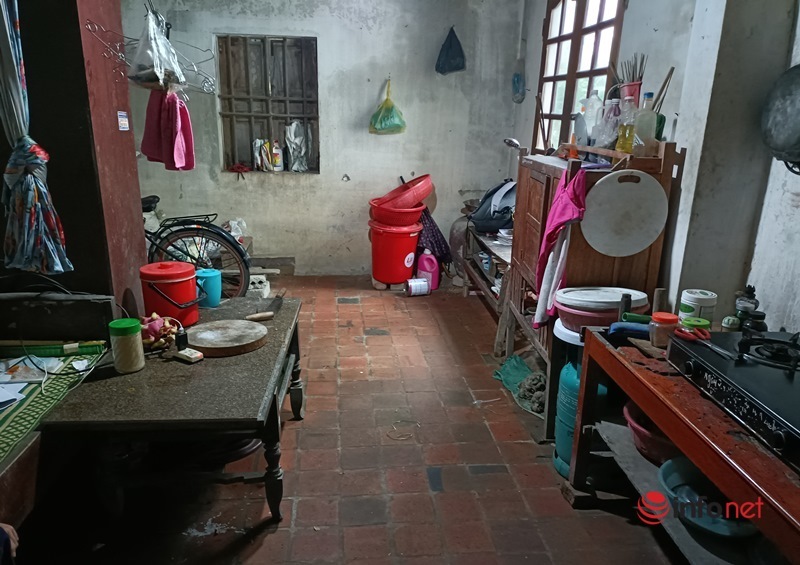 Since the day his mother was hospitalized, Tuan stayed at home to go to school and help his mother raise chickens and ducks
Talking to PV Infonet, boy Phan Dang Tuan, a 7th grader at Le Hong Phong Secondary School said: "Every day I set the bell at 5am to wake up to clean the house and feed the chickens and ducks. After that, do personal hygiene, make instant noodles and go to school. At noon and in the evening, we cook our own meals, cook food, and then study."
"I love my mother very much, I only wish her to be healthy and healthy so that she can come back to live with my brothers and sisters. I will try harder in my studies, will do everything to help my mother, not let her sad. I beg you to save my mother's life," the boy's voice choked with tears.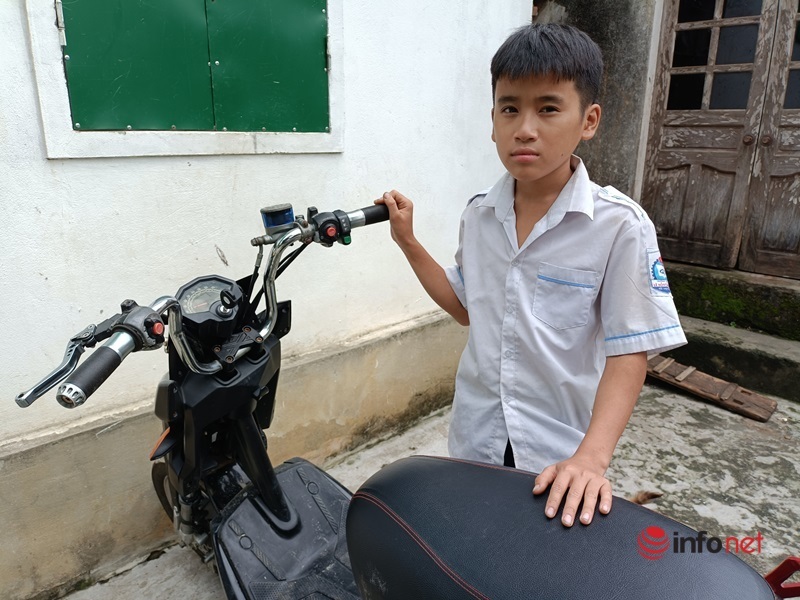 Understanding her situation, the school mobilized to buy her an electric bicycle to make the journey to school more convenient.
A fervent supplication
Mrs. Hong choked her voice and expressed her wish to get help from everyone to treat, overcome a serious illness, and return to live with her children one more day or that day. Despite poverty, mother and daughter have each other, the children are helpless orphans.
"If unfortunately passing away, I earnestly beg organizations, individuals, and benefactors to help them continue their studies so that they can have understanding and treat others, have knowledge to work hard. earn a living, don't become a burden on society", the poor mother prayed.
Sharing about the situation of Mrs. Hong's family, Ms. Nga – Head of Tan Tung village (Tung Chau commune) could not hide her sadness and emotion: "Hong's family situation is in special difficulty, her mother's illness. it won't be long, sooner or later it won't pass. I love the two children who are too young, hope the benefactors can help them a little bit."
Tran Hoan
You are reading the article
Ha Tinh: Father of liver cancer died early, mother also had a hard time living because of brain metastases lung cancer worried about 2 orphaned children

at
Blogtuan.info
– Source:
infonet.vietnamnet.vn
– Read the original article
here