Games
Manga/Film
Hermione is the ugliest among the girls, and Ron is maligned?
Harry Potter is one of the most successful films adapted from the famous work of the same name by writer JK Rowling. When creating a film adaptation, the cast is one of the most important factors, they are chosen to be as close to the original version as possible. However, not every character in the movie has the same characteristics as the characters in the story.
Recently, the online community is going crazy with pictures of the series of characters in Harry Potter the original of an account from Vietnam named MsBananaAnna with the image editing software Artbreeder.
Harry Potter
Harry Potter is depicted as a mirror image of his father – James Potter. He has unruly, jet-black hair, but notably his green eyes inherited from his mother. Harry wears a pair of round glasses, unusually like his father's. On Harry's forehead, covered by his messy black hair, was a thin scar resembling a flash of lightning. The scar was the result of a failure when Voldemort tried to kill Harry when he was an infant.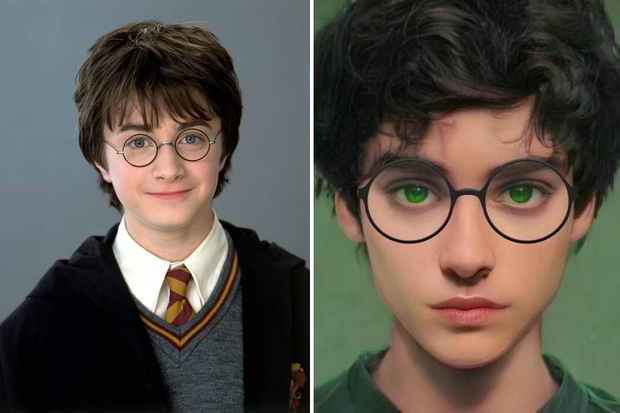 Harry Potter in the movie is built almost like the original, only the difference is in eye color
Ronald Weasley
Ron inherited the distinguishing features of the Weasley family: red hair and freckles. When Ron was embarrassed, his ears turned red. Ron has a long nose bridge, blue eyes with a tall, thin build, and his arms and legs are quite large. "I'm the sixth in my family to go to Hogwarts. You don't understand how much pressure I have to endure" – Ronald Weasley.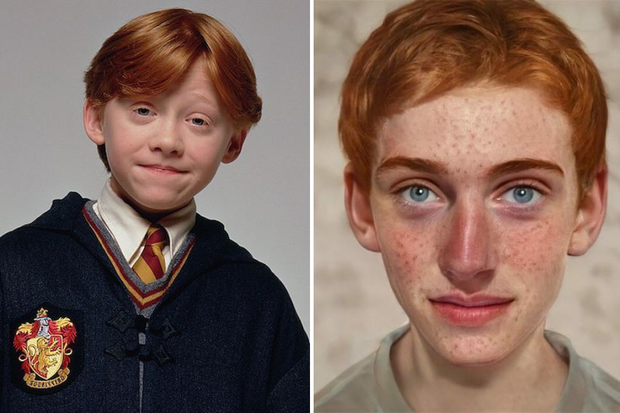 Ron inherited the Weasley family's distinguishing features: red hair and freckles
Hermione Granger
In the story, Hermione is described as a girl with two big front teeth, a freckled face and curly hair, who seems smart and alert. Hermione wasn't originally a pretty girl. According to JK Rowling, she almost missed Emma Watson because Emma was so beautiful, so different from Hermione in the original. However, no matter what, Emma Watson is still loved by the audience Harry Potter Dear. She is also one of the most popular female actors in the movie.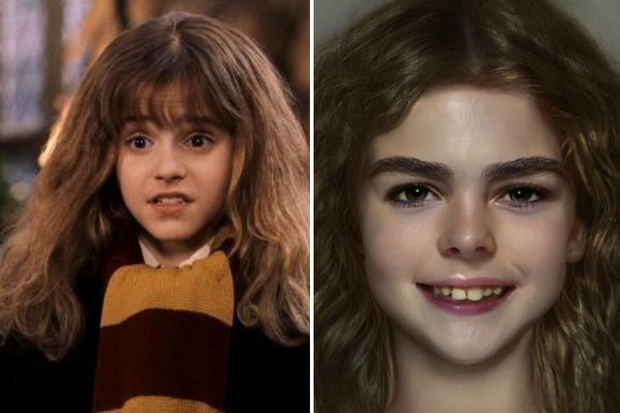 Draco Malfoy
Draco was a slim boy with well-groomed blond hair, cold gray eyes, and pale skin. He is described as having a good-looking appearance, very dashing. As an adult, Draco Malfoy has less hair, revealing more of the angular features of his face.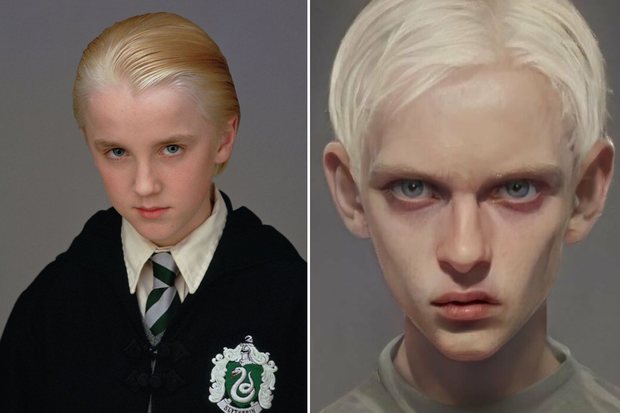 Draco Malfoy, according to the original description, has the blood of a son of the dark arts
Neville Longbottom
During his years at Hogwarts, Neville Longbottom was a shy, awkward and introverted boy. Neville gradually becomes friends with Harry, Ron and Hermione. When he learned that the three of them had sneaked out into the night to prevent Quirrell from stealing the Sorcerer's Stone that would affect the Gryffindor family, Neville plucked up the courage to stop them. This earned Neville 10 points for Gryffindor at the end of the school year party.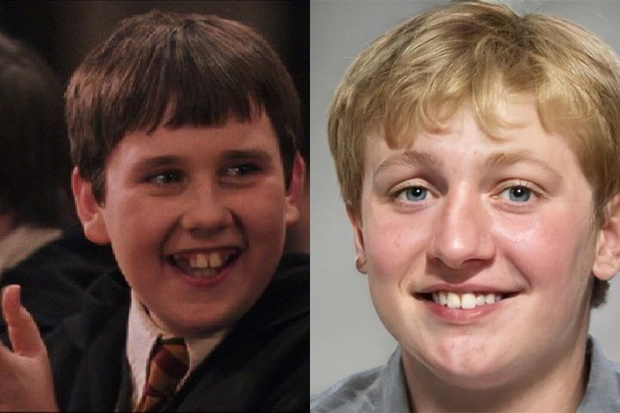 After the battle, the shy boy Neville took up the position of Professor of Herbology at Hogwarts
Luna Lovegood
In the manga, Luna is described as a girl whose eyes are always like those in the clouds: "It has waist-length blond hair that is dirty and messy. Its eyebrows are very pale, and its eyes are bulging, giving it a constant look of surprise."
The role of Luna Lovegood do Evanna Lynch's role is highly appreciated by the audience because she created Luna Lovegood, Evanna Lynch is Luna Lovegood.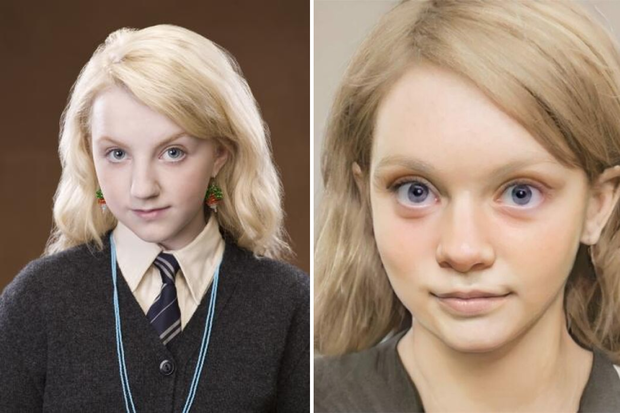 Cho Chang
Cho Chang is a Ravenclaw witch, described as an extremely beautiful girl with long, soft black hair, she has several freckles on her face. Every time she meets Harry, Cho ties her hair back into a ponytail, which Harry thinks suits her very well.
Because of his handsome appearance, Cho received the attention of many boys in the school, most notably: Cedric Diggory, Roger Davies, Michael Corner, and even Harry.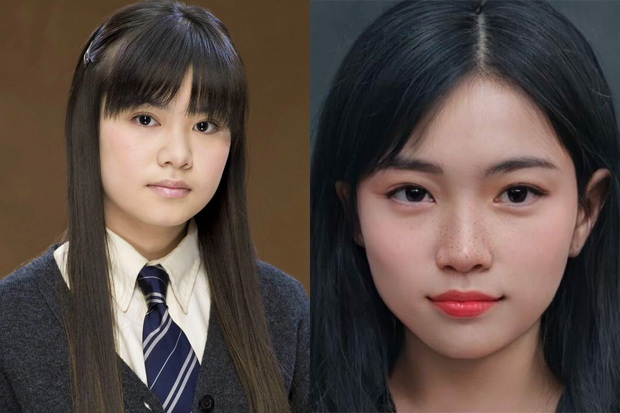 Tom Riddle
Tom Marvolo Riddle was the only son born into a wealthy Muggle family, later known (and better known) as Lord Voldemort. He is a wizard of mixed blood, known as the most powerful and dangerous dark wizard of all time. During school, Riddle was assigned to the Slytherin family. Described as "a tall, handsome young man with pale skin, dark hair, and dark eyes", he cleverly used his beauty to seduce many of the teachers at Hogwarts.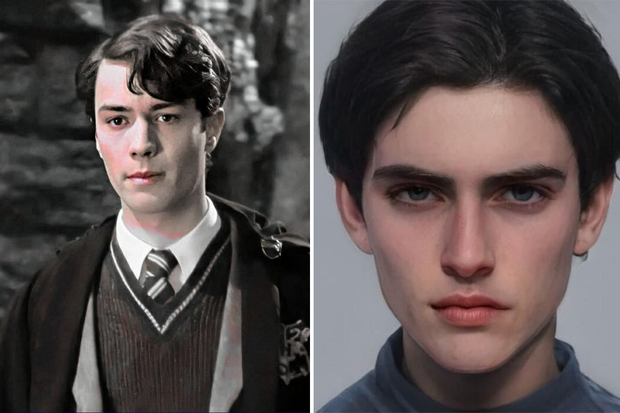 The dark lord in his youth looked so handsome
Voldemort
As Tom Riddle deepened into the Dark Arts, his appearance deteriorated. He became increasingly hot-tempered and reptilian, his skin as white as bone, his retinas always bloodshot. After regaining his body, he looked even more deformed. Voldemort's final form is described as having pale white skin, a thin, bony body, dark red eyes with a pupil that is a line like a cat's eye. His face was chalky white like a skull, with a slit that made his nostrils, and his hands were long, thin, with unusually long fingers that looked like spider legs.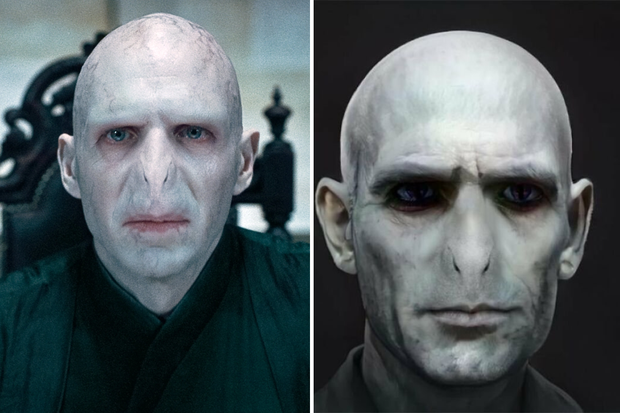 Voldemort movie version is 100% similar to the original
James Potter
James Potter was a pure-blood wizard and the only son of Fleamont And Euphemia Potter. He attended Hogwarts and was placed in the Gryffindor House. After graduating from Hogwarts, James married Lily and a son – Harry James Potter was born. In the story, James is described as a character with "tall, well-built, with hazel eyes and short black hair. James started wearing glasses at the end of his fifth year".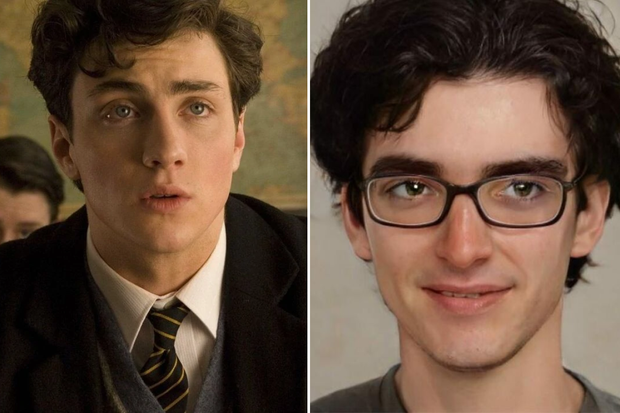 Lily Potter
Lily is a beautiful woman with thick, dark red hair and bright green almond-shaped eyes. Obviously, her bright green eyes are special, because people always remember Lily when looking at the eyes Harry possessed from her.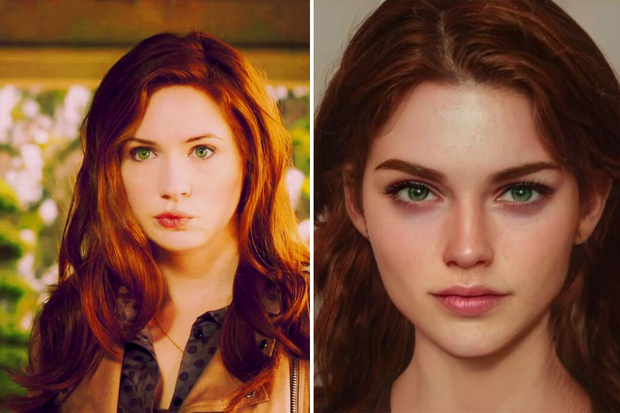 Lily's green eyes have a charm that makes it impossible for the opponent to escape
Remus Lupine
Remus has a pale face with old features, and light brown hair. The changing facial features and the graying of the hair are the result of body transformations during each full moon. Remus' clothes are always full of stitches because of his wolf bloodline making it difficult for him to maintain a long-term job. Remus is the Defense Against the Dark Arts professor at Hogwarts. Remus is honored to be considered by his students as the best teacher in this subject ever.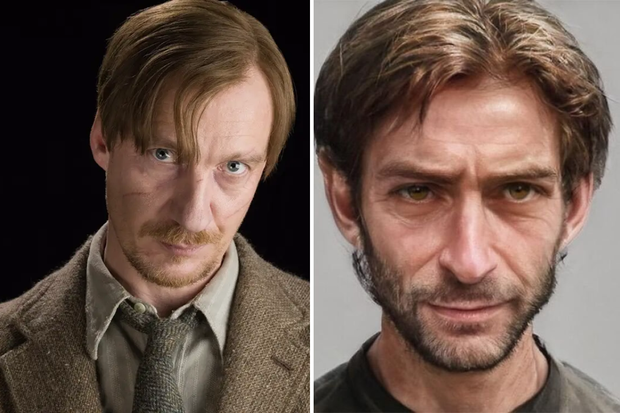 Minerva McGonagall
Minerva McGonagall described as a tall, rather serious woman. She usually wears her favorite emerald green or striped top. She wears a pointy hat tilted to the side, always having a happy expression. Minerva worked for two years at the Ministry of Magic and then returned to Hogwarts, where she became the Gryffindor Teacher, the Transfiguration teacher, and held various positions such as Vice-Principal and Headmaster of Hogwarts.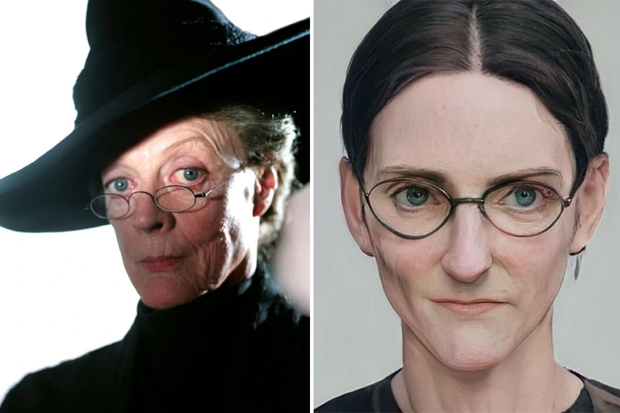 Severus Snape
Severus Snape is described as a slim man with dark skin, a large yellow hooked nose, uneven teeth. He often wears a long, oversized black robe, which makes him look like a giant bat. Snape had shoulder-length, wrinkled black hair that framed his face, thin lips, and sharp eyes as if he could see into someone's heart. Severus Snape was a complicated man, his life filled with emotions he never fully revealed. As a lonely man, good at suppressing his emotions and having no friends, Snape's love affair with Lily is what makes everyone feel heartbroken.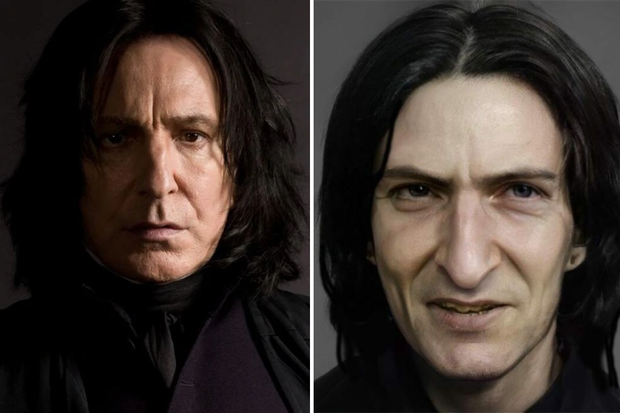 Sirius Black
Sirius has a tall build, fair skin, shoulder-length curly black hair, highlighted by gray eyes. Sirius always exudes a "luxury but simple" beauty, completely in contrast to his rebellious and reckless nature. However, after 12 years of captivity and torture in Azkaban, Sirius's face became thin, his cheekbones protruded, his white skin turned pale, and his long black hair made him look wretched. Sirius Black enjoys great friendships with James Potter and Remus Lupin. Sirius also became godfather to Harry James Potter, the only son of James and Lily Potter.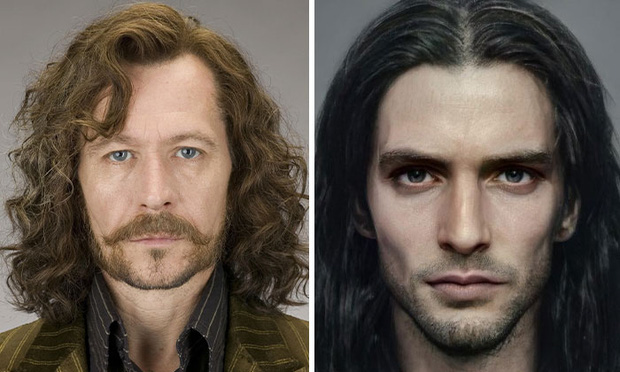 Fleur Delacour
Of Veela blood, Fleur has the innate ability to attract men with her beauty. Although her abilities aren't as strong as a pure-blooded Veela, Fleur is still able to make herself attractive enough to completely overwhelm the opposite sex.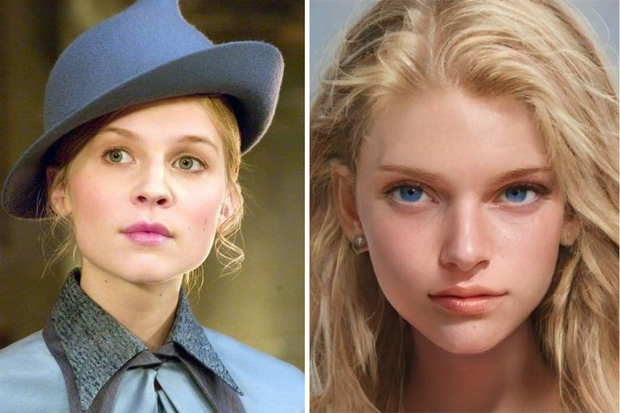 Fleur in the movie or in the book both have an attractive appearance
Image source: boredpanda, tMr
https://kenh14.vn/soc-visual-dan-nhan-vat-harry-potter-hoa-nguoi-that-hermione-xau-nhat-dan-nu-ron-bi-dim-hang-ac-y- 20220422132101556.chn
You are reading the article
Hermione is the ugliest among the girls, and Ron is maligned?

at
Blogtuan.info
– Source:
gamek.vn
– Read the original article
here