Khỏe - Đẹp
Is it possible to get Covid-19 for the 3rd, 4th time?
April 23, 2022 07:13 GMT+7
Many people after contracting Covid-19 they re-infected and later had the same symptoms as the previous Covid-19 infection.
Nguyen Van Thinh (Thanh Xuan, Hanoi) contracted Covid-19 in early January 2022. For the first time, Mr. Thinh only lost his sense of taste and smell in 3 or 4 days. Mr. Thinh has no other symptoms, but after this stage, the taste buds are very uncomfortable, eating is no longer delicious.
At Tet, his wife and children contracted the Omicron mutation, and Mr. Thinh subjectively thought that he had contracted it and was difficult to re-infected. But on February 22, he tested positive again. Symptoms of sore throat, cough, itching in the nasopharynx are very uncomfortable.
The second time, after 10 days, Mr. Thinh was negative. After contracting Covid-19, Mr. Thinh still kept disease prevention measures (wearing a mask ..). But 1 week ago, coming home from work feeling tired, aching joints, Mr. Thinh thought he had a cold.
However, then it turns to chills, malaria, sore throat. Unexpected results, he tested the nasal secretions and found two lines, one dark line and one light line. Three days later, Mr. Thinh took the test again and only 1 line remained, he thinks he has been infected with Covid-19 up to 3 times.
Not only Mr. Thinh, but Tran Thi Th herself. (born in 1986, Chuong My, Hanoi) believes that she has contracted Covid-19 many times. From the first time on February 8, then she found herself with many days of symptoms exactly like having the first Covid-19 infection. Feeling stuffy nose, sore throat itchy, tired, a few days later turned to cough.
Ms. Th. I think I have enough symptoms of Covid-19 but I am too lazy to get tested. The second time in mid-March, she felt stuffy nose, sore throat and only 2 days later her 5-year-old son also had Covid-19 symptoms such as malaria then turned to hot fever, vomiting for nearly 2 days, maybe spread from Ms. Th.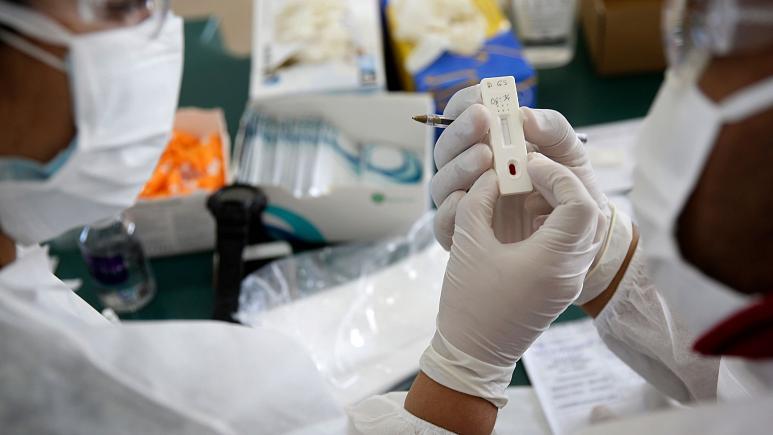 Illustrated photo.
According to Dr. Truong Huu Khanh – Vice Chairman of Ho Chi Minh City Infectious Association, he himself received many questions from people about symptoms of re-infection next time, like the first time infected with Covid-19. Some people even say that after contracting Covid-19 for the first time, they often experience typical symptoms of Covid-19.
Dr. Khanh said that the possibility of re-infection with Covid-19 is completely possible. However, the possibility of reinfection occurs more often in different strains. People who have had the Delta variant before may have the Omicron variant. The same strain but with sub-variants is still possible but rarer.
People should not worry because even if they get infected again, once they have had enough vaccines and natural antibodies in the previous infection, the next time will always be milder and cause less complications.
Assoc. Therefore, in Vietnam, this trend is inevitable.
Associate Professor Dung said that some countries have high reinfection cases, but they are all mild. Therefore, people should not worry but still not be subjective, still adhere to masks and disinfect to prevent illness for themselves and their families.
In fact, there have been medical reports documenting cases of patients who were previously infected with the Omicron BA.1 variant and then re-infected with the BA.2 variant.
Assoc. vaccination.
It is necessary to clearly distinguish re-infection and re-positivity, Dr. Khanh said that some people tested negative but 2 weeks later they were positive again, which could be a re-positive state because the person has been carrying the SARS-CoV-2 virus for a long time. .
Some people can carry the virus for weeks. Although these cases test positive, most are no longer capable of causing transmission after 2 weeks of infection.
Re-infected with Covid-19 is a person who has recovered from the disease and then re-infected. Everyone has a different immune response. Some people may experience a rapid drop in protective antibody levels, leading to a more rapid re-infection.
Khanh Chi
You are reading the article
Is it possible to get Covid-19 for the 3rd, 4th time?

at
Blogtuan.info
– Source:
infonet.vietnamnet.vn
– Read the original article
here