Life Style
Securities sold when profit, so what should be done at a loss?
The life of the majority of witness When I started playing, it was like: Instead of waking up and checking Facebook, you open the app to see if your account is up or down. Instead of playing with Tinder, I sit in the office toilet and open the chart to see, instead of sometimes going out to meet friends at night, I sit at the market researcher watching the chart or fly into the stock groups.
But the current situation of the doctors is like: On the day of turning off the app's notifications, at 10 o'clock at night, I went to bed and covered the bed with blankets, even the chart was abandoned just like the way my ex left you. The market is right these days "I don't want to talk!".
My friend Le Duc (25 years old, Ninh Binh) lost about 6% after 1 month, it was revealed that it was not a small number, it made Duc think, worry, lose confidence and doubt himself. great number of.
The mentality changes clearly when stepping into the stock market
Participating in the market makes me feel clearly the change in mentality: nervousness, anxiety to disappointment. I used to say that if there is a loss, consider this as the process and the cost of learning.
But no, I regularly monitor stock prices, too often: When I increase, I'm happy. But when it decreases, I'm sad, I'm worried, even super worried!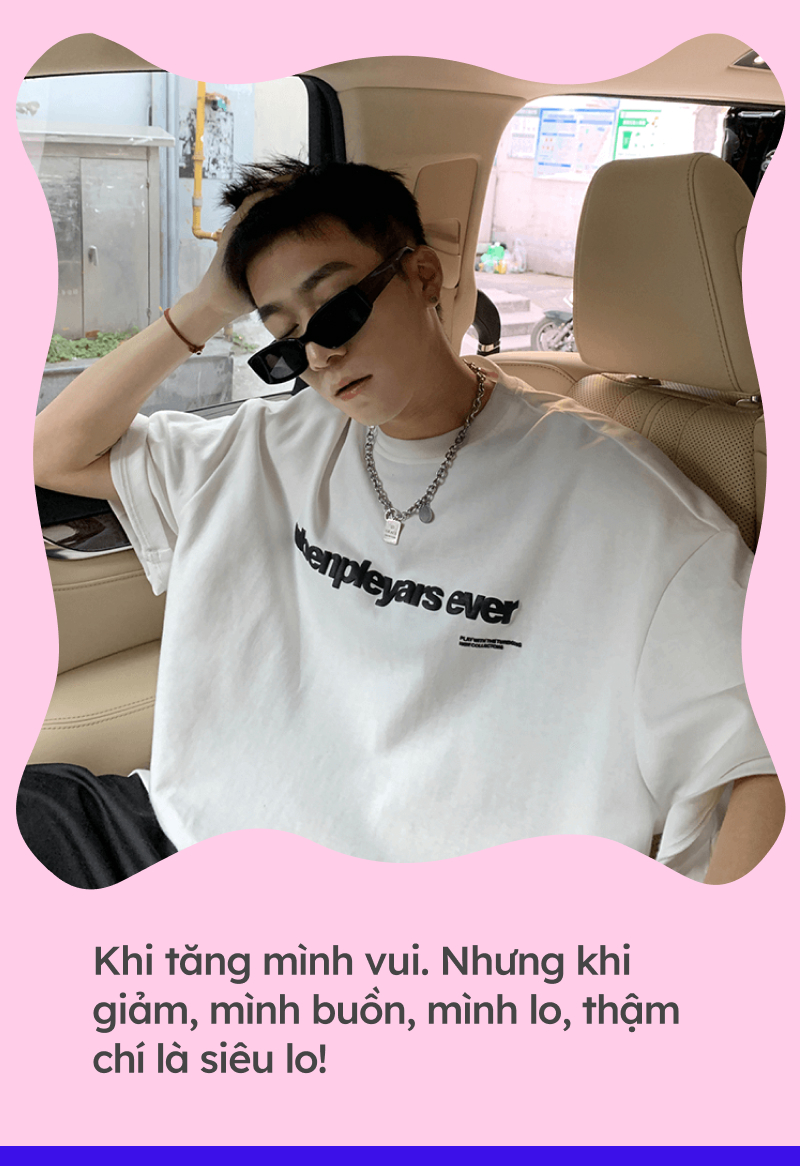 The "sweet traps" of the stock market
I got into a sweet trap, because when I joined the new stock, it went on the floor and ate a lot. Check this "child" chart, I'm shivering. However, it was the interest rate, not the amount, because I was shy at that time, so I only dared to buy a little.
So I learned from experience. Next time I scooped a new "cat" on the floor, and scooped it up very hard, that's where I died the first fruit, fly right away 30% I had the money at the time.
Don't ask why I didn't cut my losses, then it "white on the buyer side", even if you want to cut your losses, you can't.
My second failure, although not as painful as the first, was a great lesson. At that time, the whole market dropped 74 points, a punch that hurt more than Covid, showing me clearly that the stock market completely depends on people's beliefs.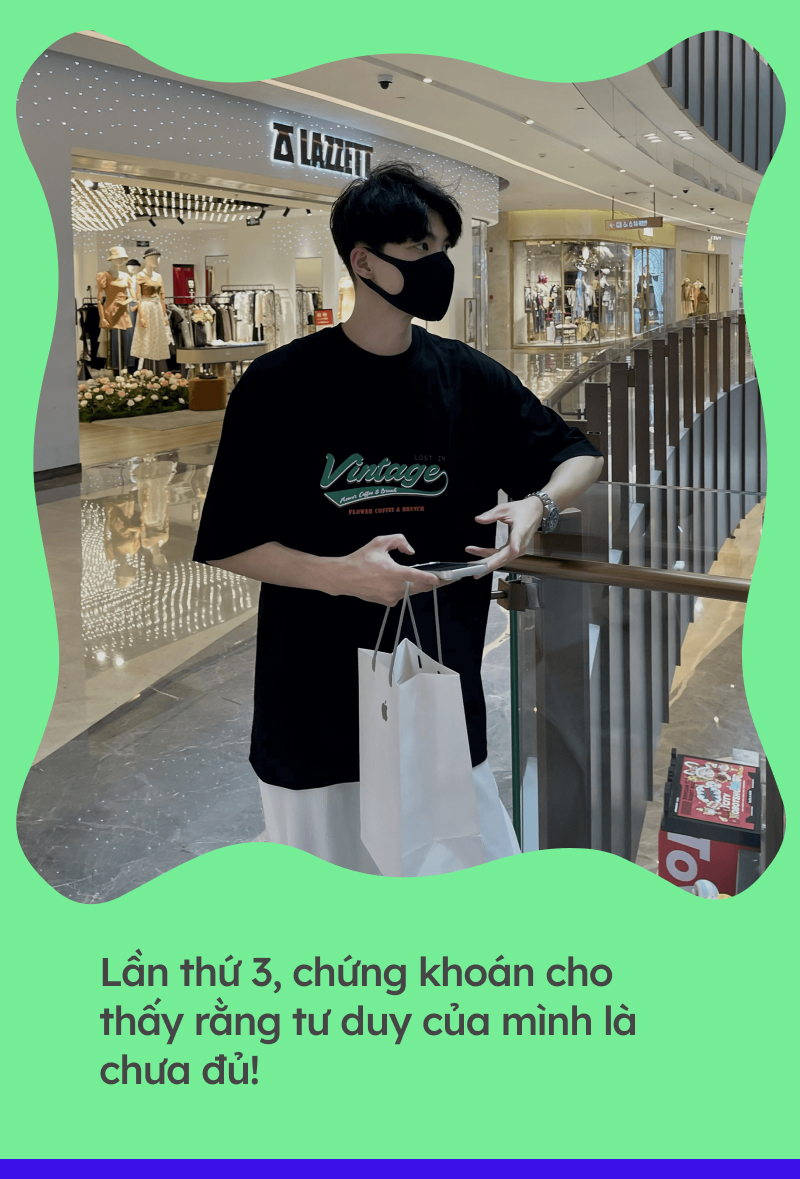 The third time, the stock market showed that my thinking was not enough, when I foolishly refused to lock oil and gas at the top, I lost a huge loss.
I have a real loss, big hole!
Normally, I'm a person who worries very little, and I know worrying won't do anything. Instead, I always think the most important thing is to find a way to solve it, not to make my mind tense, lose sleep, and have negative thoughts.
Yet, all of a sudden, I've been worrying about the money for more than a month stockwhich I previously determined was only a lesson if I lost everything.
Still remember the days when the price dropped, I think this is only temporary, always hope tomorrow, the day after tomorrow, or the day after tomorrow, the price will increase again. The price dropped all week, but I only think this is a short-term thing.
But how come every day is always so red, having green is just a little bit at the beginning of the day. It goes red, red, blue, and then blue, red, red. After only 2 weeks, I really couldn't stand it. This situation lasted after 1 month, then I knew: I've lost my money, big loss!
In the days of regularly watching the price, closely following the stock code, when there is a little profit, I can't wait to sell it thinking, maybe this is the maximum profit of this code – I think so. I really lost my patience, I want to sell it all and then buy a new code to invest in.
When my loss is more annoying, I blame myself for not selling sooner, then I will be more worried and impatient.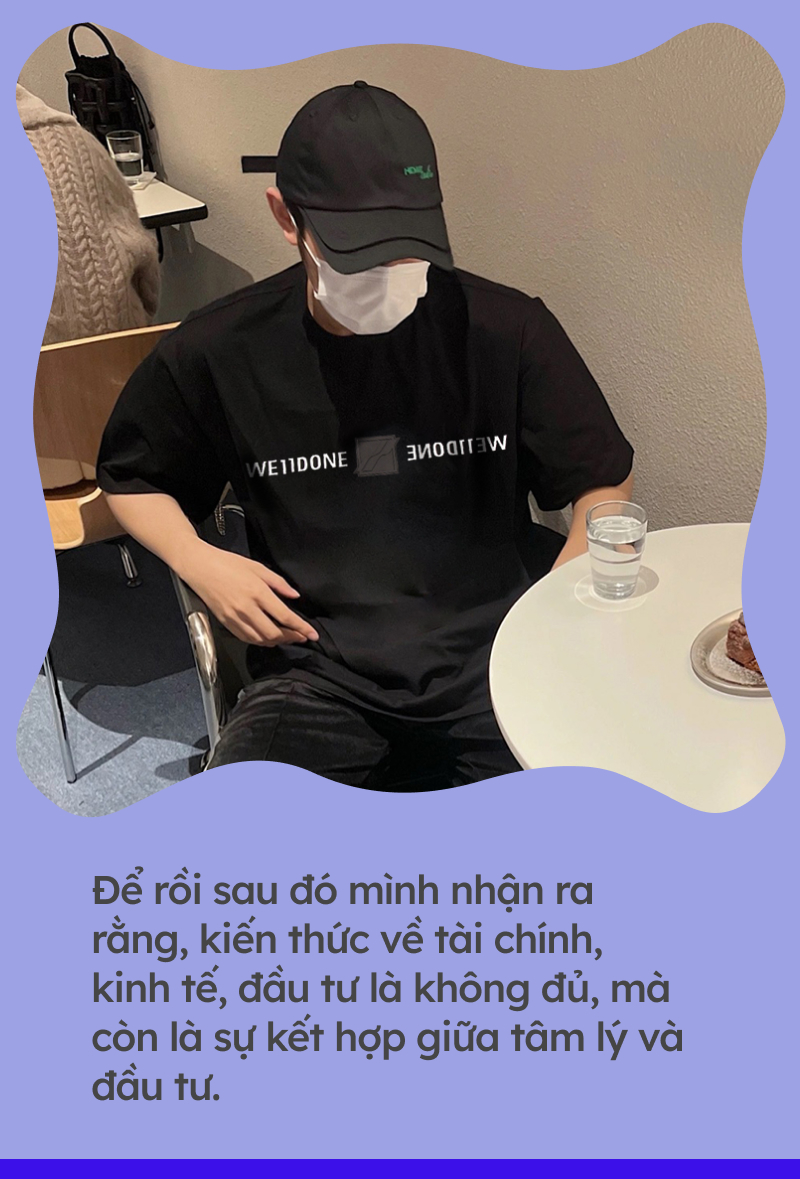 These thoughts go against everything I originally set out. Then I realized that knowledge of finance, economics, and investment is not enough, but also a combination of psychology and investment.
If you make a profit, you should sell, so what do you do when you lose?
Within a month of understanding what it is to watch money in my pocket take off and fly away, I realized that having an investment goal is very important, it is important to define your limits and principles: never then buy, when to sell, how much profit is okay, how much loss should be cut, if profit should be sold, so what to do when losing?
And be really consistent with these principles!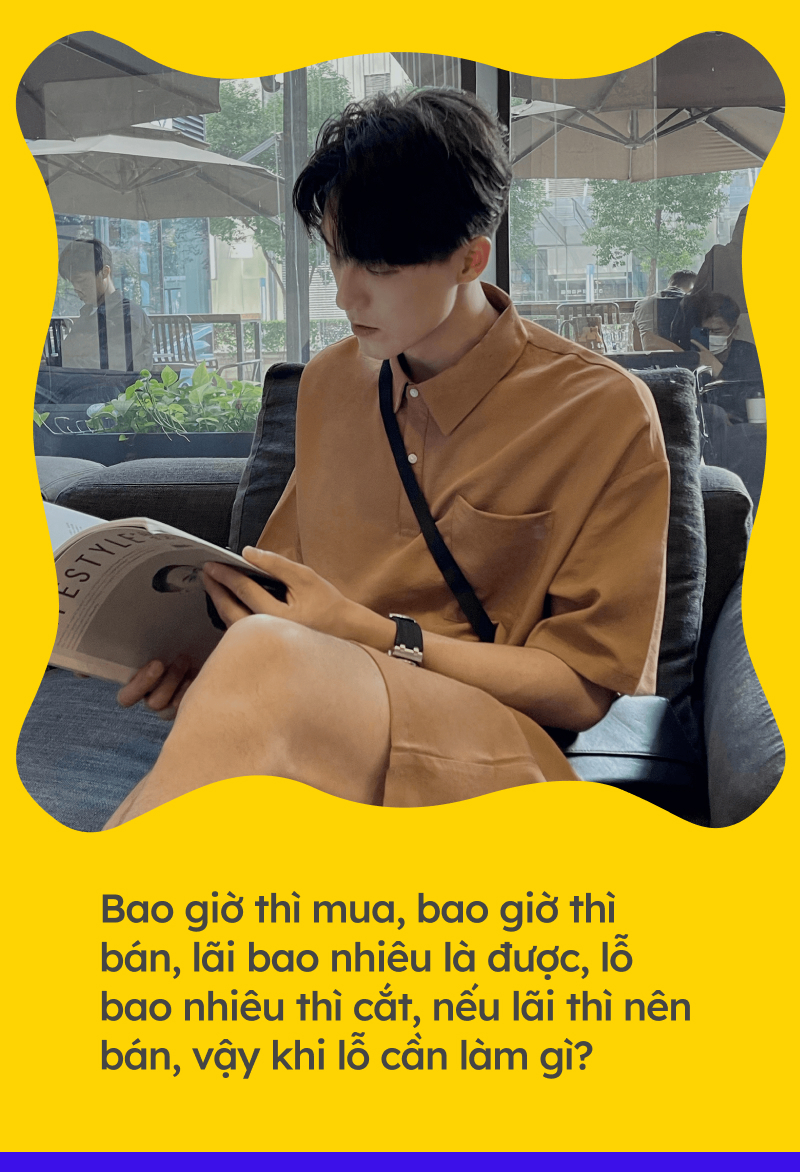 Some extremely useful "blank theories" you might consider:
Redefine your goals
After the first losses, I realized that I lost direction and doubted myself, because the goal I set was not clear. When I first entered the market, I was eager to surf, I was greedy for quick profits, but I forgot that what I wanted was money to generate money steadily and stably, earning about 10-30%/year for each ticker.
Because of forgetting that original goal, my psyche fell into an unstable state. When you take the time to reflect on your original goal, that's what pulls you back to the long-term investment path.
Selecting an analytical method
First of all, you need to determine whether your goal is speculation or long-term investment, or want to enjoy surfing, then you need to have a reasonable analytical method for yourself.
To make money in the long run, create value, you need to learn about financial statement analysis, valuation, business and learn how to control psychology when investing. It is advisable to invest in long-term business holdings, usually from 1 year (for businesses in the process of transformation and restructuring), or 3-4-5 years for growing businesses. To have such trust, you need to analyze carefully and have a trading strategy.
Cut loss?
See, cutting losses is not fast and accurate, only the water will go to the shore and watch the white people.
It is a fact that, if you lose about 30% of your capital, then you need to earn back about 50% of the money you have to be able to return to the original capital, the longer the pain persists, end your life. that love to start with a "steal" more deserving, better than the other ex.
Mentality
After all, does anyone wonder like me? That when everything still seems to be fine, still doing well, the market goes down and holds cash, why not prepare to catch the bottom, then this is my true confession.
I want to send these words to those of you who are new to the game, have been preparing to play or have been playing for a long time but still close by feeling: If you have decided to participate in the stock market, then educate yourself or go to school, study properly, study for standards, whether you are engaged in investment or speculation.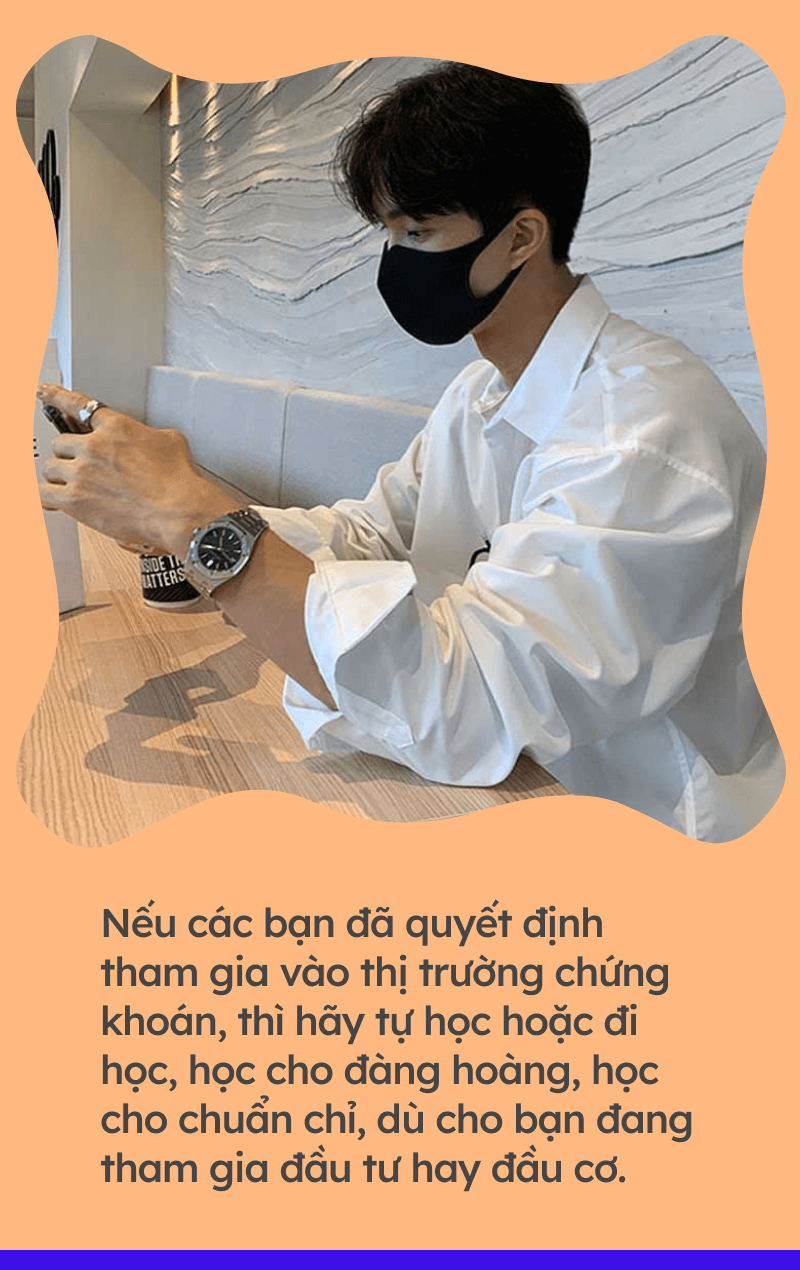 Mental stability is very important, I don't mean for it to help you make money, but to help keep your life undisturbed by blue and red.
If you are just an amateur, mentally unstable, and don't know what your goal is, then that red, green, red, and blue board is your quality of life.
Theoretically yes, I personally choose the faster way. Put a blanket to sleep, forget all about life, don't want to do anything!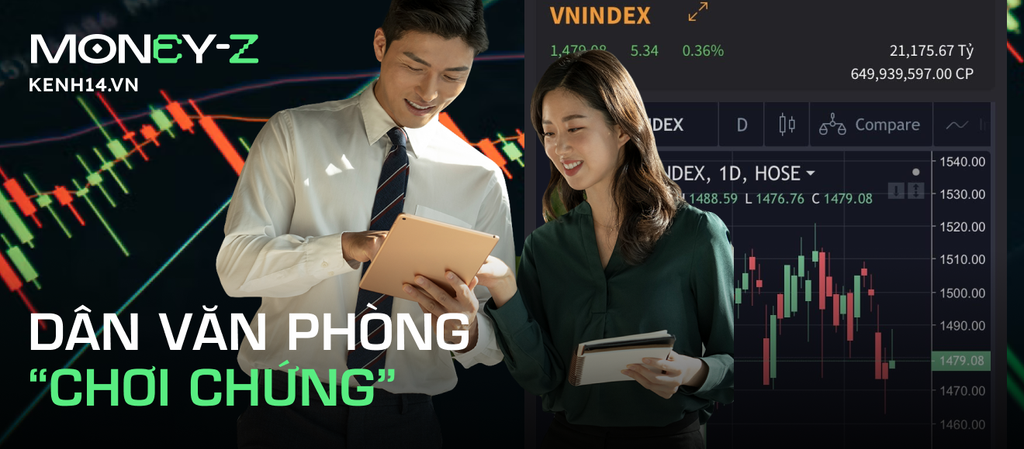 Illustrations
https://kenh14.vn/loi-thi-ban-ma-lo-lai-khong-biet-lam-gi-bai-hoc-tra-gia-bang-tien-mat-cua-chung-si-sau- 1-hang-see-chart-an-khong-ngon-ngu-khong-yen-20220422131858276.chn
You are reading the article
Securities sold when profit, so what should be done at a loss?

at
Blogtuan.info
– Source:
Kenh14.Vn
– Read the original article
here