Giải trí
Special salads that are delicious and easy to make for a weekend meal
Salad is a mixture of vegetables and sauces that can be chilled before serving or eaten directly (at room temperature) before a meal. Here are special salads to make a weekend meal extra delicious.
Cold Guava Salad
Material
– Crispy guava 800g (choose guava with bright green skin, lumpy, hard will be crispy).
– Black tiger shrimp 200g
– 100g bacon (should be fried before salad will be crispy and delicious).
– 1 yellow lemon, green chili, 4 horned chili pepper, fried onion, basil, roasted white sesame, sugar, salt, cooking oil, mayonnaise.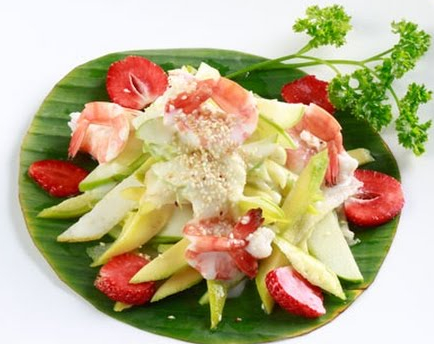 Cold guava and shrimp salad. Illustration.
Making
– Guava peeled, gutted, sliced ​​thinly, marinated with 1 tablespoon of sugar (optional sweetness), left for 3 minutes to infuse and then drained.
– Salt-roasted shrimp, peeled and cut in half.
– Sliced ​​bacon, deep fried with little oil, drained.
– Grate a yellow lemon, take 1 tablespoon of lemon zest, squeeze out the water.
– Crushed green chili. Cut chili peppers. Shredded basil.
– After preparing the ingredients, put them in the refrigerator.
Mix water mix
While putting the ingredients in the refrigerator, turn to mix the water.
Put 2 tablespoons of lemon juice, 1 tablespoon of sugar, 1/3 teaspoon of salt, 1m of grated lemon zest, chopped chili and crushed green pepper in a bowl and mix well.
For guava, shrimp, bacon, mixed water, basil and 1 tablespoon of mayonnaise, mix well.
When the tray is finished, take out the guava and salad ingredients, place it on a plate, sprinkle with fried onions and roasted white sesame.
The cold guava salad takes only a few minutes to prepare and practice, but it is delicious and cool to eat.
The finished product has a sweet and tangy guava flavor, cool black tiger shrimp, and attractive decorative vegetable colors at first sight.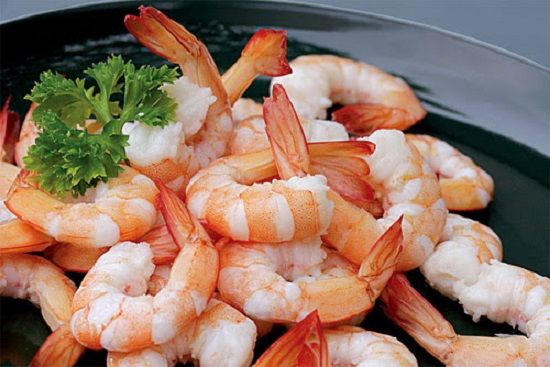 Shrimp is the main ingredient for making cold shrimp salad.
Cold shrimp salad
Ingredients (3 people to eat)
– Black tiger shrimp 300 gr
– 2 eggs (boiled)
– Potato 1 tuber, carrot 50 gr, Japanese string beans 50 gr, onion 1/2 tuber, beetroot 50 gr, finely chopped chili 2 tbsp.
Making
Preliminary processing of vegetables
Peel the carrots and cut them into dices.
Peel potatoes, soak in salted water for a while, then remove and cut the seeds.
Strip beans, cut into 2cm lengths.
Red onion core, cut into bite-sized squares, soak in a cup of ice water to reduce pungent.
Wash the beetroot thoroughly and slice it thinly.
Preliminary processing of eggs and shrimp
Boiled eggs, peeled and sliced.
Peel the boiled shrimp, remove the head and cut into dices. Leave 3 whole shrimp to garnish the dish.
Make the dressing
Place 3 tablespoons Mayonnaise, 1 tablespoon roasted sesame (finely ground), 1/2 tablespoon rice vinegar, 2 tablespoons minced chili and 1/2 teaspoon salt, in a bowl, and mix well.
Blanch vegetables
Put a pot of water on the stove, add a little salt and wait until the water is boiling to put all the vegetables including carrots, green beans and potatoes (preliminarily processed), blanch briefly, then take them out and put them in a bowl of water. Refrigerate to keep the crispiness of the vegetables.
Mix salad
Take a bowl for the shrimp, vegetables and shallot along with the sauce, mix well. Cover and place in the fridge for 15 minutes before serving.
When eating, garnish with slices of beetroot on a plate, then scoop a cold shrimp salad into it, and put 3 whole shrimps on top for a beautiful look.
The cold shrimp salad is attractive with the color of vegetables, the sauce is greasy, the sweet shrimp is a bit chewy. Serve with spaghetti, or eat without.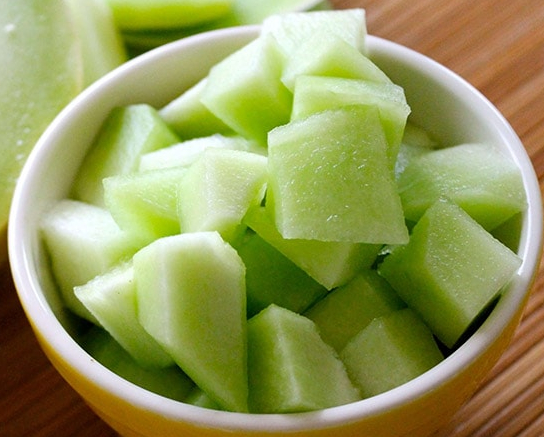 Salad ingredients. Illustration.
Melon salad
Ingredients (3 people to eat)
– Black tiger shrimp 200 gr
– Green pear melon 1 fruit (400gr) choose old fruit, light skin but slightly yellow, feel heavy, firm.
– 1/2 can of oil-soaked tuna
– 5 cherry tomatoes, 50 gr lettuce, 1 tbsp boaro, 1 tbsp roasted sesame, 4 kumquats.
Making
Prepare the ingredients
Boiled tiger shrimp peeled and removed the head, then cut into dices.
Oil-soaked tuna drain the oil and blend until the fish is crushed (but not too finely).
Peel the pears, remove the seeds and dice. Cherry tomatoes cut in half. Cut the zucchini in half and squeeze out the juice. Lettuce cut into bite-sized pieces.
Put all the vegetables in a food container, place in the refrigerator for about 30 minutes before taking out to mix the salad.
Make salad dressing
In a bowl, add 4 tablespoons of mayonnaise, 2 tablespoons of milk, 1 tablespoon of condensed milk, 2 tablespoons of condensed milk and 1/3 teaspoon of salt, and mix well.
Mix salad
Mix the salad in a large bowl, or place it directly on a plate until ready to eat, just mix it up.
Add vegetables (chilled), shrimp, tuna one at a time and drizzle with sauce. Finally, sprinkle with fried boaro onions and some toasted sesame seeds.
Melon salad has the crisp taste of melon and pear, the chewy sweetness of fresh shrimp and tuna combined with the fatty taste of the sauce, the mild sour taste of the kumquat – making it a very attractive appetizer for both children and adults.
Shrimp salad with flowers of Thien Ly char siu
Ingredients (3 people to eat)
– Fresh shrimp 200 gr.
– Char siu meat 100 gr
– 200 gr natural flowers (choose a bunch of fresh green flowers, more buds will be sweeter when eaten).
– American lettuce 3 leaves, 1/3 purple onion, 1 horn chili, 1 small young ginger, 1 tbsp fried onion, 50 gr basil, 4 tbsp Mayonnaise.
Making
Peel the shrimp, remove the head and remove only the back of the shrimp, wash.
Marinate shrimp with 1/4 teaspoon MSG and 1/4 teaspoon Korean chili powder, mix well, leave for 15 minutes to infuse.
Shredded char siu meat.
Preliminary processing of vegetables
Natural flowers are washed, soaked in diluted salt water, and dried.
Lettuce wash, tear and eat.
Peel and cut ginger. Chili peppers, seeded and cut. Wash basil, cut into small pieces. Red onion peeled, sliced, soaked in ice water to reduce pungent.
Bring a pot of water to a boil, add a little salt and blanch the natural flowers, then take them out and immediately soak them in a bowl of ice water to keep them green and crispy.
Saute a variety of vegetables.
Put the pan on the stove, add a little oil to pan all the shrimp (marinated) for hunting, then pour out on a plate.
Mix sauces
Take 1 tablespoon lemon juice, 1 teaspoon sugar, 1/4 teaspoon salt and 1/2 teaspoon paprika, stir well. Add 4 tablespoons of mayonnaise and stir well.
Arrange the right amount of vegetables in a deep plate. Place the sautéed shrimp on top and sprinkle with char siu, ginger and finally drizzle with sauce.
Colorful char siu flower shrimp salad, crispy dandelion flowers, sweet and chewy shrimp meat, rich char siu meat, the spicy taste of chili peppers, the richness of the sauce – is an easy to make and very tasty appetizer. .
Tips for good salads
– Cut vegetables of similar size to make the dish delicious.
– Pre-blanch and soak vegetables and tubers in a cup of cold water to help vegetables have crispness and beautiful color.
– Boil eggs stirring constantly so that the egg yolk is in the middle of the white, when cut into slices will look more beautiful.
– Shrimp for salad should choose fresh, large shrimp to feel the natural sweetness of the meat.
You are reading the article
Special salads that are delicious and easy to make for a weekend meal

at
Blogtuan.info
– Source:
24h.com.vn
– Read the original article
here