Life Style
Yêu
The bride is angry with her husband's parents and the end
Normally, brides are often afraid of living with their husband's parents. Simply because many people in their hearts still have different thoughts between a daughter-in-law and a biological child, just afraid that their parents won't like them, then conflicts will arise. Recently, a bride shared her anger Husband's parent. The story is as follows:
"Yesterday, for the first time, I got angry at my husband's parents and skipped dinner.
We have been married for 2 and a half years, living with our grandparents. Last week, my husband was sick in the hospital for about 2 weeks, we have 2 babies born close to each other (1 baby 23 months and 1 baby 6 months). My husband also had a mild illness, so he was alone in the hospital, living on his own, the day I was discharged.
That afternoon, I picked up my 23-month-old friend from school, and she was hungry, so she cried and asked for yogurt.
Our family has agreed that before the meal, we will not give the children snacks, but my father-in-law (grandfather of 2 children) took a box for the baby to drink. This is not the first time, but it has happened several times. After drinking, the baby asked to take it again, the family did not let the baby cry loudly.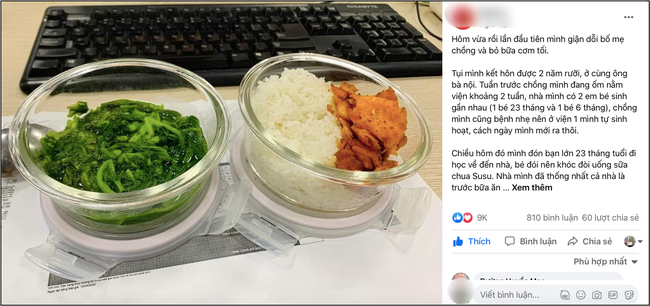 I took her to a room with the door closed with only mother and daughter, saying: 'If you want to cry, I will wait for you to cry, after you cry, then I will let you go out to eat'. The baby was still crying, just over 2 minutes, when her father-in-law opened the door:
'- Come out, let's give him some rice to eat.
– Slow down, Dad, I'm punishing him.
– Well, fine, then you give him rice to eat. When it comes to meals, what can you eat and drink?
– I didn't scold, I used my own method.
So he took the baby out of the room. I was angry and said: 'Then give him food, now I won't let him eat anymore. Grandma and grandpa are like this, I'll tell him later that he won't listen, because he knows that someone is sick."
After that, I went out to do some housework and said: 'I ask my parents' permission, I won't eat today, I will let you go to bed early'.
When living together, sometimes it is the teaching of grandchildren that inflames conflicts. Parents and grandparents have different ways of raising children. That's why it's so hard to get along. Let's keep watching daughter-in-law How angry is she with her husband's parents?
She continued: "I took my 6-month-old friend to my room to sleep, it was 7pm. My mother-in-law came in and said: 'Well, you just go out to eat a little, if you don't eat a lot, eat less'. I don't eat.
At 8 o'clock the whole family finished eating, Dad opened the door to the room and said: 'If he's asleep, come out and eat, Dad still has a portion'. I still said: 'No, I won't eat' and went to sleep.
The night before, I slept for more than 2 hours, so I was tired and went to bed.
I woke up the next morning and didn't talk to my dad. When my father went to work, I sat down and talked to my mother-in-law.
I said with tears in my eyes: 'Yesterday I was very tired…'. Mom encouraged: 'Yes, stop trying, after all, parents are just worried about their children'.
I went to work, then I thought to myself and realized that I was not right with my parents, my parents pampered me too much.
At noon, when I opened the rice to turn it hot, I saw that my mother added more food to the box than what I prepared yesterday. It was natural to cry.
When I was thinking about how to talk to my dad when I got home, my dad called in the evening: 'Dad said, after picking up Daisy, let me play in the yard for a while and then come back, let her be good. Dad cooks for me'.
It was as if there was no anger at all."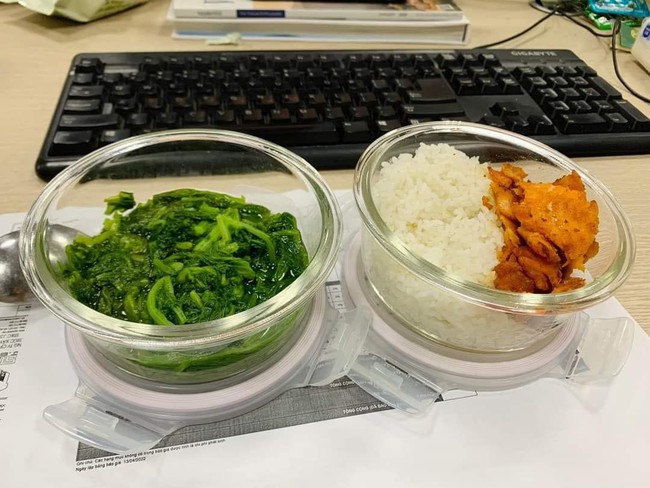 It is true that this bride has met an extremely wonderful husband's family. Parents-in-law, loving daughter-in-law and grandchildren.
The anger of the bride makes people feel that she is sulking her biological father. Both sides consider each other as relatives, love and respect each other very much, so they can act naturally like that.
Raising grandchildren is a matter of marriage and family. Sometimes just because it makes the relationship between parents-in-law and daughter-in-law deteriorate. Hopefully, families will always have the most peaceful resolution of disagreements.
https://afamily.vn/nang-dau-gian-doi-bo-me-chong-va-bo-luon-bua-toi-den-khi-nhin-thay-hop-com-trua-me-chong- chun-bi-cho-ma-co-vibration-vibrating-nuoc-mat-20220423142955689.chn
You are reading the article
The bride is angry with her husband's parents and the end

at
Blogtuan.info
– Source:
Afamily.vn
– Read the original article
here