Returning to Quy Nhon (Binh Dinh), visitors have to stop to enjoy the famous cake with little hemp leaves of "Nau land", then listen to the folk song: "Want to eat cake with little prickly leaves / Marry Binh Dinh, afraid of the long journey. "…
Not enough, abundant and with many gifts and toys like children of the 9X, 10X generations…, for those born and raised in the 70s and 80s, snacks are like something "luxury". However, mothers have long sought to "please" their children by inventing a variety of rustic cakes, from ingredients available in the kitchen. garden, in the house to comfort children.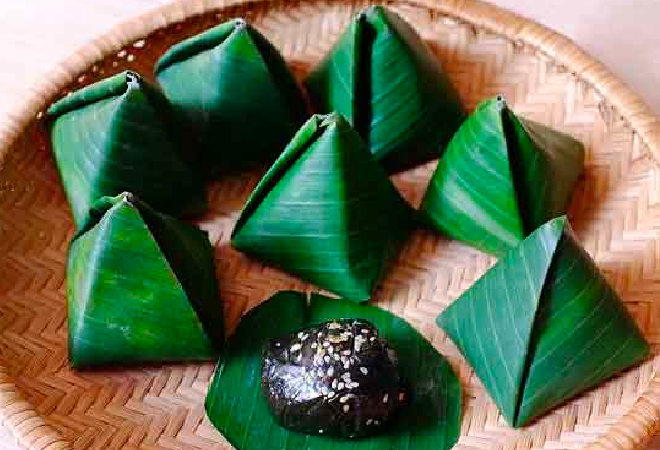 Binh Dinh hemp leaf cake.
Like the children of Binh Dinh when they were barefoot and barefoot, cakes with few thorn leaves are familiar snacks. It is called a cake with few prickly leaves because to make this cake indispensable one of the ingredients is hemp leaves, a type of leaf that grows vastly in the countryside of Binh Dinh. People grew hemp to make yarn for fishing nets, and since then, hemp leaves have been used to make cakes with few hemp leaves that are both rustic and delicious.
Making a cake with few prickly leaves is also extremely successful. First, you have to choose a sticky type of sticky rice and soak it in water for one night. The next morning, put it in a stone mill to grind it into a powder, put it in a cloth bag, and drain it. To apply powder is to put powdered water into a cloth bag, then press it with a heavy object to slowly squeeze out the water until it dries out, leaving only a fine powder monolithic bag). Hemp leaves choose a thick type, ie not too old but not too young, mix more ginger root, pound it, add a little water, squeeze the water to remove the body. Water mixed with flour, knead well, so there is flour to make cakes.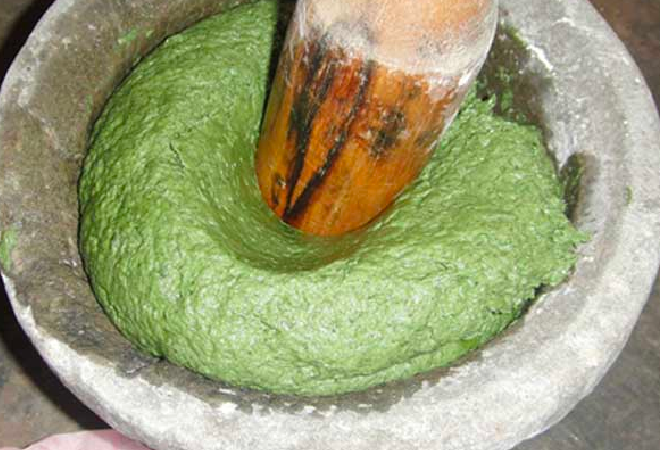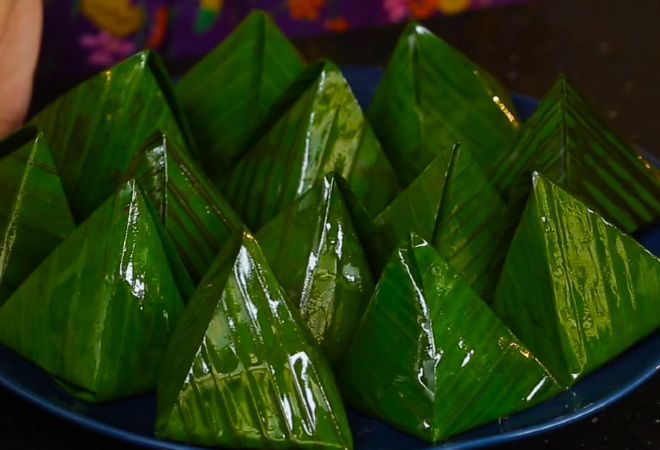 The process of making a cake with little prickly leaves is quite elaborate
The filling of the cake is usually boiled green beans, peeled, steamed, fried on a charcoal stove with ginger, when the aroma is fragrant, the sugar has "come". Cooked coconut with sugar, add a little ginger until dry. Banana leaves are cut into pieces larger than your hand, heated through the fire until soft and circled in a funnel shape, applying a layer of oil on the face to prevent the leaves from sticking to the cake after steaming. Shape the cake with the bean paste and rotate it with your hands until it is round, wrapped in a banana leaf. Finally, use a steamer to steam the cake for 20 minutes to complete.
It's a feat, but the kids in the olden days liked to wrap the cake the most, feeling like they were playing with goods. Whenever Grandma or Mom wrapped a cake, the whole crowd would come and ask to be wrapped. Each child scrambled to pinch the dough, roll the ball in the palm of their hand as if playing with clay, then squash it, then put a small lump in it and roll it up. Just like that all afternoon, waiting for the pot of cake with few ripe prickly leaves to evaporate.
Holding the cake that had just been taken out of the kitchen, it was too hot to return in hand, blowing and running, rubbing but still trying not to fall, three or four other children chased and competed for a shared meal. Take a bite, the sweetness of the mung bean paste, the fat of the oil, the sweetness of the sugar, and the plasticity of the sticky rice are blended to the root of your teeth. The sweet taste of this childhood "luxury" snack is unmatched.
As time goes on, life is no longer as difficult as it was in the childhood of the 8X and 9X generations… but the cake with hemp leaves has become a specialty of "Nau land" in Binh Dinh, not only always appearing on the trays. Worshiping food on the occasion of the Lunar New Year, the Lunar New Year, the Dragon Boat Festival…, the cake with hemp leaves also follows the shipments to the city, is sold very widely and is extremely popular.In Ho Chi Minh City, it is not difficult to find. Binh Dinh specialty cake with hemp leaves at stores and supermarkets at a price that is not too expensive, only about 8 – 15,000 VND / piece depending on the size.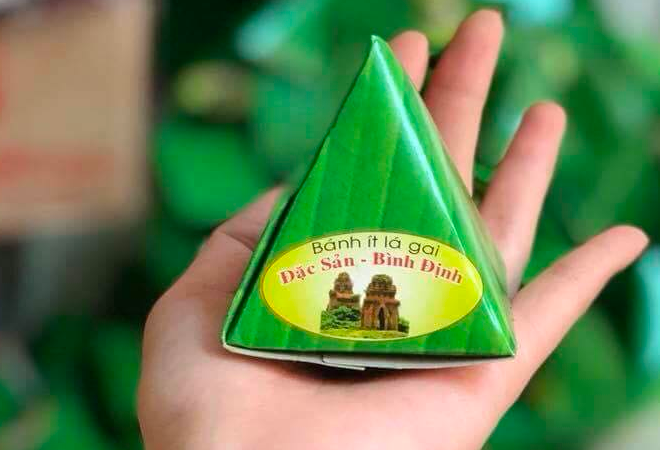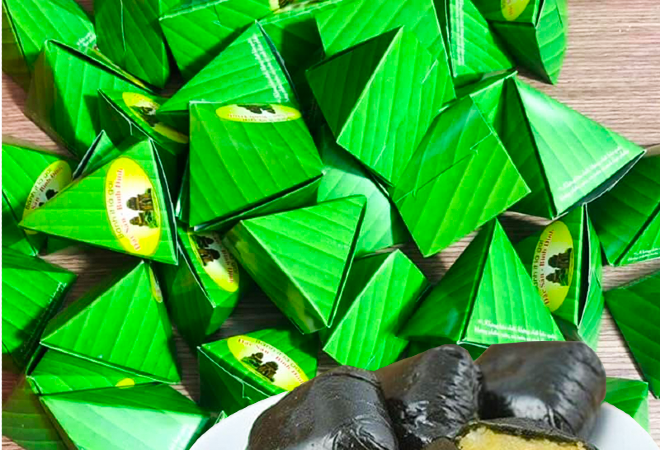 The cake with few prickly leaves is sold in supermarkets and shops with eye-catching designs.
Each cake with few prickly leaves wrapped in banana leaves has now been covered with an eye-catching "packaging" layer, both to attract customers and to preserve the cake during transportation so it won't be damaged. Little thorns cake still retains its characteristic, rustic taste.
According to Mr. Huynh Van Ly (from Tuy Phuoc, Binh Dinh) – owner of a specialty store in District 5: "I have imported hemp leaf cake from my hometown, Tuy Phuoc is famous for its traditional cake. this. Each cake I make very little profit, but I want to bring the cake with bold hometown flavor to urban people. On average, each batch I import from 1000-2000 cakes, only sell within 2-3 days because the cakes also have a short shelf life.
According to Mr. Ly, the people of Binh Dinh, although traveling everywhere, still can't forget the cake with hemp leaves on Tet holidays, which is a gift to ancestors on great holidays and important ceremonies.
You are reading the article
The cake of the poor family is now a specialty that attracts customers in the city, selling thousands of pieces a day

at
Blogtuan.info
– Source:
Eva.vn
– Read the original article
here