Business
The Southeast Asian country has just made a "heavenly" decision, the world food crisis has become more chaotic.
Two months after Russia launched a military campaign in Ukraine that has stalled global agricultural trade, Indonesia has announced it will stop exporting cooking oil amid severe shortages and soaring prices. Meanwhile, the country accounts for more than a third of global vegetable oil exports, with China and India among the biggest customers.
Carlos Mera, head of agri-commodity market research at Rabobank, said that Indonesia's cooking oil supply is "irreplaceable", which is definitely a big shock.
Indonesia is the world's largest producer of palm oil. It is also the most consumed cooking oil in the world. The new announcement by the Southeast Asian country sent the price of soybean oil futures in the US, which can be substituted for palm oil, skyrocketed to a three-day record high. In the UK, some supermarkets are introducing restrictions on the purchase of cooking oils such as sunflower, olive and canola oils.
The Russia-Ukraine conflict has thrown the sunflower oil trade into chaos and further squeezed the already tight supply of vegetable oil. This is an ingredient widely used in food, biofuels and beauty products.
Weather uncertainties that have affected the world's major cooking oil producers have added to concerns about supply shortages. Dry weather has reduced soybean harvests in South America. The drought in Canada also reduced rapeseed production, making available supplies very low.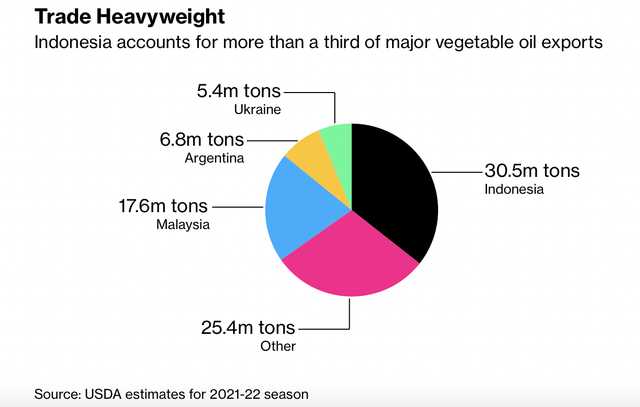 Indonesia accounts for more than a third of the world's vegetable oil exports.
Tight supplies and rising prices could exacerbate food inflation in advanced economies like the US. Meanwhile, developed countries like India suffer the worst impacts. They rely heavily on imported palm oil to replace soybean, sunflower and canola oils.
Atul Chaturvedi, president of the Solvent Extraction Association and a member of the Indian Cooking Oils Association, said: "We are shocked by this decision of Indonesia. We did not anticipate it."
Food and fuel shortages are also exploding elsewhere, including in Indonesia.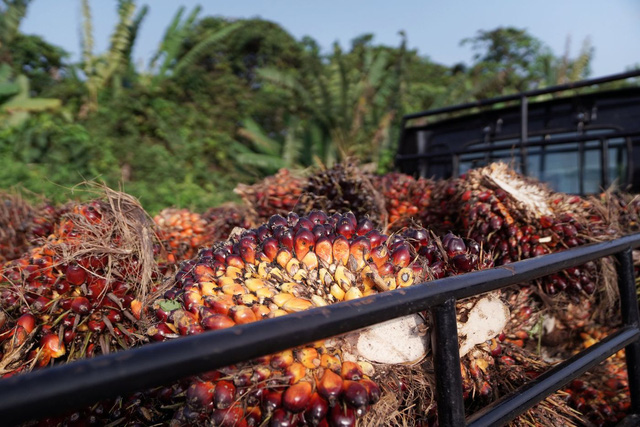 Oil palm fruit has just been harvested in Penajam area, Borneo, Indonesia.
Tosin Jack, director of commodity intelligence at Mintec in the UK, said Indonesia's latest move would certainly exacerbate already record-high food inflation. The shortage of vegetable oils has left food manufacturers to "improvise", including trying to find new recipes and find substitutes if possible.
Soybean oil futures in the US have nearly doubled since the start of 2021, in part due to rising demand for biofuel feedstocks. The material then surged to a record high after the Russia-Ukraine conflict broke out, disrupting shipping of sunflower oil and boosting demand for alternative commodities.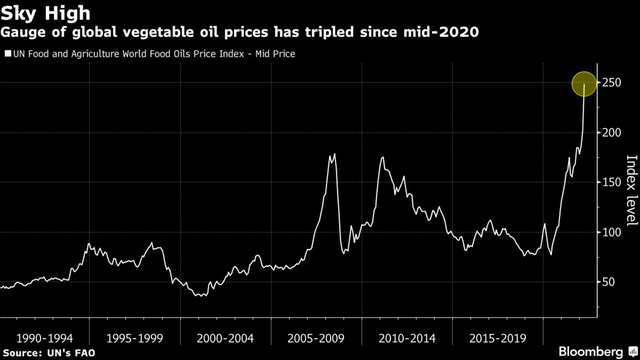 Vegetable oil prices have tripled since mid-2020.
Canada's canola oil hit an all-time high last year as drought ravaged crops across the North American prairies. Palm oil prices in Asia have increased by about 50% and rapeseed in Europe have increased by 55% in the past 12 months.
"While prices are generally at record highs, demand remains strong because vegetable oils are such an essential part of it," said John Baize, an independent analyst and consultant for the US Soybean Export Council. staple of every meal in all countries, especially those like India, Pakistan and Bangladesh."
Baize said Indonesia's decision to stop exporting palm oil was a "big deal", but predicted the restriction would not last. He noted, Indonesia exported 26.87 million tons of palm oil in 2021, while domestic consumption reached 15.28 million tons.
Currently, Indonesia's decision is causing many places to worry about costs and food shortages when it is thought that this country may make similar moves when the Russia-Ukraine conflict drags on.
Refer to Bloomberg
https://cafef.vn/quoc-gia-dong-nam-a-vua-dua-ra-quyet-dinh-dong-troi-cuoc-khung-hoang-luong-thuc-tren-the-gioi-cang- tro-nen-hon-loan-20220423151939691.chn
You are reading the article
The Southeast Asian country has just made a "heavenly" decision, the world food crisis has become more chaotic.

at
Blogtuan.info
– Source:
cafebiz.vn
– Read the original article
here