Giải trí
What is 'climate change', why is it "crazy" on Google?-Information Technology
'Climate change' is a trend that is receiving very special attention from users of Google's tools.
Recorded at 10:00 am on April 22, the topic 'Climate change' suddenly appeared in the top 1 Google Trends (Google Trends) with more than 500,000 queries from users Internet in all 63/63 provinces and cities in Vietnam. This shows that 'Climate change' is a trend that is receiving special attention from users of Google's tools.
'Climate change' reached the top 1 of Google Trends on the morning of April 22.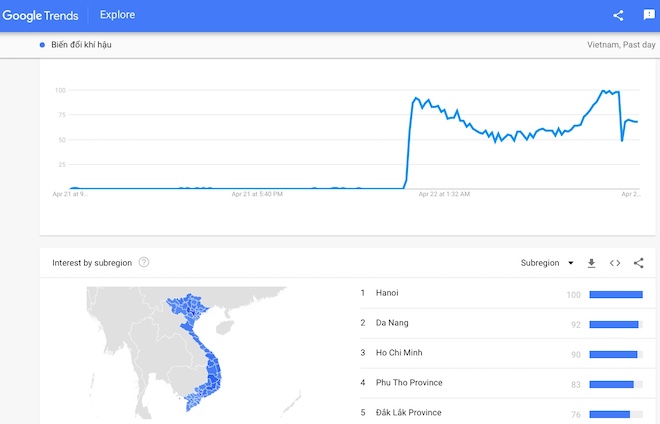 Trending queries on the topic 'Climate change'.
The top 5 localities with the highest number of Internet users querying related to the topic 'Climate change' are Hanoi, Da Nang, Ho Chi Minh City, Phu Tho, and Dak Lak. Top keywords with strong growth in queries are 'nasa announcing climate change', 'nasa announcing', 'nasa announcing climate change 2022', 'google doodle', 'nasa',.. .
It is known that the topic 'Climate change' to the top 1 of Google Trends so quickly is because Google changed the doodle of the search homepage in Vietnam on the occasion of Earth Day (Earth Day) 2022. This doodle shows the images. from Google Earth, time lapse from December 2000 – December 2020 shows the impact of climate change on our planet.
The article leading the trend of 'Climate change' comes from a newspaper in Vietnam, updating the latest developments on the weather forecast at the end of April. According to the article, the National Center for Hydro-Meteorological Forecasting According to experts, from about April 23, the western mountainous area of ​​the North and Central Central region is likely to appear hot on a large scale.
Then, from April 24 to 26, the heat is likely to expand to most of the North and Central Central regions, the Northwest region and some places in the Northeast. As for the Central Highlands and the South, there is little rain, until about 3-4 days at the end of April, there is a chance that showers and thunderstorms will increase again.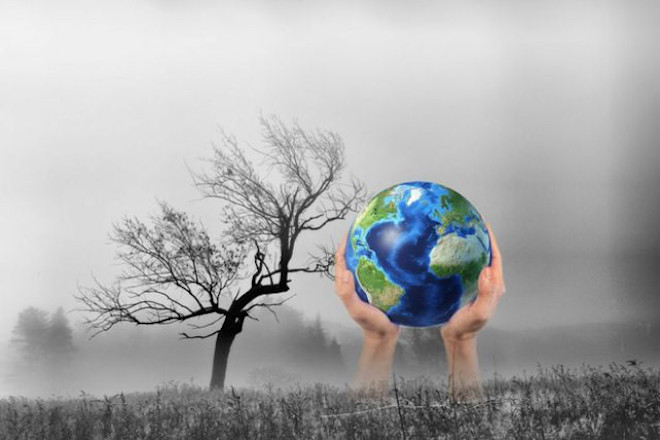 Climate change is having a negative impact on our green planet. (Illustration)
Previously, in October 2021, the US National Aeronautics and Space Administration (NASA) announced an action plan to combat climate change and its devastating effects on the Earth. NASA scientists use tools such as monitoring satellites to study Earth's climate and collect valuable data over the years, including research on ice loss, ozone levels, sea level rise, and more. temperature, precipitation, extreme weather,…
NASA's plan includes five key areas of focus: Identifying aspects of climate change that threaten access to space; Integrate climate risk analysis and adaptation strategies into NASA master plans; Integrate climate resilience information into NASA plans for their centers; Develop next-generation climate models and update climate modeling techniques; Work with aviation partners to reduce carbon dioxide and develop climate solutions.
In fact, many large companies and corporations in the world in many fields, especially technology and F&B such as Sony, Samsung, Epson, PepsiCo,… are also constantly coming up with innovations to minimize the impact of production on the environment, preventing the climate from being changed in a negative direction.
For example, at the end of March 2022, Schneider Electric, a global consultant on renewable energy procurement, and PepsiCo announced the first pep+ REnew initiative in the food and beverage (F&B) industry. Through this initiative, Schneider Electric will help PepsiCo's value chain partners increase access to renewable electricity, contributing to its goal of achieving net zero emissions by 2040.
This partnership aims to accelerate the adoption of renewable electricity and build a more efficient and resilient food system that reduces carbon as part of a pep+ (PepsiCo Positive) transition strategy. by PepsiCo. Specifically, pep+ REnew is designed with two objectives: Consulting partners in PepsiCo's value chain on renewable electricity options; Accelerate the transition to renewable electricity through integrated power purchase agreements (PPAs) and other renewable electricity procurement options.
Climate change and increasing carbon dioxide levels are "challenging" our ecosystem. It is estimated that about 50% of plant and animal species face extinction by 2050 if the earth's temperature increases by another 1.1 to 6.4 degrees Celsius. It is caused by habitat loss due to fallow land, deforestation and warming sea levels.
A recent forecast by Climate Central (USA) shows that many coastal cities around the world, including Ho Chi Minh City, are at risk of being submerged by sea water earlier than previously forecast due to climate change. causing ice at the poles to melt at an alarming rate.
Not only with creatures, human life is also at stake. Climate change leads to a series of natural disasters such as storms, floods, droughts, and epidemics.
You are reading the article
What is 'climate change', why is it "crazy" on Google?-Information Technology

at
Blogtuan.info
– Source:
24h.com.vn
– Read the original article
here