That is the case of Mrs. D.TM (71 years old, Nam Dinh) carrying an abdominal tumor equivalent to a 9-month-old fetus. Before the tumor surgery, Mrs. M gained nearly 15kg, the tumor continued to grow in her body.
The Department of Obstetrics and Gynecology – 108 Central Military Hospital has just received patient M with a large tumor in the abdomen for many months.
According to Mrs. M, in September 2021, she found her abdominal distension gradually increased but she did not treat it. Recently, one month before being admitted to the 108th Central Military Commission, she noticed that her abdomen was rapidly enlarged, had difficulty breathing when lying down, pain increased in the lower abdomen, and the tumor was growing larger and larger, greatly affecting her activities and daily life.
Through examination and testing, doctors at the Department of Obstetrics and Gynecology, 108 Central Military Hospital diagnosed the patient with a left ovarian tumor invading the uterus and peritoneum. CT scan showed a tumor measuring 15x18x20cm.
Clinically, with the manifestations of the tumor, it can be seen that this is a malignant tumor, a large tumor is broken due to impact, trauma can cause bleeding, abdominal fluid, leading to peritonitis, infection abdominal infection, life-threatening.
BSCKII Nguyen Thanh Ha said: "Because the tumor is located in a dangerous location, close to important organs and blood vessels, the prognosis of surgery is very difficult. The surgical team performed a complete dissection of the tumor without rupturing the tumor and without injuring adjacent tissues and blood vessels." After 3 hours of surgery, the tumor was dissected, removed 9 liters of fluid and the tumor had a mass of 5.5 kg.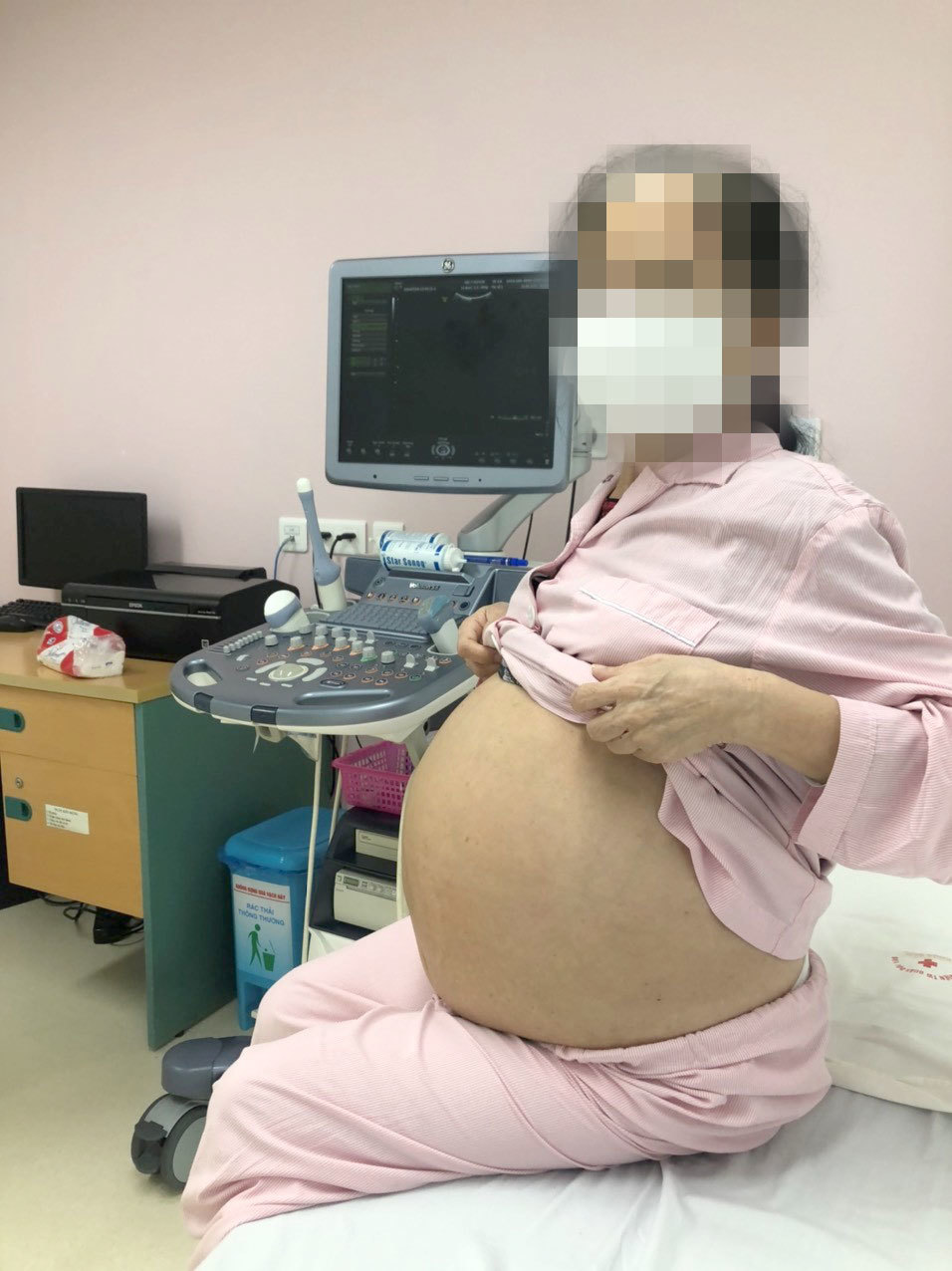 The patient with a large tumor is equivalent to 9 months of pregnancy
After surgery, the patient's health was stable, the patient continued to be monitored and combined with rehabilitation treatment at the Department of Traditional Medicine of the Hospital. Pathological results after surgery, this is a benign tumor, ovarian vascular capillary tumor, due to long time it develops to other parts of the body.
Doctors recommend that women of childbearing age, women in menopause should periodically have gynecological examinations to detect, diagnose and treat abnormal tumors early to avoid tumor growth in size. major or malignant complications affecting health and life.
When there are signs of severe abdominal pain or the body is thin but the abdomen is abnormally large, it is necessary to go to the hospital immediately for examination and treatment advice.
A hemangioma is an abnormal mass of fluid or solid that looks like a pea that grows on or inside an ovary. This is a common gynecological disease in all subjects from girls at puberty to the elderly > 80 years old, affecting the health, activities, quality of life and fertility of women. 90% of ovarian cysts are benign (less cancerous), 10% develop malignant.
H. English
You are reading the article
71-year-old woman "pregnant"

at
Blogtuan.info
– Source:
infonet.vietnamnet.vn
– Read the original article
here