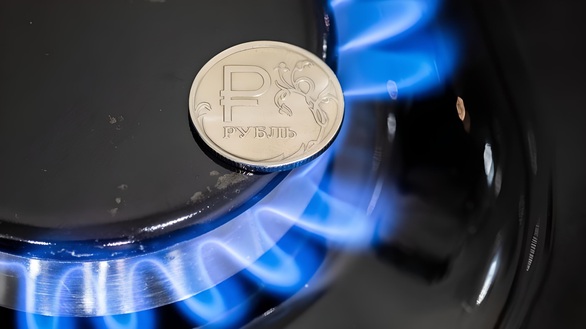 With the new EC guidelines, companies in the EU now have a way to buy Russian gas without worrying about violating applicable sanctions – Photo: Times-News
According to Reuters news agency on April 22, the European Commission (EC) sent a letter to the European Union (EU) countries explaining that it is possible to pay for Russian gas purchases in rubles on certain terms to does not violate the sanctions imposed on Moscow.
Accordingly, EU companies buying Russian gas can open accounts in USD or euros at Russian banks to transfer funds, this foreign currency will be converted into rubles and transferred to Russia.
Date "lock valve" was close
The EC recommendation is not legally binding, but can be seen as a guide for members to continue buying Russian gas.
On the other hand, the EC cannot make decisions on its own to ban or allow EU companies to pay for Russian gas in one form or another. The EC's jurisdiction includes only assessing whether EU companies are complying with EU-approved sanctions.
Earlier, on March 31, Russian President Vladimir Putin signed a decree on rules for gas business with "unfriendly countries", requiring them to pay for gas purchases in rubles for deliveries from March to March. 4.
Specifically, Russia asked companies to pay for gas purchases to Gazprombank in euros or USD, which Gazprombank would convert into rubles and transfer to Gazprom's account. If Gazprom's customer refuses to do this, Russia will stop delivering.
According to the newspaper Kommersant (Russia), April 15 is the deadline for prepayment for April deliveries under some contracts and European companies are required to pay in rubles.
Typically, after the next delivery due in a long-term contract, the seller will invoice within 5 days and the buyer then has one week to pay.
If the amount has not been paid, the buyer has an additional 5-7 days to do so. If they do not pay, the seller has grounds to stop providing under a long-term contract.
In May 2014, Gazprom stopped pumping gas to Ukraine's Naftogaz company after it stopped paying. Therefore, if any European gas company fails to pay in advance by mid-April, gas supply cuts could happen as early as May.
Dmitry Peskov, President Putin's press secretary, said that the first payments under the new plan will start from the second half of April until the beginning of May.
Thus, it can be seen that the EC was forced to issue the above instructions because the closing date was approaching. At the same time, the EC's regulation is not much different from the Russian proposal.
The parties only need to sign an additional agreement to the contract, the pricing formula remains the same. As for Gazprom, this plan means the company will have to sell 100% of its foreign exchange earnings.
Measures against sanctions
Until April 22, EU countries still disagreed about buying gas in rubles. On March 31, German Chancellor Olaf Scholz confirmed that the country refused to pay in rubles.
G7 countries other than Germany such as Italy, Canada, France, the US, UK and Japan also urged companies based in their countries not to agree to Russia's request. The EU also urges member states to adhere to the same position.
But the problem is that it's not EU countries that pay for gas, but specific companies. The head of the Austrian company OMV, Alfred Stern, said on March 31 that the contract with Gazprom was signed in euros and that OMV "did not see any reason to pay otherwise".
But he also said that refusing to buy Russian gas for Austria is currently impossible, "unless we are prepared to accept huge consequences".
For his part, Italian Prime Minister Mario Draghi said on March 31 that it had come to a conclusion from a phone call with Putin on March 30, that euro payments can continue "and the transfer to rubles is an internal matter for Russia." TASS news agency commented "perhaps this approach will help each side save face".
Particularly, Hungarian Foreign Minister Peter Szijjarto said on April 11 that the country was ready to buy gas from Russia in rubles. Poland, one of Ukraine's strong supporters, is also talking about gas payments and that they will follow "following the EC's instructions".
Currently, Russia provides 40% of the total gas consumed in the EU, in 2021 Gazprom will pump about 145 billion m3 of gas to the EU. Independent expert Andrei Barkhota (Russia) explained to Kommersant daily: "The sale of gas in rubles is a counter-embargo measure, aimed at creating additional demand for rubles from foreign partners.
If all partners agree to buy gas at the price of rubles, the exchange rate of the ruble could be stronger before February 24 and stronger than last year's level, i.e. 70-75 rubles to 1 USD. Currently, the exchange rate is about 77 rubles/USD.
But there's still the problem… oil. According to Politico, the EU will soon begin to consider a sixth round of sanctions, which may include a partial ban on Russian oil imports.
But the head of the French Finance Ministry, Bruno Le Marie, admits there is opposition to the ban within the EU. US Treasury Secretary Janet Yellen also advised Europe to be careful with Russia's oil embargo because this decision could harm the global economy.
Therefore, the portal bfm.ru commented: "The Russian side hopes that everything will be resolved as successfully with oil as it is with gas, according to the old psychological formula: denial – anger – bargaining – bar payment in rubles".
"European gas sales representatives… explained to politicians that the (gas) supply cut was an extremely unpredictable test for the European economy. ", the Russian business portal (bfm.ru) quoted the director general of the National Energy Security Fund (Russia) Konstantin Simonov.