Business
Hairless, wearing a gold chain, showering with soap
The mutant featherless chicken in the West
We are still used to seeing chickens with smooth, thick, colorful feathers. Therefore, the featherless chicken with red skin in the West when it appeared has attracted many people's attention.
The owner of this featherless chicken is Mr. Truong Hai Phong (35 years old, in Tan Loc Isle, Thot Not District, Can Tho City). Mr. Phong has 7 years of experience in the ornamental chicken business.
Two years ago, Mr. Phong imported a pair of Peruvian chicken breeds to raise and breed at a cost of 2,500 USD (more than 57 million VND). The pair of Peruvian chickens have feathers, produce many normal litters, but this chick has no feathers from the egg. Feeling strange, Phong kept it as an ornamental for fun. According to Mr. Phong, anyone who has an interest in playing foreign chickens knows that Peruvian chickens have many cases of mutations like this.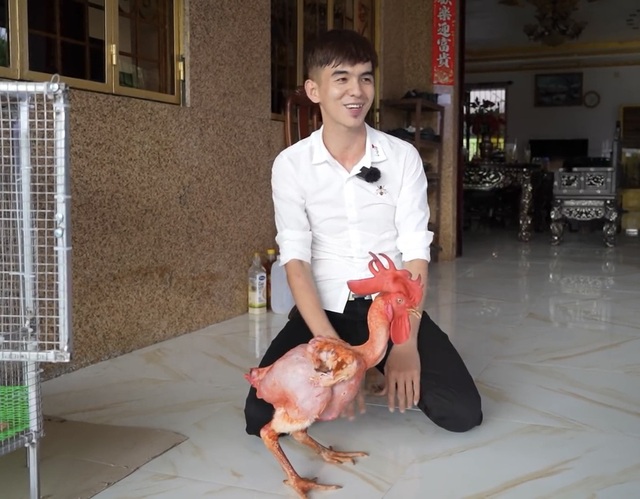 Mr. Phong and the mutant featherless chicken.
Many people think that Mr. Phong plucks the feathers of the chicken. But this young master said that his chicken does not have natural feathers, if plucked, it will leave large and clear pores.
Phong's featherless chicken has a beautiful red color, a large and red crest, only feathers on the wings. He has met many featherless chickens, but still a little more feathers than his chicken. In addition, most featherless chickens have weak resistance, are difficult to raise, or die. Therefore, Mr. Phong must take care of his pet chicken very carefully.
When the chicken was just hatched, he had to light it up every day, like premature babies raised in an incubator. Later, when he was older, he applied red turmeric to the skin to make the chicken skin red, beautiful, thick, stronger, and anti-mosquito.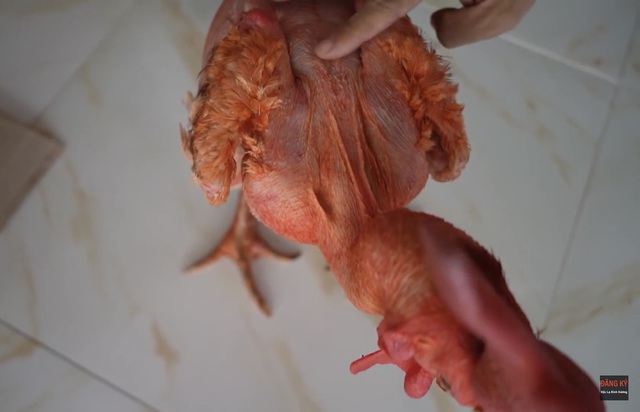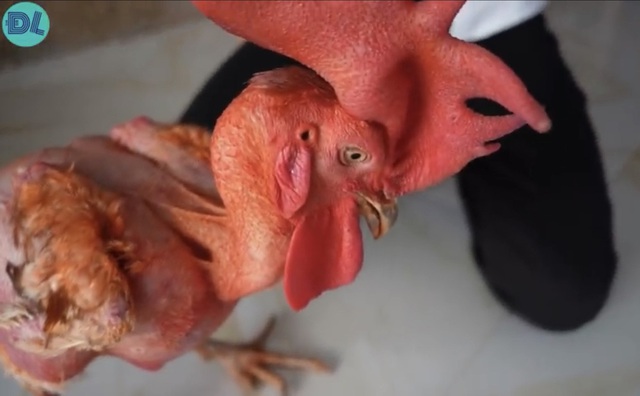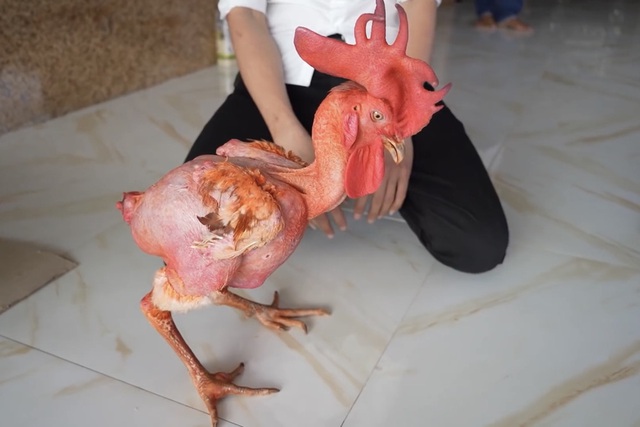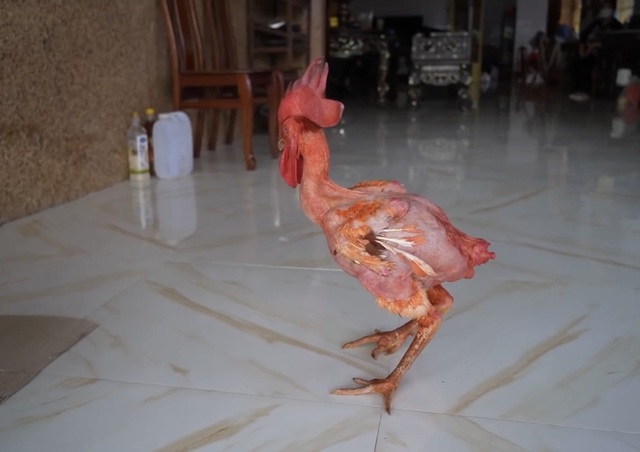 This chicken has red skin, beautiful big crest, only feathers on the wings. Previously, Mr. Phong applied red turmeric to the chicken skin to make the skin more beautiful and thicker to help fight mosquitoes.
Fall in love with durian, wear a gold chain, take a shower
It is known that this chicken eats 3 meals of rice according to the family's diet. In particular, he likes to eat fruits, especially durian and papaya. Once, when the whole family was eating durian, seeing the chicken standing next to it kept looking and screaming, everyone gave it a try and "crushed" until now.
Chickens are kept in separate cages. On cold days, Mr. Phong will put the chicken in a carton and bring it inside the house. This chicken is also used by the owner to sleep with a net to prevent mosquito bites on the skin.
Phong also extremely pampers this pet when he buys him a gold chain to wear around his neck. In the past, he often took it to the market to play, anyone who saw the chicken was also interested and curious.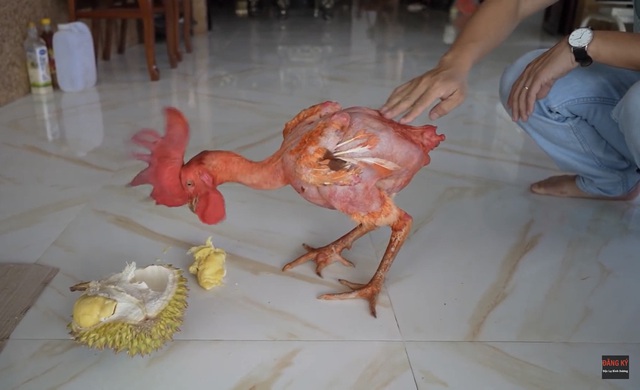 This featherless chicken loves to eat fruit, especially durian.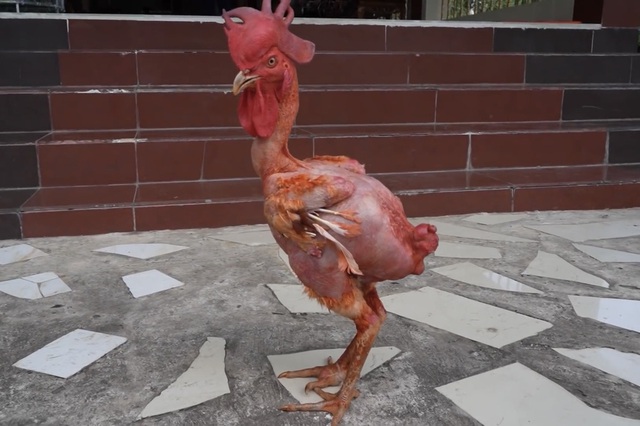 Chickens are bathed in the sun 2-3 times a week and washed with shower gel, soap, and dried their bodies.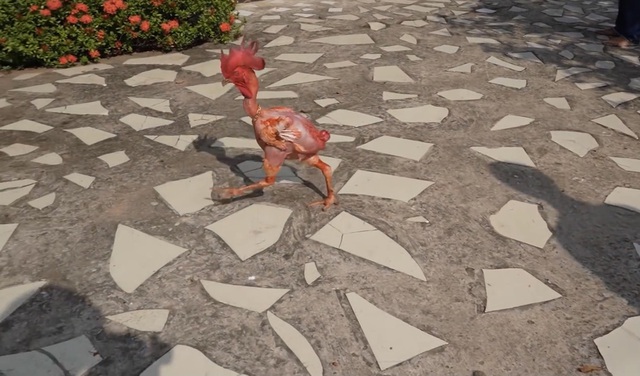 The owner also bought the chicken a gold chain worn around the neck.
Share on Thanh Nien MagazineMr. Phong added that every day he let the chickens go out to the yard to lie in the sun for hours. When hungry, the chicken would find its owner and peck and peck to signal for food. The bathing of the featherless chicken is also extremely thoughtful. Chickens are bathed 2-3 times a week with fragrant soap, shower gel, then wipe their bodies with towels.
Up to now, this chicken is nearly 2 years old, weighs more than 3kg, healthy, kicks normally. There are also many people asking to buy this featherless chicken for about 5-6 million VND, the price is too cheap so Mr. Phong does not sell. And even if someone bid higher, he wouldn't think of selling this chicken, but just to keep it.
Mr. Phong tried breeding for featherless chickens and luckily hatched a featherless hen. This young master hopes to multiply featherless chickens to raise as ornamental plants.
Source: Bizarrely Binh Duong, Compilation
https://soha.vn/chu-ga-dot-bien-cua-thieu-gia-mien-tay-khong-co-long-deo-day-chuyen-vang-tam-xa-bong-20220422111700636.htm
You are reading the article
Hairless, wearing a gold chain, showering with soap

at
Blogtuan.info
– Source:
cafebiz.vn
– Read the original article
here